Pre-season hype from the trenches in Florida said that Jason Anderson was flying and even giving defending Monster Energy Supercross Champion Ryan Dungey fits during the week, but taking practice lap times to the actual races is a challenge many riders can't master. Anderson did it though, not only scoring his first career win (and the first ever in premier class supercross for the Husqvarna brand) at Anaheim, but doing it in convincing, come-from-behind fashion.
As he began the long walk from the podium, up the tunnel, and through the pits to his Rockstar Energy Husqvarna rig, we grabbed the recorder and started firing off questions.
Racer X: There was all this buzz in the pre-season. I heard you were going fast. What was going on? Was it legit?
Jason Anderson: [Laughs] I guess it was somewhat legit.
Were you feeling it not just tonight but for the last couple months? Has the off-season been good?
Yeah, between me and Dungey, one week he's faster, one week I'm faster. But we always are one-upping each other. There will be a week where I'll be like the man and then he's a champion and he's going to come get me back the next week. We keep each other on our toes, but it's great when both of us are up front. He crashed tonight and still came back up and got second. He's the man. It's cool to be riding with him.
So, okay, now I have to ask the standard question: Are you ready? You've won your first 450 supercross. How does it feel?
It hasn't hit me yet. That's pretty crazy. As a young kid growing up, I kind of came from a different place as most of the guys that win. My first east coast season I was 16th in points.
There had to have been a time where you weren't sure you were even going to make it as a racer, let alone to this level.
I would have been pumped to be a top five Lites guy and now winning a 450 supercross, it kind of blows my mind a little bit. I'm so pumped.
But you haven't even wrapped your head around it yet?
No, and I don't think I ever will. To be at this level…I don't think it settles in until you're done. But I just want to keep getting more and more and more.
When you joined Aldon Baker's program last year a lot of people were like, "I don't know if Anderson's going to be able to handle it, it's a lot of work." But I've heard zero drama. It has not been a problem, clearly.
Yeah, everyone takes my persona as I'm kind of free-spirited, like to have a good time. Most times those guys that are like that, like a Jason Lawrence or something, they can't really stick to structure, but for me, do I like to have a good time? Yeah, I do, but also do I want to do good and do I want to make the sacrifices to do good? Yeah, I do. So doing the work and working with Aldon is no big deal to me.
The cool thing is, you've actually done it for the same team the entire time. They've gone through multiple brands, and you stuck with them, they stuck with you. And it's Husky's first win. That's like storybook stuff.
Yeah. Between me and Bobby [Hewitt, team owner] he's basically done beyond everything for me. As long as they give me what I want, I'll be a lifer with them forever. The Husky brand is a great brand to be with, especially because I started from the ground up. It's pretty incredible. It's similar to what Dungey did with KTM and I kind of want to be that guy. Whenever I'm done I obviously want to be an ambassador for a team. I want to be with them forever, even after I retire. I think it's a cool deal.
How much better is this year's bike?
It's way better. We wouldn't have made those changes if it wasn't that much better.
Take me through the race a little bit. You didn't even have that great a start; you were like sixth or something. You had to pass all those guys.
Yeah, I was like seventh. The first start I was ready. I was on it. The first one I had an inside gate, second I had the same gate, but it worked out perfect and then the second one I kind of got pinched a little bit in the chaos, but came out top eight. Had to make a pass on [Justin] Brayton. What was cool was that group of guys up front were all good. So it wasn't like you were going to get stuck behind someone that would let the front break away, so that helped me.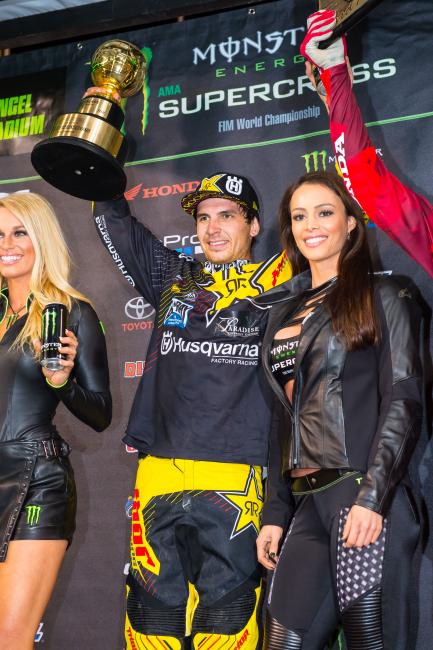 But you still had to pass six guys to win. We don't see that happen all the time.
I had to pass six guys that were waxing me last year.
That's unbelievable. Were you almost surprised at yourself or was it just all coming easy?
For sure it was a surprise. We're all human and we all get nervous.
During the race you were thinking this?
Yeah, but I feel like everyone does, especially at the opening round when you're not totally sure what's going to happen, and again I've never even won a 450 supercross before. But I feel like I cope with the pressure pretty well. The pressure doesn't really bother me, so I'm just excited to keep going and try hard. I see those guys and I know they're amazing riders who have won championships and races, but I also want to see through them and not think about that…but you can never count any of them out. They're great riders. You know they're all going to step up their game. That's round one of sixteen. Everyone's going to be good on their good nights.