Anaheim, CA
Anaheim 1 (A1)
Monster Energy AMA Supercross Championship
By Jason Weigandt and Aaron Hansel
After a wild night in Anaheim for the opening round of Monster Energy Supercross, what story do you even start with? Well, with the win by Rockstar Energy Husqvarna's Jason Anderson, of course, but after that you could pick from a good ten other storylines. It was a darned good night filled with drama, charges and good racing. But Anderson reigned supreme, not just winning his first-ever 450SX win, but also the first ever for Husqvarna, and even more impressive he did it by coming through the pack. Anderson started about seventh and systematically rode past Justin Brayton, Chad Reed, Ryan Dungey, Trey Canard, Justin Barcia and Cole Seely to get into the lead. It was as impressive as impressive gets. After the race Jason told us, "It hasn't hit me yet. It's kind of crazy. I mean, especially because I didn't come up like a lot of these guys. I mean, my rookie pro season I raced east coast and finished sixteenth in points! I was just hoping to maybe become a top-five Lites guy and now I've won a 450 supercross? I'm so pumped."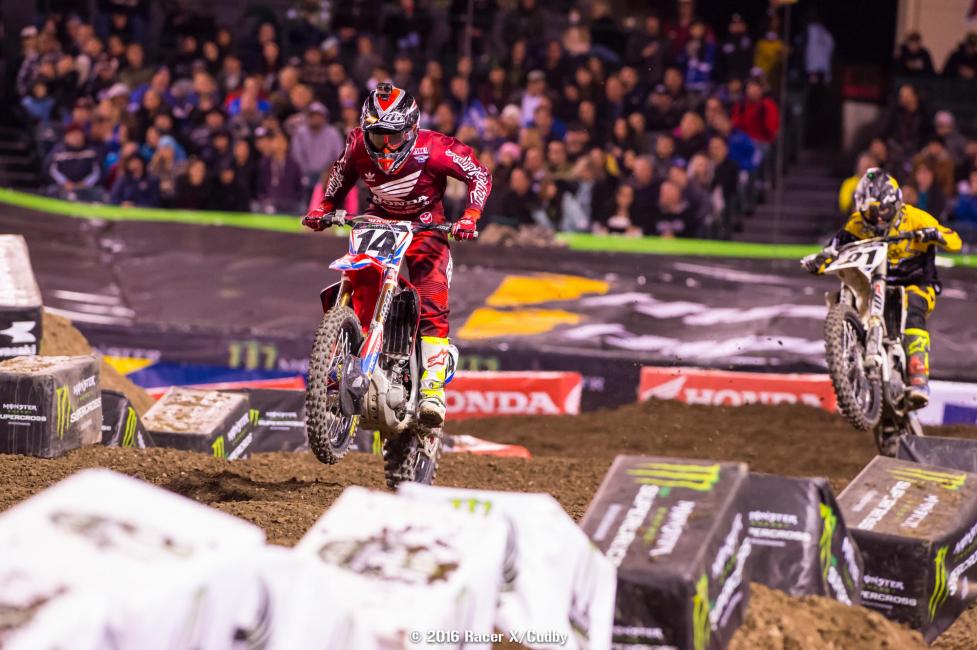 Anderson's win was a shocker, but for a while it looked like his old 250 rival Cole Seely was going to take it. All hail the sophomores! Seely grabbed the lead early in the main and then pulled a big gap of five seconds, but once Anderson was into second and rolling, Seely couldn't stop him. This didn't even need to go down to the last lap like it did often in their 250 days! Seely was then passed on the last lap by Ryan Dungey, relegating him to third. After the race Seely was okay with it, though, saying he was super nervous all day, and even got to the point where the nerves gave him a stomach ache. Everyone was dealing with first-race jitters, as per usual.
Tons of troubles for some other contenders, but they salvaged results. Dungey went down after Trey Canard put an aggressive pass on him, but somehow rallied back to second. Ken Roczen was down off the start and began the race in 21st, and somehow rallied back to fifth. The results don't even tell you how crazy the night was for these two. Dungey crashed in his heat race and had to go to the semi, and Roczen had it even worse after a massive and scary first-turn crash in his heat. Luckily both guys were okay.
Sandwiched in fourth? A quiet night for Eli Tomac, who wasn't very happy with the way he rode.
"There were certain sections where I was the fastest guy, and other places where I belonged in the C Class," Tomac said. "Before the finish line, in that section, I was terrible. The tunnel jump, I was by far C Class status there. The good thing is, for how bad I felt, the front of the race wasn't that far away. With some improvement I think I can be there soon."
Behind Roczen came Chad Reed, but while the result was only so-so he still looked pretty good on his new Yamaha. We talked to Yamaha racing boss Keith McCarty and he said that while the team was only officially announced this week, Reed was able to test with the factory Yamaha guys for most of the off-season, anyway, just in a somewhat limited capacity since budgets weren't set. Was the bike really ready? "We'll find out," said McCarty. It looked solid from our vantage point.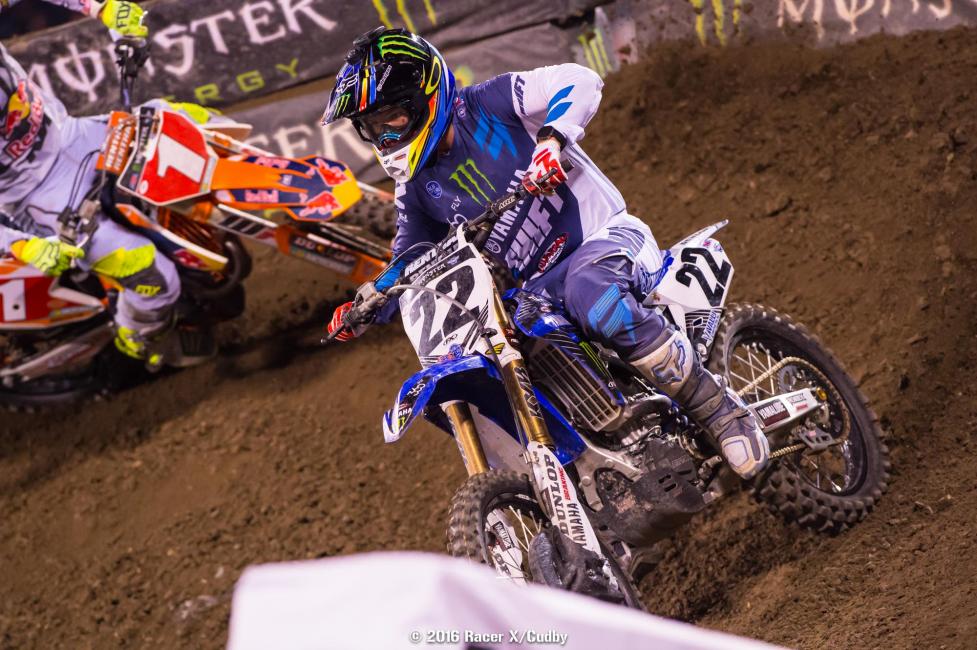 Trey Canard looked like a favorite on his Honda HRC machine, topping qualifying and winning his heat. In the main, he quickly charged up to second behind Seely, but then Anderson got him. Canard was alone in third until he crashed, relegating him to seventh.
In the 250 class there wasn't as much of a story, only because everyone expected Cooper Webb to win, and then Cooper Webb won. There was a challenge, too, because Jessy Nelson, last year's Anaheim 1 250 winner, got the lead early and pulled a four-second gap before long. Webb was a freight train once things started rolling, though, and he ate up Nelson's gap and then took the lead. Nelson was a solid second and Rockstar Energy Husqvarna's Zach Osborne started the season with consistency in third. After the race Webb told us until about a week ago he'd planned on racing 250SX East, and that he wasn't as prepared as he'd like to be. It certainly didn't show!
Anything else? Oh yeah, THE FIGHT! In a collision course of personalities, Weston Peick and Vince Friese battled in a literal sense on the track. In a heat race Friese gave Peick an elbow and Peick hit a tough block and went down. In the Semi Peick made a pass and gave Friese a look, then Friese took them both down in a blatant takeout. Peick was furious, so instead of getting back on hisAutotrader.com/Monster/Toyota Yamaha, he started raining punches down on Friese's helmet! Then he gave Friese a shove and flipped him off! No attempts were made to get back on the bike until after that, so the AMA and FIM told Peick he was disqualified for the night, and also again for next weekend's race in San Diego. He was also fined $5,000. No penalties for Friese. We went to the JGR pits afterward but Peick declined to comment.
MotoConcepts team owner Mike Genova, while calm, wasn't happy with the situation, labeling Peick's behavior was unacceptable. In his opinion the two were just racing hard, and he said he was "extremely proud of Vince for being so classy and demonstrating so much self-control."
Somehow things keep getting worse for Yoshimura Suzuki's James Stewart. He was having a quiet night until early in the main event, when he was battling Anderson for position and tried to cut down in a berm. Well, Dungey was right there on the inside and they collided hard in incidental contact. Stewart appeared to be knocked out from the crash, and the main event was red flagged. After a few minutes, Stewart got up, and was transported to the pits on the Asterisk mule. His night was over, and we'll wait for word on his condition.
When the red flag came out for Stewart on lap two, Autotrader.com/Monster/Toyota Yamaha's Justin Barcia was in the lead. He didn't quite get the same level of start when they restarted the race, but he elbowed his way into second. Barcia stayed there for six laps, then started dropping backward big time and even had a little crash, ending up all the way back in fifteenth. Barcia told us he got super tight and suffered from arm pump.