Welcome to international week. The reborn U.S. Grand Prix will take place out here at Glen Helen Raceway on Sunday, and then practically the whole paddock (and a few Americans) will load up and head to France for next week's FIM Motocross of Nations. And the ISDE riders are filtering back from a long week in Slovakia, in which Husqvarna-mounted Ryan Sipes became the first American in history to win the individual overall. And let's not leave out Thomas Covington, who became the first American since Zach Osborne to win a Grand Prix with his victory in Mexico last week.
I flew out last night to check out the race and drove over to see what all they'd done with the track. It's mostly just like it was for the Glen Helen National back in May, though those two short and very steep hills that Eli Tomac was having so much fun on have been taken out. Otherwise, Jody Weisel and Karl Scanlon and crew have beefed up some jumps, and also raised up the starting line a few feet.
It was a little weird to walk through the pits today and see completely different riders working under familiar tents, as many U.S. teams are loaning support to their GP brethren. Of course there's also some very fast Americans and U.S.-based riders that are racing this time.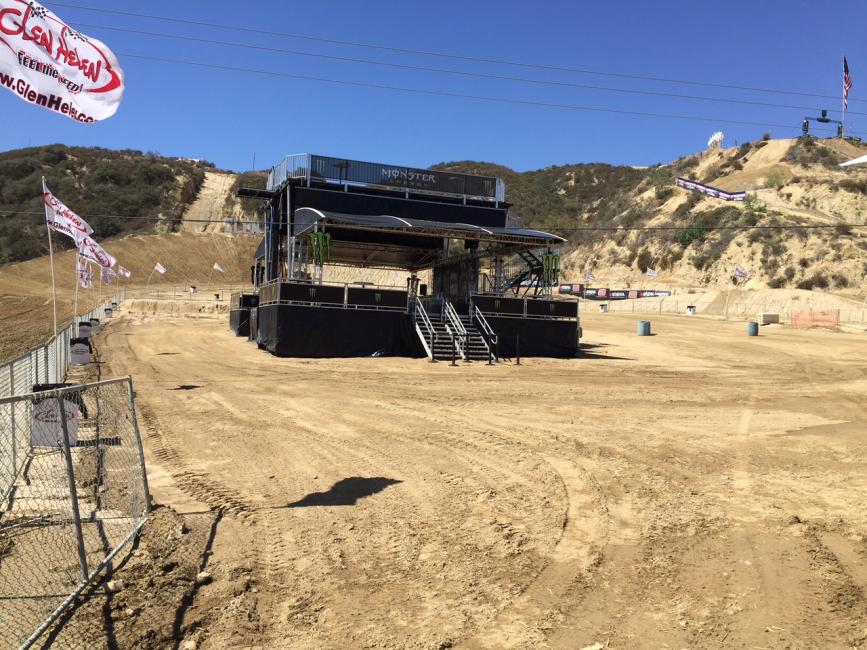 It's also weird how quiet the place is since there are no amateurs racing today like they normally do before the national, and there are maybe seventy riders out there altogether. No matter, the track should get good and rough, and it's supposed to be quite warm come Sunday, so it will definitely be a tough test for all of the riders, whether they raced in Mexico last week or have been off since the Ironman finale of Lucas Oil Pro Motocross. One thing I will say is that after watching that race in Mexico, the GP riders must be salivating at the chance to get a crack at a real track like Glen Helen. They are going from a mostly flat and somewhat slick Leon circuit to the steepest hills of all.
Hopefully they will have a much bigger turnout, too. The second MX2 moto in Mexico went off with sixteen riders on the starting gate, which baffles me. But then again, we have much different systems. Rider turnout will be much better this weekend, and the locals will be much, much faster!
Let me turn it over first to Steve Matthes…
THE HILLS OF HELEN ARE ALIVE AGAIN (Matthes)
I'm not sure how this latest incarnation of the USGP at Glen Helen will go, but I do predict it will go better than the last time the FIM World Motocross Championship came to Southern California. Back in 2010 and 2011, the race took place in May right before the Nationals kicked off, and both years featured a weak American rider turnout and an even worse American fan turnout. I still cannot believe how few people were at the race; it appeared that if the riders didn't race, the fans wouldn't come. We did see some good racing with then-Red Bull KTM's Kenny Roczen and Jeffery Herlings going at it, and Clement Desalle and of course Tony Cairoli were very strong as well. There was just no desire for the top American riders to race with the Nationals so close, and the enthusiasm wasn't exactly high.
So it's with this mindset that I'm predicting the 2015 USGP will be much better. It will be better in terms of rider support, better in terms of fans (I hope!), and I think with a month off of racing, people are ready to head back to the track again. Jason Anderson, Cooper Webb, Dean Wilson, Marvin Musquin, Jessy Nelson, and Josh Grant are just some of the names lining up to race. I'm sure I'm leaving a few guys out, but nevertheless it's already more star studded than the last two USGPs.
The folks at YouthStream really need to send Roger DeCoster a nice fruit basket or something. All those listed above riders (outside of Grant and Webb) are riders under the KTM umbrella, and DeCoster pledged early on his riders support for this GP. Just like Roger brought Team USA back to the Motocross des Nations back in 1981, it seems he's bringing Team USA (U.S.-based riders) back to the USGP in 2015. Without Roger's blessing, I'm not sure we'd be seeing nearly this strong of a rider line-up.
I'll be there, just like I was the last two times the USGP came here (although one year I wasn't granted a media pass because of, well, something I said or wrote) because I want to see some of these great riders from the GPs as well as hopefully see some great racing. I like that Cooper Webb is racing the 450 here in preparation for next week's MXoN (I'll be there also) in France. Let's hope for a great weekend of racing from all aspects of the thing. We'll be crowning a first time MX2 World Champion at the end of Sunday.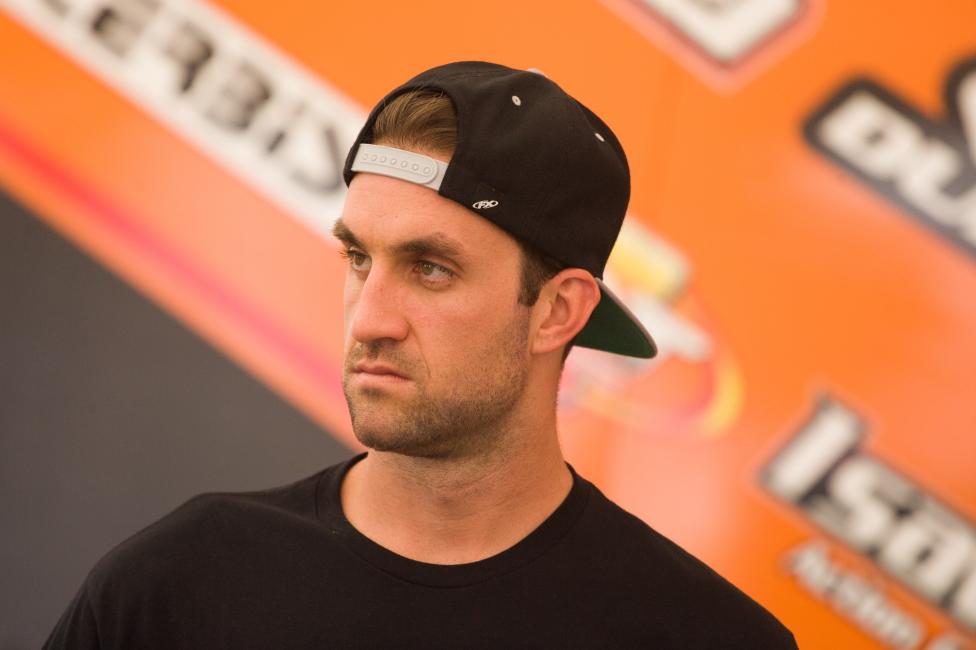 USGP NUMBERS AND TV GUIDE (Chase Stallo)
For the first time since 2011, the FIM World Motocross Championship returns to U.S. soil, with the final round of the championship taking place at Glen Helen Saturday and Sunday. Here is your quick TV and numbers guide (for the non GP regulars) for the weekend. You can always go here for the complete weekend TV guide or here for the entry list.
TV Schedule
Sunday, September 20 | CBS Sports Network
MXGP of USA | All times are live
MXGP | Race 2 - 6:00 p.m. EST
MX2 | Race 2 - 7:00 p.m. EST
Click here for the complete list of countries and cooperating MXGP broadcasting networks.
Online Schedule
Sunday, September 20 | MXGP-TV.com
MXGP of USA | All times are live
3:00 p.m. EST - LIVE MX2 Race 1
4:00 p.m. EST - LIVE MXGP Race 1
6:00 p.m. EST - LIVE MX2 Race 2
7:00 p.m. EST - LIVE MXGP Race 2
Numbers:
MXGP
35 – Josh Grant
56 – Kirk Gibbs
101 – Ben Townley
103 – Antonio Balbi
118 – Davi Millsaps
125 – Marvin Musquin
175 – Cooper Webb
215 – Dean Wilson
245 – Brett Metcalfe
312 – Jason Anderson
505 – Sean Lipanovich
869 – Robert Lind
902 – Cody Cooper
MX2
65 – Chris Alldredge
70 – Shane McElrath
79 – Jessy Nelson
619 – Mark Weishaar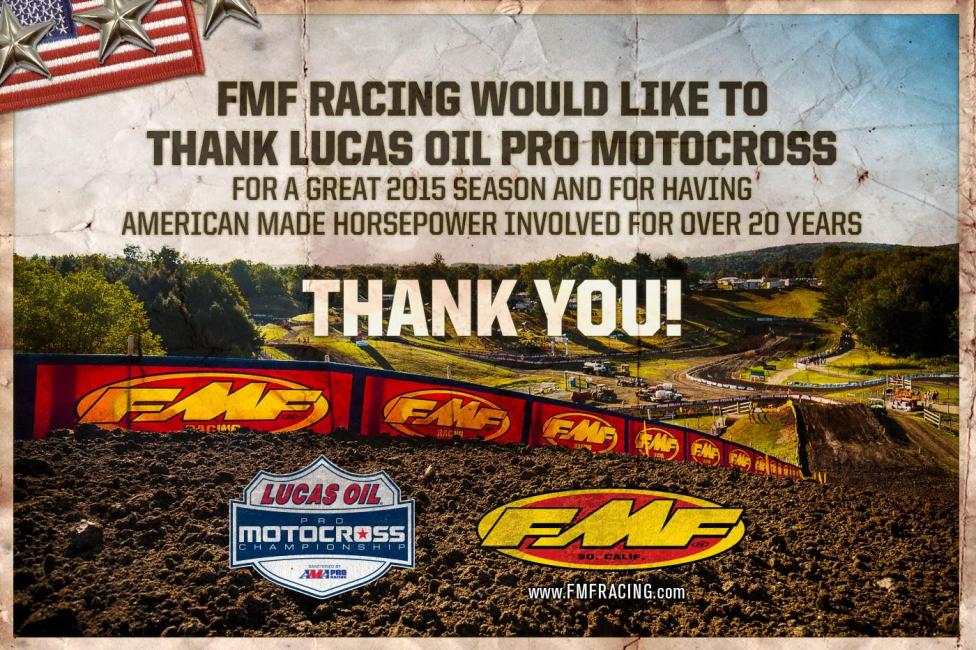 TEAM USA IS SUPER PUMPED (Jason Weigandt)
Last week I checked in with Cooper Webb to chart his progress for the USGP and Motocross of Nations, and I detected not a hint of fatigue. The season stretches an extra five weeks if you're an American des Nations rider, so while peers get enjoy beach time and vacation before getting back to supercross testing, the boys have to keep pounding out motocross motos. The good thing is, all three of this year's riders seem to have found the positives.
For Webb, it's not a big deal because he missed time this year with injuries, and he only raced half of the supercross schedule, anyway. The biggest factor is that he gets to ride a 450, and there's nothing like something new and exciting to keep the flame going. Webb is going to be down on experience but up on exuberance for this des Nations excursion. I don't believe pressure will affect him, because he gets to go in as the underdog. Team USA hasn't won for the last three years, and he's just getting started on a big bike.
"There obviously has been a lot of talk, people saying, 'Well maybe this team isn't going to do anything worth a sh*t' or whatever," he said. "But that's good. I like doubters, but I love when stuff like that happens—it motivates me. I really and truly feel that the more pressure, the better, and I'm going to be ready for sure."
Justin Barcia was in the same situation back in 2012, when he raced 250s all season but raced a 450 for Team USA. The 2012 event, in the deep sand of Lommel, Belgium, was not a good one for the Americans, but you could still see Barcia was pumped up. He went faster than established 450 pilot Ryan Dungey that day, and would have had the best results on the team if not for crashes (does anyone remember when Team USA alum Chuck Sun tried to rescue Barcia's bike from a fence in qualifying, leading to a penalty in qualifying?). That's the only thing you worry about—the 250 kids come in all fired up and plenty fast on a 450, but can they avoid the big one?
Now Barcia is back as the primary 450 pilot for the team, and he is unbelievably pumped up about it. Since he doesn't have to recover for a race each weekend, he's been training harder than ever, and hasn't taken any time off. He says they've made even bigger advancements with the bike that will also help them in 2016. After he told me this, he started running around the shop, going crazy, and even karate kicked a pile of boxes over. I'm telling you he was bouncing off the walls!
This time Barcia gets to be the team's primary 450 rider, and it will be a huge difference for him compared to 2012 and 2013, when he yielded the good starting gates to teammates Ryan Dungey, Blake Baggett, and Eli Tomac. However, as I talked with Barcia at the JGR shop, the team started theorizing about handing the good gate pick over to a teammate again, and trying to grab the holeshot from the outside. This summer Barcia grabbed eleven holeshots in twenty-four motos, so he's definitely confident in his starts. By the way, Barcia recently bought a house near the JGR shop in North Carolina, following the team's recent announcement that they've signed him through 2018. Looks like he's found a home in more ways than one.
Barcia and JGR's full focus is on des Nations, so they're not racing the USGP and never intended to. Webb is racing this weekend to get some racing experience on the 450. Meanwhile, somewhere in Minnesota, or maybe down in Florida, the animal trainer that is Jeremy Martin just keeps grinding away. At the very least, these three guys are really, really fired up.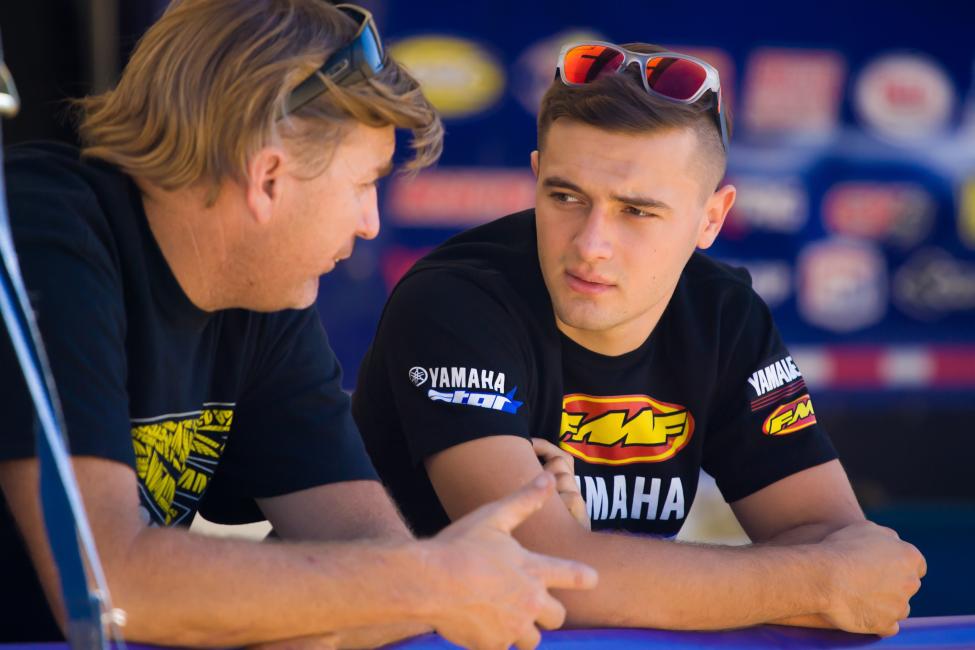 PRO PERSPECTIVE (Ping and Jason Thomas)
PING: Cooper Webb said earlier this week that racing the GP at Glen Helen and the des Nations is going to be a whole new challenge because he's racing against all new riders. That confused some people who think that it doesn't matter who you are lining up against; you ride your best and try to beat whoever is on the track with you. Right? Well, sort of, but there's more to it than that. When you race against the same riders every weekend, you have a certain level of comfort knowing how they react on the track and what you can typically expect from them. Some guys will try to take you out, others race clean, and the really awesome ones will drift across the track from one line to another. If you already know that riders have these habits, you can anticipate it and make decisions around them on the track accordingly.
Even something as simple as not knowing where you fit in with riders from the GPs can have an effect on your confidence level, and, as we all know, confidence is everything in this game at this level.
This weekend, and at the MXoN, there will be a mix of riders not familiar with riding on the same track together. Some of the unfamiliarity gets worked out in practice and during the qualifying race, but there is still some uncertainty about how to race with each particular rider. When it's all said and done, the best riders still rise to the top. Here's wishing all the American riders good luck as they take on the GPs finest at Glen Helen.
JT$: I think it really depends on how his race goes for how much different it will feel. If Cooper goes out and grabs a couple of top-five starts, he will be right in the mix and battling for the lead. He may find himself riding with a guy like Antonio Cairoli or Gautier Paulin or Romain Febvre, which he has never done before. He wouldn't really know what to expect from either of those guys, and that always presents challenges. He wouldn't know key strategic points such as if they are great in the early stages of the moto but then taper off, or if they are calm early but then put on a furious charge at the end. It's always interesting to race with new riders after watching them on television from afar; it adds a completely new perspective.
There is so much racing in America that riders learn what to expect from each other, almost knowing what they will do before they do it. Throwing riders into the mix that Cooper may not even know exist can really shake things up. Remember when at-the-time relative unknown Romain Febvre passed Ryan Villopoto early in the MXGP class? I bet RV didn't even know who it was, and nothing will make a champion mad more quickly than being passed by someone you have never heard of. I could see a few American riders completely befuddled as to whom they are battling with. Such is life when combining riders from different series. No matter what happens, it should be fun to see these two worlds collide on two separate continents on back-to-back weekends.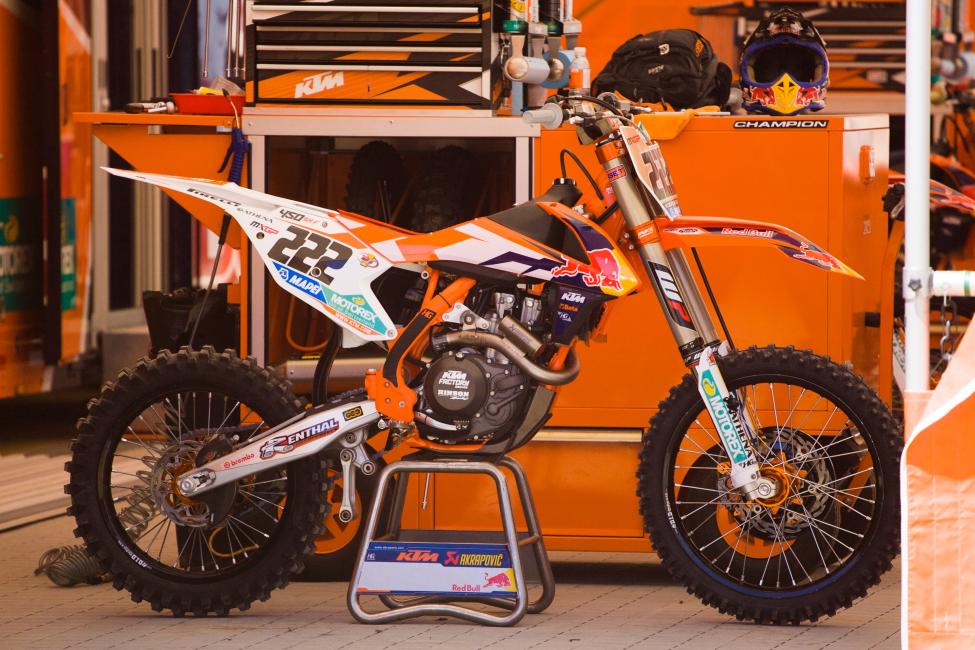 THE YEAR OF THIS FRENCHMAN (Andras Hegyi)
The FIM World Motocross Championship has a new king. He is the 23-year-old Romain Febvre. His rise comes at a time when so many started the season talking about Ryan Villopoto versus Tony Cairoli in MXGP, yet he rose to the top even while being a rookie in the premier class. Febvre is not only Yamaha's first champion since 2010; he is the first man besides Tony Cairoli to have won since 2009.
For so many years the top conundrum has been that who would stop Cairoli, one of the best riders ever. The first candidate was the Belgian Clement Desalle—the three-time runner-up in overall point standings and Cairoli's main rival for the years—followed by Max Nagl, Gautier Paulin, of course Villopoto, and many others.
Until this season Febvre wasn't a star. He was a GP winner who last year finished third in the MX2 overall ranking. But this year Febvre changed dramatically. He accelerated in the saddle of a 450cc bike. He was also much more consistent than everyone else, including Cairoli, in what's been a very tough year for many contenders.
Now, not only is Cairoli's run at the top ended, but KTM's winning streak is over too. After picking up Cairoli, KTM won every year from 2010 to 2014. Cairoli himself was the last Yamaha world champion before Febvre, earning three world titles between 2004 and '09. And like Cairoli, who left MX2 for the MX1 (now MXGP) class in 2009 and promptly won the title, Febvre was able to get premier class title even though he is a rookie. Also, Mexico marked his seventh overall Grand Prix win of the season.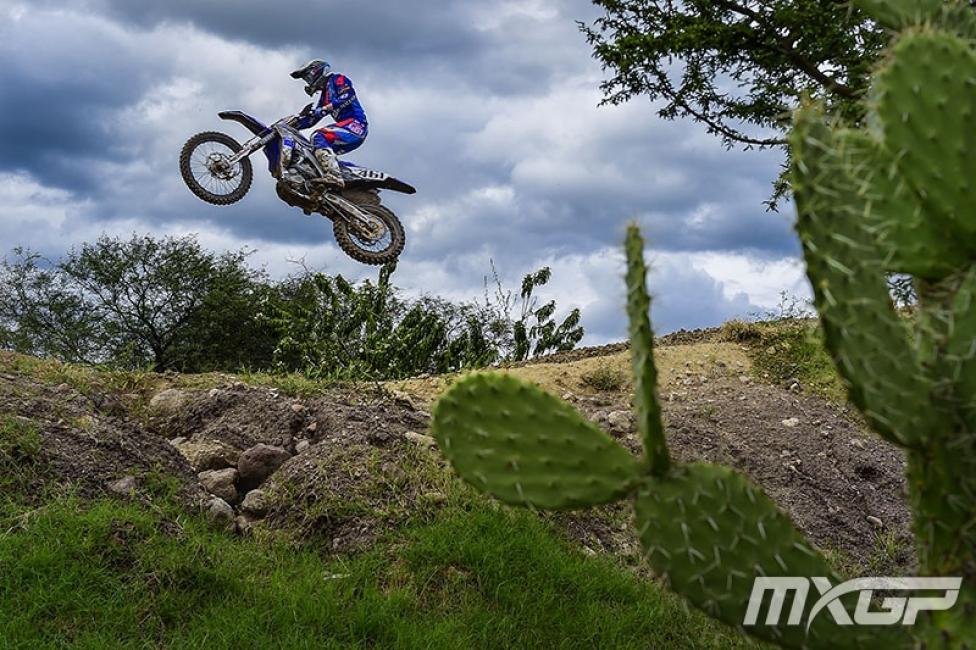 JEREMY'S SPOKEN (DC)
If you've been following our Monster Energy 22-Day Countdown with Team USA to the Motocross of Nations in France, you probably saw what Jeremy McGrath had to say in yesterday's 1996 review. In case you missed it, MC said this after leading Team USA back to the top in Jerez, Spain:
"Mission accomplished," said McGrath after leading the demolition crew both times out. "I feel like we came over here and proved to everyone that we're still the best. They talked a lot of bullshit after we lost the last couple of years and I feel like it was time for us to step back up. We won all six motos, basically, so there shouldn't be too much arguing over who's the best for a little while."
YOUNGEST AND OLDEST (Andras Hegyi)
Thomas Covington is the thirty-fifth American to win a Grand Prix in the FIM World Motocross Championship. He is the also ninth American who was able to win before his twentieth birthday. And earlier this season, Ryan Villopoto became one of the oldest American GP winners, while Covington is one of the youngest of the Americans.
The youngest American GP winner is Ron Lechien. The two-time GP winner wasn't 18 years old yet when he won the Unadilla USGP. Lechien was born in 1966 and he got a GP win at 17 years, 6 months, 25 days. (Note: the youngest GP winner of all time ever is the German Ken Roczen, who got win at 15 years and 53 days of age in 2009.)
The oldest American GP winner is Billy Liles. The six-time GP winner was 31 years old when he got his last victory. Besides Liles there are two other American's who won at 30 years old. The twelve-time GP winner Bobby Moore and Bob "Hurricane" Hannah were both 30 years of age when they won. Villopoto won the Thai MXGP this year after turning 27.
Here's the list of the youngest American GP winners (listed by the calendar year in which they first won).
Ron Lechien: 18 years (he was born in 1966 and won in 1984)
Broc Glover: 18 years (1960, 1978)
Johnny O'Mara: 19 years (1961, 1980)
Marty Smith: 19 years (1956, 1975)
Mark Barnett: 19 years (1960, 1979)
Mike Guerra: 19 years (1963, 1982)
Thomas Covington: 19 years (1996, 2015)
Zach Osborne: 20 years (1989, 2009)
Tallon Vohland: 20 years (1972, 1992)
Jim Pomeroy: 21 years (1952, 1973)
Mike Healy: 21 years (1968, 1989)
Kevin Windham: 21 years (1978, 1999)
Micky Dymond: 21 years (1965, 1986)
Trampas Parker: 22 years (1967, 1989)
Ricky Johnson: 22 years (1964, 1986)
Jeff Stanton: 22 years (1968, 1990)
David Bailey: 22 years (1961, 1983)
Mike Kiedrowski: 22 years (1969, 1991)
Marty Tripes: 22 years (1956, 1978)
Donny Schmit: 23 years (1967, 1990)
Bobby Moore: 23 years (1967, 1990)
Danny Chandler: 23 years (1959, 1982)
Rodney Smith: 23 years (1964, 1987)
Donnie Hansen: 23 years (1959, 1982)
Erik Kehoe: 23 years (1964, 1987)
Brad Lackey: 24 years (1953, 1977)
Marty Moates: 24 years (1956, 1980)
Danny LaPorte: 25 years (1957, 1982)
Kent Howerton: 25 years (1954, 1979)
Chuck Sun: 25 years (1956, 1981)
Jim Gibson: 25 years (1958, 1983)
Billy Liles: 25 years (1963, 1988)
And now here are the oldest, marked by the last GP they won:
Billy Liles: 31 years (he was born in 1963 and won in 1994)
Bob Hannah: 30 years (1956, 1986)
Bobby Moore: 30 years (1967, 1997)
Brad Lackey: 29 years (1953, 1982)
Trampas Parker: 28 years (1967, 1995)
Mike Brown: 28 years (1972, 2000)
Ryan Villopoto: 27 years (1988, 2015)
Donny Schmit: 27 years (1967, 1994)
Danny LaPorte: 26 years (1957, 1983)
Danny Chandler: 26 years (1959, 1985)
Kent Howerton: 26 years (1956, 1980)
Chuck Sun: 25 years (1956, 1981)
Ricky Johnson: 25 years (1964, 1989)
Tallon Vohland: 25 years (1972, 1997)
Jim Gibson: 25 years (1958, 1983)
Jeff Stanton: 24 years (1968, 1992)
Marty Moates: 24 years (1956, 1980)
Johnny O'Mara: 24 years (1961, 1985)
David Bailey: 24 years (1961, 1985)
Broc Glover: 24 years (1960, 1984)
Jim Pomeroy: 23 years (1952, 1975)
Rodney Smith: 23 years (1964, 1987)
Ron Lechien: 23 years (1966, 1989)
Mike Healy: 23 years (1968, 1991)
Donnie Hansen: 23 years (1959, 1982)
Mike Kiedrowski: 23 years (1969, 1992)
Erik Kehoe: 23 years (1964, 1987)
Marty Tripes: 22 years (1956, 1978)
Kevin Windham: 21 years (1978, 1999)
Micky Dymond: 21 years (1965, 1986)
Mark Barnett: 21 years (1960, 1981)
Marty Smith: 20 years (1956, 1976)
Zach Osborne: 20 years (1989, 2009)
Mike Guerra: 19 years (1963, 1982)
Thomas Covington: 19 years (1996, 2015)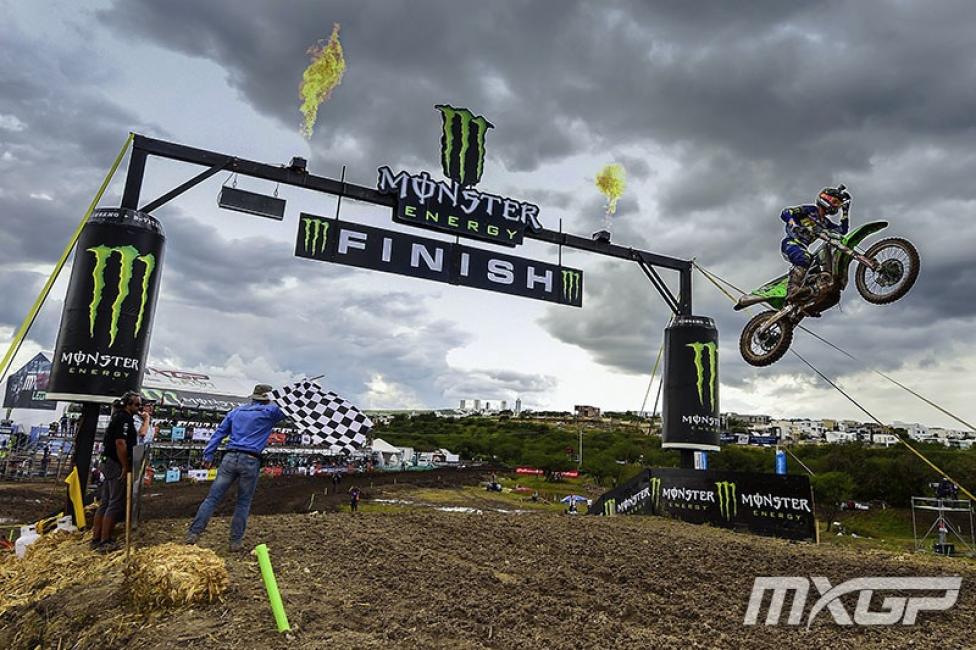 A PAIR OF CORRECTIONS (Chase Stallo)
Earlier this week we paid tribute to the eighteen Pro Circuit riders to grace the cover of Racer X Illustrated since it became a magazine back in 1998. Joey Savatgy is the latest, becoming the first PC rider to make the cover since Blake Baggett in the November 2012 issue. It was really cool taking a trip down memory lane, starting with the GOAT, Ricky Carmichael, way back in 1998, to present day with Savatgy. Unfortunately, we missed a big cover—Ben Townley in July 2007. (Thanks to reader twright43, for pointing it out.)
Townley only won one title in America—the 2007 SX Lites East Region—although it could have been many more, as injuries derailed the majority of his career here and abroad. Although officially retired, Townley still races from time to time—even winning a round of the Australian Nationals this year—and is back in the U.S. preparing for the USGP this weekend at Glen Helen. From there, Townley will head to France, where he will represent his native New Zealand in the MXGP Class, alongside Kayne Lamont (MX2) and Cody Cooper (Open). Townley, who still works with Honda, is a true ambassador of the sport—and still a very fast one at that—and we can't wait to see him over the next two weeks.
We also incorrectly listed Adam Cianciarulo as the only amateur to appear on Racer X Illustrated when he made the front page in November 2011. Eight years earlier, Davi Millsaps was on the cover of the March 2003 issue, while a pair of fast brothers—Mike and Jeff Alessi—were featured on the November cover of the same year.
DUNGEY VISITS ESPN (Chase Stallo)
It doesn't get more mainstream in the world of sports than ESPN's flagship program SportsCenter. Earlier this week, Red Bull KTM's Ryan Dungey visited ESPN headquarters in Bristol, Connecticut, for an appearance on SportsCenter and to film a special segment with SportsCenter anchor Lindsay Czarniak. Ryan's appearance on SportsCenter aired Wednesday on ESPN News (which you can view here) where Ryan chatted about his two championships in 2015, his goals in the sport, and more. As always, Dungey presented himself with grace and class and represented the sport very well.
Dungey's special segment was scheduled to air on last night's 6 p.m. edition of SportsCenter but had to be pushed back. The video, which ended up running two minutes, was moved to this morning due to college football and the NFL airing games last night. You can check that video out here. Below is a photo courtesy of Jason Krutzsch at X Games (you can view the full gallery here), along with a tour around the ESPN campus with Dungey.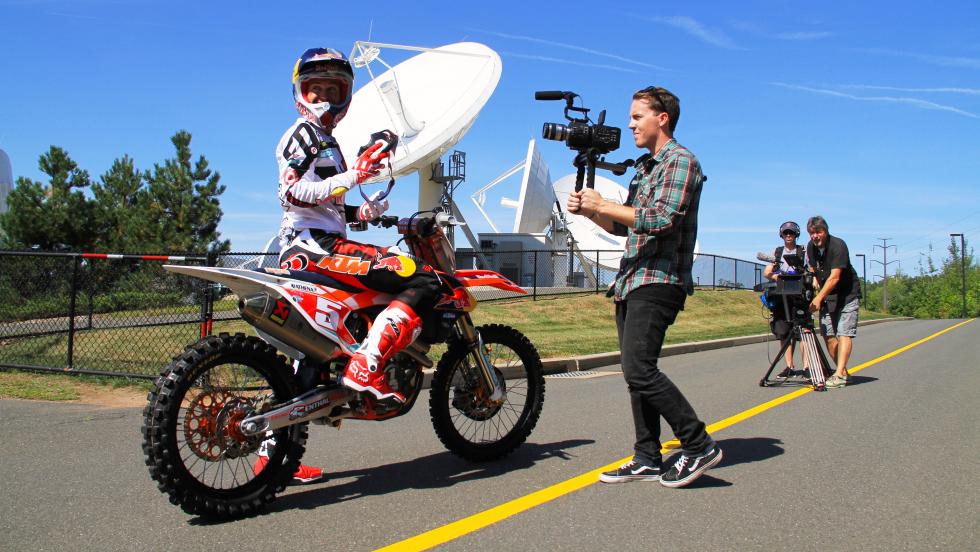 HEAD-SCRATCHING HEADLINE OF THE WEEK
Darren Aronofsky Revving Evel Knievel Film
RANDOM NOTES
Troy-Boy wrote this inspirational story on former top amateur Justin Weeks and what happened to him HERE.
Jason Thomas traveled down to Glen Helen to help out Dirt Rider magazine with their 450 shootout and wrote about it HERE.
For more from Canada, check out DMX Frid'Eh Update #3.
Thanks for reading Racerhead. See you at the races.