There are twenty days until the 2015 Monster Energy FIM Motocross of Nations! We are counting down the days with a daily tribute to Team USA and their twenty-two wins since 1981. Today, we reach 1983.
If you are looking for a moment that truly defines the emergence of the Team USA on the global scene, it's a photo shot by amateur photographer Tom Brinkman (now the owner of the highly-regarded Monster Mountain motocross track in Alabama). Brinkman was in Angreau, Belgium, for the running of the 1983 Motocross des Nations, and at the end of the first lap of the first moto he shot this astonishing moment:
That's Broc Glover (4) leading his teammates Mark Barnett, Jeff Ward, and David Bailey, with Dave Arnold of American Honda working the pit board. The Americans had broken out of the starting gate in flying formation, holding 1-2-3-4 as they came around on the home soil of the mighty Belgians. They wouldn't stay that way, however, as Belgium's own Georges Jobe, the recently crowned 250cc World Champion, broke through to third, but Glover won in his Team USA debut, Ward was second, and Bailey fourth. Barnett, who had never raced a 500 before, would slip back on his Suzuki, the brand itself no longer competing in the 500 Nationals back home.
What you don't see in this photo is Roger DeCoster, Team USA manager. He was there, but he was dealing with a personal tragedy.
"That Saturday night my younger brother was killed in a car accident," DeCoster told Supercross.com a few years back. "I drove from the race to the hospital. And then went back to the track in the morning.
"There was a great moment in the first moto," added DeCoster, a native of Belgium transplanted to the U.S. "At one time the four Americans were running 1-2-3-4."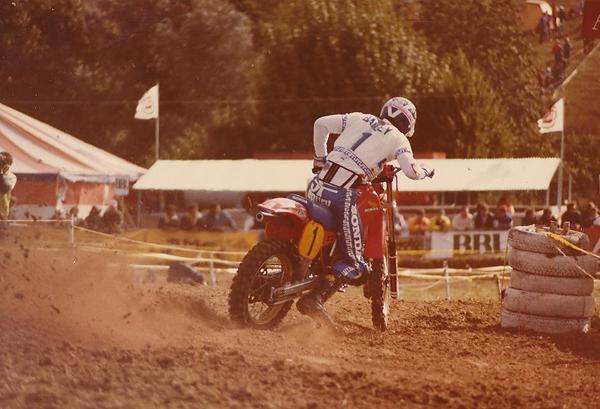 In the second moto it was Bailey's turn to lead the way, with Suzuki-mounted Belgian Andre Vromans working his way up into second. (And in one of those small-world moments, Vromans was actually sponsored by the DeCoster family's dealership in Belgium for many years.) Glover had crashed while battling with Great Britain's David Thorpe and could not get his bike started for some time, ending up thirteenth. No matter, Team USA totaled 15 points after dropping the two lowest finishes; runner-up Belgium held 32.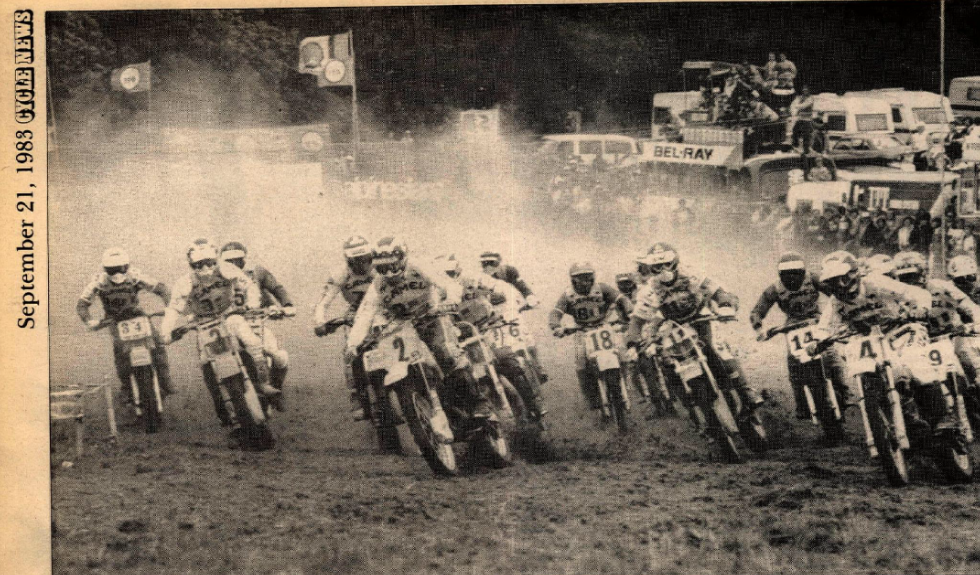 The fact that DeCoster and Arnold were back along with Bailey is worth expanding on. The previous two years were all-Honda line-ups, as DeCoster and Arnold offered up all of their riders when a grassroots swell, led by some key members of the motorcycle industry, but now the interest was back and every brand wanted to participate. Honda could have sent a killer lineup of previous winners Danny "Magoo" Chandler and Johnny O'Mara and even Bob "Hurricane" Hannah in '83, but they could only choose one rider, and they picked '83 AMA Supercross and AMA 250 Motocross Champion David Bailey. It was Bailey who had flown to Europe at the last moment the previous year to replace the tragically injured Donnie Hansen, who held the two titles Bailey took over, but could not race again due to the severity of the concussion he had suffered. Hard to believe that Team USA left behind Chandler, who swept all four motos the previous year, O'Mara ('83 125 National MX Champion and the next year's AMA Supercross Champ), and the still-fast-as-all-hell Hurricane Hannah!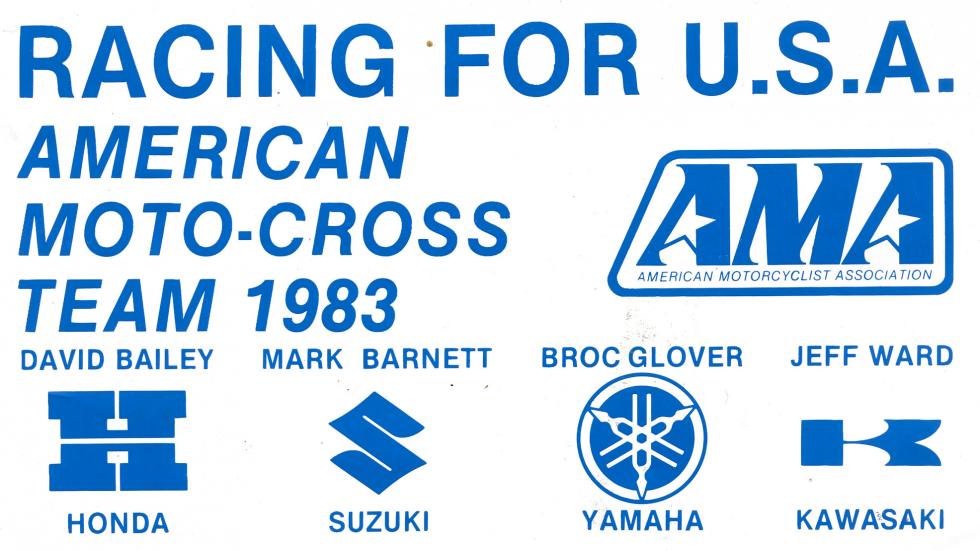 In the end they won of course, but according to Bailey, it wasn't as easy as the year before. "It was easier with an all-Honda team," he told Cycle News after winning the individual overall. "It was just easier for the riders to communicate and for the mechanics. This year everything had to be kept separate. It was easier to organize things last year and it was less individual stress, so the spirit was a little bit higher.
"This year the riders are a faster team," concluded Bailey, and he was right: He would win four major titles, Glover six AMA Motocross crowns, Ward seven across all disciplines, and Barnett four, including three 125 MX titles and the '81 AMA Supercross crown.
One more note: Team USA would be all one brand three more times in the future: 1986 (the Hondas of Bailey, Johnson, and O'Mara), 2008 (the Kawasakis of Tim Ferry, James Stewart, and Ryan Villipoto), and this 2015 all-Yamaha team of Justin Barcia, Jeremy Martin, and Cooper Webb. All of the previous ones—'81, '82, '86, and '08—were the Motocross of Nations winners.
The Trophee des Nations for 250cc bikes was held one week later at an old military outpost near Svrepec, Czechoslovakia, which is now a part of Slovakia. (Coincidentally, the same track hosted the MXoN in 1995, and is now the location of this week's Internationals Six Days Enduro, which Team USA is hoping to win for the very first time.) The star this time was once again an American, as Broc Glover went 1-3 to lead the way, though Belgian legend-in-the-making Eric Geboers did get the second moto win. Ward, Glover, Barnett, and Bailey followed him in order! Team USA dominated the team tally with 18 points to Belgium's 52.
The Americans had now won three Motocross des Nations in a row as well as three Trophee des Nations. And still, no one might have imagined just how much further the streak would go.
And back in America that same weekend, at the 16th Annual Mammoth Mountain MX back in California, the big winners were Danny Chandler (500), Johnny O'Mara (125), and a kid named Ron Lechien (250), a future Team USA hero.