Since Monday, Justin Barcia, Christophe Pourcel and Jason Anderson have all signed extensions with their respective teams. Barcia and Anderson have signed through 2018, with Pourcel agreeing to a new deal through 2017. What does it mean for the teams and riders? Former pros Jason Thomas and David Pingree, along with Racer X Online editor-in-chief Jason Weigandt, weigh in.
David Pingree: Great news this week for these three guys who will all be staying put for a while. Depending on the rider, these extended contracts can be really good or really bad. These long-term deals work out well when you have a rider who is very driven to win and doesn't need help being motivated. Justin Barcia and Jason Anderson both seem committed to doing anything and everything they can to succeed, and this is going to allow them to focus on their program and short/long-term goals. It can be very distracting when you know your contract is up and you have to perform every weekend. Throw an injury in there along the way and you start hitting the panic button when you make your return, which usually doesn't end well. With a multi-year deal, you can put together a two-, three-, or four-year plan and create a detailed program to get you there without the uncertainty of what bikes you'll be riding. Another big plus is having multiple years to develop a bike. As long as the bike doesn't get completely redesigned during that run, you can really fine-tune it to your liking.
I don't know how driven Christophe Pourcel is, but hopefully he takes advantage of the security at Rockstar Energy Racing Husqvarna and builds himself into a race winner. He obviously has the talent, but there seems to be a missing puzzle piece that he'll need to find in order to win races.
As for the adage that riders will only perform during a contract year, well, I think that is rider specific. Ricky Carmichael seemed to do fine on multiple-year deals. Guys who are inherently lazy and need somebody constantly pushing them to be motivated are the ones who put it in cruise control when they have security like that. These guys are easy to spot, and if you are a team owner giving these guys multiple-year deals, that's your bad.
Jason Thomas: Signing a long-term contract is a good, good feeling for riders. In a sport where injury is so prevalent and the market so volatile, having that security is a privilege that not all riders will ever get to enjoy. Longer duration contracts usually mean higher salaries simply because the length of the deal is a direct indication of the team's desire to hire said rider. It is the situation that every kid growing up racing motocross dreams about.
For Justin Barcia, this move makes sense now, but had you asked me a few months ago, I wouldn't have been so sure. Barcia had been struggling with the Yamaha, and his supercross season definitely was not what the AutoTrader.com/Toyota/JGR team had in mind when they signed him to a lucrative deal last year. He turned it around this summer, though, winning races and planting himself firmly back into relevancy. This extension solidifies that improved dynamic in North Carolina and lets them work hard toward 2016 success and beyond.
Jason Anderson also signed an extension with his current team, Rockstar Husqvarna. His rookie 450 season went pretty well, I thought. He rocketed out to a runner-up position in his first supercross at Anaheim but struggled to find consistency throughout Monster Energy Supercross. His outdoor season was much of the same scenario. Often one of the fastest bikes on the track, bad starts and mistakes would relegate him to finishes he probably doesn't care to remember. Still, though, it was easy to see how fast he was going and how much potential lie beneath the surface. I have a feeling the updated 2016 Husky will help fuel his results to new levels next year.
Christophe Pourcel is in a similar situation as Anderson, having signed on with Rockstar Husky. He hasn't raced supercross since 2010, so it will be interesting to see not only if he still has the indoor acumen, but how his skills transfer to the bigger 450 in the tight confines. He was a force when he got good starts this summer, but seemed to struggle when his starts suffered. All in all, this move makes sense for everyone involved and adds depth to the Husky 450 effort. It will be interesting to see if the second year of his contract keeps him in the USA or if he ventures abroad.
"If you look at it, that's kind of what my dad [Joe Gibbs] says. He says, "Hey, it takes ten years before you really start hitting it." You don't really want to believe that the first couple of years, but the truth of it is that's how long it takes."
Jason Weigandt: We've reached a crossroads for the team-power structure in this sport. Manufacturer-owned efforts have ruled the roost for decades, but privately owned teams made huge strides in the last ten years, especially after the recession took a major bite in OEM budgets. Factories like to have control, but when the budget gets slashed and someone else is willing to pick up a big part of the tab, these partners are willing to dance. The bike makers are getting stronger again, and now the two different models will face off on equal footing.
This week, Rockstar Energy Husqvarna and Autotrader.com/Toyota/JGR Yamaha press releases made it clear they're in this for the long haul. Bobby Hewitt's Rockstar team has run through the OEM ringer before, once picked up but then dropped by Suzuki (after Suzuki's support budget shrank to near-nothing). KTM stepped it up with factory help, and now that support has moved under the Husqvarna umbrella. It's clear now that Husky's resurrection will not include the traditional OEM-owner factory team, but rather Hewitt's operation working in close quarters with the Husky bosses in Europe and here.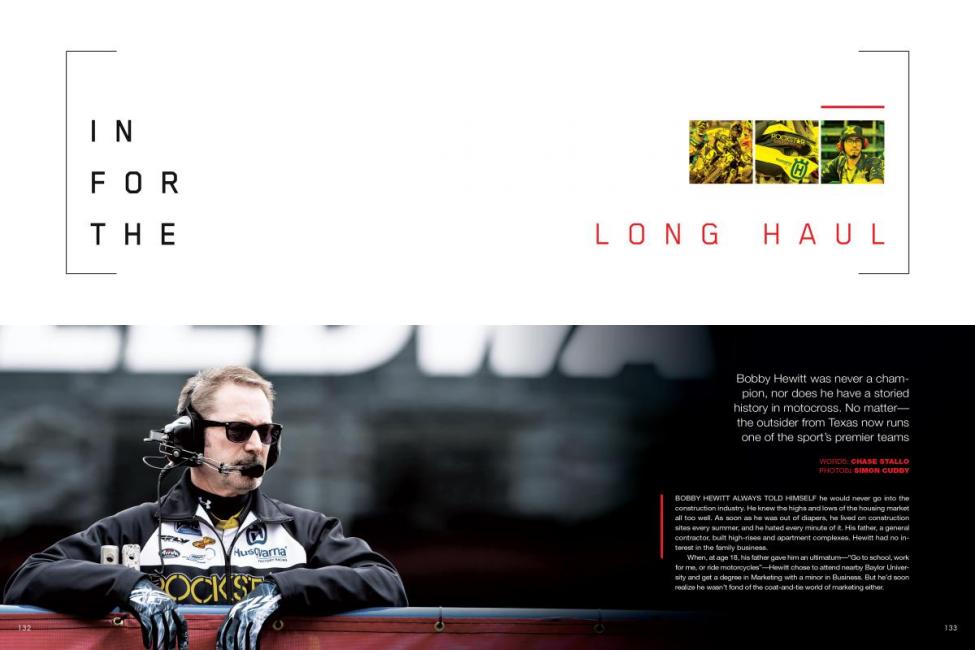 Rarely do these experiments go as smooth at this one, so this success is a testament to Hewitt's leadership and Husky's outside-of-the-box thinking.Give Hewitt another gold star for corralling the talents of Pourcel, which no one else was able to do. All season long, the Frenchman kept telling me this is the best team and brand he's ever worked with.
On the JGR end, it's obvious that motocross isn't the main project for the Gibbs family, which has considerably more eggs in a considerably larger basket with NASCAR. Coy Gibbs is an outsider and he's built his team differently than others by basing it in North Carolina instead of California. There's always a fear that he could just give up the fight and go back to work in the NASCAR division. After all, this is the only organization that competes in other forms of motorsports that has decided to move into supercross and motocross, and while Barcia provided some race wins recently, the team hasn't really been in contention for a title yet. It's worth noting that JGR's Yamaha deal is up at the end of 2016, and while they could re-up with the brand, this Barcia deal is proof they will go racing no matter what. Also, Yamaha has young talent like Jeremy Martin and Cooper Webb in the wings. Even if the market leads them to JGR, the team still sees Barcia as a leader.
By 2018, Coy's JGRMX effort will have hit the ten-year mark, which he said last week is very key. "If you look at it, that's kind of what my dad [Joe Gibbs] says. He says, "Hey, it takes ten years before you really start hitting it." You don't really want to believe that the first couple of years, but the truth of it is that's how long it takes."
Factory teams are getting stronger. Recently Chad Reed decided to close his much-admired TwoTwo Motorsports team, and he's later gone on to comment that he's not sure what the long-term future is for privately owned teams in this sport. That's a scary thought, because more teams means more work and better competition. This week, we see good news for more than just Barcia, Anderson, and Pourcel. For at least two private teams, the future stretches as far as we can see.