Crawfordsville, IN
Indiana
Lucas Oil AMA Pro Motocross Championship
Ken Roczen was not having the season he had hoped for as he entered the last round of the 2015 Lucas Oil Pro Motocross Championship at Ironman in Indiana. After taking the 2014 title he won with Red Bull KTM to RCH/Soaring Eagle/Jimmy John's Suzuki, the German superstar wanted to be both AMA Supercross and Motocross Champion. For the first three weeks of SX, things were going according to plan, but then a series of mishaps and injuries dogged him the rest of the way.
Just as he was about to close the book on 2015, an interview with his father Heiko Klepka came out last week in CROSS Magazine. It was conducted and printed in German, but that didn't stop it from being translated into English and then posted on the Vital MX message board in almost real time. Roczen's dad unleashed a torrent of personal opinions about everything from Kenny's bike, its parts, and its setup, to the arrangement of the team co-owned by Ricky Carmichael and Carey Hart. He also questioned the credentials of not only the owners but just about everyone on the team. Needless to say, it was a major distraction that Roczen neither expected nor needed on the eve of the end of an up-and-down season.
Roczen addressed the whole situation last week in an interview with our own Jason Weigandt, which you can read right here.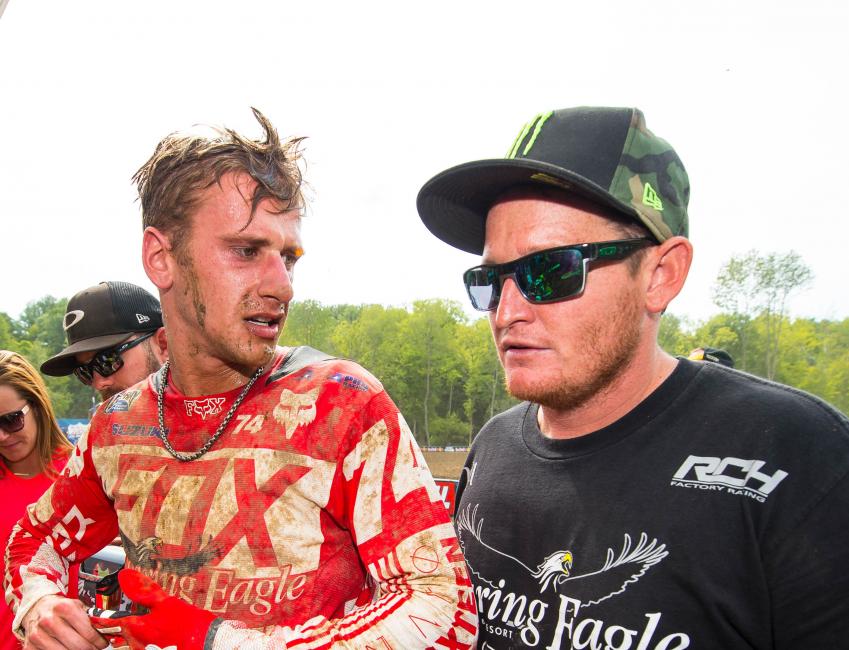 But what about Ricky? What did the GOAT think about the disparaging comments made about his team and his longtime partnership with Suzuki? RC invited Vital MX's Steve Giberson and myself to come by the RCH rig on Friday evening in order to make a few comments about his team, though nothing directly about Heiko's interview or opinions, let alone the relationship between his rider and the father.
"I don't want to comment on remarks made by someone outside of RCH, in respect to Ken and his relationship with his father. That's [between] the two of them—whatever happens in between them is between them—so I will not comment on speculation and rumor outside of this team," began Carmichael.
"Obviously, things can't always be perfect, though we want them to be."
"This is our third season as a race team for Carey [Hart] and I, though obviously he's been here years before," he added. "You know, I think we've got a great group of people, we've got great support from Suzuki, and we work hard to give our riders one hundred percent. We do the best we can with the equipment we've got, and we've got some really good equipment, factory equipment." Carmichael would later emphasize that Roczen's bike is indeed a factory bike.
"Obviously, things can't always be perfect, though we want them to be. We are still going to try our hardest. And I think everyone in this group should be walking tall. Everyone in this group has tried their hardest. When you look inside the paddock, you see that tomorrow [Saturday] we will have a really good shot to be second and fifth in the championship, so as far as a team goes, and from an owner's perspective, to earn more points than anybody else has in this paddock—with KTM, Kawasaki, Yamaha, Honda, Husqvarna—I think that speaks volumes and I'm very proud of the guys behind the scenes.
"I know this much: I want to win just as bad as the next guy, and I feel that we are going to continue to give Ken and Broc 110 percent, as we always have, to continue to fulfill their needs and make them happy.
"This is part of team ownership, and sometimes there is going to be things like this said," added Carmichael. "We've made a lot of progress with Ken these last three weeks, and I think he's in a real good spot. I'm really happy for him and to see that. We've made improvements and the results will speak for themselves."
The next day, Roczen ended his 2015 season with a win in the final 450 moto over newly crowned champion Ryan Dungey and the second overall ranking in the series, beating out AutoTrader.com/Toyota/JGR Yamaha's Justin Barcia by 6 points. Broc Tickle did not end up fifth as RC and the team had hoped, but rather seventh after a crash in the first moto left him in fifteenth place. No matter, RCH Racing's two riders scored more points than the top two on any other team in the 450 paddock. And that's something they can take into this off-season to work on, along with Roczen's win in the final moto.