Crawfordsville, IN
Indiana
Lucas Oil AMA Pro Motocross Championship
Stack another log on the fire between parents and riders in motocross. Ken Roczen's father, Heiko, recently did an interview with German motocross magazine Cross, filled with incendiary comments toward Ken's current team, RCH/Soaring Eagle/Jimmy John's Suzuki. It's spreading like wild fire through the sport now that someone has translated it to English on the Vital MX message board.
Racer X was quickly contacted by Ken Roczen, who wanted to get his side of the story out.
"I didn't know about this interview at all," he told us on the phone last night. "I was very shocked as I read that. This is very extreme. I'm 21 now, I'm my own man, I speak for myself. I choose to be on this team; that was my decision and nobody else's. Have we had some struggles? Yes, we did. Have we worked hard and tried to turn things around? Yes, we did. The last couple of races have been a lot better for me. It's been a tough year for us and we're still trying. Nothing is ever perfect. Yes, we figured things out later than we would have liked to have. But the bottom line is I speak for myself. My dad is thousands of miles across the pond. The only person who can make a statement like this is me. I'm old enough to choose my words and make my own decisions and say what I want to say.
"The team and I, together, have worked very hard to make some progress," he continued. "We have changed a lot of things we have needed to change. A little late, but I made the decision to go with the team I'm on, and I'm going to give it 100 percent and I know the team will, too. I'm my own person, and I know when it's time to open my mouth and say things."
There's no doubt Kenny's first year with the RCH Suzuki has been a struggle. Monster Energy Supercross started well but bombed out with injuries, and he's lost the defense of his 2014 Lucas Oil Pro Motocross 450MX title. Roczen has been fairly outspoken about not finding the right settings on his bike in the Nationals, which seems odd considering he left Red Bull KTM last year so he could ride a Suzuki. But Kenny keeps telling us he's committed to the team and working through the problems.
Only, there is a problem now. With his dad's interview, behind-the-scenes struggles have been laid bare to the public, and that's never good when a rider and team are trying to make things work.
"When we started in supercross, we found a pretty good base setting," Kenny tells us. "We always tried to improve here and there, but we didn't really make a step forward. But I had something I had spent a lot of time on and something that I liked enough to be able to ride up front. After the injuries and stuff, things turned around a bit, and part of that is the injuries; you have to take time off. I have to say for the outdoors, things started to get more difficult. From the beginning on, for outdoors, I never found something I was happy with; nothing that I would say was easy to ride. We had struggles. But you're going to have struggles everywhere. Every brand, some years the bike will be great, and other years it's brand new and it's going to take some time to develop everything."
"I wanted to switch. I would never look back and be like, 'Man I wish I would never have done this.'"
So Roczen and the team keep working. We've heard about trying a spring fork instead of the air fork. We've heard they've done some testing with the Yoshimura Suzuki team.
"It's headed way more in the right direction now," he says. "Yes, like I said, things can still be better and more consistent, because every time I try things I end up going back to the same direction still. Since Unadilla we did some tweaks that have helped me out and stuff."
Roczen tells us his dad has been back home in Germany for over a month now. "We still have a great relationship, but we're not talking every day, and a lot of things have changed for the better. It's hard for him to be across the pond and really feel it or see the steps we're taking, not only with the bike, but with team relations. I'm guessing it would be hard for any person to pick up on that, so that's why I'm kind of bummed he made these comments without talking to me."
Still, the switch from success with KTM to RCH Suzuki, which had not had a rider at Kenny's level yet, is going to make some people wonder. Many have pointed to Roczen's agent, Steve Astephen, who is also the agent for team co-owner Cary Hart, and helps sell sponsorships for the team. Astephen is adamant that he also sells sponsorships for a variety of teams and isn't a representative for RCH. He says only one team sponsor, Dodge, is of his doing, and he's completely uninvolved with any other part of the team besides Roczen's deal. Further, he says from day one he wanted Kenny to stay with KTM.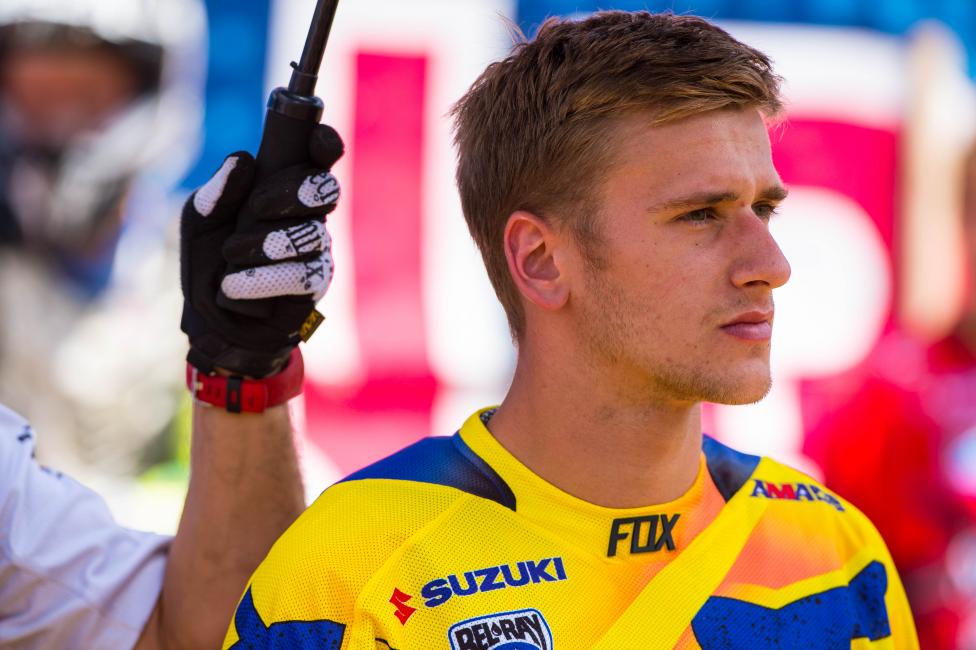 "If it was my fault that Kenny switched teams and then he wanted to leave, he would have fired me by now," Astephen told us. RCH, at the time, was the offer and bike Kenny wanted.
Kenny says he has no regrets about the switch: "I have never asked those questions. I put that on myself. I wanted to switch. I would never look back and be like, 'Man I wish I would never have done this.' I was down for a new chapter in my life, and for a change, that's what I wanted, that's what I went for. I've never thought about just throwing this all away.
"My contract is through next year. I never gave up on it [RCH]," he continued. "It's tough for a rider in this position, and I'm sure it's tough for the team too [when things aren't going well.]. We needed to get better, and maybe we could have gotten it together more quickly, but my opinion was never that I'd just throw things out. That's not who I am."