Although Guy Cooper's nickname during his pro career was "Airtime," it could have easily been "Fun time," because the Oklahoma native is all about having fun. Cooper's always ridden dirt bikes and done things to keep the fun in his life, and this weekend he's lining up in the Legends and Heroes race at the Ironman National. The 1990 125 national champion is back on the scene this year as team manager of the MotoSport.com/GPI Honda team,and was watching practice at the recent Utah National when I sided up beside him and hit record. Behold, Guy Cooper.
Racer X: Before we talk about your team, we're going to get to see you race next week. This Legends race is coming up and people are excited.
Guy Cooper: I think it's going to be a lot of fun. There are guys I raced with, but then there are a lot of guys that were coming up. At 40, I went back out. I did get to race against [Ricky] Carmichael and [Kevin] Windham and all those guys. A lot of these guys, I'm fifteen years or more older. Don't expect a whole lot, but I'm still having fun. I go out there and I'm on a really good bike, although the bike's way better than me right now.
Are you bringing out an RM125?
No, I've actually got an '88 CR125; I've got an '89 CR250. Both of those would be fun to bring out and nostalgic, but being on the Honda team, I'm going to run Tommy Hahn's CRF450 and tailor it toward me—#10 on it.
People may not know this, but you do still ride a lot, unlike maybe some of the other guys.
I still play a lot, whether it's a pit bike or just out through the trees and stuff. Yeah, I still ride and I have a good time. But at 53, I'm going to probably be the oldest one out there.
Talk about the season so far. Tommy Hahn and Kyle Peters have some good finishes, but also had some injuries. And of course you should have Fred Noren out there, but he's filling in at Honda.
It's a learning curve for all of us. It's my first year as being in a team manager position. I wish I could start today with what I've known because I've gained a lot of knowledge in a year. But basically our team doesn't have the budget others do, so our riders don't get paid very much and our mechanics don't get paid very much. We're sleeping three and four mechanics in the same hotel room. We're on a budget. But with that being said, we are mixing it up with some of the teams that have twice or three times the budget that we've got. So, in that scenario we're winning. We're doing good. Of course, we want to do better. Our mechanics want to have more stuff to test with. We look down the road and we see the funding and where these guys are testing and the money they're putting into it.
So I think with a few things that can go our way, I think we can have the money that we need to go out there and get the testing a little bit better. Our bikes are good. We're really happy with them, but we know that we're only giving our riders a couple of ideas. With more funding, we can give them more options. We already know that Colt [Nichols] and Kyle Peters are probably the two most different riders. Colt wants all bottom; Kyle wants all top. So our motors have to be completely geared different for it, tailored for the rider. At the beginning of the year, we really didn't have the funding, so Kyle Peters was put on a bike that he kept running on the rev limited all the time. So with knowing the riders, I've learned a lot.
Probably a little part of you looks at Fred's great finishes on the factory bike and thinks that he could do that well or close under your tent, which would be a plus.
Our bike, our 450, is actually really good. I think Freddy could be doing as well on our bike as he can on the Honda. There's no doubt Freddy is in an awesome position. He gets to ride a full factory bike. It's a Cinderella story. We are all happy for him. We also knew when we signed the contract with Honda that he could be plucked away at any time. And so, theoretically, it was going to be a few races if there was an injured list.
Well, it ended up being more than half the year, so I requested to get our signage on the bike. It had some conflicts. FMF would like to see an FMF pipe on but we have a sticker on there, and it doesn't have the FMF pipe. It just allows some of the media and some of the spectators to know that's our guy, and we're actually happy that he's got the opportunity to ride a factory bike. But at the same time we want MotoSport and GPI to gain some recognition because they're paying the salary.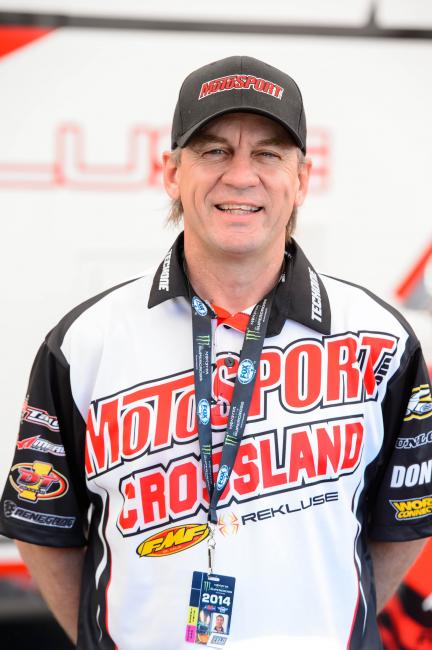 Lots of rumors about your team for next year—anything you can tell us for sure about 2016?
Nothing for sure on the record. I can say that Chris [Crossland] has talked a lot about…three years is when you're talking with people in business; it's a three-year plan, and he doesn't want to pull the rug out until we make sure that we've done that three-year cycle. And just looking from first year to second year, we've gained so much knowledge. We're somebody that people know that we're not going to pull the rug out after a few races. There was all kinds of talk last year that it was folded and everything. So with some better sponsors—and the sponsors we've had are great. I definitely want to appreciate and thank MotoSport and GPI. We know GPI is a two-year deal, so they're on board with us again next year. But with that said, with more funding, we didn't have a clothing sponsor, and there were a lot of things that came in last minute. With all the little things put into place—and Chris calls that the smalls—the smalls were tearing us up this year. There was all kinds of stuff that we were paying out of pocket. With some of those put together, I think we can see a big improvement.
For the Legends race next week, I don't know how you're going to do, but I predict you probably will go high and flat-land a jump up there.
That's probable. I never wanted to come up short on a jump; it's old school. You don't want to land on a razor edge. It's always typical to over-jump the first time. I'm used to flat-landing.