Elbow Injury will Sideline Antonio Cairoli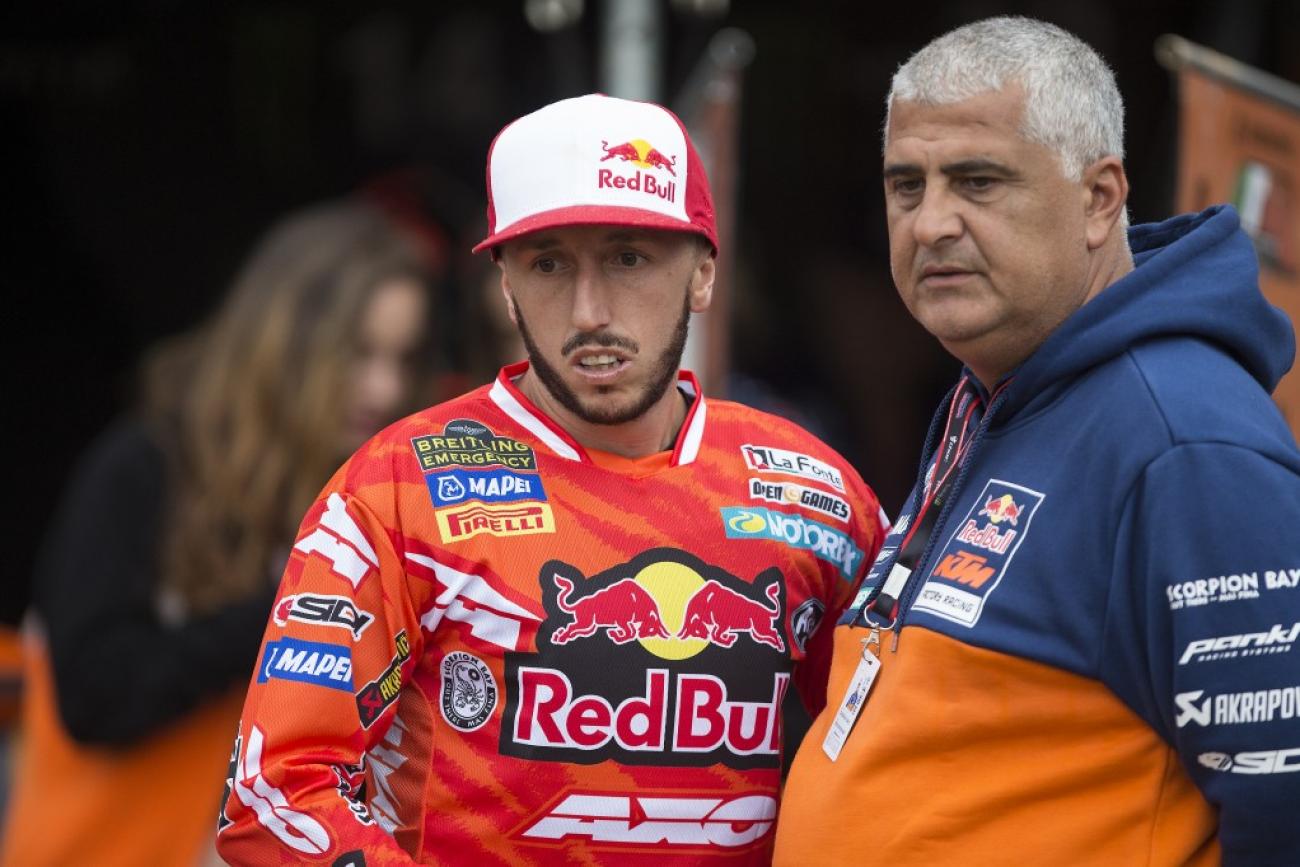 On Track Off Road's Adam Wheeler is reporting that eight-time world champion Antonio Cairoli will miss the next two rounds of the FIM World Motocross Championship due to a left elbow injury sustained at the MXGP of Maggiora in qualifying on June 13. Red Bull KTM has confirmed the report, but did not announce an expected return date.
The decision came following a recent consultation with specialist Dr. Claes that determined the fracture was not healing properly and continuing to ride would hinder his recovery. Cairoli, who has been riding in a tremendous amount of pain, also meet with KTM Motorsport Director Pit Beirer before announcing the decision.
"It hasn't been any fun to race with an injury and not be able to fight for victory, although I always tried my best," Cairoli said in a statement. "I very much regret that I have to stop but unfortunately injuries are part of our sport and this is something we cannot do anything about. I will do everything I can to recover as soon as possible, and to be back on the bike and on the race track."
"Antonio has an impressive courage and determination, and he always wants to race," said team manager Claudio de Carli, "But some situations could have a negative impact on his future. For me the rider's health and wellbeing is the most important, and this is entirely in keeping with KTM policy. Despite the injury, Tony was making every effort to keep his title chances alive, but this medical checkup showed a worsening of the clinical situation that cannot be denied. He may also need a small operation on the elbow, if there is not a sufficient response from taking a break in racing. It is currently not possible to estimate when Tony will return to the track, but I think I can say that he will not be able to race in the next two GPs."
Cairoli has won six straight MXGP titles (formerly MX1) dating back to 2009. The Italian also won two MX2 titles in 2005 and 2007.
Cairoli is just the lastest MXGP star to exit the series due to injury. Clement Desalle, Ryan Villopoto, Jeremy Van Horebeek, Max Nagl, Ken de Dycker and Kevin Strijbos have all missed significant time this season, or are out for the season.
The injury leaves the door wide open for MXGP rookie Romain Febvre to win his first world championship. The French sensation would become the first MXGP rookie to win the crown since Cairoli in 2009.
Febvre takes a sixty-six-point lead over Gautier Paulin going into the MXGP of Czech Republic this weekend.
[Update]
That looks gnarly.