The last time Racer X spoke to Yamaha Factory Racing Yamalube's Romain Febvre, the Frenchman was just starting his ascent to the peak of MXGP. After the German Grand Prix last weekend, the 23-year-old Frenchman has firmly arrived. With three wins and the MXGP red plate, Febvre is something of an unstoppable phenomenon in the premier class of the FIM Motocross World Championship. After ten rounds of eighteen. Febvre has claimed four of the last eight motos, and with Red Bull IceOne Husqvarna's Max Nagl forced out of his home event, Febvre defeated HRC's Gautier Paulin and a still-ailing Tony Cairoli to rise to the top of the MXGP standings by 9 points over the absent Nagl.
Febvre, a rookie in MXGP after claiming third place in MX2 last season (he couldn't stay for another year in the class due to his birthday being December 31), is one of the coolest and calmest characters in the paddock. Febvre even managed to downplay ownership of the red plate.
We caught up with Febvre to get his take on the competition, the tracks, and more.
Racer X: How can you say having the red plate doesn't mean so much? For you it must be a bit of a milestone? You never led MX2.
Romain Febvre: Yeah, for sure it is nice to have it, but it doesn't mean so much for me right now. I win nothing by holding this red plate. It's good to have it, but there are still so many races ahead, and like we saw this weekend, so many things can happen. Nagl, Cairoli, and [Clement] Desalle have all crashed in the last few weeks. [Jeffrey] Herlings also. I just think that anything can happen, whether you are training, cycling, or at the races. It was definitely another positive weekend with a moto win and the GP.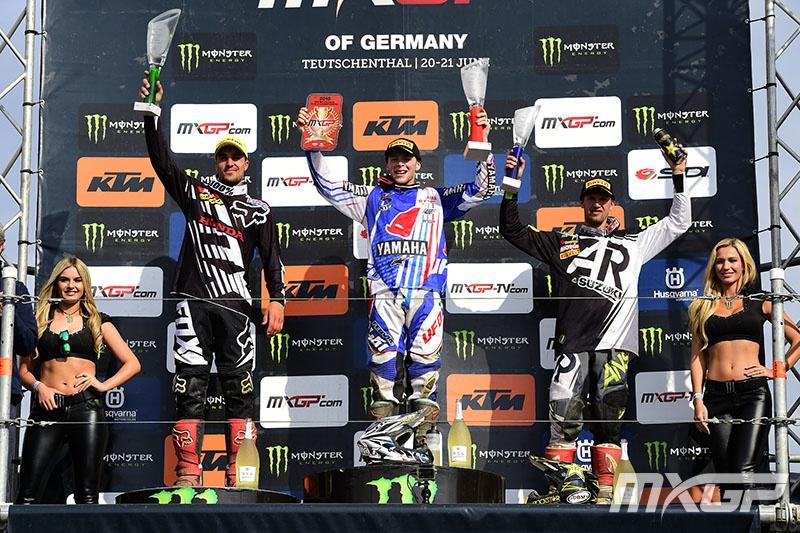 You must have gone to bed Saturday night after hearing about Nagl's injury thinking that today presented an interesting opportunity.
I didn't think too much about that. It's nice to be at the front of the championship now, but close to the end of the year will be much better. I have to continue to try and win some motos and some GPs—that's the goal and I don't carry expectations of anything more.
You've won on different tracks, with France hilly and demanding, Italy in the mud, and now this bumpy, fast hard-pack. You couldn't afford to make a mistake or you were off. Are you happy knowing that you can ride that Yamaha at race-winning pace in a variety of conditions?
Yeah, I know the speed is there. For the last three or four races, my pace has been very good, and I know with a good start I can be right there. In the first moto, I was making a few mistakes. They were not that bad, but I knew I could have crashed in a couple of spots. I knew I needed to be more consistent and not take so many risks.
People might also think, "Okay, you won your home GP, and you might have been a bit lucky in the mud," but now you must feel like you can win anywhere.
For sure. In the first moto I was in the lead after three laps, so it was easier than the second where Bobby [Evgeny Bobryshev] crashed on the first corner and I was so close to touching him. I think I was tenth. I felt the speed was there again, and I made some good passes, good progression through the pack. I wanted to pass Paulin for the lead, but a stone knocked my goggle lens loose and I had some mud inside and it started to go in my eyes. I could feel the wind in my goggle. I decided to slow down with three laps to go because it was quite difficult to ride. I knew second was enough for the overall. It is nice to win again, and on a track like this that had many bumps and ruts, and the jumps were nice. They had watered it too much in the first moto, and I spoke between the races with the FIM and they said they'd ask the club not to water, but somehow it was [watered] before our first race. It was really sketchy and we took some risks that we don't need to take. I think this weekend there were a lot of crashes because of the track. The second moto was a lot better because there was no water. The racing was better, I think the speed was better, and there were battles going on.
France was special for you. Italy was special for Yamaha with their sixtieth anniversary and with this hat-track. Do you feel like you are an established star here now? You are being mentioned in the same lines as Cairoli, Desalle, Nagl, and Paulin.
Yeah. The rookie. I don't know what to say…it is really nice for myself, the team, for Yamaha. I think they can see that their work with me this winter is having a good effect. We'll keep going and keep working. I do not expect something from every GP. I will just ride like I know and try not to take risks.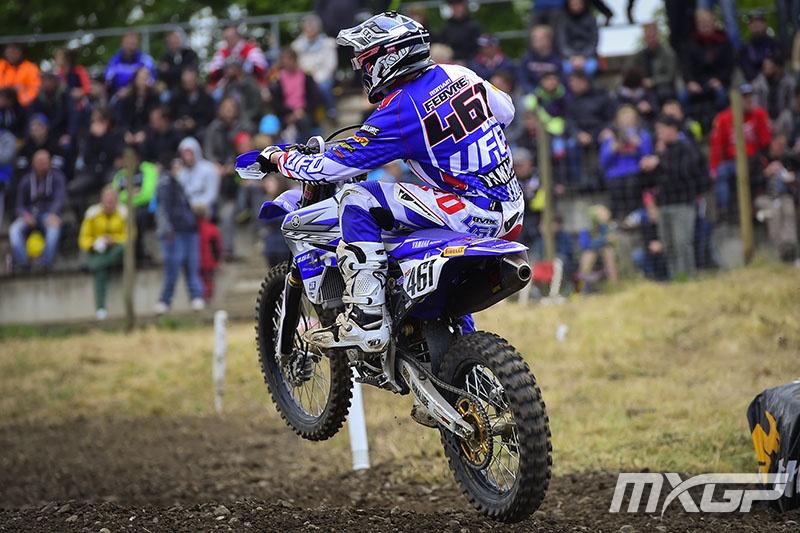 Apparently, you are going to Assen for the MotoGP next week. It will be a different experience for you to go there as the number-one in MXGP currently.
For sure. It is a special feeling to think about something like that, and Yamaha are also in the front in that championship. I know the MotoGP riders follow the motocross, so it will be nice to meet the guys. It will be my first time at a MotoGP and I'm excited to go.
Work goes on and you have another two-day test before Assen. Why? It seems like you have the YZ450FM working very nicely.
That's the thing. It is not because we are winning, losing, or finishing fifth that we stop trying to progress with the bike. The team is focused on the next few years, and they know we can still improve. They have some good ideas all the time. Many times we find little improvements. Sometimes we cannot always make that progress. We always try to go in a good direction. I think I can improve myself for the next few races and for next year. I am not at my limit with the bike, so we keep working.
Lastly, you have the new contract with Yamaha in place for 2016 and '17. If you win this thing, any chance of a renegotiation?
[Laughs] I think so.