Spring Creek MX Park
Millville

,

MN
Spring Creek (Millville)
Lucas Oil AMA Pro Motocross Championship
Millville, Minnesota, is the home of the Spring Creek Motocross facility. A favorite with most of the riders, the Spring Creek track offers a little bit of everything. Its rolling elevation, great dirt, and challenging obstacles have everyone looking forward to the land of ten thousand lakes.
The dirt at Spring Creek is some of the best of the year. The landscape features both clay and sand, with the upper sections consisting of the most the clay while the bottom of the course is the sandiest. Climbing some of the hills, the clay and sand meet, making for some interesting ledges and hip jumps to hop over. There is always an abundance of traction, and traction leads to happy riders.
This track, much like RedBud, has some signature obstacles. Most famous are the treacherous sand whoops on the far end of the track. Many other tracks have attempted to mimic Spring Creek's whoops, but there's nothing on the schedule even close. The height and depth of these whoops can vary, completely changing the approach, but that doesn't change the difficulty level. I've seen them left untouched leading into the weekend, making for a hellacious row of riverbed grit. I've also seen them built tall and far apart, making a more rhythmic strategy that most find appealing. Most times, though, they are somewhere in the middle, as they will be maintained fairly well, and you can skip across…if you are brave enough.
Watching practice is always interesting, as the elite-level riders push the primordial envelope with each and every qualifying lap. Ricky Carmichael was an absolute master of these, recording an eye-opening 45 mph run through the section sometime in the mid-2000s. Yes, one year they put a radar gun at the end of the section. That was cool…if you were actually going fast through there.
The Holy Schmit jump, named after the late local hero, Donny Schmit, changes in size now and again, but is always just before the finish line along the big spectator hillside. Back in 2005, this jump was absolutely massive, but it's been toned down in recent years. In its day, it was everything a 450 could muster to downside, so the change is probably a positive overall.
The big U-turn wall just prior to the Holy Schmit is another Spring Creek signature, and although it's tough to make any passes there, it's still a fun section. Coming down the hill after the U-turn is a test of both bike setting and courage, as the bumps steadily grow as the day continues. Late in the motos, watch for riders to force the issue here as a way to pass, beating their competitor to the turn at the bottom.
The newest obstacle is Martin Mountain, named after the track's owners, John Martin and family. His two sons, Jeremy and Alex, will be looking to do their namesake proud on Saturday. This massive hill climbs onto the backside of the property with jumps lining the way up, and drop offs leading everyone back into view. It's a visually stunning section of racetrack that had everyone talking with its debut last season.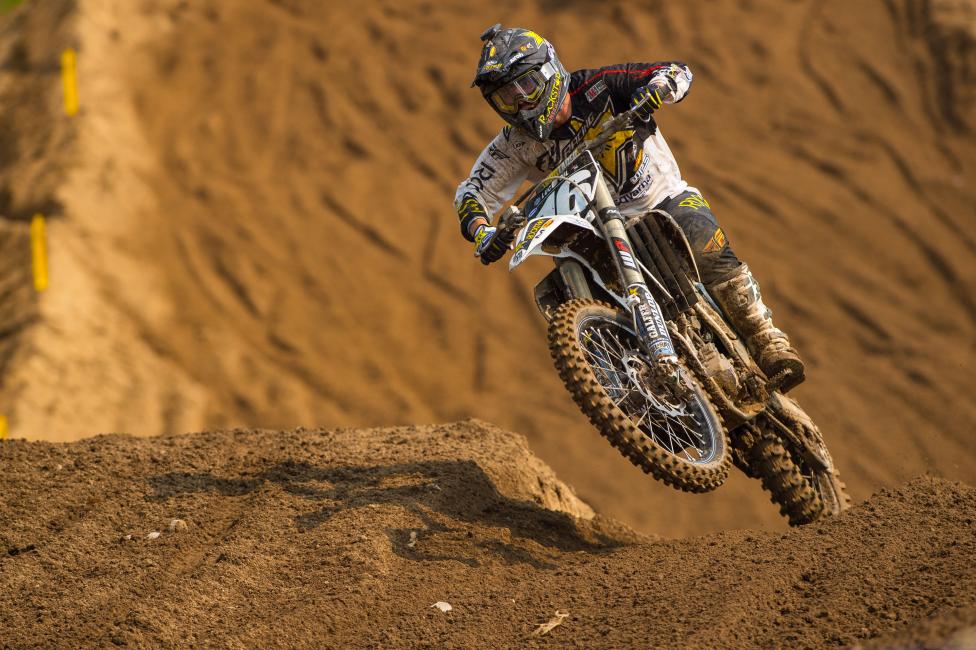 Who's Hot
Justin Barcia owns prime billing here and deservedly so. He has won back-to-back nationals and is finally the Barcia we all expected. Hopefully he can keep it up, because he makes the racing more fun for everyone watching.
Jeremy Martin has taken the points lead away from Marvin Musquin, and has looked great doing it. This is his home track, so look for him to be on fire come Saturday. If he doesn't win the overall, I will be shocked.
Ryan Dungey didn't win either of the last two overalls, but he has extended his points lead nonetheless. With a sizable gap and a newly won ESPY award, look for a great performance this weekend at his home race.
Zach Osborne has been growing more and more consistent lately and doing a great job for the Rockstar Energy Racing Husqvarna team. His work with the Tomac family is paying dividends.
Fredrik Noren had quite a weekend at RedBud. He scored a career-best seventh overall on Saturday and then married his fiancée Amy on Sunday!
Cooper Webb allllllmost won each moto at RedBud, but little mistakes cost him. He's ready to do battle, though, as he looks fully recovered from his ankle injury.
Who's Not
Ken Roczen just hasn't looked like himself since his second moto win at Mt. Morris. I'm not sure what to think of the situation, but I just know Kenny is better than what we are seeing.
Marvin Musquin had a rough RedBud. He's still dealing with a hand injury suffered earlier in the season, and that's affecting both his preparation and his execution on race day. It will be interesting to see how the week off will factor into his performance this weekend.
Jason Anderson has had a roller coaster of a season. His speed is undeniable, and when he stays out of trouble, the results are evident. He seems to get caught up in little crashes and incidents early in motos, putting him in a no-win situation. If he can sort out the mishaps, he's a top-five rider every time the gate falls.
Bold Predictions
Two Minnesotans, Ryan Dungey and Jeremy Martin, go 1-1 in their respective classes.
The FIM, after their success with Thomas Covington's long hair, tries to impose their will on Justin Barcia's beard. Bam Bam verbally T-bones the Euro agenda, sending them back across the pond in a tailspin. #merica
Seven riders from the state of Minnesota finish inside the top twenty overall in the two classes.
Andrew Short returns to racing at Spring Creek and retains his Guinness record for best human alive.
Grant Langston survived Lot B at RedBud. No one predicted that. Can he log another clean weekend at Millville?
Yamaha sweeps the podium in the 250 Class.
My Picks
450
Ryan Dungey
Ken Roczen
Justin Barcia
250
Jeremy Martin
Cooper Webb
Alex Martin