It's still kind of hard to believe it's over. Ryan Villopoto is no longer a professional motocross/supercross rider. It feels extra strange because riders from a generation before him are still out there racing, and the announcement came so suddenly. Surely he'll be seen in person at a race at some point, but for now, there's no chance to cheer him on in person, show appreciation for a career well done, or wish the champion well as he moves to whatever is next.
Villopoto has never been one to crave that kind of spotlight anyway. That somewhat mars his accomplishments, because while he didn't act like someone with a flair for the dramatic, he stepped up in the big moments on the track. In his ten professional seasons, RV found himself in many pressure situations, and came through each time. In turn, he won more titles than he lost. That's an amazing stat for an athlete.
Now we can do what RV always did: let the racing do the talking. Our staff put together The List of RV's greatest pro rides, and I've ranked them in order of how big they really were. I was lucky enough to see nearly all of them in person.
17. 2005 Glen Helen National
Villopoto was fast as an amateur, but he had that "second to Alessi" thing hanging over him, and he only snagged one total title at Loretta's (he was more successful at other amateur events). He wasn't labeled as a sure hit, and the jury was still out as he took fifteenth overall in his pro debut at Broome-Tioga. Two weeks later, at the 2005 Glen Helen finale, he took second overall behind teammate Grant Langston. That stamped his future.
Have a look at the results and note Mike Alessi at the top. Sharp readers will remember why Alessi got DQ'd that day.
16. 2007 Spring Creek National
Of RV's three straight 250MX Championships, the strongest challenge came in his second year, when fellow Monster Energy/Pro Circuit Kawasaki rider Ben Townley came at him with full force. We didn't see a healthy Townley much in the U.S., but he was strong in '07, and this battle is the definition of the tooth-and-nail summer-long struggle. RV finally turned the tide at Millville, where he, oddly, waved Townley by and let him win the first moto. Then he came back like an animal in moto two and dominated, igniting a late-season surge to the title.
15. 2007 San Diego Supercross
We think RV is the first rider to ever wrap up a supercross championship in February, as he took six of the first seven races to become 2007 Lites SX West Champion on February 17. Yep, the kid could ride supercross, too. By the way, who was the one rider to beat him that season? A young Christophe Pourcel, who took round two in Phoenix before breaking his shin the next weekend. Here are the San Diego results, where RV wrapped his first SX championship.
14. 2009 Glen Helen National
RV showed he could ride a 450 like a 250, as he went 1-1 in his first-ever 450 national, even catching his old rival Alessi from way back to steal the second moto. Unfortunately, Ryan tore his ACL a few days later and wouldn't get another clear shot outdoors on a big bike for two years.
13. 2009 Seattle Supercross
Villopoto's first 450 SX win. Rookie season had been a big struggle for him; he even got sick and took a few races off. He returned for his home race at Seattle with a new trainer (Jeff Spencer), a new mechanic (Mike Williamson), and promptly took the win.
12. 2009 Las Vegas Supercross
Two weeks after the Seattle win, the sport was embroiled in a gnarly James Stewart/Chad Reed battle for the supercross championship. While those two fought for the title in the final races Villopoto rode away from the field and won his second race in three weeks. Now everyone knew he was legit.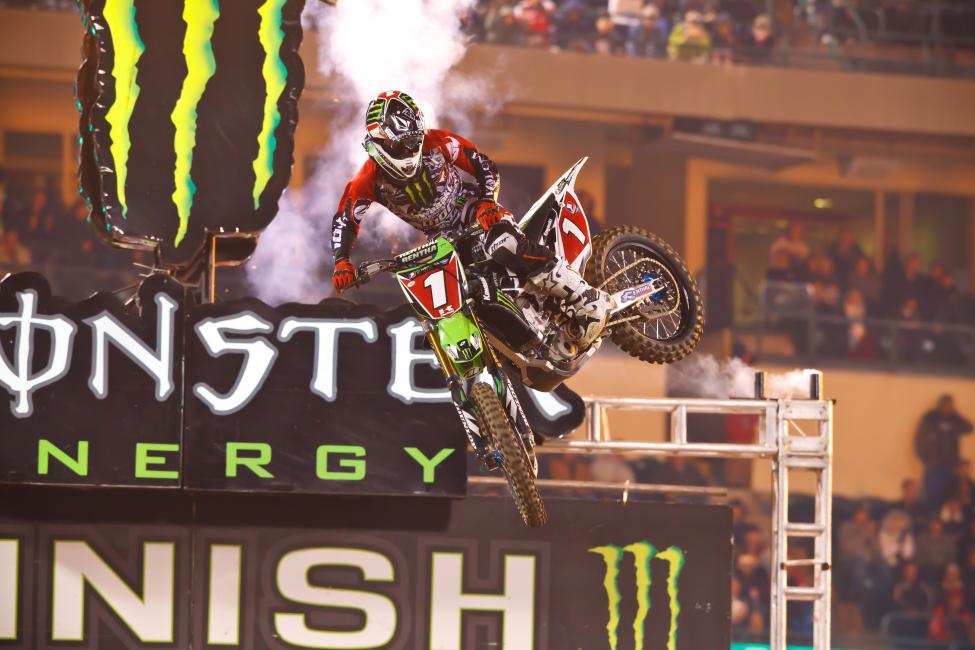 11. 2012 Anaheim 1 Supercross
In his first race running the SX #1 plate, Villopoto was faster than ever, dominating the main event. He'd become a master of the supercross title defense over the next three years.
10. 2011 Anaheim 1 Supercross
After breaking his leg badly in 2010, Villopoto returned for 2011 sporting Aldon Baker as his new trainer. A healthy, rejuvenated James Stewart and Chad Reed were also back in the mix, as was the new champion, Ryan Dungey. RV quickly established himself by taking Anaheim 1. The rest of the season turned crazy, but RV was there when it counted, as you'll see below.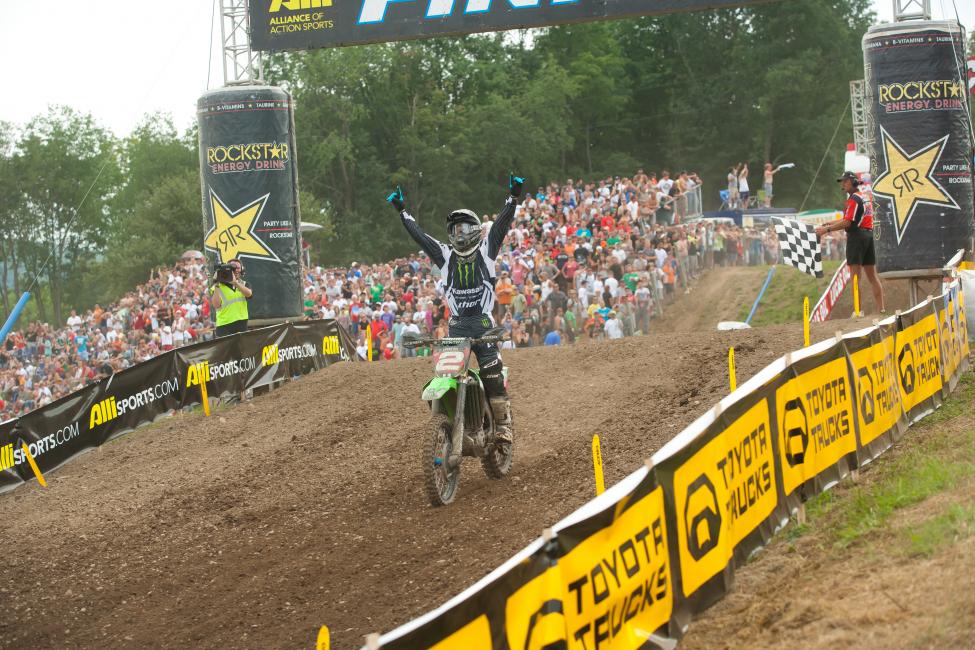 9. 2011 Unadilla National
After RV won his first 450 supercross title, everyone expected him to rule outdoors, but Dungey and Reed were there to make it a true dogfight. Then RV got his hands on the new 2012 KX450F and laid a whipping on the field at Unadilla. He'd soon seize the championship momentum, but not before Dungey gave him one last shot.
8. 2011 Steel City National
Dungey got ahead of Villopoto in Steel City's first moto and led all the way until the final lap, heck, the final turn, when Villopoto sliced underneath to steal it. This pass swung the title in Villopoto's direction. Go to the two-minute mark in the video below.
7. 2014 Las Vegas Supercross
His last supercross. He keeps a late-season surge going by leading all eighty laps of the last four mains and clinches the title. Right after, he'd bow out of the 2014 Lucas Oil Pro Motocross Championship with another knee injury and begin his ill-fated season in the GPs. This could have been the perfect career ending.
6. 2011 Motocross of Nations, France
Team USA was up against the ropes heading into the final moto in France, until RV put the clampdown on it by winning the moto. He even slowed and waited for Dungey at the finish to clinch it, Team USA's last MXoN win. Villopoto was part of winning Team USA efforts in 2006, '07, '08 and '11, three of them on a 250 and one on a 450. His career moto scores: 3-2-1-1-10-1-3-1.
5. 2013 Salt Lake City Supercross
Davi Millsaps was on fire to start the 2013 season, while Villopoto struggled and fell nearly a full race behind in points. Then came a mid-season surge, with six wins in seven races to get the points lead back. Villopoto could clinch it at Salt Lake, but Millsaps and Dungey shadowed him the whole way. Good racing, a pressure win, and title number three.
4. 2011 Monster Energy Cup
This was the cap to one of the greatest seasons we've ever seen, with Villopoto winning the 450 supercross and motocross championships, leading Team USA to the 'Nations win, and then sweeping the inaugural MEC, with the million-dollar bounty.
3. 2011 Salt Lake City Supercross
An underrated ride but a career-defining moment. The 2011 supercross season was crazy and epic, maybe even crazy epic, and the title hung in the balance for Villopoto, Stewart, Reed, and Dungey at the next-to-last round. Stewart crashed, and Villopoto held Dungey behind him and passed Reed to win it. It all made clinching the next weekend much easier. RV had reached the supercross summit and would use this experience to come through in every other pressure situation to come.
2. 2006 Budds Creek National
The Mike Alessi shadow followed Villopoto everywhere in the early days, from a bitter rivalry in the amateur ranks to RV's first full season outdoors. Alessi won the first moto of the season, Villopoto finished second. On this day at Budds Creek, Villopoto turned the tables. Alessi was the 250 MX points leader at the time, but Villopoto found his speed, his stride, and his revenge, not only catching Alessi for the lead, but body-slamming him while making the pass. After the race Villopoto admitted the pass was a make-good for what Alessi put him through as an amateur. RV's career took off after this.
1. 2007 Motocross of Nations, Budds Creek
Just a wee lad at the time, on a 250 in his second full pro year, Villopoto logged his signature ride. He didn't just win both 'Nations motos overall on his 250, he absolutely dominated them. Just manhandled the world. Considering the hype around the U.S. hosting the event for the first time in twenty years, there was a lot of pressure, and Villopoto delivered. It's a ride we won't ever forget.