Spring Creek MX Park
Millville

,

MN
Spring Creek (Millville)
Lucas Oil AMA Pro Motocross Championship
Jason Thomas: I like both Dungey and Jeremy Martin to walk away victorious. They've both been so prolific in their home state, and both are on top form at the moment. I was considering giving them the sweep nod, but with the rise of Justin Barcia, Cooper Webb, and an inevitable resurgence of Marvin Musquin, I just can't put all of my eggs in the proverbial sweep basket.
As for Alex, he will have his work cut out for him, but I guarantee he's expecting to find himself on the podium Saturday afternoon.
David Pingree: I know Barcia is on a roll and Roczen is fast and all that, but if you're betting on anybody other than Dungey in Millville, you need to take a basic money-management course. Ryan has always found another level in his hometown, and the way he's riding this year, I don't see that changing. And when the track literally sits in your backyard, you have a distinct advantage over the rest of the field, so I would look for Jeremy and Alex on the box at the end of the day.
Jason Weigandt: If I were a betting man, I'd be putting money on Justin Barcia pulling two starts and trying to make Dungey's life miserable—and you can't ever count out Ken Roczen. I still believe Dungey will pull through, but it won't be easy and certainly isn't a lock. JMart should have Millville handled, but I think the greatest threat to break up the Minnesota sweep comes from Cooper Webb, who will be hell-bent on avenging his loss at RedBud and couldn't care less about what the home crowd wants. He just wants to win for himself. You know what? I'm gonna be the contrarian and bet on the field.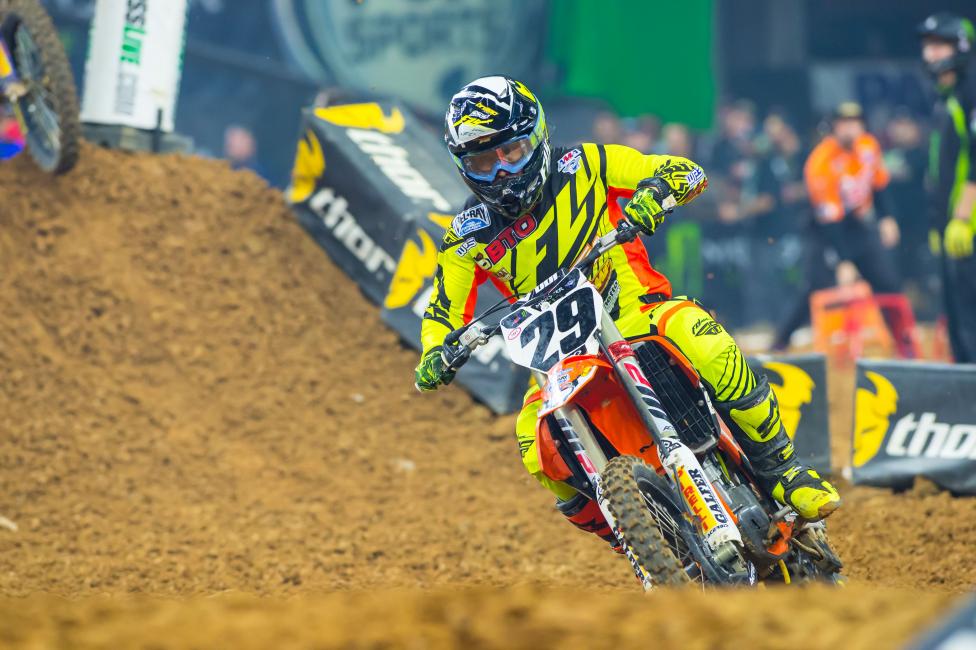 2. Andrew Short tells us he's coming back early and essentially racing his way into shape. Good move?
JT: Normally, I'm not a big proponent of coming back before a rider is 100 percent ready. In this case, though, I think it is going to work out. Shorty isn't in a precarious contract position by any means, so there isn't the fear of lackluster results. He can jump back out there and see where he fits in. He'll probably get good starts, which is a huge help in this 450 Class. Coming back too early is not usually a great idea, but as long as the situation is right, as it is now, it can be productive.
Ping: Lining up at less than 100 percent sucks, but sometimes you just have to do it. Andrew loves being at the races and his team needs him there. Worst possible scenario is he gets two holeshots and drops back deep into the top ten; plenty of guys would kill for that. Shorty just needs to be careful if he does start getting really fatigued late in the races. I would hate to see him go down and get reinjured because he got a little sloppy late in the race. It's not the ideal situation, but those are rare in this sport. If Andrew is ready to line up, I say it's a good move.
Weege: Love this. Racers should race, and it's also good for the team and sponsors. We'd all rather see more good riders out there, right? Let's not ruin this. If Shorty fades badly, don't talk any trash on him—it's better to have him racing than not.
3. Josh Grant to Monster Energy Kawasaki. Thoughts?
JT: I think this is the right fit. JG got upended by the TwoTwo departure and never got his full swing at this outdoor season. I know he was absolutely flying before his big crash at Lake Elsinore in May nullified any momentum he had for the outdoor season. Things could have gone so much differently this summer if not for that fateful get-off. After all, he had just finished his best and most consistent supercross season to date and has always been much more of an outdoor threat. Maybe this is the catalyst he needs to regain that great form he had just a couple of months ago.
Ping: I think Kawasaki felt obligated to help get Josh to the races for the rest of the season, and with Wil hurt it just worked out. Grant will put up some top-ten rides, and Kawasaki has a guy under its tent again this year. Everybody wins. Hopefully it's beneficial for both parties in terms of sponsor exposure and results. I think Kawasaki has some serious rebuilding to do this off-season if it wants to find the podium again.
Weege: Great move. At this point both Grant and this team need to swing for the fences. Grant needs his typical "one awesome moto" to justify a ride for next year, and the perennially powerful Kawasaki team hasn't even made the podium this year. Together, they can get what they want. I also like how JG is staying on for the duration of the Nationals even though Wil Hahn will be back shortly. With five cracks at it, Josh can do some damage.