Welcome to an off-weekend, but a busy one. The 2015 Lucas Oil Pro Motocross Championship is finally on a brief hiatus after five straight weeks of rather intense racing. We've seen the emergence (and then quick demise) of GEICO Honda's Eli Tomac, the gathering storm brewed by defending champ Jeremy Martin and long-overdue champ Marvin Musquin in the 250 Class, the gradual return-to-form by RCH/Soaring Eagle/Jimmy John's Suzuki's Ken Roczen (and congrats on that first AMA Motocross overall for team owners Carey Hart and Ricky Carmichael), and a continued pat of injuries that's robbed us all of a chance to see all of the best racers competing together.
First, farewell to a wonderful old friend. Larry Naston, once the voice of supercross on the West Coast, not to mention countless outdoor nationals, industry events, radio shows, and even Daytona from time to time, and a longtime industry maker and shaker. Larry passed away recently. He was truly a good man, and I can't help but think of AXO and Mechanix Wear in the early years, where Larry's voice boomed through the offices, over the phones, and above the din of moto commerce.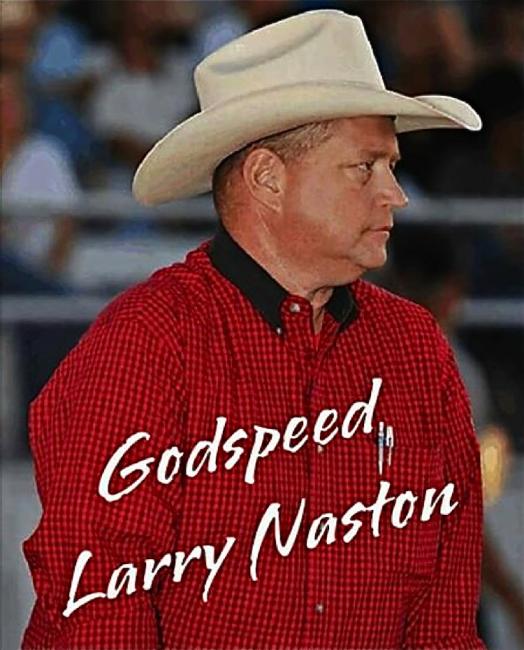 He loved dirt bikes and all things off-road, but he has a place in the pantheon of great live track announcers from the past, like Larry "Supermouth" Huffman, the irreplaceable Erv Braun, Larry Maiers, Tim Cotter, the smoothing, morning DJ-style of Terry Boyd, the late Lynn Nickerson, "Hot" Rob Buydos, the Motorcycle Hall of Famer (and NASCAR Hall of Famer) Dave Despain, AX-impresarios Wes Kain and Robbie Floyd, those DMXS heart-throbs David Izer and Kevin Kelly, the faster-than-all-these-other-guys Larry Witmer, Naston's Daytona partner and statistician professor Ben Cheatwood, the all-around-awesome Tom White, and West Coast regulars Bruce Flanders, Brian Barnes, and Mark "Mr. Info" Meara, and all of the young guys coming up through the ranks today, calling local races and doing their best to give all of our racers and events their due. (If I forgot anyone, my apologies—I just didn't want to forget the great Larry Naston.)
When any of these guys shouted your name over the loud speakers, whether you were winning or in trouble with the referee or sign-up ladies, you will have likely never forgotten that voice, and especially that voice of Larry Naston. Godspeed, friend.
Now, on to Detroit. Last night my mother and I were proud to be a part of the celebration of Ricky Carmichael's induction into the Motorsports Hall of Fame, a place where few motocross racers ever end up. Ricky was on hand with his family, as well as long-time friends and sponsors like Anthony Paggio of Oakley (who somehow ran into former vice-presidential candidate Sarah Palin for an all-time selfie), RC's old Team Green Kawasaki boss Mark Johnson (now a member of his RCH Racing staff), Feld Motor Sports' top SX execs Todd Jendro and Dave Prater, and Ray Butts of Rocky Mountain ATV/Motorcycles, who has also become a close friend to the GOATs. Ricky was one motorcyclist inducted this year, but such superstar legends as dirt track icons Jay Springstreen and Scott Parker were there as well. And among the folks he was inducted with included NASCAR hero Mark Martin, off-road icon Parnelli Jones, the exceptionally cool racecar driver, TV analyst, and UCLA grad Tommy Kendall (hilariously introduced by his friend Brian Vickers), and a few other well-known auto racers.
Giving Ricky his due in what was as much a Comedy Central Roast as an HoF intro was none other than Jeff Emig, himself a four-time champion, the host of supercross on Fox Sports, and RC's former teammate. Fro was on point with his intro, and he made as much fun of the champ's work ethic as his own off-track moments as a pro. The cool thing was that as worthy as Ricky was for this designation, he was humbled and extremely grateful that not only was he and his entire family able to attend, but he was able to cover some bases that he missed in his AMA Motorcycling Hall of Fame speech, which included a fumble on his championship-guiding mechanics, Chad Watts and Mike Gosselaar. Carmichael was, and is, our Greatest of All-Time in SX/MX, and he acquitted himself as such, as always. I was proud to be there, and we as motorcyclists should collectively be proud of his accomplishments, both as a racer and a team owner.
Speaking of, Carmichael got to celebrate his first win as a team owner with Roczen's success at the UPMC High Point National last Saturday at Mt. Morris, Pennsylvania, where he outlasted a fierce charge in the second moto by Red Bull KTM's Ryan Dungey, the series points leader who is building a Hall of Fame career in his own right. RC and Carey Hart had won before in Monster Energy Supercross, but High Point was a first for them outdoors.
Conversely, it was a horrible High Point for Discount Tires/TwoTwo Motorsports' Chad Reed, who spent the following week as the subject of must conjecture, rumor, and innuendo. Chad may or may not be back in 2015, as his problems have been traced back to a shoulder injury that obviously requires some attention. Weege will have more on it below, but it suffices to say that the #22 we've been seeing out there these past few months is not the same one who won a supercross back in the early months of winter. I hope he gets it sorted, and whether he comes back with his own TwoTwo team or as the veteran leader for another team remains to be seen, but I sure hope we sure him out there.
With Ryan Villopoto done, James Stewart not back until 2016 (and then lookout, folks, just lookout), Trey Canard hurt, Mike Alessi in self-exile in Europe, and Davi Millsaps' future starting to sound like it might have a European accent (at least for a few cameo appearances), we need Chad Reed out there racing. He's one of the sport's biggest superstars, and a personal favorite of mine—like I said after being shown how little I know about winning (twice), I know better than to ever count the man out.
Let me turn it over to Weege here…
REED RUMORS (Jason Weigandt)
What a crazy year for the stars of this sport, with Ryan Villopoto leaving his Monster Energy Supercross Championships behind for a shot at the GPs (and now falling off of that radar) and James Stewart under a sixteen-month suspension from the World Anti-Doping Agency. Now rumors are that Chad Reed is shutting down his Discount Tire/TwoTwo Motorsports team. And with Reed, because he's, well, older than most other contenders, negative rumors always roll down to the inevitable "Is he going to retire?"
No, he's not. I talked to Chad's agent Steve Astephen today, and it's assured that retirement is not part of this picture. As for the team, it's hard to pin anything down yet because everything is up for negotiation. There are a lot of sponsors that will get to weigh in on what's next, and until some more meetings take place, no one can say for certain what's happening. Reed is definitely not racing himself for the rest of Lucas Oil Pro Motocross due to shoulder surgery.
Some team members have been dismissed, but a few others are still on staff, and the team still has a truck and a truck driver. If team sponsors want to keep racing, it's possible that you'll see the TwoTwo rig at the Nationals with Josh Grant and a skeleton crew to back him. Remember, the TwoTwo Motorsports team sported perhaps the healthiest group of technicians in the pits, so they can still get work done even without the full team. Grant, by the way, is recovering from a knee injury but is expected to be healthy enough to race soon. Expect confirmation on the team's 2015 plans early next week—or just wait until Budds Creek.
As for next year, it seems much more likely that Reed will ride for another team and continue with some of the team sponsors as personal deals. I'm sure that's a much better option financially, for one thing. Most of us around the pits have wondered how Chad has been able to afford this operation for the last five seasons. His crew is huge and second-to-none on talent, and no other rider has ever owned a successful team while still delivering results on the track. Even the great Jeremy McGrath once tried it, and it wasn't nearly as successful as Reed's effort.
The good news is that we haven't seen the last of Reed as a racer, and don't forget he still won a supercross this year. Repeat for the 1876th time: never count out Chad Reed.
We also know Chad's old rival James Stewart will be back in 2016, because this week the Yoshimura Suzuki team announced a new multi-year deal with him that will keep him with the team for the remainder of his career. A year ago, word began to surface that James had failed a WADA drug test, and sources told me he would face a steep penalty. They were correct. From there, I expected James' team and sponsors to jump ship in the same manner we've seen with other athletes. Instead, every major brand has held strong to him, with Suzuki and Red Bull at the top (I don't believe James had much to worry about with his gear sponsor).
So we haven't seen the last of Reed versus Stewart. I'm pumped because we'll get to roll out our classic Christmas post where we let you discuss your favorite memories from their dozen-plus years on track together.
However, we won't be seeing Villopoto out there with them. While there's still time for him to heal up and get in a few more GPs this year, maybe the finale at Glen Helen, those I've talked to indicate what we all knew all along: Ryan just isn't fired up like he was en route to winning those four straight supercross titles. Ultimately, contracts, teams, and sponsors will have their say, but if riders at this level want to keep going, no one will stop them. If they want to quit, they quit. Chad and James aren't going in that direction.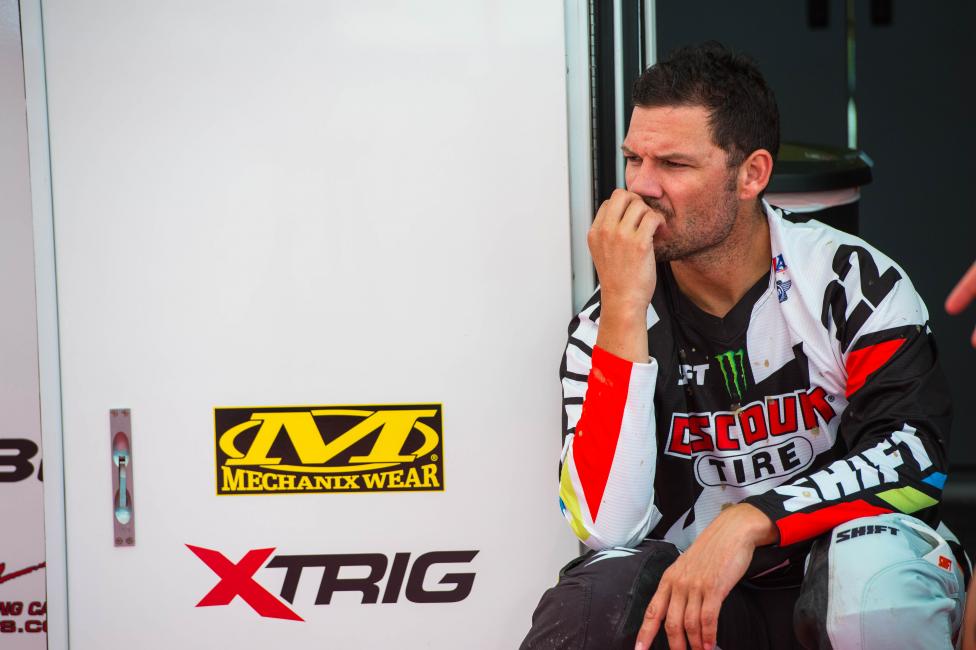 HIGH POINT REDUX (DC)
As mentioned and shown in various photos and videos before the race last weekend, High Point got a fairly intense makeover at the hands of Randy Poulter, who I thought did a fantastic job on the already cool High Point Raceway, which has been in existence since 1976 and has held an annual national since '77. The fans and the riders alike seemed to really enjoy the layout, and while we have at least two spectacular, strange crashes—Phil Nicoletti losing his brakes after a first-turn crash and hitting our photo friend Garth Milan was frightening, but Broc Schmelyun losing the left grip on his bike and falling off and going all Chad Reed-at-Millville was much, much more scary—I was really pleased with the layout. And the late-arriving crowd finally quit listening to the weather reports and just went out to the races, so that made the day even more of a success. But the changes aren't over, and I imagined you'll see an even more satisfying High Point come 2016. Thanks to Randy and his crew for doing some fine work to an old gem.
FIRST BREAK STATS (Chase Stallo)
While we're not quite to the halfway point in Lucas Oil Pro Motocross (five of twelve rounds are complete), the first weekend off is a better time than any to begin divulging some interesting stats. The PR crew for the series released a gigantic batch of stats earlier this week, which you can check out here. Many of you may not have time to delve into the more-than-ten-page document, so we've outlined a few noteworthy ones below.
450 Class
Overall Wins
Eli Tomac - 2
Ryan Dungey - 2
Ken Roczen - 1
Moto Wins
Eli Tomac - 5
Ryan Dungey - 3
Ken Roczen – 2
Bud Light Fastest Qualifiers (total)
Eli Tomac - 2
Ryan Dungey - 1
Christophe Pourcel - 1
Ken Roczen – 1
Average Qualifying Position (top ten in points)
Ryan Dungey - 1.5
Christophe Pourcel - 2.1
Blake Baggett - 2.4
Eli Tomac - 2.6 (six motos)
Jason Anderson - 2.7
Ken Roczen - 3.1
Justin Barcia - 3.1
Broc Tickle - 4.4
Weston Peick - 5.7
Phil Nicoletti - 7.2
Average Moto Start by Rider (top ten in points)
Eli Tomac - 1.8 (six motos)
Ryan Dungey - 3.5
Justin Barcia - 6.5
Ken Roczen - 7.1
Phil Nicoletti - 9.3
Blake Baggett - 9.4
Christophe Pourcel - 9.8
Jason Anderson - 10.5
Weston Peick - 11.4
Broc Tickle - 12.8
Average Finish by Rider (top ten in points)
Ryan Dungey - 2.1
Ken Roczen - 4.7
Eli Tomac - 6.3 (six motos)
Justin Barcia - 7.9
Weston Peick - 7.8
Broc Tickle - 8.0
Jason Anderson - 8.6
Blake Baggett - 9.2
Christophe Pourcel - 10.5
Phil Nicoletti - 12.4
Average Start/Finish Ratio (top ten in points)
Ryan Dungey - +1.4
Ken Roczen - +2.4
Jason Anderson - +1.9
Justin Barcia - -1.4
Blake Baggett - +0.2
Broc Tickle - +4.8
Weston Peick - +3.6
Eli Tomac - -2.7 (six motos)
Christophe Pourcel - -0.7
Phil Nicoletti - -3.1
Laps led (total)
Eli Tomac - 76
Ken Roczen - 44
Ryan Dungey - 37
Justin Barcia - 3
Phil Nicoletti - 3
Christophe Pourcel - 2
Total: 165
Podium Finishes by Moto (total)
Ryan Dungey - 9
Ken Roczen - 7
Jason Anderson - 5
Eli Tomac - 5
Blake Baggett - 2
Justin Barcia - 1
Weston Peick - 1
Christophe Pourcel - 1
Phil Nicoletti - 1
Overall Podium Finishes (total)
Ryan Dungey - 5
Ken Roczen - 3
Jason Anderson - 3
Eli Tomac - 2
Blake Baggett - 1
Justin Barcia - 1
Motosport.com Holeshot Award Winners (total)
Justin Barcia - 3
Eli Tomac - 2
Ryan Dungey - 2
Christophe Pourcel - 1
Ken Roczen - 1
Cole Seely - 1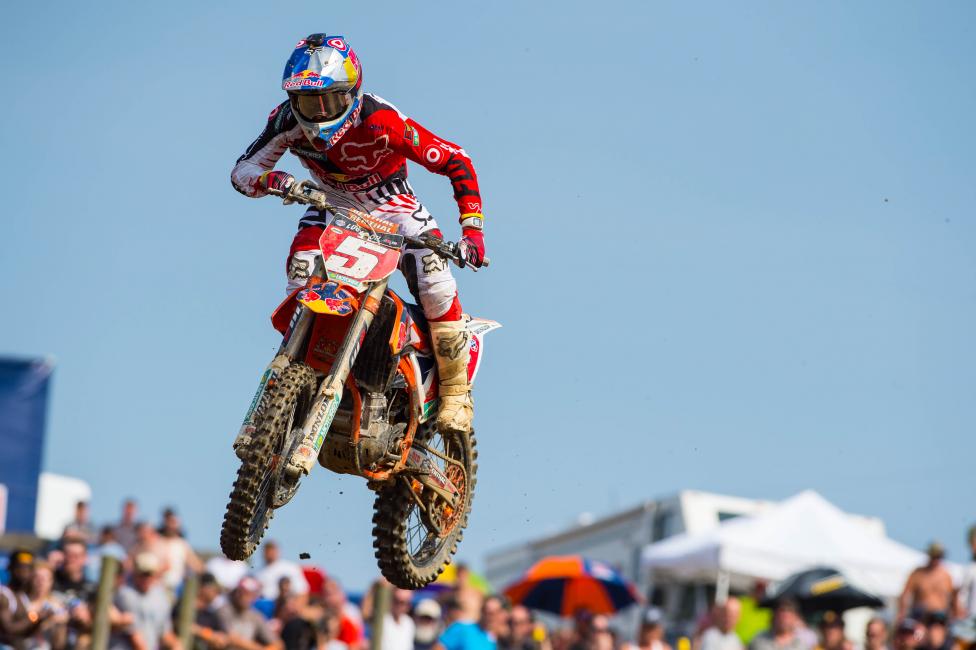 250 Class
Moto Wins
Marvin Musquin - 6
Jeremy Martin - 4
Bud Light Fastest Qualifiers (total)
Jeremy Martin - 2
Adam Cianciarulo - 1
Christian Craig - 1
Marvin Musquin - 1
Average Moto Start by Rider (top ten in points)
Jessy Nelson - 4.3
Marvin Musquin - 4.5
Adam Cianciarulo - 8.8
Joey Savatgy - 9.5
Jeremy Martin - 9.9
Zach Osborne - 10.8
Aaron Plessinger - 11.4
Alex Martin - 14.6
Matt Bisceglia - 16.3
Shane McElrath - 17.4
Average Finish by Rider (top ten in points)
Jeremy Martin - 2.7
Marvin Musquin - 2.8
Jessy Nelson - 7.3
Adam Cianciarulo - 7.3
Joey Savatgy - 9.4
Zach Osborne - 10.1
Alex Martin - 10.1
Shane McElrath - 10.3
Aaron Plessinger - 10.4
Matt Bisceglia - 10.4
Average Start/Finish Ratio (top ten in points)
Marvin Musquin - +1.7
Jeremy Martin - +7.2
Jessy Nelson - -3.0
Adam Cianciarulo - +1.5
Joey Savatgy - +0.1
Zach Osborne - +0.7
Alex Martin - +4.5
Shane McElrath - +7.1
Aaron Plessinger - +1.0
Matt Bisceglia - +5.9
Laps Led (total)
Marvin Musquin - 84
Jeremy Martin - 59
Aaron Plessinger - 7
Jessy Nelson - 6
Adam Cianciarulo - 5
Justin Bogle - 1
Alex Martin - 1
Zach Osborne - 1
Total: 164
Podium Finishes by Moto (total)
Marvin Musquin - 8
Jeremy Martin - 6
Jessy Nelson - 3
Zach Osborne - 3
Adam Cianciarulo - 2
Joey Savatgy - 2
Alex Martin - 2
Shane McElrath - 1
Chris Alldredge - 1
Justin Hill - 1
Cooper Webb - 1
Overall Podium Finishes (total)
Marvin Musquin - 4
Jeremy Martin - 4
Jessy Nelson - 2
Zach Osborne - 2
Adam Cianciarulo - 1
Justin Hill - 1
Chris Alldredge - 1
Motosport.com Holeshot Award Winners (total)
Marvin Musquin - 3
Jeremy Martin - 2
Jessy Nelson - 2
Matt Bisceglia - 1
Justin Bogle - 1
Zach Osborne – 1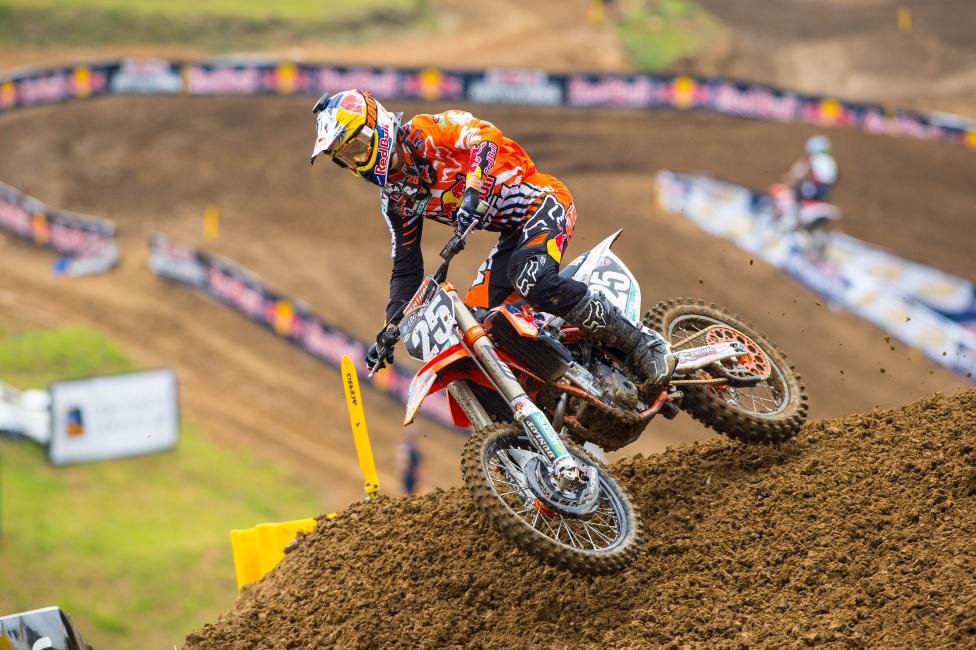 ROMAIN LeMAN (Andras Hegyi)
Romain Febvre is the new rising star in MXGP, and he just signed a two-year extension with Yamaha to be their man to beat Tony Cairoli and his KTM (or Max Nagl's Husqvarna). The Frenchman recalls the past successes of Yamaha in the premier class, last by Cairoli and David Phillappaerts, and of course Stefan Everts all the way back to John Van den Berk, Donny Schmit, and Heikki Mikkola. The new star became a title contender in the last four rounds. He has landed on the podium in the last four GPs, including his stunning come-from-behind 1-6 moto finishes, bent bars and all, to win at the muddy Maggiora. And thanks to his amazing performance, he has gone up to the third-place in the overall points standing. Thanks to Febvre, Yamaha took two consecutive GP wins in premier class for first time in some years. The last Yamaha rider to do the same thing was Antonio Cairoli. And with Red Bull KTM-backed Cairoli now injured with a wrist injury, it may be Romain who has the best chance at reeling in Nagl.
STRANGE BREW (Steve Matthes)
There's no Lucas Oil Pro Motocross national this weekend, but round four of the Canadian Rockstar Energy Drink Nationals kicks off this weekend in Regina, Saskatchewan. Last weekend in Calgary Vince Friese of the Smartop/Motoconcepts team took an unexpected win in the MX1 class. Vince and his teammate Mike Alessi (who crashed in the first moto and went DNF-DNS) aren't doing the whole series, so they won't be there this weekend, but when they show up next, it should be exciting.
In the MX2 class, defending champion Kaven Benoit swept the motos and opened up a 13-point lead on Jeremy Medaglia, with Jimmy Decotis 27 back.
Last season, Benoit rode his KTM 250F on the West Coast and then switched to a 250 two-stroke for the eastern rounds. The CMRC changed the rules during the off-season and took away the option to switch, meaning whatever you choose, you have to stay on it for the entire series. So Benoit was left with a big decision and decided to go with the two-stroke. It was thought that the dry and slippery western tracks would hurt Benoit on the smoker, but he would be great on the eastern tracks. Well, if that's true, everyone in the MX2 class is in for a world of hurt as the series moves east, because this two-stroke seems to be working pretty well.
The MX1 class enters this weekend with a new leader, as Matt Goerke, despite not winning an overall yet, has a 4-point lead over defending champion Colton Facciotti (who also doesn't have a win yet), with 5 points over Cole Thompson and 14 over Brett Metcalfe. In short, with six races left, this thing is still wide open.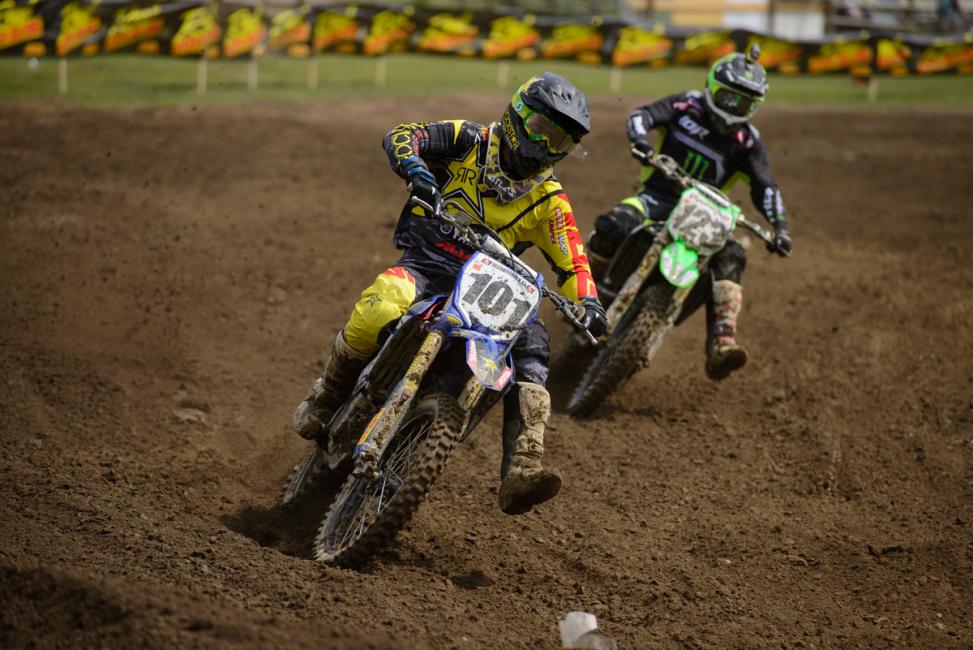 THE NUMBER: 9 (Andras Hegyi)
With his win last weekend at the UPMC High Point National, Ken Roczen not only earned RCH/Soaring Eagle/Jimmy John's Suzuki its first-ever national win, he also became just the ninth Suzuki rider to win both a premier-class AMA National and AMA Supercross in the saddle of a yellow bike. And thanks to Roczen, Suzuki has gotten its eighty-third win in the history of the 250/450 Nationals. And among the non-American riders, Roczen is the third to have won with at least two brands outdoors. The Australian Chad Reed won with Suzuki, Kawasaki, and Honda (and it's an interesting fact that Reedy wasn't able to win with Yamaha in the 450 Class despite having been a factory Yamaha rider between 2003 and '08). And the Dutch pioneer Pierre Karsmakers won with Yamaha and Honda.
Here are the Suzuki riders who won in AMA Motocross and AMA Supercross: Ken Roczen, Ricky Carmichael, Ryan Dungey, James Stewart, Chad Reed, Mike LaRocco, Greg Albertyn, Kent Howerton, and Tony DiStefano. (And here's a nod to Roger DeCoster, who won many, many Trans-AMA races, as well as the 1974 500 Daytona Supercross for Suzuki.)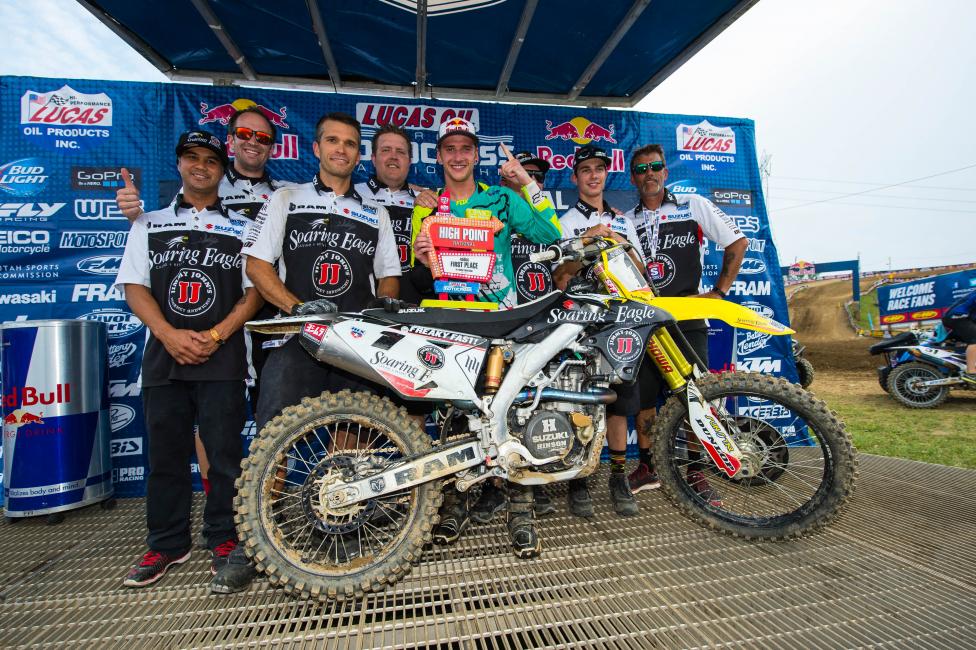 FRESH BAKERY NEWS (Matthes)
We had trainer to the stars Aldon Baker on the Pulpmx Show this past Monday night to talk about the new LitPro device he's been using with his clients, and naturally the conversation drifted to Ryan Villopoto and what's been going on. RV's basically been on radio silence since getting hurt at round four of the FIM World Motocross Championship, and no one really seems to know if he's going to rejoin the series once he gets healed up.
Here's what Baker had to say.
Aldon, the world title chase appears to be over. Ryan Villopoto won a race, and he had some good finishes. Unfortunately, he crashed and hurt himself. You were still working with him and helping him. When do you expect him back?
Aldon Baker: It's tough because he's not here with me. That's kind of been a new thing for both of us. We even spoke about that. Communicating over the phone is not easy. It's not ideal. That was never the case for the last four years. I would always look at the guy and know where he was at, so that's tough. He's recouping, getting healthy enough to get back on a motorcycle—that's the first plan. That crash was a little bit more damaging than what we all expected. Not only did he crack a couple fractures in the tailbone, but he also compressed some discs. So that's kind of messed up some nerves, and he's got a lot of numbness in his knees. He's coming around. He is focusing on just getting healthy. And then the next plan is, okay, well, when can he start riding and then building up?
We know the potential he has, but how do we get to that point where he can actually go out there and show his potential? That's the big question. We're working on a couple of scenarios of when he could come back, what would make sense, and how do we do that with also keeping everyone happy. But he's healing up. I think he's still obviously disappointed. I don't think that guy's ever been in a scenario where the championship is out of the range. We're working on some scenarios and also just trying to analyze what's it going to take to put him back out there where he is going to be challenging for the win, because otherwise it's not really worth it.
I think a lot of fans would like to see him come back, race the little last few GPs, then maybe des Nations and call it a day.
That would be ideal, but it's a lot of logistics on how you end up doing that. He's here in America recouping and doing some training, but then you've got to coordinate it with the European team. It's not as easy as everyone would think it would be. But it's been cool. We're all in conversation and working and also to see what are the best scenarios. For mine, I don't want to see him out there if he's not at all prepared. The way he rides, once again there's potential to hurt himself again, and he knows that. So we're going to analyze what would make sense to where he'd be at his best to come out there.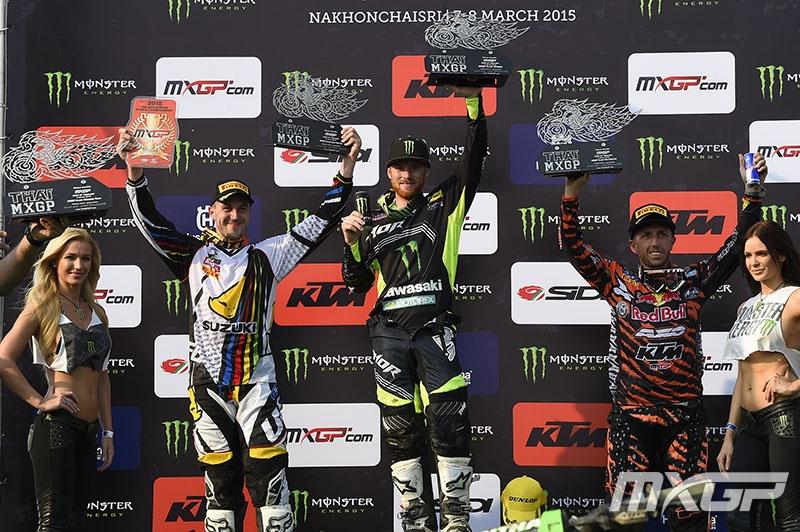 PULPMX LINKS, BRO (Matthes)
David Vuillemin answered some questions from High Point HERE.
James Lissimore went to Calgary Canadian national and produced this photo report.
Filthy Phil Nicoletti crashed in the first turn at High Point, lost his brakes and jumped into a photographer's face and then got kicked out of the mechanic's area for having bare feet. Read about it HERE.
THE NUMBER: 2 (Andras Hegyi)
Husqvarna keeps setting records, but they haven't gotten a win yet in Lucas Oil Pro Motocross. At High Point, we could see two Husky riders get to the podium. Moreover, they got a podium in two different categories. Zach Osborne was second in 250, while his Rockstar Energy Racing Husqvarna teammate Jason Anderson finished third in 450. This is only the second time in AMA Motocross history that there were Husqvarna podium riders in both small-bore and premier class at the same round. In 1974, at the season opener at Hangtown, the same thing happened. Former 125 Class Husky rider Robert Haag was third, while Marty Tripes was second in the 250 two-stroke class. Interestingly, both Osborne and Anderson were on the podium at Anaheim 1, marking another first for Husqvarna in 2015. Like we said, a win(s) is coming!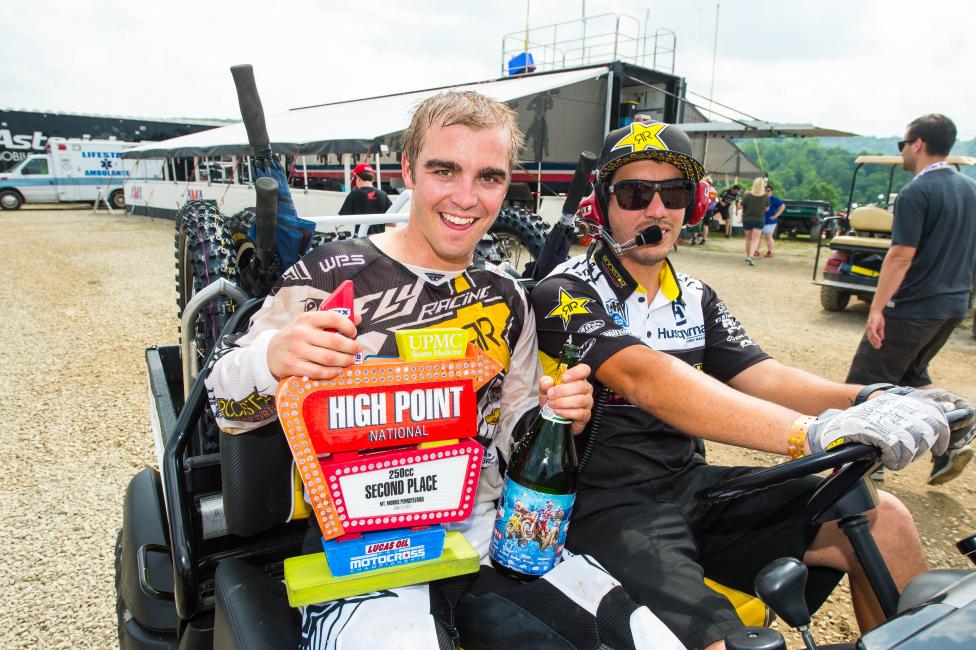 RANDOM NOTES
Don't miss the online coverage from Round 9 of the 2015 AMSOIL Grand National Cross Country Series presented by Maxxis, an AMA National Championship this Saturday and Sunday at 1 p.m.
If you miss a race, full replays will be archived on RacerTV.com throughout the season.
Saturday, June 20
ATV Racing
Online: 1 p.m. EST, www.RacerTV.com (LIVE)
Sunday, June 21
Bike Racing
Online: 1 p.m. EST, www.RacerTV.com (LIVE)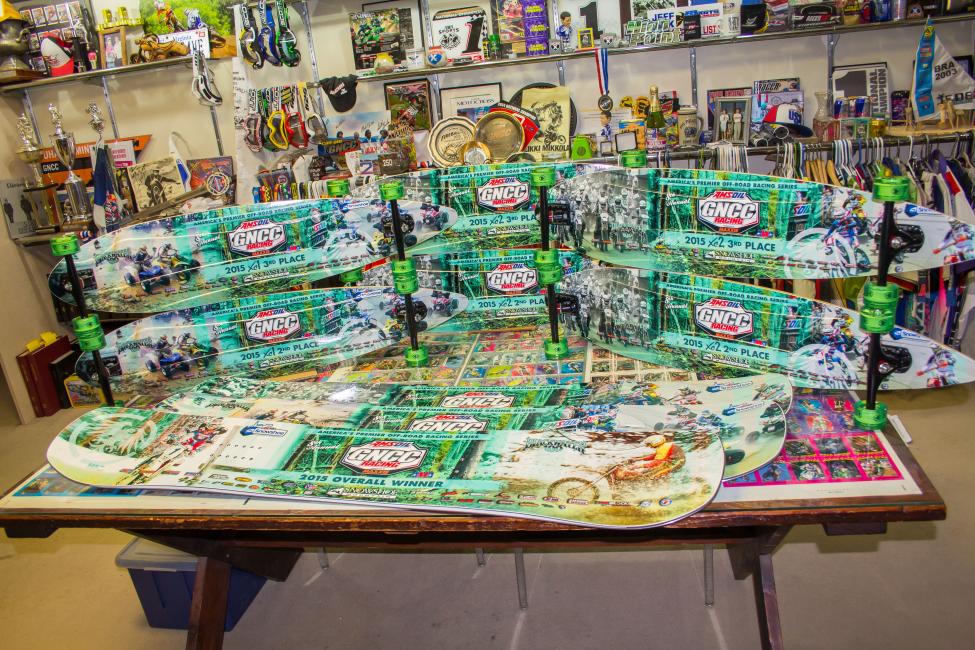 Subscribe now or renew and we will send you a FREE Eli Tomac cover T-shirt!
The cost for a one-year subscription is just $20, but you have to act now—this offer is available for a limited time only and good only while supplies last. Just click on the banner for more details, then subscribe and get yourself a free Eli Tomac Cover Tee!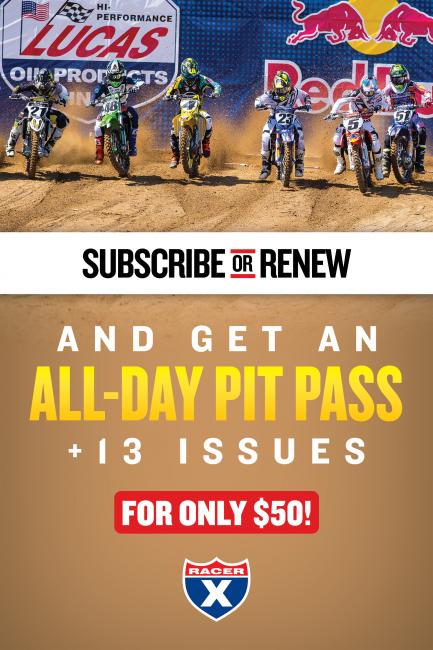 Headed to Budds Creek? Don't miss your chance to spend all day in the pro pits with the Racer X All-Day Pit Pass!
For $50, you get thirteen issues of Racer X Illustrated plus an all-day pit pass. If you're buying more than one pass you can get a multi-year subscription, or you can give the subscription as a gift. This offer is good for both new and renewing subscribers. (For your convenience, the full purchase price includes the Racer X All-Day Pit Pass and the required GA ticket.)
Quantities are limited, so preorder your Racer X All-Day Pit Pass HERE before they sell out.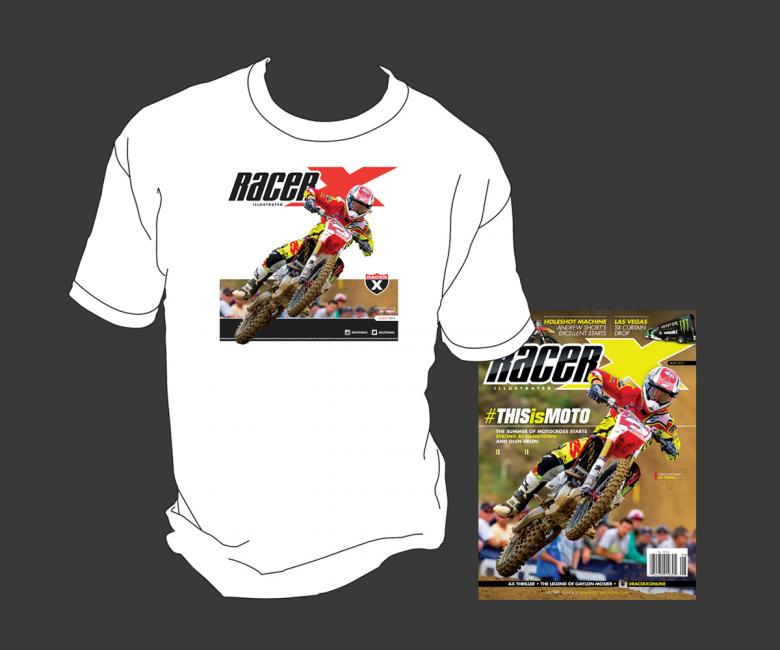 The 2015 Monster Energy Rip to Cabo presented by Bullet Proof Diesel will air this Sunday, June 21, on CBS Sports beginning at 4 p.m. EST with a one-hour television show documenting the ride, followed by a second airing at 7 p.m. EST. Click here to see the trailer.
Ricky Carmichael University will be heading to Muddy Creek on July 10th. Limited spaces available. For info or to sign up, please go to www.rickycarmichaeluniversity.com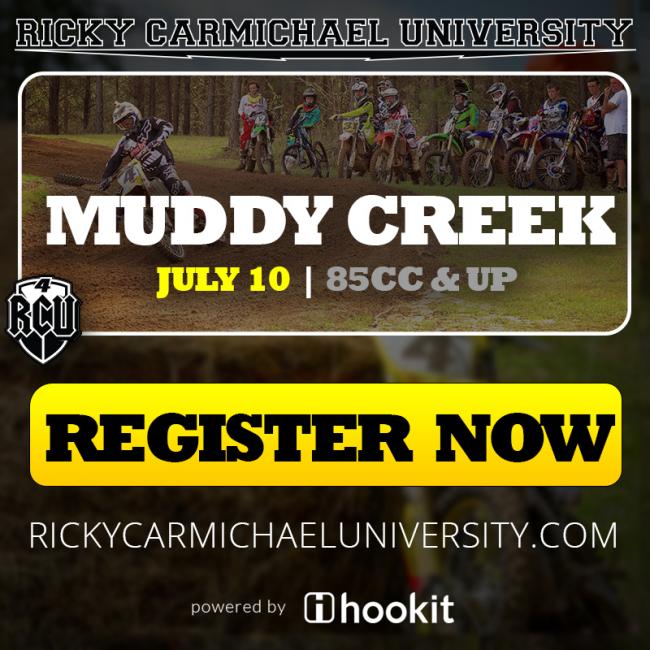 For more from Canada check out DMX Frid'EH Update #24.
That's it for Racerhead this week—thanks for reading. See you at the races.