Hailing from Albuquerque, New Mexico, Ryan Clark grew up racing with a small group of guys who would all leave a mark on the sport, including Ivan and Gio Tedesco, Keith, Kevin and Isiah Johnson, and Justin Buckelew. Clark turned pro in 1996, and after a few years of running around in a pickup truck and camper trailer as a privateer, he earned his first ride in 1998 with the Kawasaki of Mexico team.
Clark's professional racing career lasted nearly sixteen years, and while the record books don't show any championships, Clark was known as a strong competitor who had a knack for marketing himself. Clark was able to put these talents to good use and build his own team under the name Team Solitaire. His program was legit, complete with a big rig and several top sponsors. Clark even wrote a column for Racer X Illustrated about the challenges and triumphs of racing as a privateer.
We caught up with Clark for his take on his career and what he's been doing since retiring from the sport.
Racer X: Hey, Ryan, thanks for chatting. You retired in 2012—at least that's when it looks like your last pro race was. What are you up to now?
Ryan Clark: Is that when it was? I don't actually remember. It was a blur, but that sounds about right. But, hey, you know what? I've always dreamed of being a subject of this column, so I guess I can check off another goal that I accomplished in motocross.
Hey, you're still accomplishing goals in retirement. This one didn't take any testing or training, though. Tell us about your decision to retire and leave the sport.
I got to the point where racing was just a struggle monetarily. I had just had my third child, and I felt like I needed more time to train and test—and that just wasn't happening. And thus, not having the money or the time to explore improvements, it just didn't make sense to keep going. So I made the decision to stop and sold off all my stuff. The last time I rode a bike was in October of 2012. I quit cold turkey and pretty quickly got the chance to try something new. I went to work driving a water truck and using my CDL in the construction business. I didn't know where it would take me, but I knew I had to do something different.
You already had your CDL?
Yeah, and I had some experience with equipment and working with dirt from my days prepping and running my own tracks. My job was a water-truck driver on a pipe crew, and we were working on the extension of the public transport light rail project here in Phoenix, Arizona. In just a few months, I learned the ins and outs of pipes and water run-off. Within five months, I made foreman and was managing several crews of guys. We were installing mostly the forty-eight-inch main line storm drains.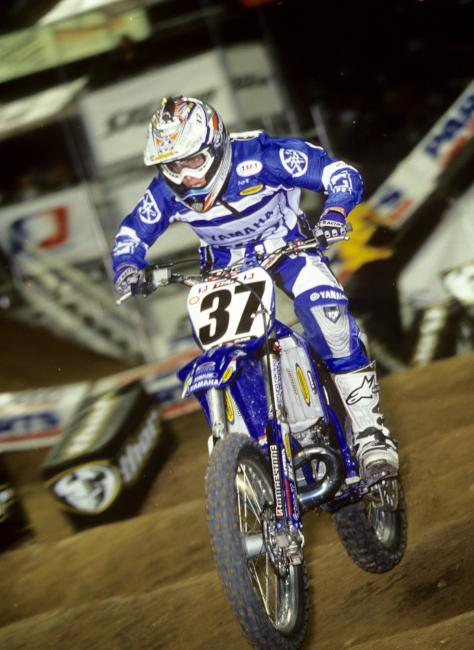 Wow, that must have been a culture shock for you.
Yes, it was. Doing work, be it manual labor or whatever, is a lot different than doing something you're madly passionate about. I was no longer working towards finishing on the podium; I was working on making sure the water runs off the street. It was different for sure. But, on the flip side, I was making good money, and for the first time in my life I had a steady paycheck. However, when that portion of the job finished up, I decided to try something different, so I put in my notice. On the last day, I came into the main construction office to say good-bye. The company that was in charge of the project suggested I interview with them for a different position. I ended up getting a new job with a company called Stacy and Witbeck, which is a large contracting company. So, today, I do all of the community outreach and PR on the various construction projects. I'm now in the office and have a different view of the building process. I work with all the stakeholders, be it the local government, the local businesses, or the local residents.
As it pertains to the PR side of things, are you able to draw from your experience as team owner and rider?
Yeah, for sure. The cool part is that this job pulls a lot of that stuff. I produce all the copy that goes out to the public about the light rail project that we are doing. I communicate with everyone. I try to bring in some of the MX influence into this side of things, trying to make the construction process a little cooler and easier to understand.
Tell me about the project. Public infrastructure improvements are pretty interesting, but they can be very challenging with respect to budgets and the public.
Well, the city of Phoenix has about twenty miles of light rail. This project is adding another 3.2 miles in northwest Phoenix, which is really growing. It benefits the people that want or need to use public transport. We have quite a few nursing homes and retirement communities out here so many of the residents don't drive. But our city is growing so quick the current infrastructure doesn't support the population growth, so this is a big step forward and a big positive for the residents that live out here.
What happens when you finish the project?
Well, actually, we are almost done. We have maybe four more months to go. Then we turn it over to Valley Metro, which is the operator of the rail line. They do a period of testing and set-up work, but it should be operational by spring 2016 for pubic use.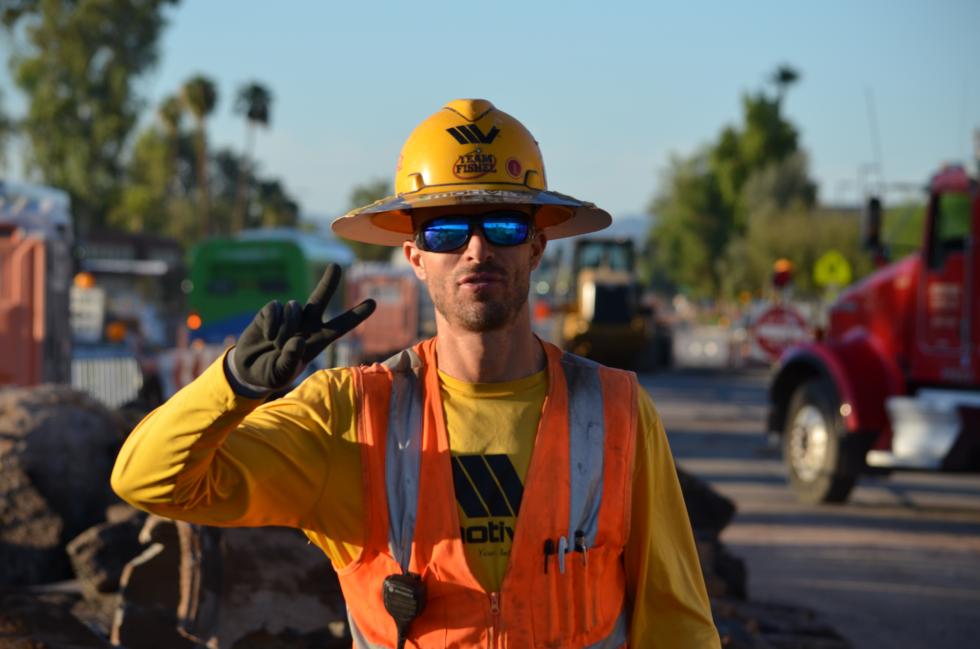 Once the job is over, do you have to find another job?
Well, yeah, but I'm not worried about it. My company is one of the premier light rail contractors in the country, and we are bidding on several jobs. And with my background, and what I learned by building my website and dealing with all that stuff—photography, editing, and video work—I'm able to run that stuff on our jobs. It doesn't matter what or where they are. We're also looking at having a more centralized structure for all our jobs.
Sounds like the some of the skills you learned while racing transferred over.
Well, yes and no. I graduated high school at the top of my class, but I didn't go to college. I could have, but I pursued my passion of racing. I wasn't able to get a factory ride, so I did it all myself. That was hard, but then it paid dividends that I didn't expect. You play the hands you are dealt and you do your best, and I have no regrets. I'm doing well, I'm really happy, and I have a wonderful family. But sometimes I do wish I had taken the effort to both race and go to college.
What about racing today—do you still follow the sport?
I do follow the sport, but I don't come around the races much. It's somewhat sad to me, as I see how hard it is to make it in the sport, having done it myself. You see all these kids dropping everything at a young age to be a superstar, but you have only twelve, maybe fifteen or so spots that really pay. Those are really tough odds to overcome, and I think it's harder than most people think.
How do you feel about what you accomplished?
I set out to be a champion, and I didn't achieve that, but that is on me. I'm happy with what I've done—I had Team Solitaire from 2002 through 2012. But early on in my career, from 1996 and 1997, those are some of my absolute best memories. I was on my own with an F-150 and a camper shell, driving around the country. Looking back at the friends I made, that was amazing. Starting the team, that added a lot to my plate. It was a good distraction for a while. I didn't have time to get burned out—everything was fresh. I was chasing the money and the glory. I was so passionate about it. I didn't think about it in black and white.
Racing is one thing; running your own team and all that goes into it is something entirely different.
For sure. And with motorsports, there's no end to how much money you spend. In 2002, I probably had a $50,000 budget, which was nothing. As things grew, my largest budget was probably $650,000, and that was with the semi and all that. It sounds like a lot, but when you're buying special parts and have a payroll, it goes quick. We had support from Honda, and that really helped. For me, the fun factor was to build it out and have passionate fans and industry folks relate to the program—that was the best part. Prior to our team, I don't think any really active rider really tried to do what we did.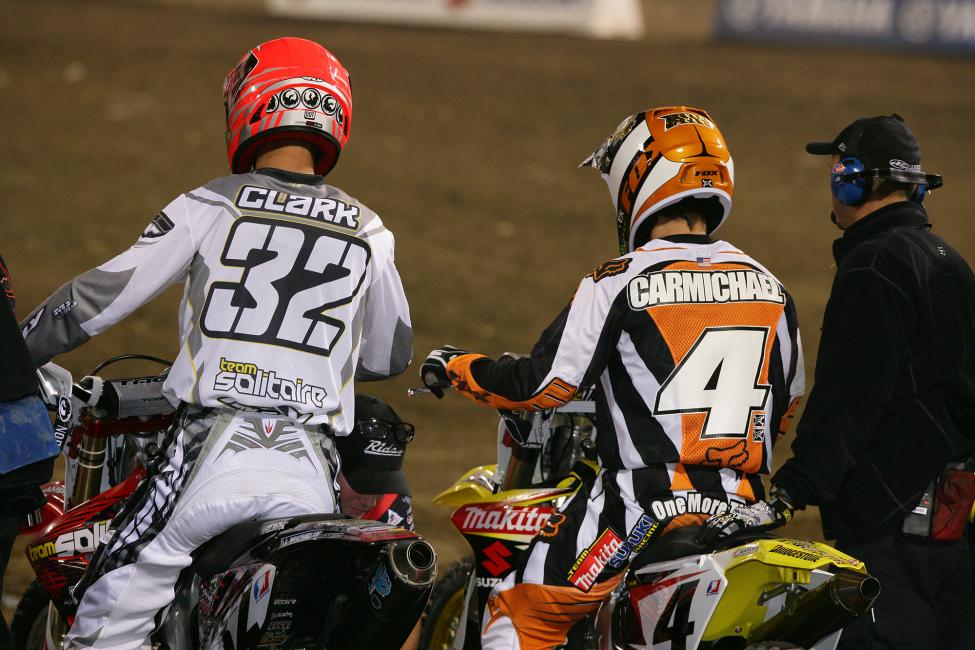 Who else played a big role?
Well, right around 2005, I hired a guy named Jesse Black as my mechanic. And, both in a good way and a bad way, we were really passionate about things. He was an integral part of the program. We did the best we could to keep costs down, trying to race against best riders in the world and on a stock bike. I don't think people realize how much goes into making a competitive race bike verses a stock bike. He played an important role for sure.
How was the money for you?
Not great. My best year, I probably made a couple hundred grand, and that's not profit—that's gross for me, personally. It wasn't that I couldn't make money, but that I always reinvested it in my program with the goal to make that next level. Most years, I could make $60,000-$80,000. I had a few really good years, but all of it just went back into the program. Those good years include a lot trips to Europe, which paid well. I think my best years were 2003 and 2004, when Keith Johnson and I were top privateers, along with Jason Thomas. But if I could have figured out a line to draw in what I spent, I could have made more for sure. But I was so hungry. I just put all the money right back in. It was a never-ending battle for better equipment.
Sales for new bikes fell by nearly 70 percent in 2007 and 2008, and the overall economy really struggled. How did that affect your program?
It killed the team. Prior to that, we were at the top of our game. We had a good title sponsor. We got Bobby Kiniry on the podium. But then in 2009, I ran everything out of my pocket. I had signed a $500,000 sponsor, and they bailed on us. But I had already signed contracts of my own, so I did what I could to keep things going. That was the demise of the team. It became just me going to the races after that, and I spent most of my reserves. I was always hopeful to land the next deal, but no one was spending money in 2009 and 2010. Even today, I can't imagine guys are getting the deals that I had in '06 and '07.
Tell me about your family life now.
Well, around the same time the team folded, I got divorced. It was probably related, but I had also just started the Dirt Lab [a motorcycle repair shop in Phoenix] and things just got to be too much. With all that was going on, 2009 was really a kicker for me. I spent a few years getting myself back and running the shop along with my mechanic and friend Jesse Black. After a few years, I basically figured out what I wanted to do, and met a wonderful girl who is now my wife. Cassandra worked in the industry for a while doing some media work. We met at the Phoenix Supercross one year during press day. We started emailing. We met up maybe a year later and have been together ever since.
What about your kids?
We have three kids. Declan is 3 and is our youngest, while my daughter Audrey is 7, and Everett is 9. All the kids are very active, and I'm lucky to be really involved with them. In fact, I am an assistant scout leader, and they all play a lot of sports. As for riding, none of them really have any interest, but I could see Declan maybe wanting to do it.
With everything you went through, good and bad, how would you feel about one of your kids making a go at being a professional racer?
That's tough. I'm not sure how I would feel. I would support them, but I just wouldn't want them to follow what I did. I'm sure they would be better than me, but I think there are safer, cheaper, and more rewarding sports. And if that is the path he wants to go… I love it, don't get me wrong, and to each their own—I just don't like the injuries. I was lucky; I had so many bad crashes that I was able to walk away from, some that I limped away from, probably well over ten concussions. I do worry that maybe some of those concussions might come back around at some point.
The group from Albuquerque you grew up with, do you guys all stay in touch?
Well, yeah, a little. Justin [Buckelew] lives here in Phoenix. I sometimes see him, but not often. We're all still all friends, though. The local scene in New Mexico was bad back then, so as kids we all traveled the country together and practiced together in order to get faster. The group included both Gio and Ivan [Tedesco], Isaiah and his cousins Keith and Kevin Johnson, and then all three of those guys are cousins with Justin Buckelew. We also all rode with Aaron Johnson and Zack White, both of whom now work for Mitch Payton. It's crazy how many of us made a living racing or working on dirt bikes, from who came up with our group. And now Jason Anderson has revived the 505. But, yeah, we are still all friends.