High Point Raceway
Mt. Morris

,

PA
High Point
Lucas Oil AMA Pro Motocross Championship
When Christophe Pourcel signed with Rockstar Energy Racing Husqvarna, the chatter began. Pourcel had proven tough to please in some previous stints—he admitted that last year's Valli Yamaha YZ250F didn't quite work for him, and his 2011 attempt with MotoConcepts on a Yamaha YZ450F was even worse—so eyebrows were raised. Rockstar Husqvarna team owner Bobby Hewitt assured me he could make this work, but we'd heard that from previous teams too.
So far, Hewitt is winning. Pourcel has praised the team each time I've talked to him, capped by this weekend's fourth overall in High Point's 450 Class. "Big, big, big difference from last year," he said. "The support that we have from Husky, Rockstar, that's the best support I've ever had. Anything you ask, even when you have a bad weekend, for suspension and stuff, they understand and they make it better."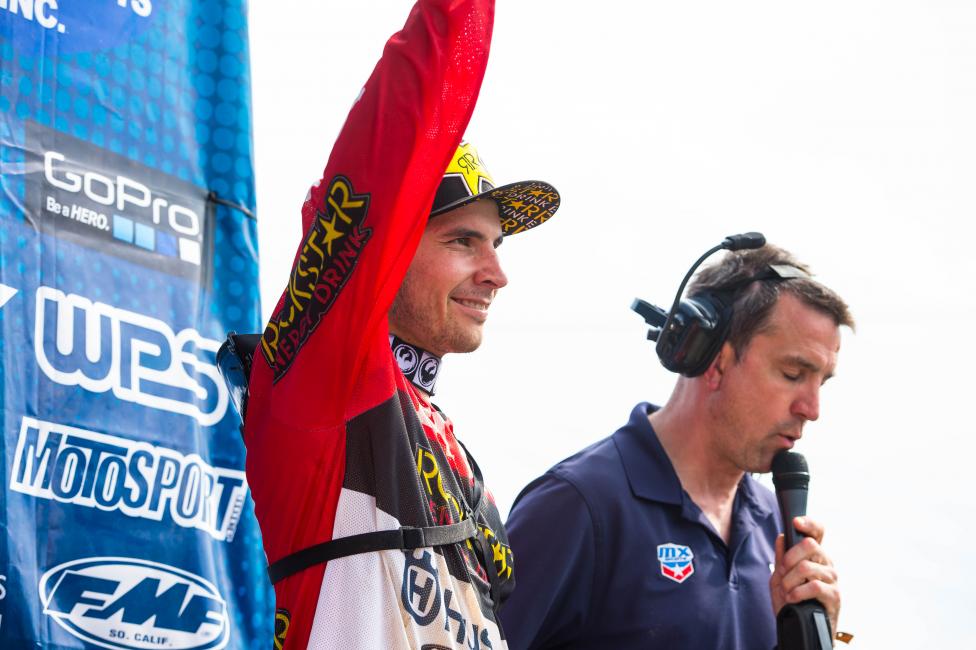 That's high praise, as Pourcel won titles for Mitch Payton's mighty Monster Energy/Pro Circuit Kawasaki team, raced a factory Kawasaki in Europe, and had factory Yamaha help at Valli last year. But Hewitt runs a unique operation, and his loyalty and trust in his riders are pretty unique even at this level. Some riders will perform regardless of the structure behind them, while others require a special fit. Pourcel is in the latter category, and Hewitt is more willing than most to mold his approach around the needs of his athletes.
The Husqvarna link must be respected, too. Husqvarna is now under KTM's umbrella, and while the brands are working hard to create separation between them, an attachment to KTM creates instant credibility. Plus, if you think KTM has had a rapid rise, Husky has made that advance look glacial. A year ago, they didn't even have homologated bikes for AMA professional motocross and supercross. Now, the Rockstar team has delivered big as America's factory Husky outfit.
The High Point National served as an actual high point, with Zach Osborne taking second overall in the 250 Class and Jason Anderson and Pourcel running up front in each 450 moto and taking third and fourth overall. The white bikes were factors in each outing, and this doesn't even look surprising. The brand and team look like they belong.
That is, of course, because none of it is truly new. While the marketing departments don't want "KTMs with white plastic" to become a thing, the bottom line is these bikes, for now, kind of are. They aren't identical, and riders at the top level will tell you the changes are noticeable to them. Plus, these are based on the current 2015-generation KTMs, not the Factory Edition bikes that Dungey and Marvin Musquin use, so if you line up a Rockstar Husky beside a Red Bull KTM the differences are huge. Expect new Husqvarna's soon, though, and expect them to mimic what we just saw with the 2016 KTMs. This isn't an all-new machine started from scratch; it's a legit platform that had already performed.
But the bikes were the easy part. The previous-gen KTMs were plenty capable (note Ken Roczen and Ryan Dungey going 1-2 on them in last year's 450 Lucas Oil Pro Motocross Championship). Finding a quality team and riders to plug in with instant success is considerably harder, and that's where Hewitt has done a remarkable job. When Rockstar Suzuki's factory support ran aground, the ever-determined Hewitt didn't back off, continuing to put out quality riders and results knowing someday a factory would come calling.
Last year it was KTM, but this Husqvarna switch was the long-term plan, gifting the revamped brand with capable bikes, riders, and infrastructure right from the get-go. Since the new Husqvarna has such established bikes and people behind it, no one seems surprised to see the brand up front consistently for the first time in decades (by the way, Max Nagl's IceOne Husqvarna effort in the MXGP tour is making believers in Europe too).
Because KTM already taught us to re-teach ourselves what we can expect out of that brand, this Husqvarna revamp seems more believable. But no dirt-bike brand has ever made the two-pronged attack work, so the final verdict—if the market can support both—won't come for a while. If it happens, it'll be an accomplishment larger than Ryan Dungey's Monster Energy Supercross title on a 450SX-F, larger than all that buzz the 2016 production KTMs are getting. No company has ever made two brands work at the same time in