High Point Raceway
Mt. Morris

,

PA
High Point
Lucas Oil AMA Pro Motocross Championship
1. These two riders, Ken Roczen and Ryan Dungey, have battled the past two summers for every single point. I don't think there is any deep animosity between the two, but they're definitely rivals. Ken Roczen was the main horse of Aldon Baker's stable in last summer's title run, and this year it's Ryan Dungey who holds that role. Add in the fact that Roczen left Dungey's Red Bull KTM clan and jumped ship to RCH/Soaring Eagle/Jimmy John's Suzuki this year and you have plenty of awkward variables. Despite all of the turmoil behind the scenes, these two have always kept it professional on the track.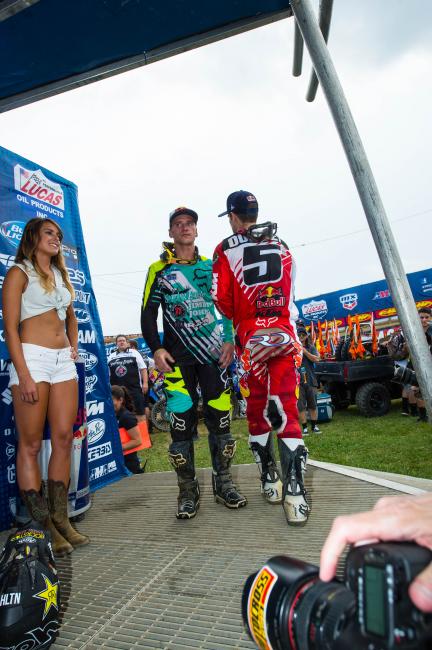 2. Christophe Pourcel flies above the Pennsylvania countryside. This photo gives a better idea of just how steep the uphills and downhills are at High Point. My first year at this race was 1995, and coming from Florida, I had never ridden anything so intimidating. I'll never forget how scared I was coming down those hills for the first time.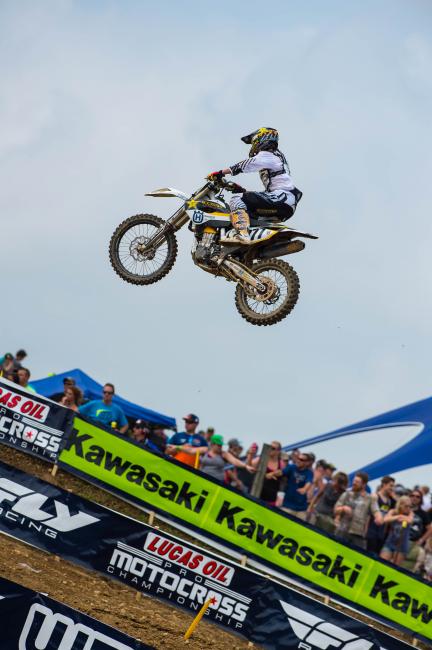 3. Another of CP377 here, but this time he's cutting across the inside of a left-hander. His body position is picture perfect. He's very far forward to put weight on the front tire as it climbs. Sliding forward is critical because he would have no control or front-end traction without that transfer of weight. His body is directly in line with the motorcycle's lean angle, and his clutch finger is already managing the power delivery. This is how it's done.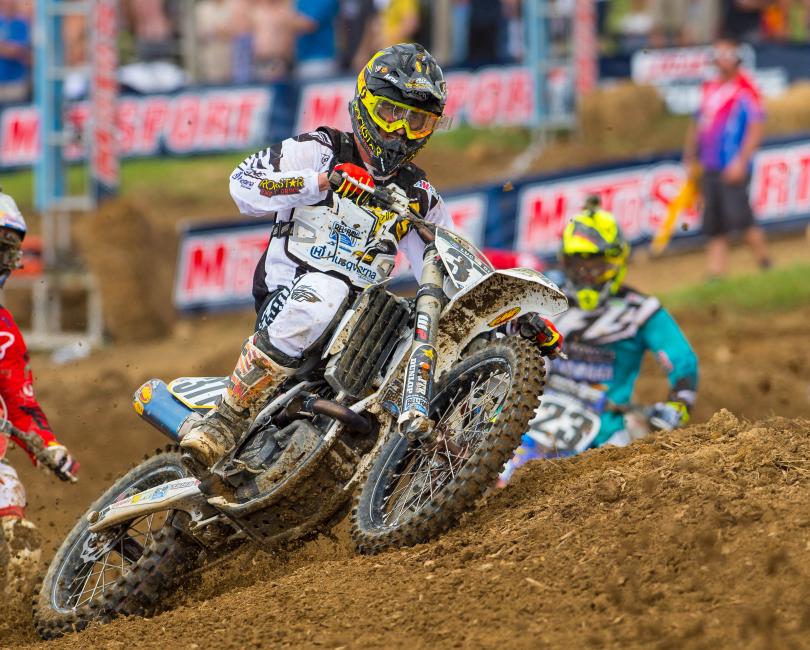 4. This picture of Christophe is a bit less ideal. You look at this picture and it seems like he didn't implement any of the good things he did in the previous shot. In reality, though, he just didn't get his right leg out in front of him early enough. As he went to dab his foot for balance, it was dragged backward, pulling the rest of his body with it. One small thing that led to bigger problems. His clutch hand is blocked in this photo, but smart money says he's about to engage the clutch and regain his body position. Just a quick pull on the clutch will slow his acceleration enough for him to climb back toward the front of the bike. It's almost impossible to pull yourself forward under full acceleration if your leg is dangling backwards.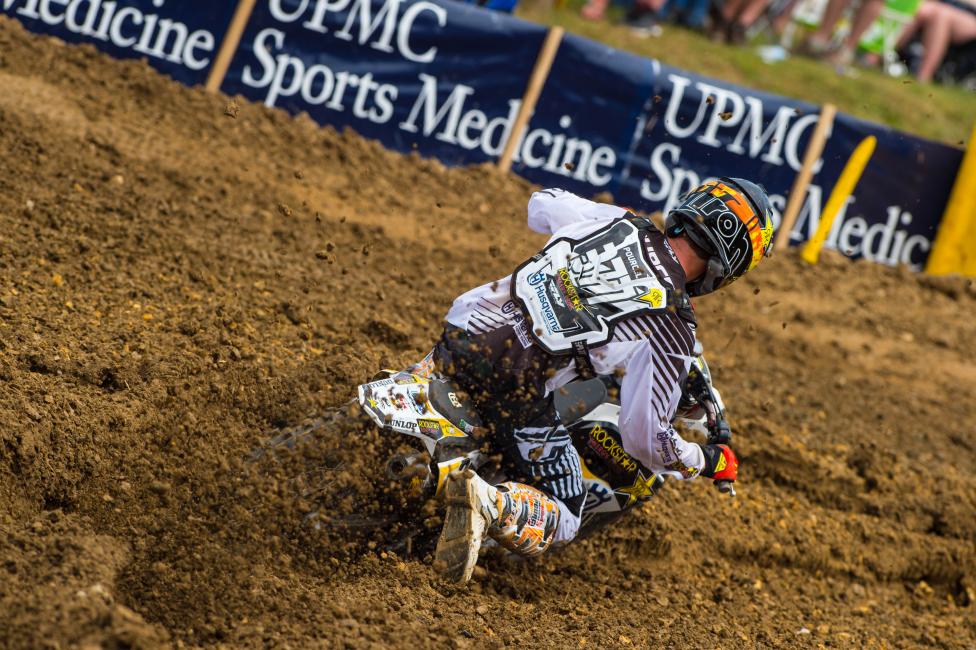 5. This is the same turn, just a moment later. He's fighting to move forward on the bike without having to slow his momentum too much. His foot is still dragging, which is hindering his forward progress. He's almost out of the deep part of the rut now and will be able to hop forward.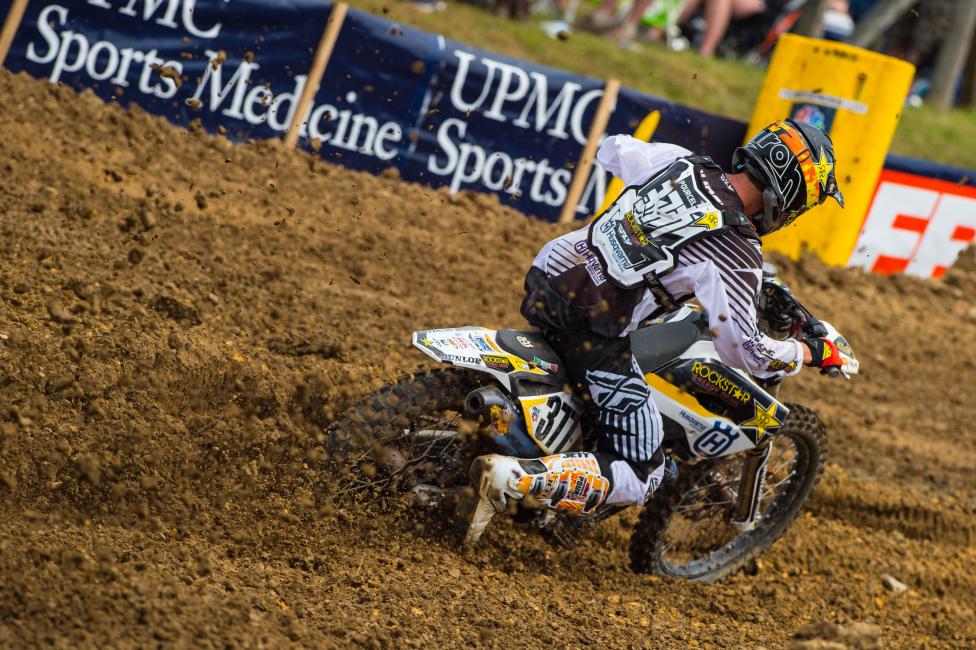 6. Pourcel is looking smooth here. He's descending into a fast right-hand turn and locked into the rut. It looks as if he has both feet on the foot pegs, which seems to be prominent from the Euro riders and, therefore, predictable from Pourcel.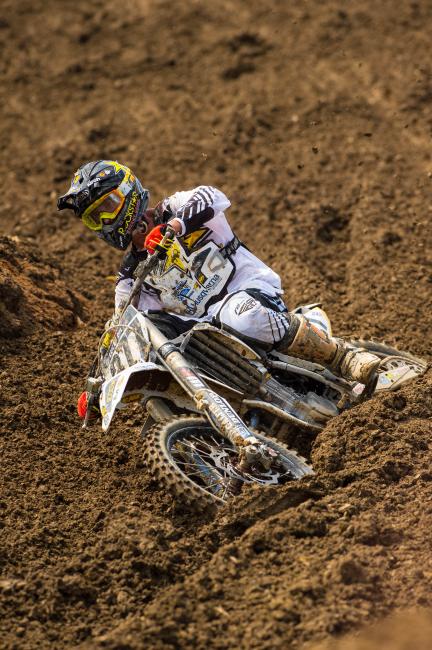 7. Dungey and Roczen were both pushing their limit in the final stages of the second moto. Roczen is all kinds of sideways here in the stair steps. There are so many sketchy moments during any given moto that Roczen probably wouldn't even remember this.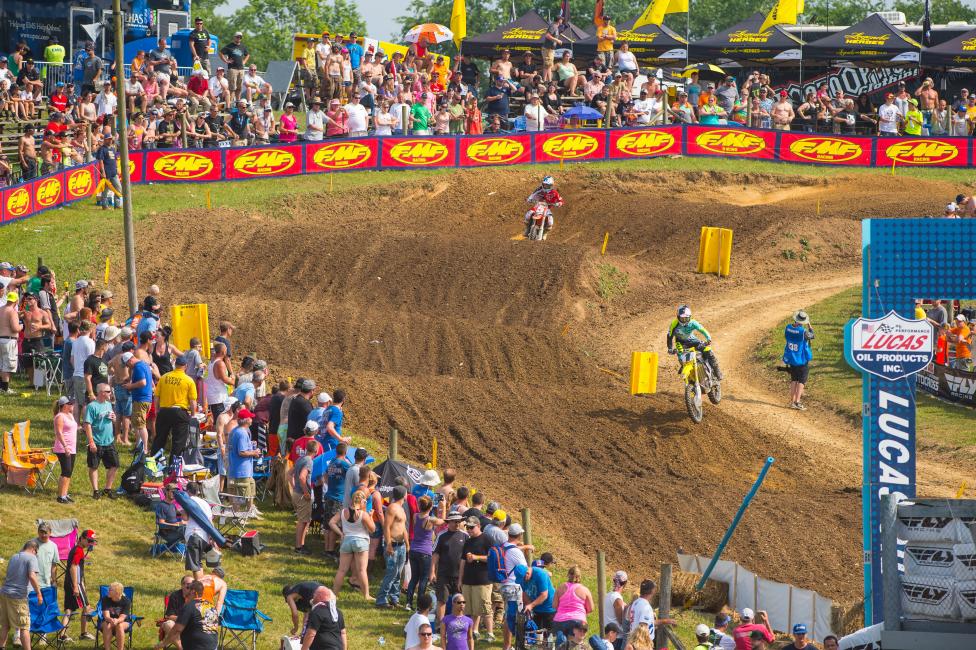 8. This is about as close as Dungey got to Kenny in the second moto. Roczen is hunched over as he soaks up this turning hump. The suspension is unloading as he crests this rise, so he's pushing back down on the bars to combat it. He is doing everything he can to keep his tires in contact with the ground, both to steer with the front end and to accelerate down the backside.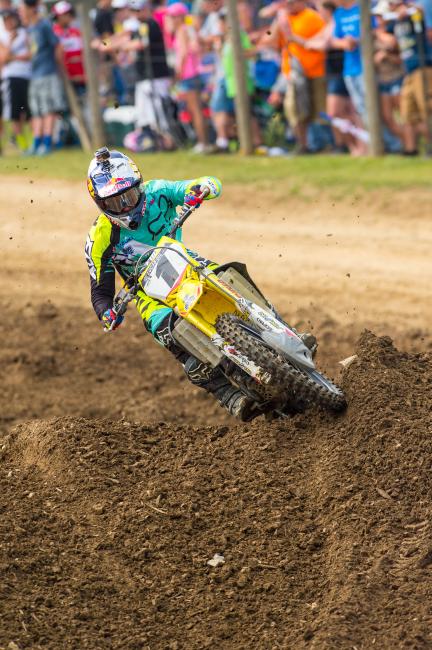 9. Flash back to Pourcel dragging his rear leg in the earlier photos and then look at this photo. This is what he was hoping to do. This is really, really good form. His leg is raised incredibly high, almost to the point where he knew this photo would be taken for a "how to." This is out of habit, and he probably doesn't even realize he's raising it so high. If you want to see how to turn in a deep rut, print this photo and try to emulate it.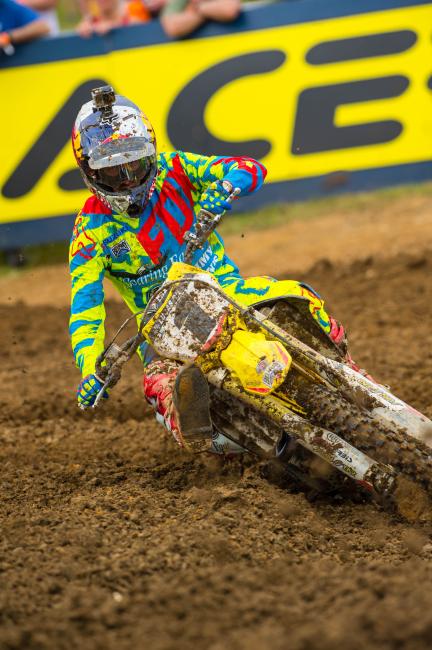 10. Still late in moto two here, Dungey is doing everything he can to hunt down the #1. Both riders were going flat out, and I'm using Roczen's line choice here as evidence. Generally speaking, when riders are in their comfort zone and clicking off laps, they will find lines that avoid the majority of bumps. As you can see, Roczen is making no effort to avoid any bumps at all. He's going for broke right into the belly of the beast.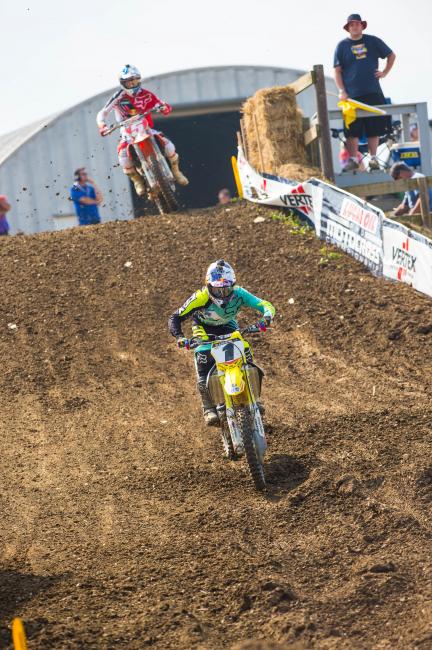 11. Kenny is shown here in the first moto. He has undercut a rut, and without seeing what was before it, I would think he was most likely avoiding braking bumps entering this turn. He'll try to enter this rut at the most obtuse angle possible after such a sharp approach. The interesting question is after avoiding the bumps on entry, will he give that time back from having to change his turning angle?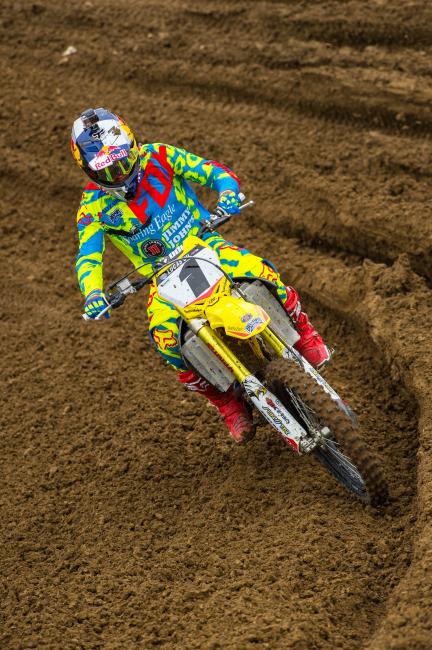 12. This is the same turn, and he's finally entering the rut. Notice his body is fighting to stay to the inside of the rut, but his momentum is carrying him deeper. His front tire wants to climb out of the rut because he's carrying such speed and hitting the rut at such a sharp angle.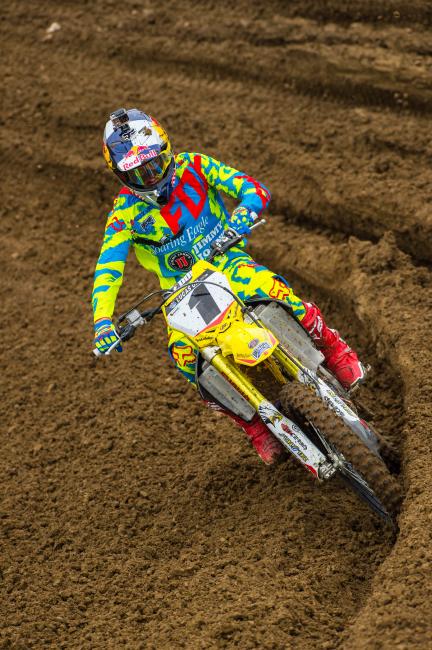 13. Now we can see that his front tire has completely hopped out of the rut. His back tire will be angled a bit awkwardly inside the rut, which prevents direct drive and acceleration. He's fighting all of that momentum he carried in the first photo. That energy is still pushing him to the outside of the turn despite all of his core muscles trying to turn hard to the right.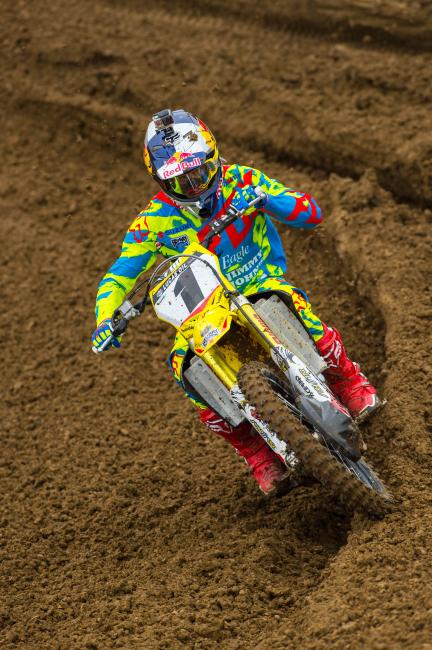 14. This is what happens when the rear tire is driving from an awkward angle and the front tire is unsure of what it's doing. The bike is unsettled and driving awkwardly. This mistake was caused by the unorthodox entry point way back in the first picture of the sequence—that was probably because Kenny was trying to avoid the main line and stay out of the bumps. The angle was simply too sharp for the speed at which he tried to pick up the rut.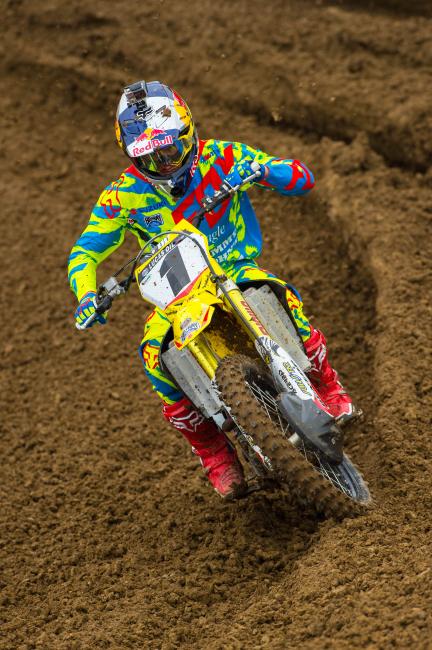 15. This is a photo of Kenny in the first turn of the racetrack. He's leaning very far to the inside, indicating a lot of traction if he's willing to trust the tires that much. Even still, you can see how much dirt the front tire is pushing as he accelerates out of that turn. His body is forward as noted by his right knee on the shroud.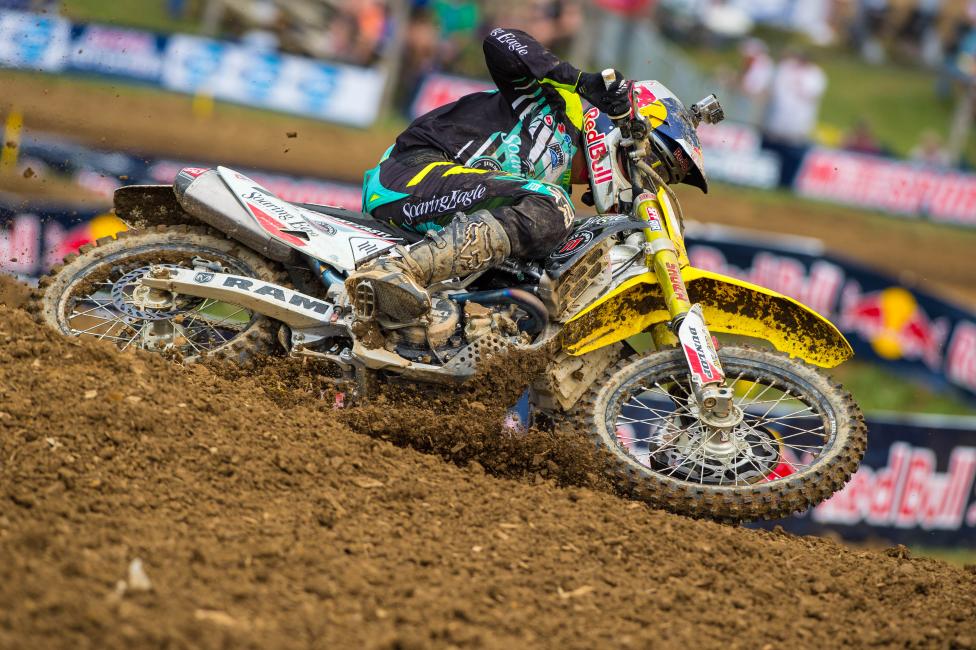 16. Chaos defined. This is the second moto, and both Zach Osborne and Marvin Musquin are headed to the front. The interesting thing is that Osborne is visually ahead, but Musquin looks destined for trouble. Christian Craig is leaning hard toward Marv, and Adam Cianciarulo looks to be driving hard on his other side. Marvin was able to keep accelerating, though, even when off balance, and that allowed him to drive up the hill to a good start.