Red Bull KTM's Dean Wilson. Remember him? The 2011 250 National Motocross Champion has had several years sabotaged by injury, and 2015 was no exception. A torn ACL suffered the week before the third round of Monster Energy Supercross sidelined him for the rest of the SX season, but Dean's finally close to being able to ride again and might sneak in a national or two at the tail end of the season.
The injury recovery really isn't the issue though. For Dean, his results have been hampered for years by arm pump. To solve that, he's trying an extreme solution. We found Dean at this year's KTM dealer meeting to chat about what's next.
Racer X: You're alive! We've found you!
Dean Wilson: Yeah, I've been in a bit of hibernation mode ever since I had surgery on my knee. I had the operation—ACL, MCL, and meniscus in my left knee. I got that done, and while I was injured, I just wanted to get everything I needed to have done fixed. The knee, obviously, takes a long time to heal, so it gave me time to work on everything else. So I got my right knee cleaned up. I had some scar tissue floating around in there and stuff. Then, two weeks after that, I went to Belgium, and…you know, I've really struggled with arm pump the past four years. It's really, really hurt me. I've fallen backwards through the pack, and it just came to the point where I really needed to do something about it. So I went to see some doctors, and I ended up having carpal tunnel.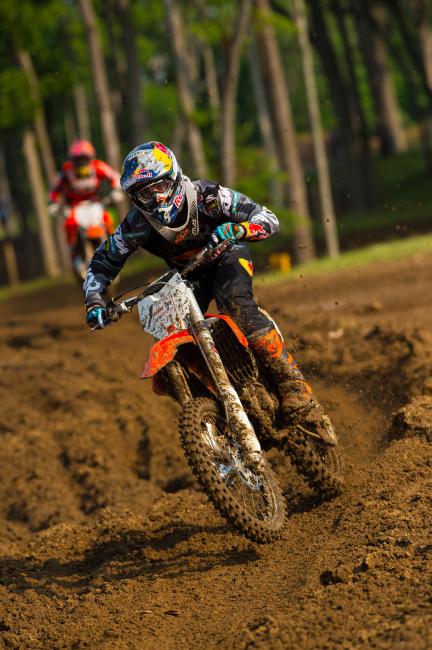 You found out you had carpal tunnel?
Yeah, I did a bunch of tests with Doctor Cles, and he operated on me. That's why I was over in Europe and catching a few GPs. I was already over there, and I went over to Scotland to kind of recharge the batteries. I got surgery for the carpal tunnel. So now that I'm back, I'm back training. I'm pretty excited to see how things turn out, because obviously my arms have been a massive issue for me. I've always been a hard worker on the training side of things, but it doesn't really show that when you're falling back in the races. But when you get such bad arm pump, you go into survival mode just to finish the race and not crash.
I feel like even last year when you had a shot on Chad Reed's bike on the 450, you were really fast at a bunch of races. Then you'd pump up, and then eventually we saw races where I think you were just riding to survive.
More than just the last few races—all of them. If I'm lucky I can get to lap twelve. Last year at Daytona, I was fastest in practice, I won my heat race, and in the main event I was in second for fifteen laps. Then my arm pump was so bad I couldn't even hold on. So I had to just ride around so I didn't crash. I ended up going from second all the way back to seventh. People look at you like, "Man, this kid needs to train!" But that's not it—believe me I'm a hard worker. I don't really need to prove that to anyone, because I know it myself, but it's just my arms and I'm really hoping this works.
But you haven't ridden yet to really know?
Yeah, haven't ridden yet so I don't know.
The knee is good to go?
Yeah, a few more weeks and I should be good to go and start riding. I went to see my doctor last week, and he was really happy with my strength and range of motion. I've been working really hard in physical therapy.
How's the team been? Obviously your teammates like Ryan Dungey and Marvin Musquin have been dominant at times. So is that upsetting because you're not there and doing it yourself, or is it cool because you know you're on the right team and bike when you come back?
Yeah, it kind of bums me out a little bit. I want to be part of the team, and I want to be part of it. They're so successful. You come back after a race and everyone is happy when that's happening, and I definitely miss those times. But I've also seen the people I've raced before in supercross, like [Cole Seely] and [Jason] Anderson, [Blake] Baggett—they've been riding really well. So for me being a racer, it bums me out because I want to be up there battling with them. It just motivates me to come back stronger.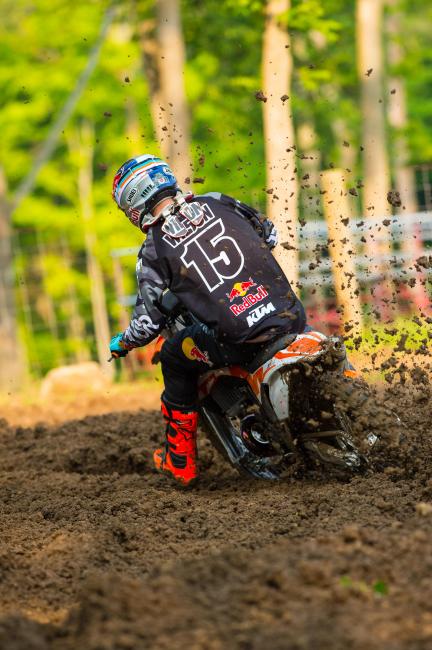 When you were testing with this team in the off-season, or the few good laps you had in the two races you did this year, maybe in practice before you got the arm pump, how good where you going?
Yeah, in practice I was riding good, but you know something is wrong when you're pumping up in practice. And I was pumping up in practice. The reason I got the surgery is because I've been struggling with this for four or five years. The first year, you're like "It must be my training." So you switch your training up. The next year you're like, "It must be my diet." You switch your diet up. You try changing your riding, your bike—you try everything and you keep thinking that's going to be the thing that changes it for you. Nothing was working. So, yeah, really glad I had this surgery done. I went all the way to Belgium to get it done. I think that shows my commitment to my career. Next year is an important year for me to make it happen, and, you know, I'm not even going to think of anything negative. I'm going to stay positive and be back to being an up-front guy.
The thing about arm pump is, how many people have told you, "Try this, try that"? Must have been a thousand people.
Oh, yeah. Everyone has a suggestion. And I would try all of those things. I would try anything to get rid of my arm pump. I mean anything. It was just so frustrating. I'm doing whatever it takes at this point.
Will we see you back racing this year during the Nationals?
I don't know. I'd like to do maybe the last few, but we'll have to see. I don't want to come back and cruise around; I want to come in ready and be toward the front. If I'm ready I'll come back, but if I'm not 100 percent I'm going to wait until I am.