Mt. Morris, PA
High Point
Lucas Oil AMA Pro Motocross Championship
Mt. Morris, Pennsylvania, hosts the fifth round of the Lucas Oil Pro Motocross Championship at High Point Raceway. One of the senior rounds of the series, this is also the home race for the Racer X gang, and there is definite pride taken in that distinction. Its place in history is beyond reproach.
The track itself is located just inside the Pennsylvania border, but it would be hard to find unless you know where to look. It's carved into the rolling hills and has long been known for its elevation and tricky off-camber turns. The course has evolved over time with some sections being removed and others added. The infield was once scattered with trees, making for a very scenic landscape, but with modern television broadcasting and hopes of better spectator views, those have been removed over time. Now we see a giant valley with a sprawling racetrack winding up and down the numerous hills.
Some of the more remote sections have been altered to shorten the lap times, but there have been some incredible obstacles added as well, like the massive turning double in the middle of the course. The wood berm near the starting line went the way of the dodo bird, as did the wooded section on the far side of the track before the finish. These were very cool sections that made it a very unique track, but as this sport evolves, the old High Point will now live on in YouTube videos and bench-racing sessions.
Some of the track's staples remain, however. The near-vertical uphill start still gives horsepower bragging rights to whoever reaches the top first. Also, the big tunnel double made famous by Ricky Carmichael lives on, followed immediately by the downhill staircase section. The uphill triple behind the starting line lives to see another year, and believe me when I tell you that there is no place for hesitation on that jump. All of these infamous obstacles immediately come to mind when I think of pulling into southeastern Pennsylvania.
The soil at High Point can vary a bit with the weather. This time of year Pennsylvania sees a lot of rain, although it used to be worse when the race was held in May. I've raced on some of the best dirt at this event, and I've also raced in some of the nastiest mud at this event.
I raced in the 1997 mud-fest that Damon Bradshaw won and also in the 2000 mud-fest. There were other years, though, where the sun was shining and the dirt was in prime shape. Years like 1999, 2002, and 2006 were all about as good as one could ask for when it comes to Mt. Morris traction. Conditions for this event always were and always will be a crapshoot, but hopefully the rain holds off for yet another great edition of High Point.
Who's Hot
Sigh. Ryan Dungey basically lives in this category. I've been doing this column for the entire 2015 calendar year, and he possibly missed a couple of weeks during the Tomac run. Maybe. The guy is having an incredible year, and stop me if you have heard this before, but he has a healthy championship points lead.
Ken Roczen hasn't been on this list lately, but he deserves it this week. He almost won the overall in Lakewood and backed that up with a moto win last weekend in Tennessee. His back injury put him in a hole to start the season, but he's back in the fight now. The real question is whether or not he can begin chipping away at Dungey's lead. Even with a moto win last week, he still lost ground when the day was done.
Jason Anderson was absolutely great last weekend. Both motos were very impressive and eye opening to say the least.
Jeremy Martin has won three out of four overalls this season and made a statement on Saturday. His struggles in Tennessee a year ago had many wondering if he would give up valuable points yet again in 2015. That was not the case this year, as he put up a solid 2-1 score to take home the overall victory and add to his points lead.
Marvin Musquin lost ground to point leader Jeremy Martin, but his first moto ride was a thing of beauty. He is every bit as fast as Martin, but he's had a few untimely crashes (but when is a crash timely?). He's still riding incredibly well, though, and looks to take this title down to the wire one way or another.
Jessy Nelson has been a consistent front-runner this summer, as I expected. Nelson has risen to the top, and he looks much more poised at the front this time around.
Adam Cianciarulo is becoming more and more of a podium mainstay. I still think he's going to win one of these soon. If he gets a holeshot and is feeling it, watch out.
Who's Not
Alex Martin shouldn't be here. Most of the issues have been bike related or first-turn/lap crashes, but the bottom line is that his results aren't the same as the first few rounds. If he can stay out of trouble, he'll be back inside the top seven or better this weekend.
Christophe Pourcel has had a rough few weekends, and I'm not quite sure what to make of that. His timed qualifying effort was strong, but the results are just not coming. High Point is a good track for the crafty Frenchman, so maybe he turns it around in Pennsylvania.
Chad Reed is not having much luck. He struggled in timed qualifying and then found himself on the ground in the first turn to make matters worse. He holeshotted both motos at High Point last year, so maybe that jump-starts a good result this year.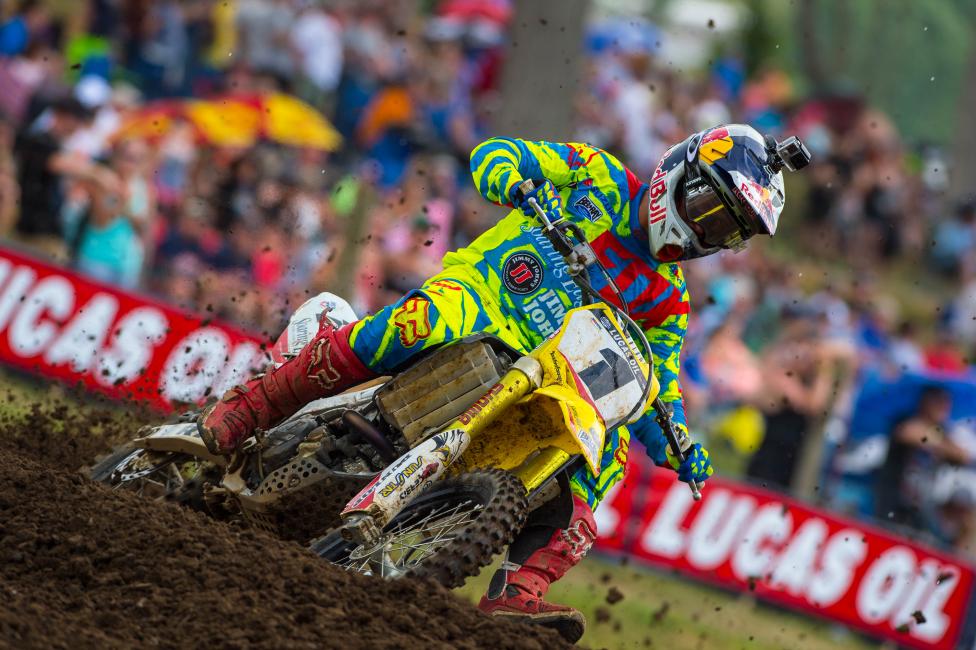 Bold Predictions
Marvin Musquin wins the overall, using his off-camber turning prowess.
Ken Roczen wins his first outdoor overall of 2015.
After seeing what Lucas Oil trophy girls look like, Adam Cianciarulo finishes in the top three of every moto for the rest of his career.
Chad Reed holeshots a moto, and the live footage is captured from Ken Roczen's GoPro.
Grant Langston gets an I.V. before going live on television Saturday.
Jeremy Martin "can't thank" anyone again after a solid day.
Zach Osborne rebounds after a rough Muddy Creek, finishing inside the top five overall.
My Picks
450
Ken Roczen
Ryan Dungey
Blake Baggett
250
Marvin Musquin
Jeremy Martin
Adam Cianciarulo