Muddy Creek Raceway
Blountville

,

TN
Tennessee (Muddy Creek)
Lucas Oil AMA Pro Motocross Championship
Welcome to Racerhead, this time coming from the first race of summer east of the Mississippi. We're at Muddy Creek for the Red Bull Tennessee National, round four of the Lucas Oil Pro Motocross Championship. The weather has been great—much cooler for a southeastern race than I believe many expected—and the track looks superb. Don't forget that it's an early day tomorrow: The first 250 Class moto kicks off at 12 p.m. EST. First motos will air live on MAV-TV and stream right here on Racer X Online as well as www.promotocross.com. And the second 450 moto will air live on NBC network TV—the big one. There's a great chance for some mainstream exposure for the riders and their teams.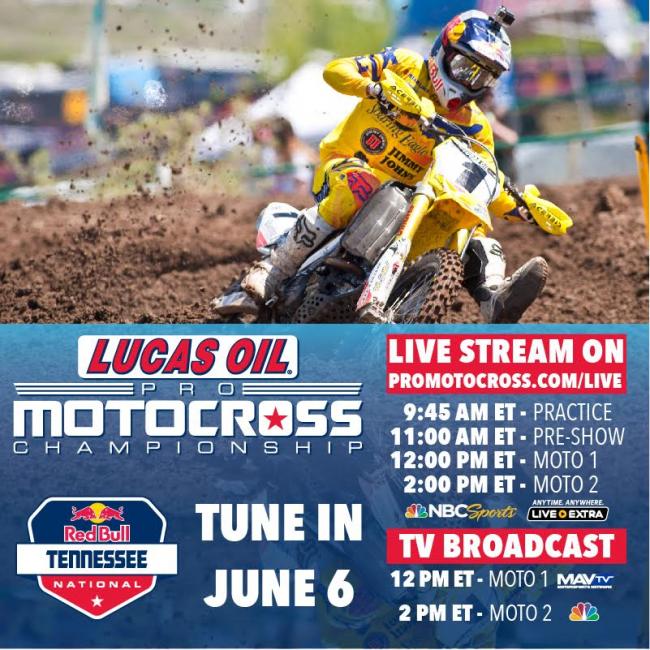 And of course exposure is what Discount Tire/TwoTwo Motorsports' Chad Reed was hoping for with the new POV camera deal he signed last week with 360Fly, which will be available some time in August. As you probably heard or read, Chad isn't allowed to wear that camera on his helmet during the race, as the series has an exclusive deal with GoPro that's been in place since 2011. It's what helps pay for the production of the series and get us all of the live TV shows, the free live streaming, the media center at the races, and more. It's the one and only exclusive category that we have, and a similar deal as Monster Energy Supercross, MXGP over in Europe, the X Games, and many more motorsports series. I know Chad is upset by this and has made his feelings public, but the rules are the same for everyone, and they've been that way for five years now. What's new is the company that's now sponsoring him.
I am sure there are many of you reading this that feel it's unfair to prevent a rider from giving a personal sponsor exposure, but Chad has lots and lots of other sponsors that benefit directly from GoPro's sponsorship of the series itself, as do all of the other riders. The value of being on live TV comes in the endorsements that the riders and teams are able to bring in, whether it's from supercross or motocross or both. Everyone at NBC/AlliSports and MX Sports has worked hard to build a TV and online platform that brings the riders enough international attention to attract major sponsors, be it on their bikes or bodies. And Chad can run as many 360Fly logos as he can fit on his bike and body, so long as they don't cover his numbers, and he will get on TV with it—he could wear their logos exclusively and not any of the rest of his sponsors' logos if he wants. He just can't run a helmet cam other than a GoPro. He can wear it all week long as he tests and practices, he can wear it under his team tent, in the pits, on the airplane ride here—anywhere but the racetrack.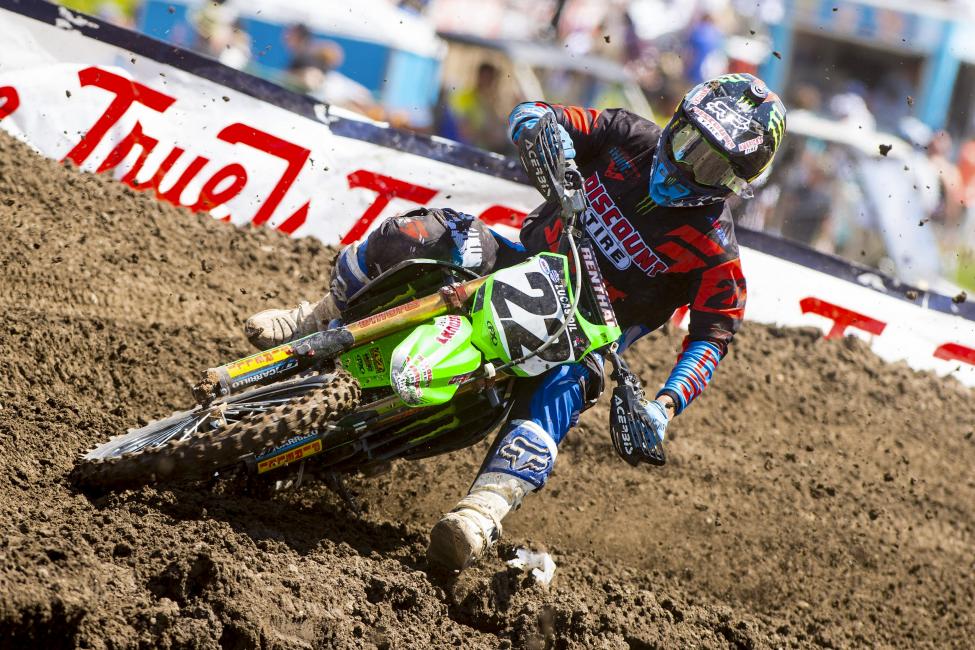 The NFL has an exclusive Gatorade deal as well as a Bose deal. NASCAR has exclusive deals with Sunoco fuel, Goodyear tires, and Sprint phones. SX and MX (both here and in Europe) have GoPro. Such deals help lift their sport and athletes, who are welcome to have other personal sponsors in those aforementioned categories, just not on the official playing field or race circuit. Such a deal is not unique, nor is it new, and right now, it's a contract we're bound to. And as you watch TV tomorrow or see the races online, all over the world, please understand that it's part of the process of lifting the entire series—especially the athletes. The infrastructure of any series or league comes with costs, and GoPro helps offset those in our sport. Chad may not have a personal GoPro deal, but GoPro plays a vital part in what makes all of Chad's other deals happen, both in motocross and supercross. By the way, Chad's here (I just spotted his bike going through tech) and I really hope he races, and it would be fantastic if he won. He's one of the biggest stars in the sport and people all over the world will be watching.
What people won't see, unfortunately, is GEICO Honda's Eli Tomac, who, as you all know, dominated the first five motos and then crashed while leading the second moto at Thunder Valley. Everyone held their breath and kept their fingers crossed that he would be okay, but he wasn't. Eli and his team announced that he injured both shoulders, one of which will require surgery. With that the red plate reverted to Red Bull KTM's Ryan Dungey, who took advantage of Ken Roczen's late mistakes to take the win from the rejuvenated and rapidly speeding-up #1 rider. Now, as you will read below in our Pro Perspective, it's going to be between Dungey and Roczen for the title, though guys like Reed, AutoTrader.com/Toyota/JGR Yamaha's Justin Barcia and maybe even Weston Peick, Yoshimura Suzuki's Blake Baggett, Honda HRC's Cole Seely, and Rockstar Energy Racing Husqvarna's Jason Anderson and Christophe Pourcel could all get up in there and grab wins. (And unfortunately Reed's teammate Josh Grant is out with a knee injury.)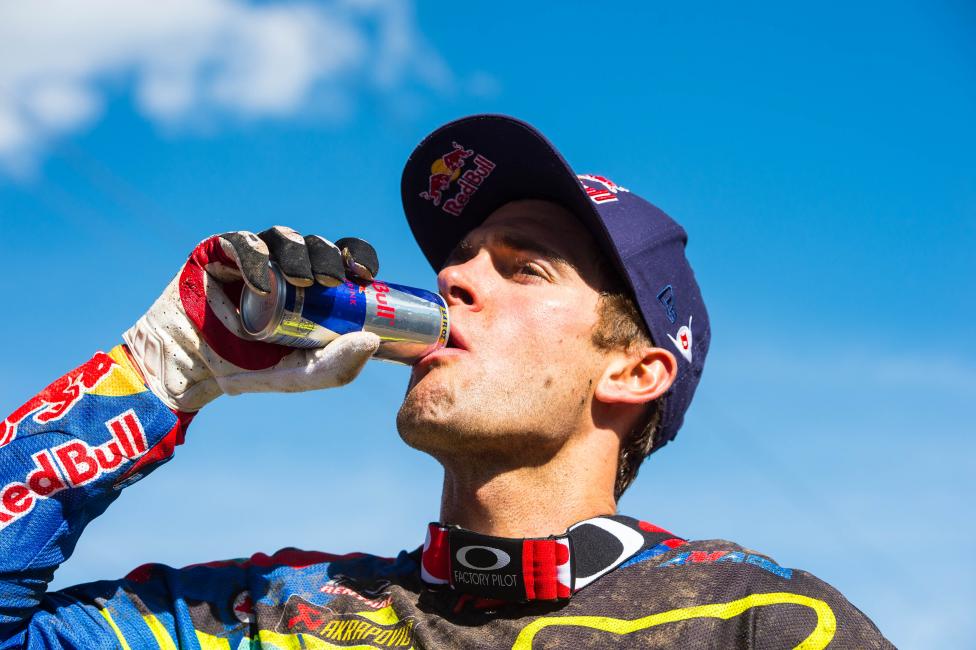 In the 250 Class they also have a new points leader after a big crash for Red Bull KTM's Marvin Musquin. He went down hard in the first moto and for a while looked like he might be hurt, but then he got back up and going, and he finished second the next time out. Defending champion Jeremy Martin of the Yamalube/Star Racing Yamaha team is back on top, having swept both motos in Colorado. Both should be in the mix for the win here in Tennessee, though don't count out Zach Osborne, the hero and a man who is long overdue for a national win. It should be an interesting day at Muddy Creek!
THE NUMBER: 6 (Andras Hegyi)
Ryan Dungey has again proven his consistency with his win at Thunder Valley. Since 2010, when he debuted in the 450 Nationals, Dungey has been able to win in every season. Dungey got his 32nd victory in the 450 Class, as well as a win in the sixth consecutive season, making him only the third rider in AMA history to have won at least one national in this class for six straight seasons. Ricky Carmichael holds the record, having won in eight consecutive seasons (2000-'07), while Ricky Johnson did it seven straight years (1982-'88).
Three other riders have won in at least six seasons, but not consecutively: Bob Hannah won in eight (1976-'79, '81, '83-'85), Kent Howerton won in six (1974-'75, '78-'81), and James Stewart won in six (2006-'08, '12-'14).
URINE THE TOP FIVE (DC)
Sorry for the poor play on words, but USADA showed up today to do unannounced blood-testing on the top five in the point standings in either class (sixth, actually, in the 450 Class because of Tomac's injury). As a result, there's a control trailer not far from where I'm writing Racerhead that is filled with motocross star power right now, waiting to provide samples for the USADA officials. It will be followed up by urine-testing tomorrow, according to set number in the overall results, as well as up to two random riders. While I'm not privy to what's going on by design, I wish I were in that trailer to hear the bench-racing going on right now between Ken Roczen, Jeremy Martin, Adam Cianciarulo, and Weston Peick.
TICKLE ME BROC (Steve Matthes)
One rider who had a great Lakewood was Broc Tickle of the RCH/Soaring Eagle/Jimmy John's Suzuki team. He achieved his 5-5 overall score through come-from-behind rides, and there were more than a few laps where he was the third- or fourth-fastest rider on the track. Combined with Ken Roczen's second-place finish, the RCH squad had two riders in the top five, and Suzuki had three total with Yoshimura Suzuki's Blake Baggett finishing third.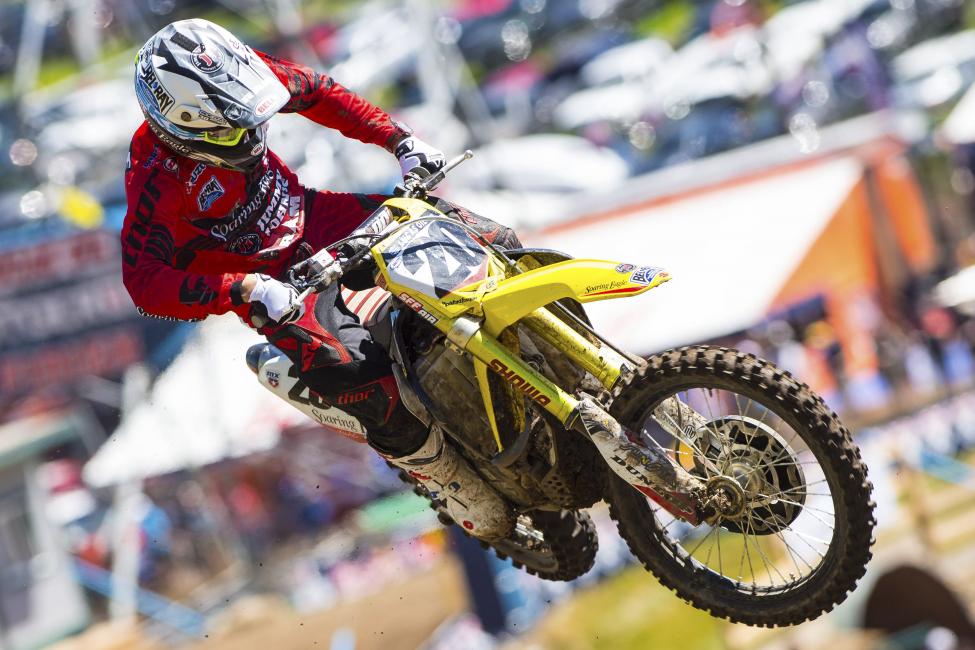 But back to Broc. His old boss Mitch Payton and I were talking about Broc after the second moto. Mitch was asked me what happened in the motos for the #20, and when I said he rode great, Mitch replied with, "Let me guess, though, he didn't get the start…" So Payton does know his old rider well, it seems. Broc's starts from a week-to-week basis have long kept him from staying up around the top five positions. He's fast, he's in shape, and he's got a good bike. Sometimes you leave a supercross or motocross race and go, "Wow, look at Broc Tickle!" And then others you don't really notice him. Then, a race like Lakewood happens and you begin to think, like Payton does, that if he could get better starts and stay consistent, then top-fives would be his.
By the way, there will be another Tickle out there with Broc this weekend, as his brother Carson will be making his Lucas Oil Pro Motocross debut in the 450 Class. Good luck to both of the Tickle boys from North Carolina!
HUSQVARNA HISTORY: PART 2 (Andras Hegyi)
Thanks to Jason Anderson, Husqvarna had some historical success in the Lucas Oil Pro Motocross opener at Hangtown, where #21 finished third overall. That earned Husqvarna its first AMA Motocross podium in the premier motocross class in thirty-six years. They reached another historic milestone, this time in the 250 Class. Husqvarna was able to get a podium after thirty-nine years off the box, as Zach Osborne finished second in the saddle of Husqvarna FC 250.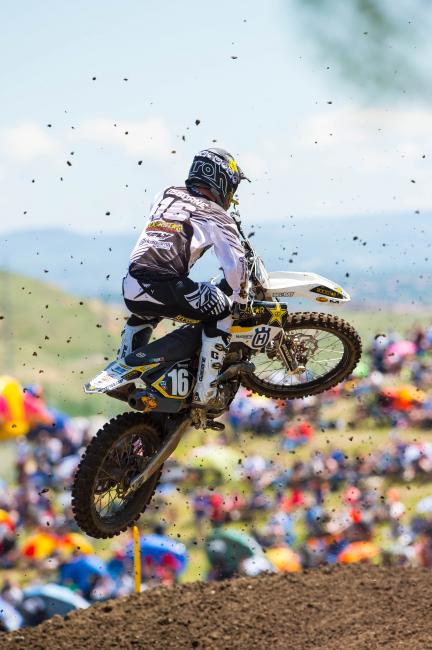 All told, this was only the seventh podium ever in the 125/250 Class for Husqvarna. Between 1974 and '76, Husky was able to get a podium each season. But then, between 1977 and 2015, the only non-Japanese brand to get on the podium was the Austria-built KTM, which in the meantime has become the owner of Husqvarna brand.
Osborne is the sixth rider to get a podium with Husqvarna in the 125/250 Class. In the past, four American riders—Robert Haag, Dan Turner, Mickey Kessler, and Arlo Englund—and a Swede named Nils-Arne Nilsson were able to get podiums with Husky. Before Osborne the last rider to get podium with Husky was Arlo Englund, who was third at the 1976 Delta, Ohio National in the 125 Class.
PRO PERSPECTIVE (David Pingree and Jason Thomas)
JT: And then there were two. It's crazy how quickly the entire landscape of the championship can change in this sport. Last Saturday morning, most people on this spinning sphere were ready to hand Eli Tomac the trophy already. Well, maybe not Amazonian jungle people, because they don't know who Eli is or what a trophy is… Or what a shower is, but I digress. The point is that Eli had won five motos in a row before that crash and is now completely out of this title fight. Ryan Dungey had been noticeably frustrated with how it had been going, yet one Tomac crash later and he is firmly in the driver's seat. It just goes to show that anything can happen in racing.
The question now becomes what Roczen will do with this opportunity. He came into the series with an injured back and almost didn't even race the first round. Now, he has a chance to get into championship contention. He has a tough road ahead of him, as Ryan Dungey is one of the most consistent riders in history. He doesn't toss points away and is no stranger to championship leads. If Roczen wants to back up last year's title, he needs to win motos. He has plenty of time to chip into the lead, but he will need to consistently win races. That's the only way I see this happening.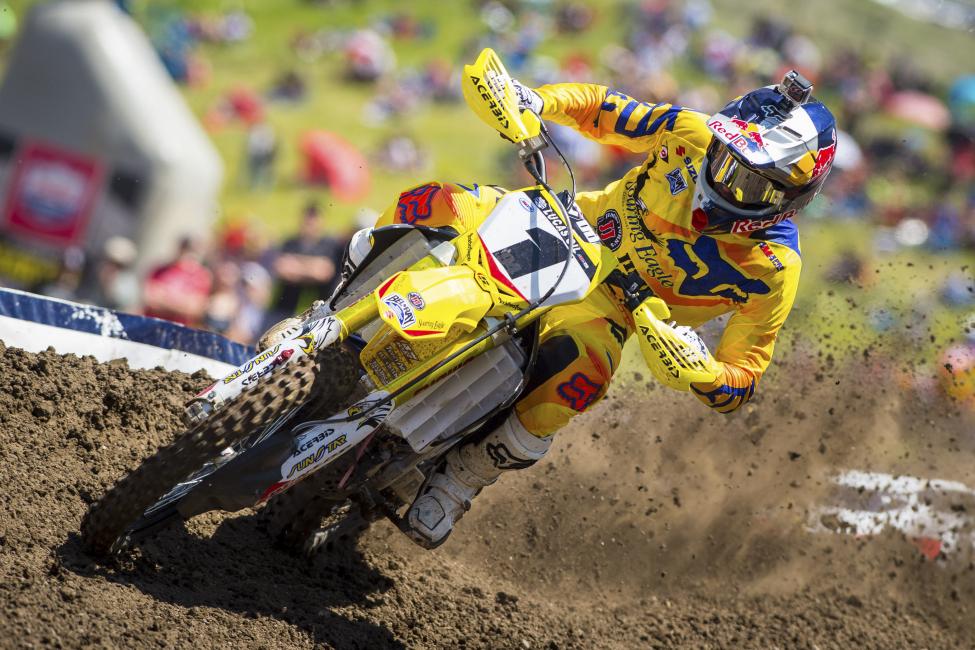 PING: It does look like there will be a whole bunch of wins and another title for Ryan Dungey this summer, right? I mean, he's got a 30-point lead, and the only guy who's been able to beat him this year that's still out there is Ken Roczen. As great as Blake Baggett and Weston Peick and Justin Barcia are, they simply aren't going to beat Dungey if you work out the numbers on paper. But if Eli's crash last Saturday taught us anything, it's that this sport is capable of taking a rider at the very pinnacle of performance and smearing him into the ground like a bug.
It will be interesting to see how Roczen responds to all this. Before the crash his title hopes were riding off into the sunset, but now it's back to being within the realm of possibility. If Ken can start reeling off wins and Dungey has a few bad motos, Roczen could make a series out of this again. Then again, relying on Dungey to crash or post bad finishes isn't a good game plan. It's probably going to be a great summer for Ryan Dungey and his fans.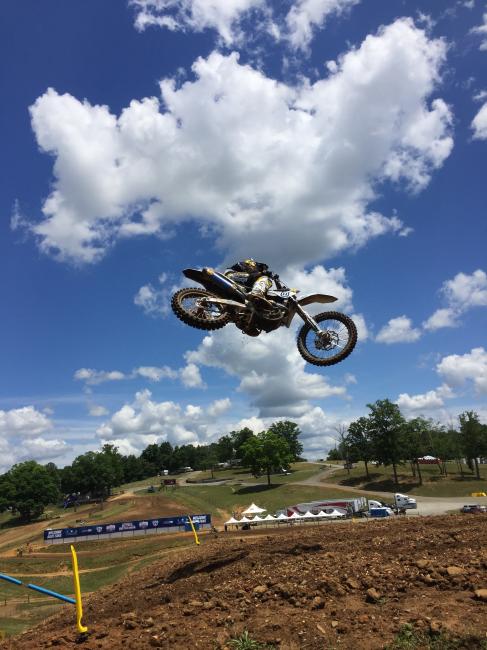 RYAN SIPES WILL BE BUSY... (DC)
Ask anyone in the pits—be it a national or a GNCC—and they will tell you that Ryan Sipes is one of the nicest and most versatile riders of all. He'll put his versatility to the test this weekend when he tries a rare and remarkable double. Sipes will race his Rockstar Energy Racing Husqvarna in the 450 Class here at Muddy Creek tomorrow, then load up and head to Ohio for Sunday's John Penton GNCC, which will last close to three hours. That's a lot of riding for one man, and at a pair of very high levels! The next fourty-eight hours are going to go by fast for Ryan Sipes, so keep an eye out for him.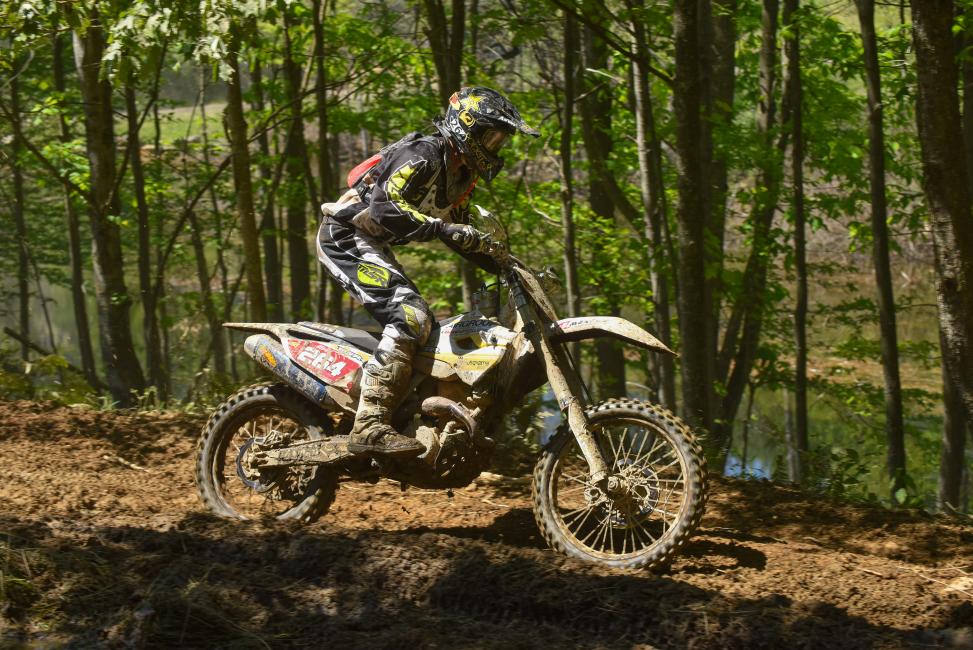 KAMLOOPS KILLER (Matthes)
As I previewed last week, the 2015 Rockstar Energy Drink Motocross Nationals kicked off last weekend in Kamloops, British Columbia, with two riders sweeping the classes. Leading Edge Monster Energy Kawasaki's Brett Metcalfe rode to dominating 1-1 rides, and that's with a fall in one moto. OTSFF Yamaha's Matt Goerke was second, and Husqvarna's Tyler Medaglia was third overall.
In the MX2 class, it was MX101's Jimmy Decotis winning both of his motos by a nice margin. The defending champion Kaven Benoit was third, with GDR Honda's Jeremy Medaglia finishing as the runner-up. The first six MX2 riders went 1-1, 2-2, 3-3, etc., so clearly everyone was going one speed and that was about it.
Surprising result (to me, anyway) for Decotis. The 'Loops gets rough and square-edged, and according to people who were there, Jimmy D worked the other riders. If you look at Decotis' outdoor AMA results, they're not stellar. His supercross game has always been strong, but now it looks like we'll have to include the term "outdoor warrior Jimmy Decotis" after this past weekend.
Round two is Sunday on scenic Vancouver Island at the Nanaimo facility.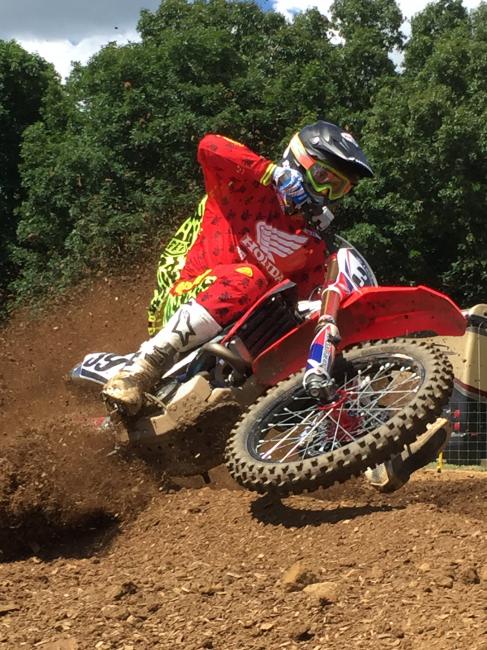 PULP LINKS, BRO (Matthes)
Adam Cianciarulo, Georgia Lindsay, and Jason Thomas joined me for a look at this weekend's Tennessee National on the Fly Racing Moto:60 Show HERE.
Troy Boy talked to Jesse Wentland, who had a strong showing at Thunder Valley HERE.
JT and I had an email exchange about RV's attempt at the FIM World Motocross Championship HERE.
David Vuillemin is back to answer the burning questions from the Thunder Valley National HERE.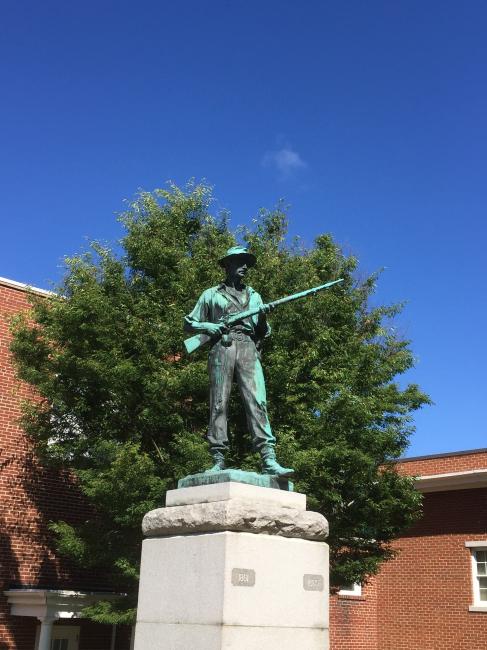 HEY, WATCH IT!
Jason Anderson strapped on the Vital MX helmet cam for a lap around Muddy Creek.
And check out Austin White's epic Thunder Valley Remastered video right here.
THINGS YOU COULDN'T GET AWAY WITH TODAY
Kingsport, Tennessee roadside attraction...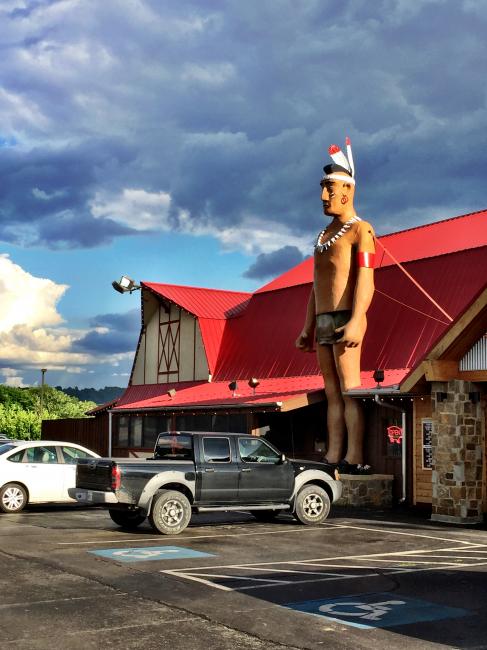 MUDDY STATS (Matthes)
One of the things I found interesting is that six out of the top ten in the 450 Class at Muddy Creek last year won't be participating this year (Eli Tomac, Trey Canard, Andrew Short, Brett Metcalfe, James Stewart, and Josh Grant). And seven out of the top ten in the 250 Class are also not lining up in this class (Cooper Webb, Justin Bogle, and Dean Wilson are hurt, while Blake Baggett, Christophe Pourcel, Cole Seely, and Kyle Cunningham are now riding 450s). What's it all mean? Not sure, but it's worth mentioning.
RANDOM NOTES
Headed to Tennessee? Don't miss your chance to spend all day in the pro pits with the Racer X All-Day Pit Pass!
For $50 you get 13 issues of Racer X Illustrated plus an all-day pit pass (total price includes standard GA ticket). If you're buying more than one pass you can get a multi-year subscription, or you can give the subscription as a gift. This offer is good for both new and renewing subscribers.
Quantities are limited, so preorder your Racer X All-Day Pit Pass HERE before they sell out.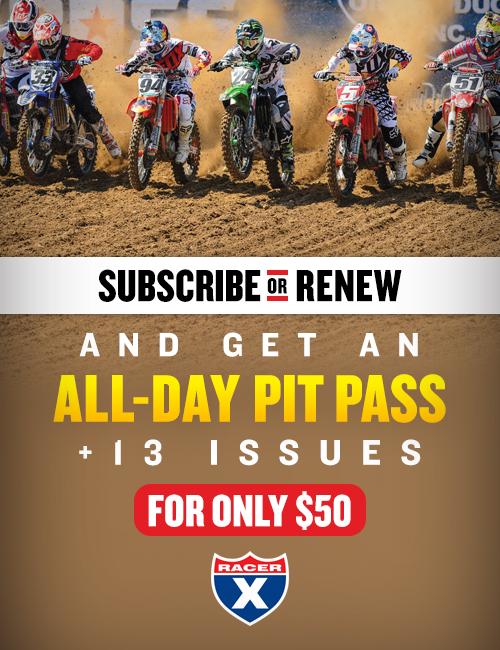 Set up your spot in the infield with this 30x60 towel featuring HRC Honda's Trey Canard.
Just stop by the Racer X booth on vendor row to subscribe or renew and get 13 issues of Racer X Illustrated plus a Trey Canard beach towel for just $25!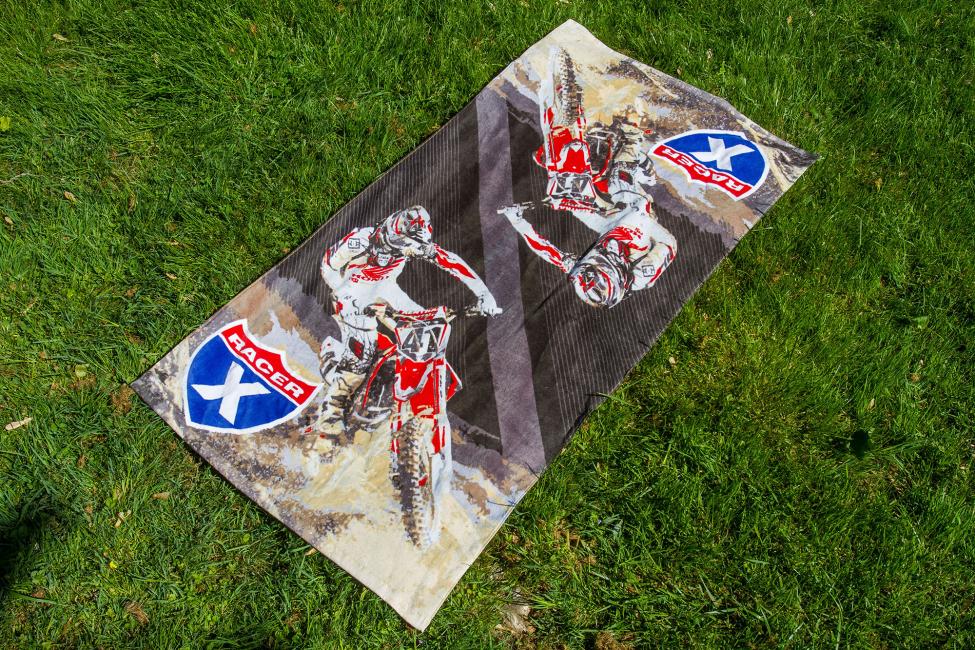 Don't forget stickers are always free at Racer X! Be sure to stop by and get your 2015 Tennessee event sticker.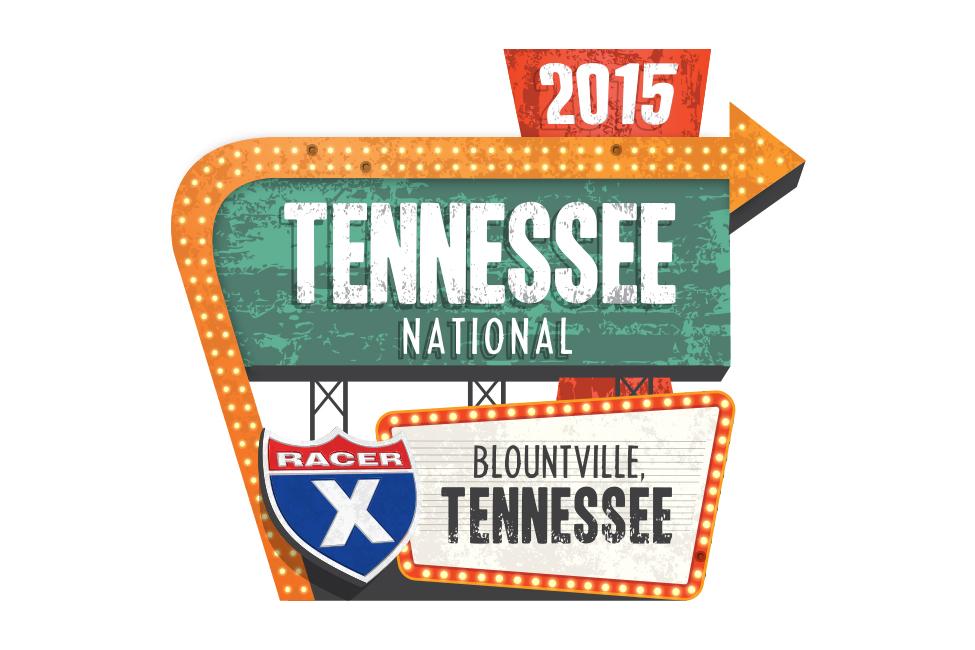 Fox Racing and Shift Racing are sponsoring the Tennessee round of Racer X MotoDynasty Fantasy Motocross and will be giving out prizes to the winners. Click HERE for a chance to win.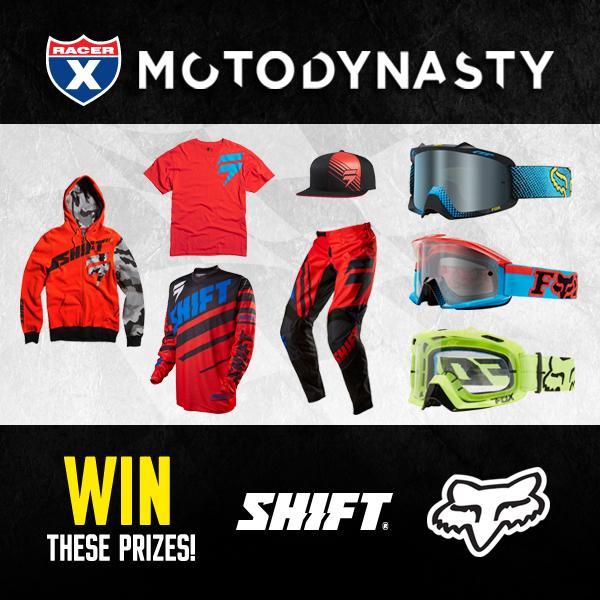 Marvin Musquin just wrapped up his first career Monster Energy Supercross 250SX East Region title. The new champ is also on the July 2015 cover of Racer X Illustrated. To help him celebrate we are doing a Cover T-Shirt Sub Drive: subscribe now or renew and we will send you a FREE Marvin Musquin cover T-shirt!
The cost for a one-year subscription is just $20, but you have to act now—this offer is available for a limited time only and good only while supplies last. Just click on the banner for more details, then subscribe and get yourself a free Marvin Musquin Cover Tee!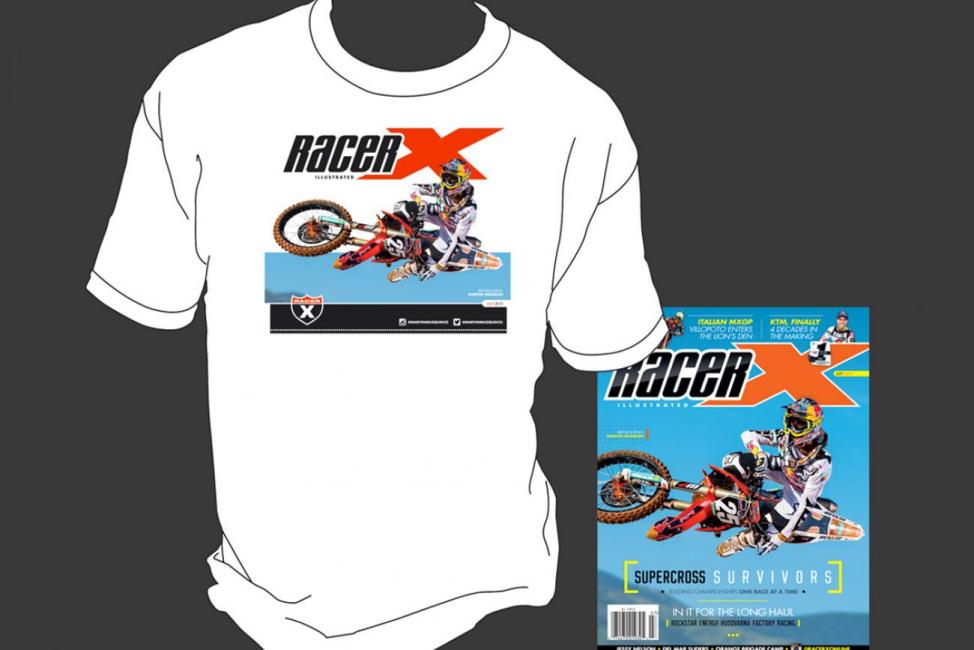 For more from Canada, check out DMX Frid'Eh Update #22.
Don't miss the online coverage from Round 8 of the 2015 AMSOIL Grand National Cross Country Series presented by Maxxis, an AMA National Championship this Saturday at 1 p.m. and 4 p.m. followed by Sunday at 1 p.m. EST.
If you miss a race, full replays will be archived on RacerTV.com throughout the season.
Saturday, June 6


UTV Racing
Online: 4 p.m. EST, www.RacerTV.com (LIVE)

Sunday, June 7
Bike Racing

Sorry to cut this short, but I need to get back out on the track and help out. Thanks for reading Racerhead—see you at the races.