Muddy Creek Raceway
Blountville

,

TN
Tennessee (Muddy Creek)
Lucas Oil AMA Pro Motocross Championship
Eli Tomac's crash was totally shocking. No one saw it coming. No one was watching him saying, "Oh this dude is about to eat it."
And yet, he crashed, and his season has gone up in smoke. I can't remember the last time something ended so suddenly—when James Stewart crashed out in the exact same spot in 2012, he was able to soldier onto a few more races to keep hope alive, albeit briefly. Tomac was done by Tuesday. This was just so sudden.
And yet about thirty minutes after the crash, everyone had figured it out.
"Oh, you know Eli. That's what he does! He's fast but he crashes!"
"Look at his lead! He should have backed it down!"
"Look at that track! It was ridiculous!"
Post-race theories were running amok through the pits, which is fine because that's what we do. Anyone can read a results sheet, but bench racing—which is really just educated guessing—draws us like bugs to light. The crash made little sense, but we have to make sense of it. It's like a crime going unsolved. There has to be some justice here. There has to be some sort of lesson to learn.
But it's a complicated case, and none of the theories operate without some shadow of doubt.
For example, when this Lucas Oil Pro Motocross Championship began, we crowed about Eli's inconsistent starts and frequent mistakes in Monster Energy Supercross. But I believe that's a bit overstated. Yes, he had plenty of weird supercross crashes this year, but plenty of young riders have crashed through the big bike transition in supercross. We never question the speed and talent of young bucks like Eli, but we always ask, "Can they get through the series in one piece?"
It's a significant challenge and Eli isn't the only one to wrestle with it. Outdoors, he's not really a crasher. This weekend marks only the second time that Eli has missed a national due to crashing in a race (last year he missed three 450 races due to a broken collarbone while testing). During four seasons in the 250 Class, Eli missed just one race: He did a flying W on LaRocco's Leap during RedBud practice in 2011 and sat out the motos. He returned for the next race, leaving him with missing just two motos out of ninety in his 250 career. He had another flying W at the 2013 Motocross of Nations. That's a high-profile one, so it's burned in our memory, but we're still talking about two big crashes in four seasons on the 250.
Last year when he returned to the 450 Class after that collarbone injury (at the Tennessee National, oddly) he showed great consistency, finishing in the top four in fifteen of his sixteen motos. His one bad finish was merely a tenth in the mud at Indiana. Big crashes? Not one.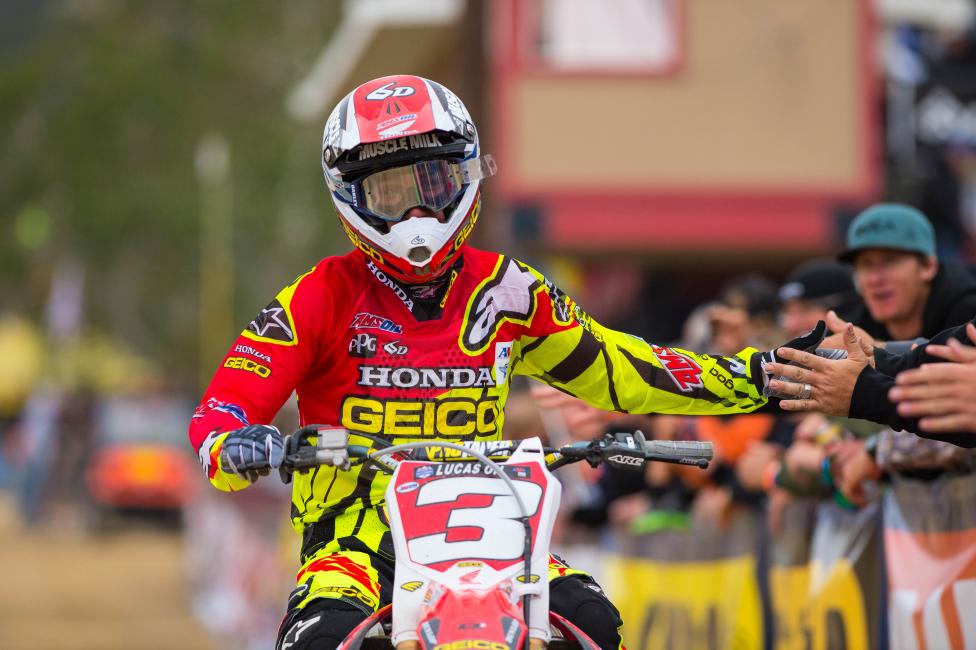 Plus, Eli might have pulled massive leads in these 2015 motos, but he looked great doing it. This wasn't Damon Bradshaw- and James Stewart-style crash or win/checkers or wreckers stuff. He looked incredible! He hopped bumps and looked smoother than riders who were going slower. There's always a risk involved with going two miles an hour faster than everyone everywhere on the track. But I wouldn't classify his charges as crazy or out of control. They were really quite beautiful to watch. In fact, that rough, rutted downhill at Lakewood was the type of section where he held his biggest advantage over the pack in the previous motos. He was taming the roughest parts at the highest speeds with the greatest of ease.
Let's look at the data. Tomac crashed on lap eight. He ran a ridiculous 2:13.3 on lap six, compared to a 2:15.8 for second place Ken Roczen. But on lap seven, Eli dropped to 2:15. In the first moto, he did the exact same thing. He ran 2:10s and 2:11s through the first six laps, then backed it down on lap seven, adding two seconds to his time, logging a 2:13. He never went back under 2:13 for the rest of the first moto.
Second moto of Glen Helen? Exact same pattern. First six laps were blazing 2:21s, nearly two seconds a lap quicker than Ryan Dungey. Lap seven he had a bad lap, a 2:25, but on lap eight he logged a 2:23, two seconds slower than his fast laps, and maintained that to the end. He never went back to the 2:11s at Glen Helen once he had a good lead; he never went back to the fast laps at Thunder Valley once he had a good lead. He was backing it down. Eli also went an additional three seconds slower on the last lap of Thunder Valley's first moto. He went six seconds slower cruising on the last lap at Glen Helen. If he were trying to demoralize guys, well, he would have done better than that, right?
Further, how much backing down can you do? Isn't the golden rule at this level that once you start riding differently, bad things happen? Aren't works bikes set up to be ridden full tilt? When you start riding to not crash, you crash? I've heard all of this stuff, and I didn't hear anyone say his leads were too big in the first five motos. Eli took two seconds out of his lap time starting on lap seven. How much slower can he go?
I heard another great piece of evidence this week. Why was Tomac still running the rougher, more rutted inside line down that hill instead of the smoother, easier outside? Is this just a matter of experience and race craft?
The person who needs the data already has it. No one remembers the crashes like the guy who actually went through them. Eli knows he biffed twice at Anaheim 1, because that killed his title hopes from the start. Eli knows he got tangled with Chad Reed in San Diego. Eli knows he washed out in Atlanta and Las Vegas, because those moments all hurt, and all sucked. He knows he could have beaten Ken Roczen for a Motocross of Nations moto win in Germany if not for a huge flying W crash. On it goes—you can trust that he already knows all about this.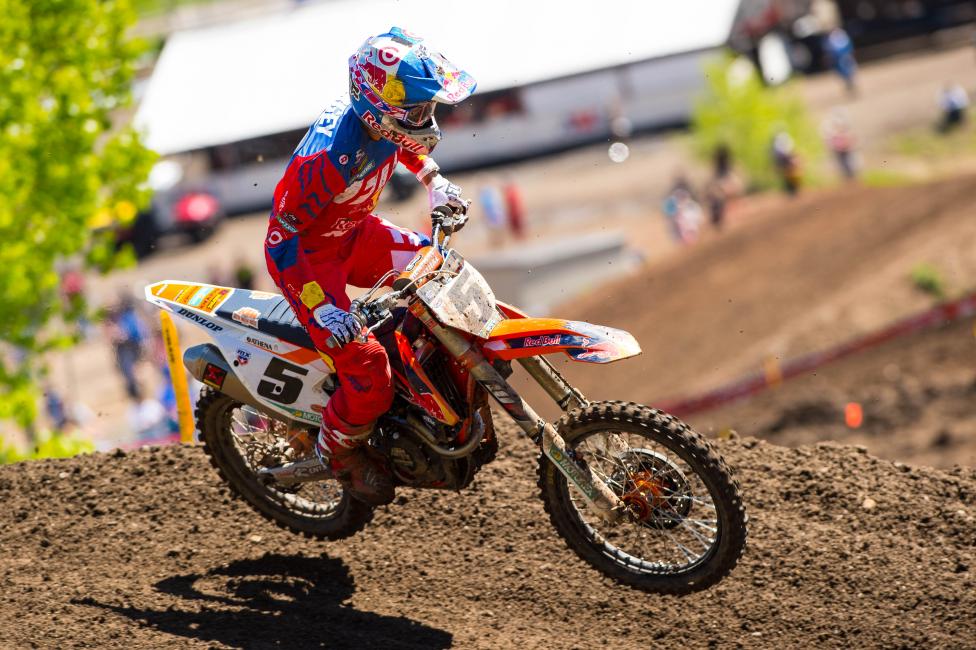 Now, if we're trying to find evidence for something we can't make sense of, tracks make an easy scapegoat. Tracks can't defend themselves in a press conference or interview. They don't have feelings you can hurt. They can't rail back on social media. When we get boring races in supercross, tracks take the blame. Crashes? Tracks are often on the list. You'll hear more complaints about tracks than you'll hear people leaving a race saying, "OMG, that track was soooo awesome!" Sometimes a track is to blame, but not always.
At your local track you know who the fast guys are and who will probably win each moto. Your local track is as far removed as a pro supercross as you can get, but the scenario is the same. Tracks change, but dirt bike racing is similar across all. Was Thunder Valley gnarly? Absolutely. It's always rutted, and this year's rain only made it tougher. It's very easy to blame the track. It's very easy to blame Eli. But it's even easier, actually, to chalk this up to simple facts of racing, where crap just happens.
Well, it would be, except for one thing: This stuff doesn't happen to Ryan Dungey. What does happen is that other riders crash and get hurt, and he picks up the pieces. The Thunder Valley track was gnarly, but it didn't claim Dungey. So what really blows this whole deal up isn't Tomac's lap times, leads, style, or the track. It's the fact that another guy always avoids this stuff. That's the shadow over it all. If you want to say, "Crap happens," then why doesn't that crap ever happen to Dungey? That question almost forces you to dig deeper and figure out why it happens to some people, but is totaly avoidable to one person.
Really, it's just the inverse of last week's column. I wrote, "What's the biggest change for the Dungey program between now and supercross? It's not Dungey getting any worse; it's Tomac getting much better!"
Last week at this time, Ryan Dungey's world was in a tizzy not because he did anything wrong, but because Tomac did so much right. Now we believe we can pin the crasher tag on Eli because Dungey never crashes. The contrast in styles is what makes great bench racing, and what allows us to find answers even in a scenario where there might not be any. Take Eli on his own, and this doesn't make any sense. Contrast him with a competitor, and the picture seems clearer. We do know, in any sort of battle between competitors, there will be multiple answers to every question. But we'll never actually know if any of these answers are right.