Thunder Valley Motocross Park
Lakewood

,

CO
Thunder Valley
Lucas Oil AMA Pro Motocross Championship
Yamalube/Star Racing Yamaha's Jeremy Martin believes in himself. A rough weekend with some bad luck at Glen Helen didn't phase him one bit, and the defending 250 Lucas Oil Pro Motocross Champion came right back with a dominant 1-1 at Colorado. Combine that with a big crash by title rival Marvin Musquin, and J-Mart's back in the points lead. He talked about it in the post-race press conference.
Racer X: By 2 points, you now take over the points lead. Outstanding performance—congratulations. Let's talk about your program today; how dialed were you feeling the entire day?
Jeremy Martin: I actually wouldn't say I felt dialed all day today. In practice I definitely struggled. Second one I was able to get the bike handling a little better. I knew I'd be fine for the motos. My fitness is really good. It's the best it's ever been. I can do that speed and go to the next level and run that for thirty-plus-two.
Are you surprised that midway through the moto you set your fastest lap of the race? It looked like lap seven you just kept pushing and pushing and pushing.
No, it doesn't surprise me. Usually for me I start to figure the track out, and I can get better and better. Today was an awesome day. During the week, when you train and everything like that and you go into the weekend thinking about it, you dream to get two holeshots and you dream to lead every lap. And that was like today; it was a perfect day, aside from practice. I've got some things I need to work on with the bike to get it handling better. It was pretty gnarly out there today. I think it was biting a lot of guys. I'm going to be honest and say it wasn't my favorite track. It was so weird. Some spots were rock-hard, and you'd get the chop and the ruts and then there'd be a big hole. If you weren't on your game today it was going to bite you. I think I rode smart.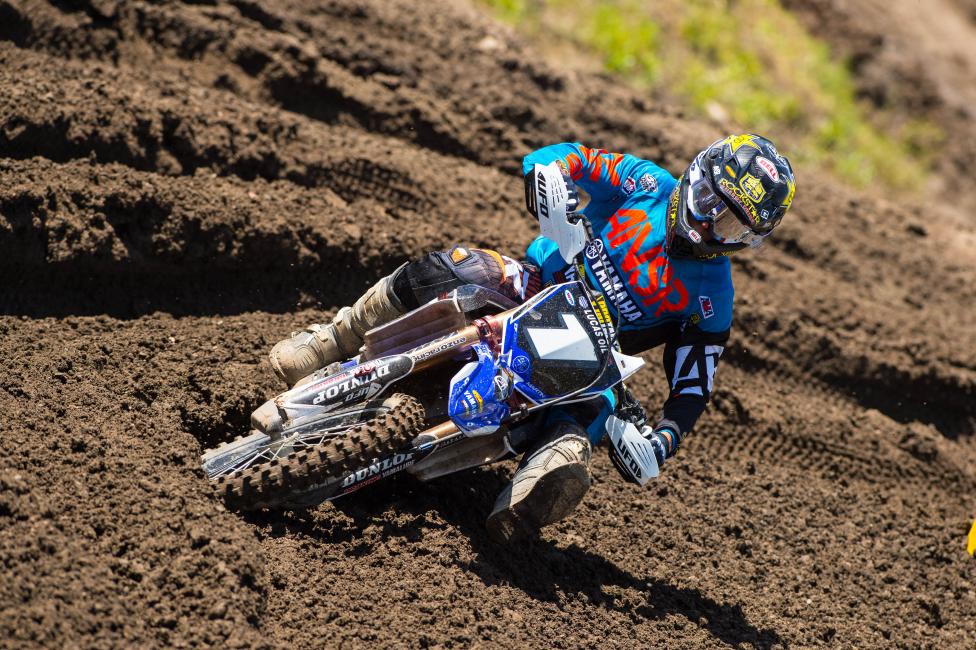 If today was the perfect day, it seems like it's really flopped from last weekend where it seemed like everything went wrong. Talk about that.
Yeah, last weekend was last weekend. It's already in the past. I left nothing on the table, and I gave it everything I had. And then this weekend was a new weekend. I had a great week leading up to this. I was able to go out there and do what I want to do and what I'm expected to do. It was a good day. I've got some things that I personally need to work on, and we'll just keep chugging away.
You have confidence in your speed and your fitness it sounds like for sure. How much does that help get through those bad days? It seemed like last week you were able to shrug that off because you were like, hey, long series, I know I'm still riding good. How much does that make a difference to roll with the bad days?
Not every day is going to be perfect. I realize that, and I've got a good team around me, with Johnny O'Mara and my mom and my dad and my mechanic Pedro, my practice mechanic Chad, Ricky Carmichael—the list goes on. That's the team. I'm ready. Like I said in the beginning of the year, I'm ready for a war. I know that every time I line up I'll give it 100 percent.
You seemed so calm when they were working on your bike last week. What was going through your mind as you heard the gate drop that last time when they were pushing you? Did you think the bike might start?
They had gotten the bike to start a little bit before the gate had even dropped. And I think they kind of figured it out. But those guys know what they're doing. They've been working on that bike for two years now, and they know it inside and out. I did my job. I know I'm ready. The only thing I care about, and was a little nervous about, was making sure I got that bike over the starting gate by the time they crossed the finish line, or else I would have been out of the race. That's the only thing that made me nervous, but it was fine. I was like a stone. It didn't bug me.
Coming into the race, how nice was it seeing Martin and Martin second and third? Obviously Alex had a rough day today. But how nice was that?
It's nice to see the two Martin brothers up here. I love him and we push each other during the week and we work hard. It's a family deal. That's how I got into it. My dad was a national hare scramble champion. He rode for Can-Am Bombardier. With the earnings he made from racing he bought [the] Millville [track]. So I've been in it my whole life. It's all I really know. Maybe one day I can buy the track from mom and dad and give them a nice little retirement fund.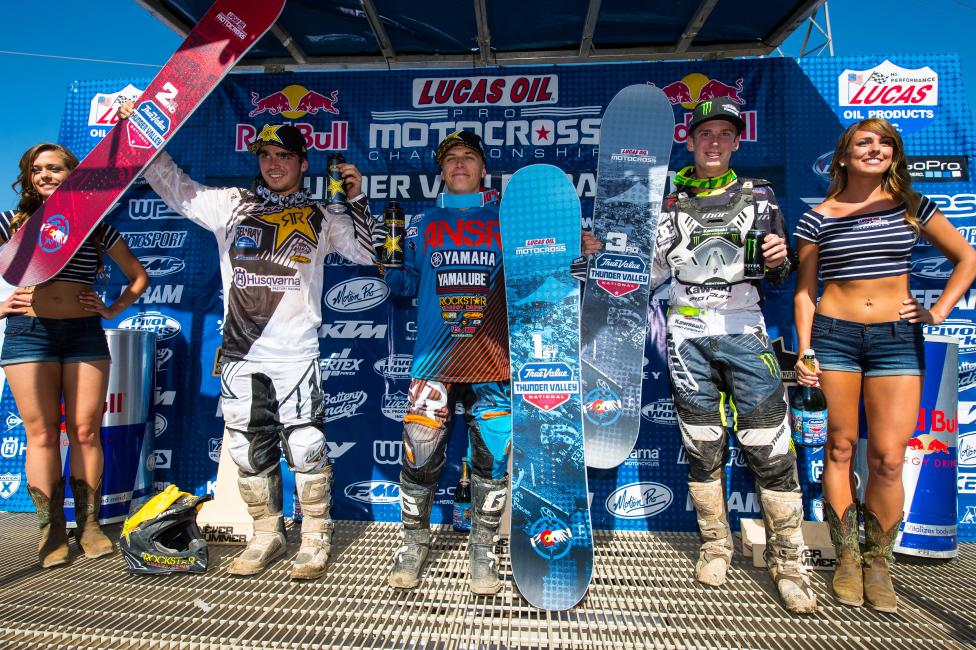 He's not giving it to you for free? Every time you win the price is going up a little.
[Laughs] They love me, but there's a lot of value in that business.
I knew you would bounce back from last weekend, but did you think you'd leave here with the points lead? Did you expect that?
No, I didn't expect that. I don't care about the points. I want to go out and I want to win and I want to continue to keep improving. That's what we'll do next weekend. We'll go to Muddy Creek and we'll focus on that and just try to get two good starts. I felt like Marvin out there today getting the holeshots, like in supercross. He was just banging them out. To get two holeshots, not have to rip a tear-off, it's a good feeling.
I think you're not just doing one race a week; you're doing two races a week now. Is that part of the program?
[Laughs] Yeah, I was doing the little mountain-bike series called Over the Hump in California. I'm pretty bitter about it because before Glen Helen was my first ever mountain-bike event, and I started too far back on the line. I just got smoked by these guys, and I'm like, what's going on? I'm in good shape. And then the second weekend I got out with the lead group and we did three laps. There was probably about seventeen minutes a lap. We were hammering pretty hard. The last lap I was on those guys, and I got a flat tire. But I was thinking about where I was going to stage my attack so I could get the win. That's how bicycle racing works. I'm into it.