Metlife Stadium
East Rutherford

,

NJ
East Rutherford (New Jersey)
Monster Energy AMA Supercross Championship
Welcome to Racerhead, and welcome back to America for my mom and me, after a whirlwind trip to Italy. No sooner did we land than I had to head to my favorite city on earth, New York. We are here for the big MetLife Stadium Supercross, which airs live on Fox tomorrow at 3 p.m. ET (noon out west). It's really cool that the network worked with Feld Motor Sports to get this live show dialed in, and I hope the fans come out in droves to check it all out. Nick McCabe will have more on it later.
The two biggest stories in the sport right now both involve Monster Energy Kawasaki riders. The sudden and permanent termination of Davi Millsaps' contract with Kawasaki has rocked the sport with another scandal that's almost James Stewart-esque, though different at the same time. And Ryan Villopoto's farewell cruise on the Grand Prix circuit is starting to turn into a season in hell. He crashed out of last weekend's Italian GP at Arco di Trenton and now has a fractured tailbone. (I've done that before and it hurts more than I can explain in words.) Our esteemed colleagues at Vurbmoto broke the news (I'm guessing it's you, Bulmer!) that he will not race in Valkenswaard this weekend. I am not surprised—it's an extremely rough track and that's an extremely painful prospect, riding it with a cracked coccyx.
But let's start with Millsaps. I would like to give my teammates Steve Matthes and Jason Weigandt for really breaking that whole story down all week long, even though little was being said publicly by either the rider or the team. What we do know is that this is not a situation akin to Stewart's, where he tested positive for a banned substance, but rather a case of something being found in his locker during a routine cleaning and Millsaps not being able to fully explain what it was or how he got it. That made it a human resources situation for Kawasaki, and they terminated his contract with three rounds to go in the series.
What was so bad that it merited such an action? Doesn't really matter. What does is that he violated company policy and his morals clause in the contract, and that was enough for Kawasaki. It does them no good to fire him with three races to go and not have a team in a series that shares the same title sponsor as they do. But rules are rules, and when you sign a contract, you should make sure you've read it all and follow it to the letter.
I hope we hear from Davi soon. He's a good guy and I personally don't believe what he had was anything more than an anti-inflammatory, but it probably had a steroid component and required a prescription and a Therapeutic Use Exemption from the FIM. It's a nightmarish situation for any professional athlete in today's closely scrutinized sports world, and as with Stewart, I believe Millsaps' situation would have been avoidable had he consulted with the team and other channels. I also hope he comes back and rebuilds all that he lost here, because he is one of the good guys out there, but he found himself in a bad situation.
As for Villopoto, no one said this was going to be easy, and he knew that going in. He knew that men like Tony Cairoli, Clement Desalle, Gautier Paulin were going to be extremely hard to beat on their side of the Atlantic Ocean. They were practically licking their chops at the idea of Villopoto, the multi-time AMA Motocross and Supercross Champion, making all but one round on the schedule "away games" where they would have the advantage of knowledge and comfort. Yet RV made the jump, surprising many in America (including myself) who were sure he was going to retire after his fourth straight Monster Energy AMA Supercross Championship last May.
Now he may be wishing he had, because three of the first four rounds did not go according to plan, and after last weekend's brutal and ugly second-moto crash, he's not only close to 50 points down, he's out for Valkenswaard this weekend too. Some of the more partisan European press has been having a field day with Villopoto's lack of results, boasting that their side is somehow better because our former champion didn't win right away. (It took two races, actually, but then it all went sideways.)
Having attended the race last weekend, I can tell you that the Villopoto out there now is not the one we saw when he led the last eighty laps of SX last season, nor the man we saw winning the 2013 Lucas Oil Pro Motocross Championship. He is not working as closely with Aldon Baker as he did before, and his intensity was way toned down. When he was battling with Clement Desalle in the first moto, I was kind of shocked that he wasn't more aggressive, and he didn't look comfortable on the bike or the track. That's what happens when you haven't raced outdoors in a year and a half, and then ride into a very talented field of strangers.
This is no disrespect or slight to the superbly talented Cairoli, the always-fast Desalle, nor the best GP rider of all right now, Max Nagl. But Villopoto was on his way out the door when he got the offer to do one more year in Europe, and I don't think he prepared for this last crusade the way he had for the ten years he spent here as a professional. He went from a grinding schedule of SX/MX to a very subdued one, with races spread out over fortnights and more, on bikes and tracks that were new to him. It's awesome that he took on the challenge, but it's unfortunate that it hasn't gone according to anyone's plan.
He's still Ryan Villopoto, and he still belongs up there on the Mount Rushmore of American Motocross/Supercross with Ricky Carmichael and Jeremy McGrath, but some folks in Europe are having a field day with this. That's unfortunate but not unexpected. For many, many years, the best riders have been mostly coming to America, and they will continue to, but Villopoto—our biggest fish—crossing over to their side of the pond gives them a lot of ammo for bench-racing. That's the way things go on the internet.
I really hope RV sticks with it, gets healed, and gets himself some wins, even if the championship is pretty much over if he can't go in Valkenswaard this weekend. I don't think he's going to come back, though Monster Energy Kawasaki in America can use him now more than ever. RV is one of the best riders in the history of our sport, and this misadventure won't change that. But those guys over there are fast and hungry, and they're going to be even harder to beat now that they have a head of steam and even more confidence in themselves—and deservedly so.
Beyond that, the trip to Italy was fantastic. The folks at Alpinestars were fantastic hosts, as was everyone at Youthstream, and while the Arco di Trento track was not in superb condition, there's not a racetrack in the world with a more beautiful view. Nagl continues to blow minds with his results, Cairoli is one of the most professional and respectful champions I have ever had the fortune to meet or even just watch, and MX2 guys like Jeffrey Herlings and Jordi Tixier are incredibly fast—but they may have their hands full soon with the rapidly improving Slovenian teenager Tim Gasjer. They don't race much supercross in Europe, and as a result, they are getting much faster at pure motocross. I just wish they were battling with the RV of 2013, not the one on his way out the door. Now I hope RV comes back and shows them how fast and tenacious he really is. And if that takes another year abroad, so be it. He deserves to choose his own exit, as well as his schedule.
PRESS DAY (Nick McCabe)
Grand Central Terminal and dirt bikes go together like … um, wait, they don't! But yesterday, Feld Entertainment pulled some serious strings and arranged for the Monster Energy Supercross press conference to be held at the iconic building, just inside the Vanderbilt entrance hall. The Vanderbilt Hall is located just off 42nd Street in the absolute heart of New York City. Folks, it does not get any more mainstream than Grand Central Terminal!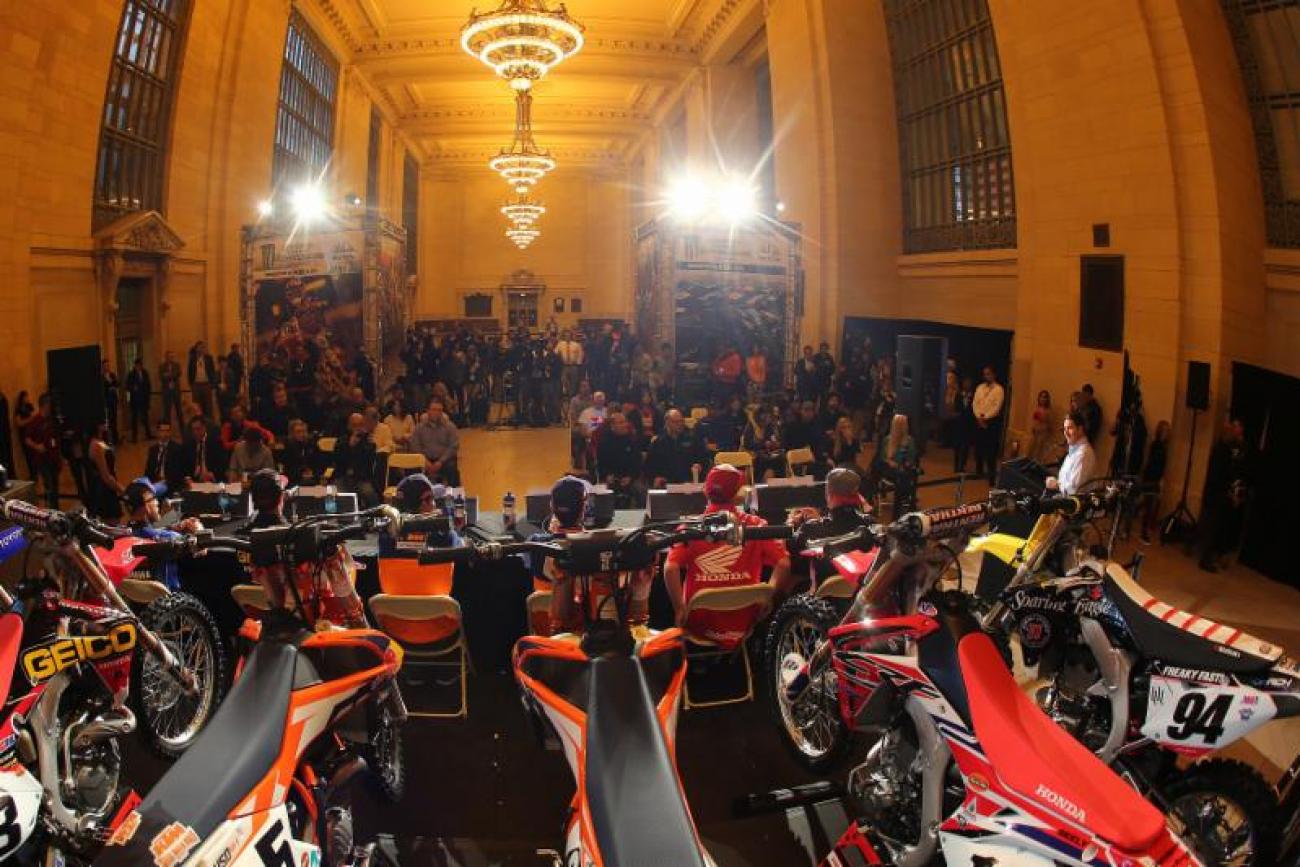 And while the crew wheeled in the factory bikes of Ryan Dungey, Eli Tomac, Marvin Musquin, Cole Seely, and Weston Peick, we are certain there were some surprised morning commuters who probably had no idea what they were looking at.
The event was hosted by Fox Sports' Ralph Sheheen and was mainly just a Q&A session, with each rider speaking about their various seasons and what it felt like to be in the Big Apple. And while I was hoping to see a wheelie or two on the main concourse, no bikes were started or ridden. A tip of the hat to the Feld folks for going the extra mile and pulling this together. Getting the required permits and permissions to host an event like this is extremely complicated.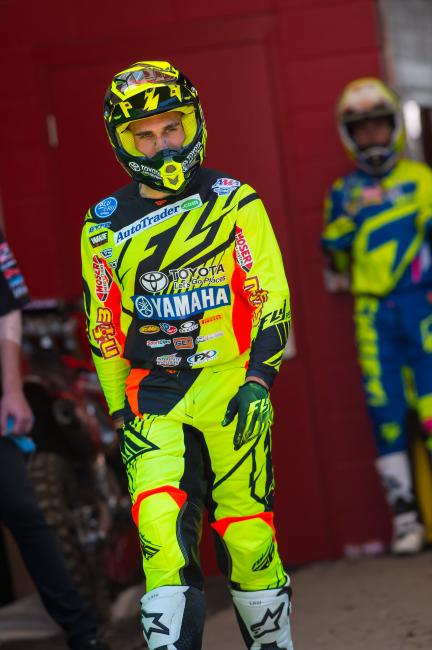 2 MINUTES WITH WESTON PEICK
With the championships already decided and only two rounds to go, the biggest story right now in 450SX is Weston Peick. Weston just keeps getting better, and over the course of the past few seasons has gone from being a back-of-the-pack privateer to a podium threat. He was at the GCT press conference and we grabbed him to see how things felt one week removed from his first podium.
Racer X: Weston, we spoke with you earlier this week, but now that you've had a chance to let your podium accomplishment sink in, do you have any more thoughts on it? What are your goals here for the last two races?
Weston Peick: The goals are obviously to continue getting on the podium and just getting more comfortable and more and more adapted to running up front, like this last weekend. I felt like after last weekend I've kind of got a feel for how I did in the beginning of the season of podium speed. I feel like it's there. I've just got to sustain my heart rate a little bit more and just be a little bit more comfortable on the bike and not be as agro as I am prone to be, and to stay a little bit more calmer. But like I said, I'm just looking forward to get back on the podium for the last remainder of the two rounds and then continue with the outdoors same thing, getting on the podium and getting up there on top.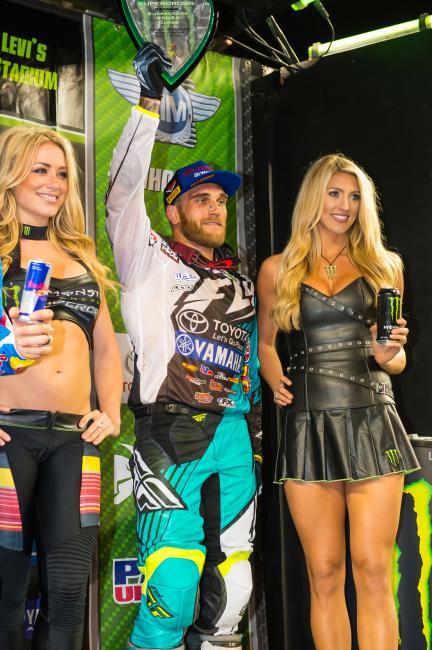 When you go to the outdoors, what do you hope to accomplish this year?
Just to start off right where we were, where we're heading off right now on the box and getting on the podium every single weekend and just obviously running for the championship points lead. It's definitely possible with the speed I've been showing. As long as I can be comfortable I think it'll be a good season.
You've had pretty remarkable progression in your career compared to some of the other guys. What do you think it is? How have you been able to do what you're doing?
There's so much to it. It's obviously getting on a team like JGR and having just all the resources you need and just having all the backing, and just not having any stress on your shoulders of how to get there. All the way down to off-season training and gym trainer, track trainers, everybody just leading you in the right direction and having that confidence. There's so much more to it than everybody else thinks.
2 MINUTES WITH RALPH SHEHEEN
Ralph Sheheen is a veteran of these events as well as legendary motorsports journalist. With the excitement and interest focused on the "we live on Fox Network," we want to ask Ralph for his perspective on the matter.
Racer X: Talk a little about what it means to be on Fox this weekend—and just to make the distinction, I think a lot of times many of the networks with similar names get muddied up, such as Fox Sports 1, Fox Sports 2, the
overall bigger, Fox Network. What does it mean to be on this channel for you and the sport?
Ralph Sheheen: It means literally that you're available to everybody, which means that the potential reach for this sport goes so far beyond anything it¹s ever had an
opportunity to be exposed to. When you're on a sports network, like a Fox Sports 1 or a Fox Sports 2, you've changed that niche already, right? You've taken it from everybody; you've made it more niche by meaning these are
usually sports fans, maybe not even race fans but it's at least a sports fan. Now when you go to Fox broadcast it doesn't have to be a sports fan. It could be a grandma in Des Moines who's just sitting around baking and she
happens to see it and she starts watching and maybe she becomes a fan. And don't think that doesn't happen, because it does. It takes you to potential new fan bases all across the country. People who maybe have never even known
what supercross means or what these athletes are capable of doing, now have the chance to see it and can instantly become a fan and then go watch us on a regular basis from here on out. Maybe they become motorcycle fans. Maybe
they go buy a dirt bike. The potential reach is just off the chart.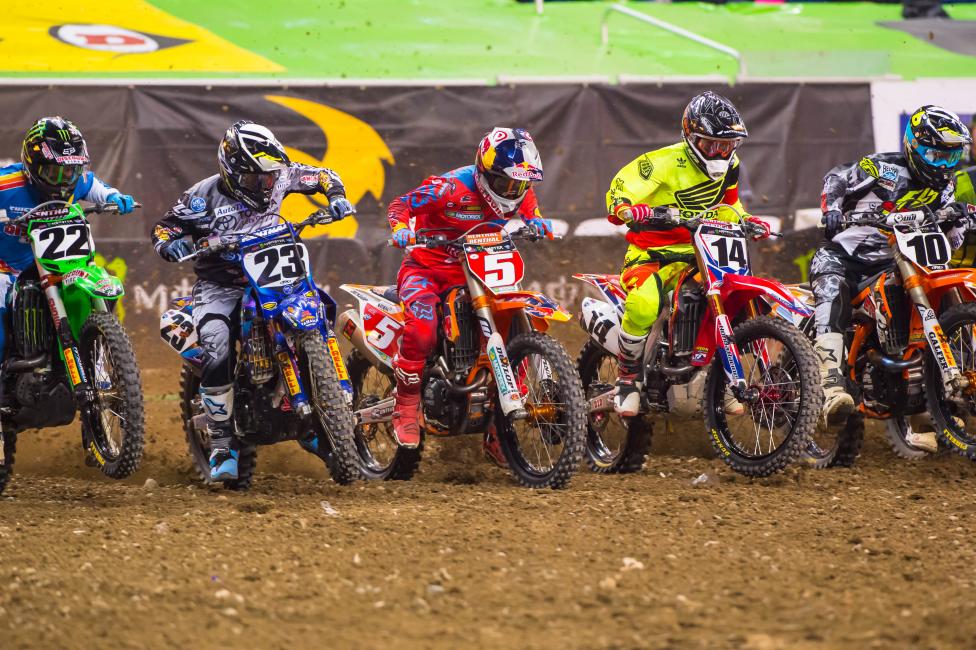 I saw some threads on the internet that you are going to be working something in NASCAR and on NBC. Want to clarify anything? Are you leaving supercross?
It's funny, all of a sudden all these people are asking me about this. I do a lot of other forms of motorsports all year long. One of the things I'm doing this summer is I'm doing the NASCAR Whelen Modified tour on NBC Sports. During the summer I do MotoGP, I do vintage car races, I do the K&N NASCAR tour, I do the Lucas Oil Dirt Late Model series, I do the Lucas Oil Modifieds, I'm doing a Boston midget car event. For me, I touch base with an incredible wide variety of motorsports over the course of the season. I think it was just something that popped up that maybe some supercross fans didn't know about and it seemed something they just didn't understand or know, but for me it's just everyday, normal that I work on and call other events.
In other news coming out of the press conference, Kenny Roczen was on hand but is not racing this weekend. He did mention this his ankle is still bothering him and is seemingly taking longer to heal. He is able ride but
said it is still bothering him.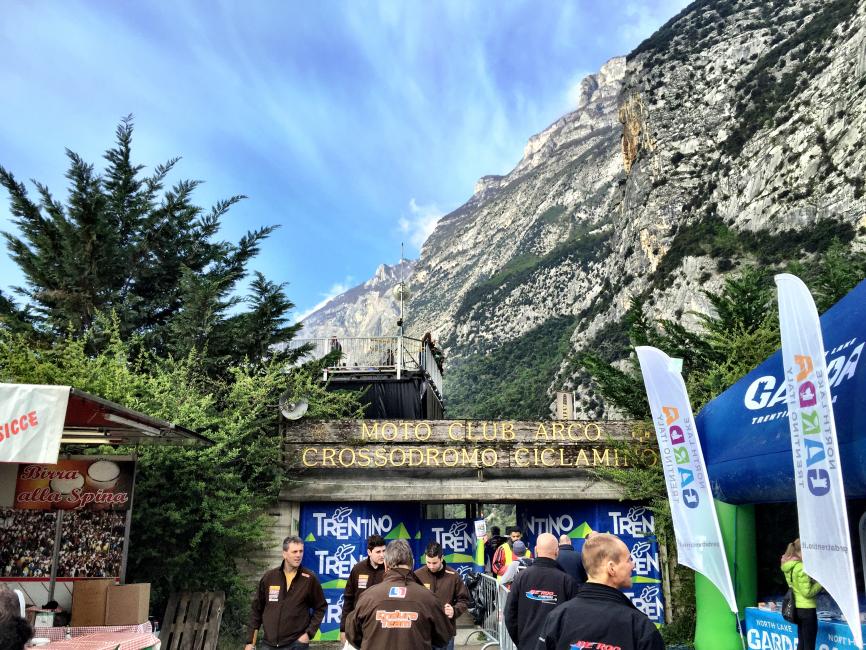 MORE MILLSAPS (Steve Matthes)
Yep, still more fallout from the shocking firing of Davi Millsaps from the Monster Energy Kawasaki team. I reported earlier this week that the rumors were that the substance found in Millsaps' locker was an illegal-by-the-WADA-code deal, and I felt good about that info from reliable sources, but here we are days later and we're not sure what it was exactly. I've been talking to people in the know who insist it wasn't anything illegal by WADA-code standards but definitely something that you have to have a prescription for, and Davi couldn't produce that.
Of course, neither Davi nor Kawasaki is talking about it, so we're left to dig around and speculate some on what this "thing" could have been. Whatever it was, it's a big deal and Kawasaki felt they had to do this, and I would bet their seventy-five lawyers on staff, or whatever the number is, also felt like they had very good cause, it couldn't have been good.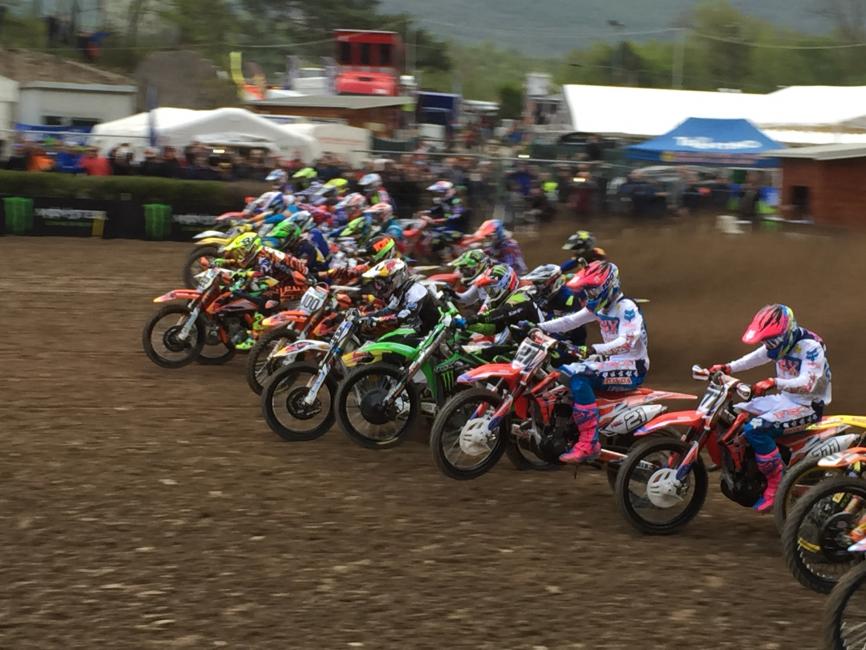 PRO PERSPECTIVE (David Pingree and Jason Thomas)
PING: Well, I'm just going to put this out there: I underestimated how hard it would be for Ryan Villopoto to adapt to the GP series. I did. I thought he would be reeling off wins and starting to build a points lead by this point. Instead, I just watched him loop out down a straightaway like a clip out of the YouTube sensation "Brandon's First Race." I'm not trying to be a dick here; I'm just telling you what I saw. Stefan Everts came to Unadilla years ago and failed to land on the podium at our most GP-like track, so let's all try to gain some perspective here. Jumping from one series to another is much more difficult than I imagined it would be for him.
That said, what are his options? I've heard a lot of chatter about him coming back home for the start of the nationals. Is that true or just wishful thinking? I don't know. I do know that his chances of being world champion this year are slim and none, and slim just looped out in Italy and lost 25 points, while none has a fractured tailbone and missing Valkenswaard this weekend. So if it's all the same to Kawasaki and Monster, why not come back where he can still contend for a title? There are a lot of people saying he needs to finish what he started, and I respect that, but when the championship is out of reach and it's your final season of racing, wouldn't you want to keep the #1 plate in play as long as possible? I know I have a lot of question marks in this little rant, and it should probably be called Pro Poll today, because I'm curious to see what you guys think.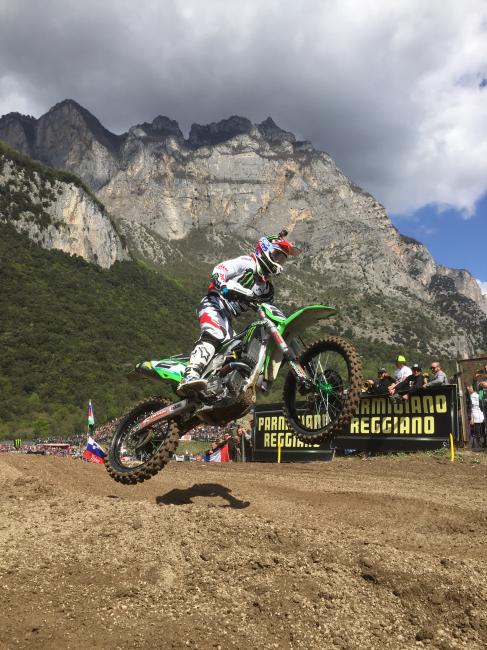 JT: This whole RV-to-Europe situation has not gone to plan. Much like Ping said, I didn't expect this to go as it has. I did go on record saying that if RV showed up less prepared than he has in recent years, I thought he would struggle. I really do believe that is the case here. Just looking at RV, he is heavier than we have seen him since 2010. He is not the incredibly lean version that ran away with every championship since working with Aldon Baker. Not to say he is out of shape, but he is not at the same elite level of fitness that he was a year ago. That's my sole opinion, but it is one that I feel strongly about.
He just doesn't appear to be the same rider right now. He was visibly tired in the second moto in Thailand. Sure, it was hot and brutal, but when was the last time you saw Ryan tired? I can tell you. It was at Hangtown in 2011 and he was sick as a dog. That's it. One time since 2011 has he ever looked fatigued in a motocross race. Do I blame him for not wanting to live up to the rigid guidelines that Aldon imposes? Absolutely not. But he is now dealing with the consequences of coming in at 90 percent instead of 100 percent. It hasn't gone well, and he is probably madder than a hornet covered in contact cleaner (not that I know what that looks like).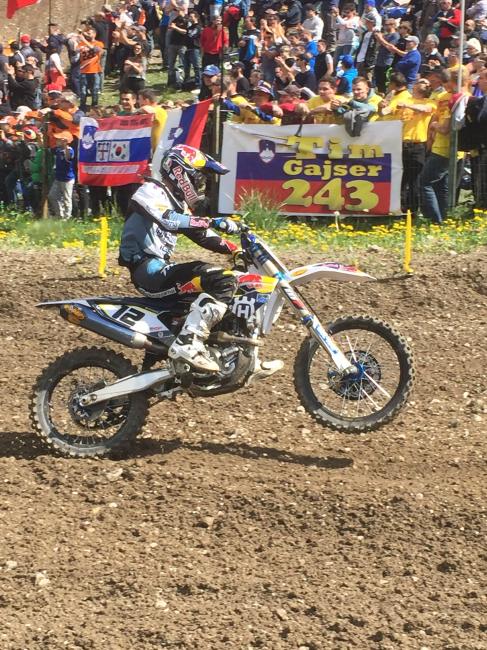 That leads us to the question: does he come back? I think there is a very serious dialogue ongoing concerning that very decision. There are many interested parties and far-reaching effects, especially given the Millsaps situation, so the decision must be weighed carefully. If he does indeed come back, the Euros will go bananas and never let him live this down. Surely he realizes that. But if he can get past that, I think coming back to the USA with a chance to turn the scoreboard back to zero is a very enticing prospect. He gets to start over and attempt to go out with another championship. Will he choose that path? Will Monster and Kawasaki even allow it? Those are big questions that I don't have the answer to. It sure is a fun topic, though.
LATE SIGNINGS (Chase Stallo)
As strange as it sounds, late April and early May typically feature a few small team changes and riders signing deals to head north to Canada. This year is no different. Earlier this week, the currently sidelined Michael Leib inked a deal with the newly formed, Washington-based BPRacing/Home Depot Yamaha team. The deal will see Leib ride the first three rounds of Lucas Oil Pro Motocross, at which point the team will make the decision whether to go east with Leib or have him stay back and test. He will also race the Washougal and Utah Nationals later in the year.
"We've been talking for a few months, and I drove up to Santa Clara and Saturday and put together a deal," Leib told us earlier this week. "This is more of a trail-based thing for now, and geared a lot toward next year as well. There is no contract for next year, but it's a good fit and hopefully we can continue."
Leib also has some news dropping off the track, but you'll have to wait a few weeks on that.
Also announced this week, privateer Jimmy Decotis is headed to Canada to contest the 2015 Canadian Nationals. This isn't the first time Decotis has contested an outdoor series out of the country. In 2013, he signed a fill-in deal with CLS Kawasaki to ride the GPs. As we've seen in the past, even this year to an extent with Ryan Villopoto, the transition to the GPs isn't an easy one, which Decotis found out. He raced only six rounds with the team, scoring points in just three motos before returning to the U.S. Decotis signed with Motorcycle/FXR Yamaha, the team fellow American Jesse Wentland raced with last year.
"They are the 250 Yamaha team for Canada," Bill Rainford, editor at DirectMotocross.com, told us via email earlier this week. "MX101 is the Sand Del Lee track that has round 6 of the Nationals in Ottawa. Some of the most notable riders they've had in the past were Jeremy Medaglia and Jesse Wentland. Dylan Wright will be the other MX2 rider. He's a second year pro and one of the most exciting riders to watch...anywhere! FXR is a Canadian outdoor gear maker (one of the biggest sled gear in the world!)."
So there you go.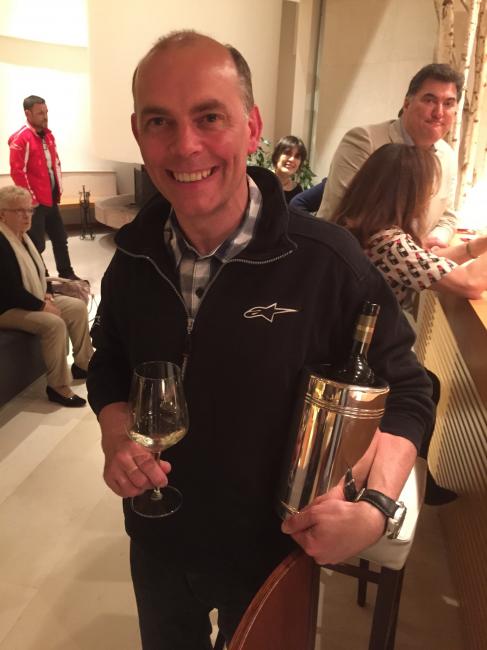 THE NUMBER: 7 (Andras Hegyi)
Red Bull KTM's Ryan Dungey is the tenth rider to get at least seven wins in a premier-class AMA Supercross season. And 2015 is the twenty-sixth season where a rider was able to get at least seven wins in a season.
There have been five seasons where a rider wasn't able to win the championship title with at least seven wins: Ricky Johnson with seven wins in 1987, Damon Bradshaw with nine wins in 1992, Chad Reed with eight wins in 2003, James Stewart also with eight in 2006, and Ryan Villopoto with seven wins in 2010.
The first rider to do it was Mike "Too Tall" Bell, who got his seven wins in 1980 on the way to the championship. Ricky Johnson got seven wins in 1987 (he lost to Jeff Ward) and 1988 (he won the title). The great Jean-Michel Bayle got himself eight wins in 1991 on his way to the AMA Supercross Championship. Damon Bradshaw, the "Beast from the East," got nine wins in 1992 but lost the title in the last round to Jeff Stanton.
Jeremy McGrath, the King of Supercross, was able to get at least seven wins in a record seven different seasons. He got seven in 1998, eight in '99, nine in '94, ten in '93, '95, and 2000, and a record-matching fourteen wins in 1996. Jeremy won the title all seven times that he earned at least seven wins in a season.
Ricky Carmichael matched Jeremy's fourteen wins in 2001, then got eleven wins in 2002 and seven wins in 2003 and 2005. He also has a record here: he did it on three different bikes! First Kawasaki, then Honda, and finally Suzuki.
Chad Reed got eight wins in 2003, which was one better than RC, yet Carmichael won the title. Chad also got ten wins in 2004 and nine wins in 2008, both times on Yamaha and both times to become series champion.
James Stewart got eight wins in 2006 on a Kawasaki, thirteen wins in 2007 (still on green), and eleven wins in 2009, the last year he won the AMA Supercross Championship.
Finally, Ryan Villopoto got seven wins in 2010 (but lost the title to Dungey), and seven in 2014 as well, then nine wins in 2012 and ten wins in 2013, winning the title in all three of those years.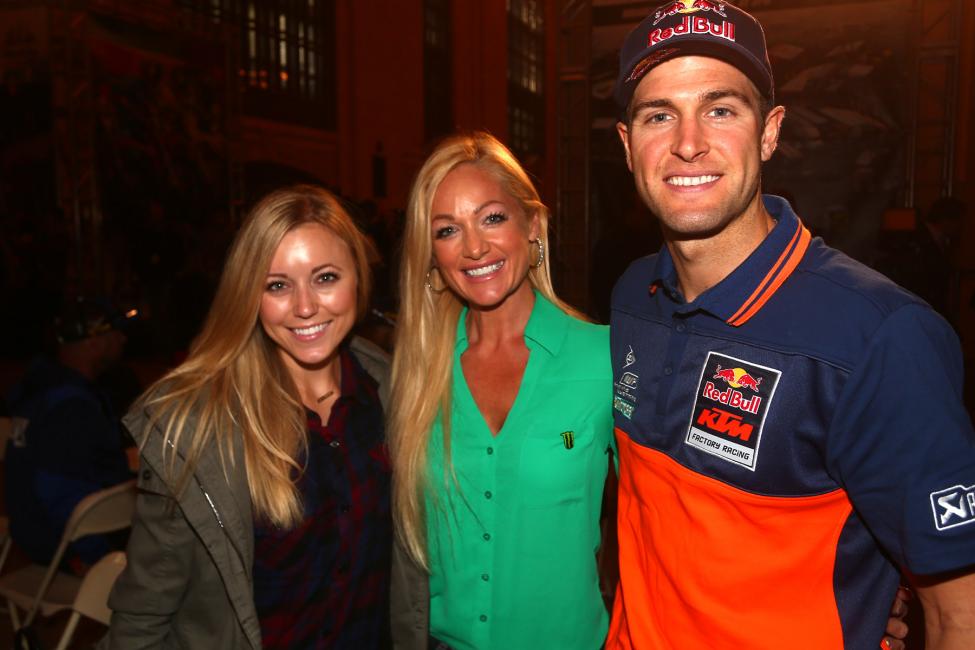 THE NUMBER: 70 (Hegyi)
Dungey also got himself a new personal record at Santa Clara. The two-time 450 Supercross Champion got thirteen podiums in 2011, but last Saturday he overtook this own record getting fourteen podiums with his seventh win. It means that Dungey now has seventy podiums. And he did it in only his ninety-eighth career race.
Chad Reed is the most successfully consistent rider in AMA Supercross history. He has a record 126 podiums so far during his career. Reedy debuted in 2002 and he got his seventieth podium on his eightieth race in 2007.
Jeremy McGrath collected 111 podiums. McGrath debuted in premier class in 1992. He got his seventieth podium on his ninety-seventh race in 1998. And Ricky Carmichael picked up eighty-seven podiums in all. RC debuted in 1999. He gathered his seventieth podium on his ninety-sixth race in 2006.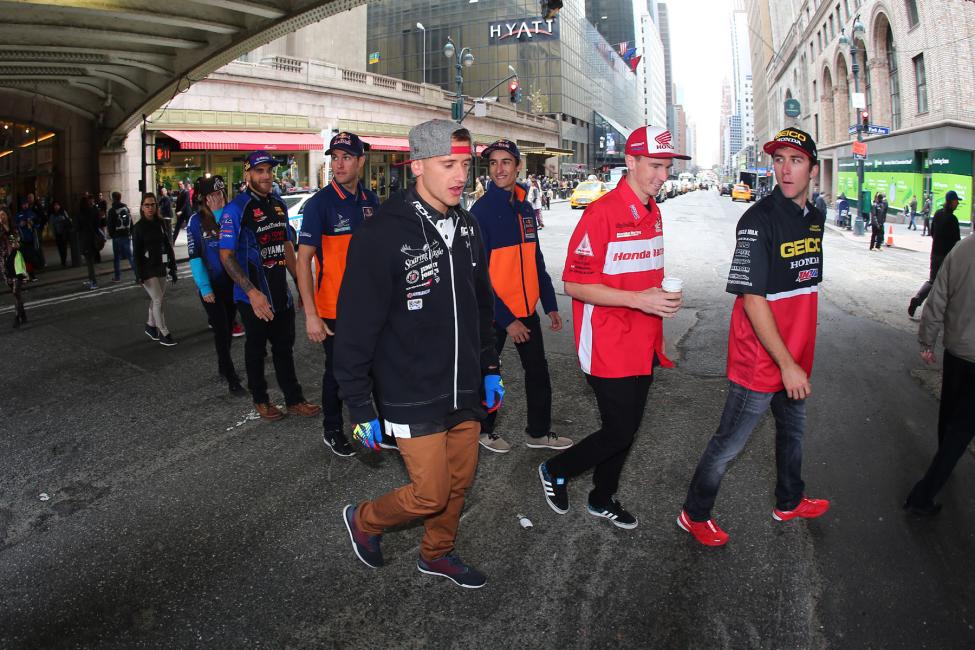 REED, REED, REED! (Matthes)
I called up Discount Tire/TwoTwo Motorsports' Chad Reed yesterday for some quotes for a story I'm working on, and besides talking about his season, we touched on a couple of other topics. I enjoy talking to Chad about all things in our sport. He doesn't sugarcoat much, and right or wrong, he's got an opinion, which is more than I can say for some riders who try hard to not say anything. Anyway, I can't give away all the great stuff, but here are a few of his thoughts.
On racing James Stewart in Australia in the fall: "To race James in my own country will be fun. It's going to be a real small arena, and anything can happen there. I think it's great for Australian racing and supercross in general down there just to have myself back there for a race and James Stewart doing a race down there. It'll be awesome."
On Monster Energy Kawasaki letting Davi Millsaps go: "It's crazy for a race team to fire a guy with the little evidence of what we all know from the outside to miss the last three races. That's a big call. Must have been something serious—something that I don't know enough about to comment any more than that, to be honest."
On his surprise rider of the series: "Cole Seely was on the podium a bunch. He won a race, and won that race going away. I was struggling a little bit at the beginning of the race. He was pulling away. A couple of times I kind of managed the gap, but for the most part he was riding away. I think Cole's been a solid addition to the [450SX class]. I think he races beyond his years. He doesn't race like a guy fresh out of the 250 class and make dumb moves."
On Ryan Dungey: "At the end of the day I always thought that Ryan Dungey was going to be the guy that we had to beat, as far as just a competitive guy that was going to be there week in and week out. Did I think he was going to win as many races? I honestly was hoping to be on the opposite side of it and be the one winning the races. But I just think that you've got the guy that's been given a better competitive motorcycle. Clearly the Aldon [Baker] program works for certain people."
On Team TwoTwo being number two (behind Honda) in the supercross series if there were a constructor's championship: "That's a pretty cool stat. It's something that I'm proud of. When you take a year like this, and in our fifth year as a race team, it's the little things that you've got to be happy with. This is our first year of taking on a second rider. That was a big deal for us just taking on and learning that not everything is about me, trying to spread the love."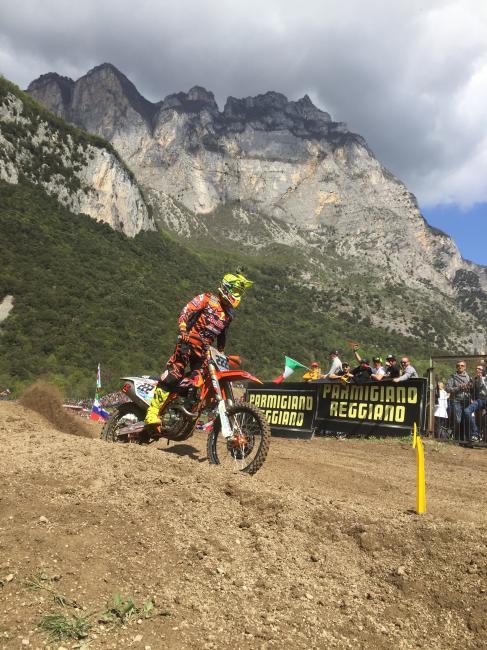 THE NUMBERS: 470 and 40 (Hegyi)
AutoTrader.com/Toyota/JGR Yamaha's Weston Peick became the fortieth rider in AMA Supercross history to get a premier-class podium finish at Santa Clara. Peick's first-ever SX trophy marked the 470th podium finish for Yamaha going back to 1974, the first official year of the series.
The Flying Dutchman Pierre Karsmakers got the first podium in the premier SX class for Yamaha in 1974. Karsmakers won the first race in official series history in Daytona in 1974, though Marty Tripes actually won the first-ever "Superbowl of Motocross" back in 1972 at the Los Angeles Coliseum, an event that counted as part of the now-defunct Inter-AM Series.
The Australian Chad Reed has the most podiums in the in saddle of Yamaha. Reed rode with Yamaha between 2002 and 2008. He also picked up a career-best sixteen podiums in 2004, the year he won his first of two AMA Supercross Championships. And the legendary Broc Glover was able to get a podium with Yamaha in ten different seasons. The Golden Boy got podiums with Yamaha in 1978, '80, '81, '82, '83, '84, '85, '86, '87, and '88, setting the Yamaha rider record for podiums in a season. Glover also won the last AMA Supercross race of his career, the '88 Superbowl of Motocross. It was the last AMA race of Broc's fine career.
Here are the top podiums finishers for blue-bike riders (though the bikes were yellow first, then white, and now blue): Chad Reed (86), Jeremy McGrath (52), David Vuillemin (37), Damon Bradshaw (36), Broc Glover (35),
Mike Bell (32), James Stewart (31), and Bob Hannah (27).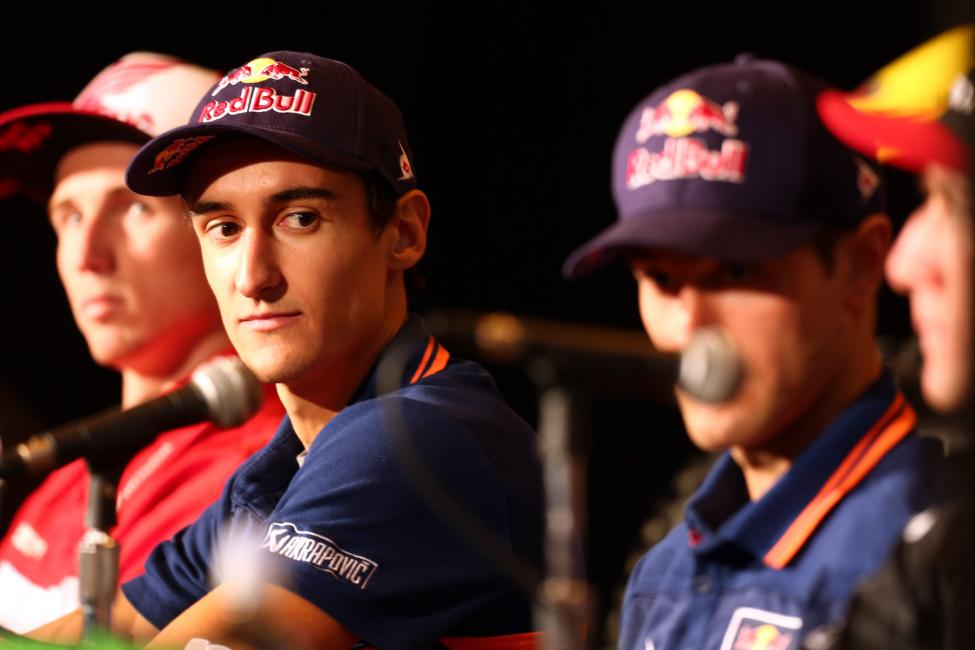 PULP STUFF, BRO (Matthes)
Moser did an Instagram shoot-out between Dylan Bauer and Johnny Jelderda this week in always-informative Just Short column here.
After David Vuillemin got all the mushrooms out of his system while he was at Coachella, he sat down and penned a column for PulpMX on RV, RD, and more here.
Swizcore says craziness is afoot in MX right now here.
Tony Blazier profiles Wardy's last factory SR250 here.
Jason Thomas talks about Eli Tomac's rumored move to Monster Kawasaki for next year here.
THINGS YOU COULDN'T GET AWAY WITH TODAY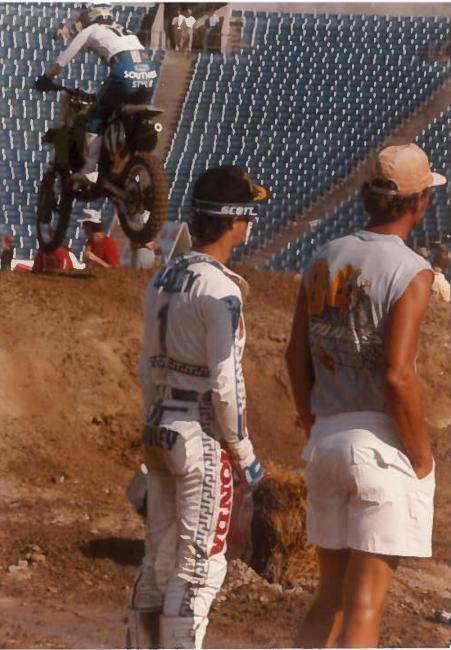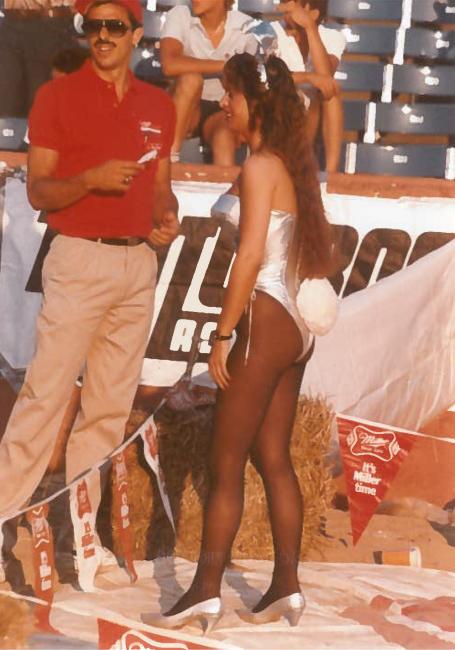 WATCH THIS!
Here's the official Kawasaki EU video with RV discussing his injury and his absence from Valkenswaard.
Catch up on all of last weekend's racing action with this week's Racer X Show.
RANDOM NOTES
Don't miss the online coverage from Round 5 of the 2015 AMSOIL Grand National Cross Country Series presented by Maxxis, an AMA National Championship this Saturday and Sunday at 1 p.m. EST.
If you miss a race, full replays will be archived on RacerTV.com throughout the season.
Saturday, April 25
ATV Racing

Online: 1 p.m. EST, www.RacerTV.com (LIVE)

Sunday, April 26
Bike Racing

Online: 1 p.m. EST, www.RacerTV.com (LIVE)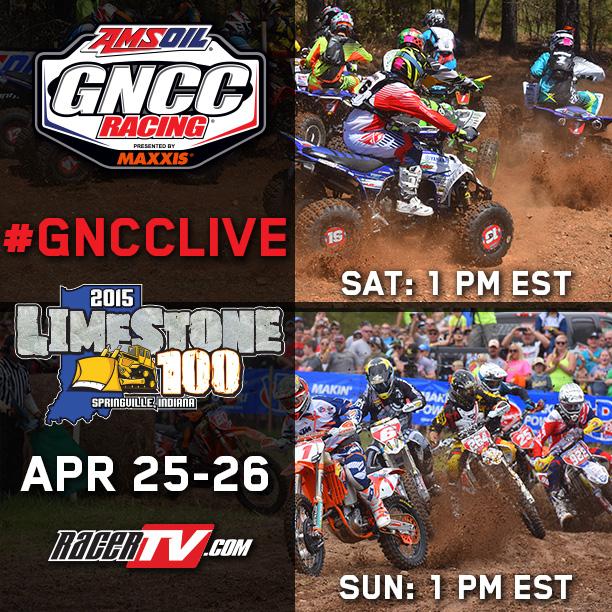 Troy Lee Designs is sponsoring the East Rutherford round of Racer X MotoDynasty Fantasy Supercross and will be giving out prizes to the winners of both classes. Click HERE for a chance to win.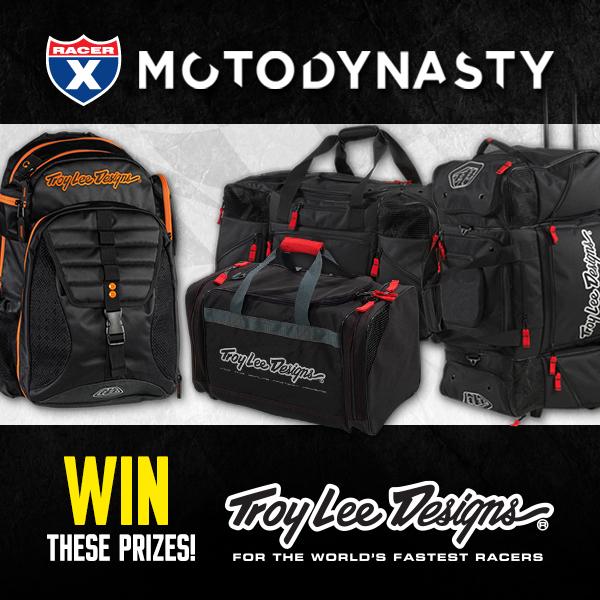 Heading to East Rutherford for the sixteenth round of Monster Energy Supercross this weekend? Stop by the Racer X booth—located in the Party in the Pits—to pick up a free copy of Racer X Illustrated. You can also sign up or renew for just $20 (60 percent off the cover price) to get a one-year subscription, a FREE pair of Racer X socks, and an extra issue!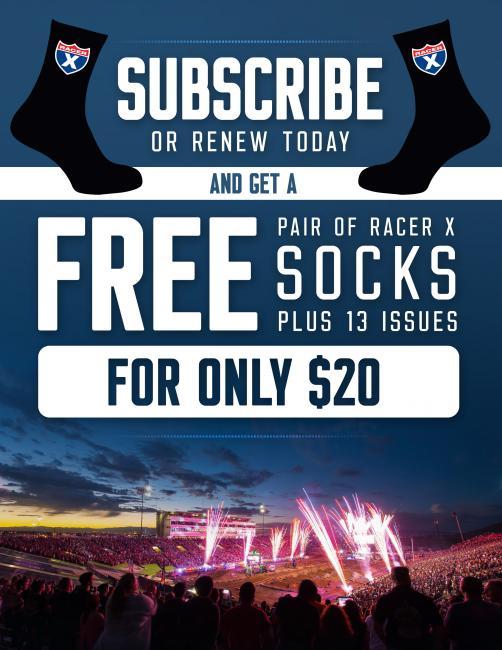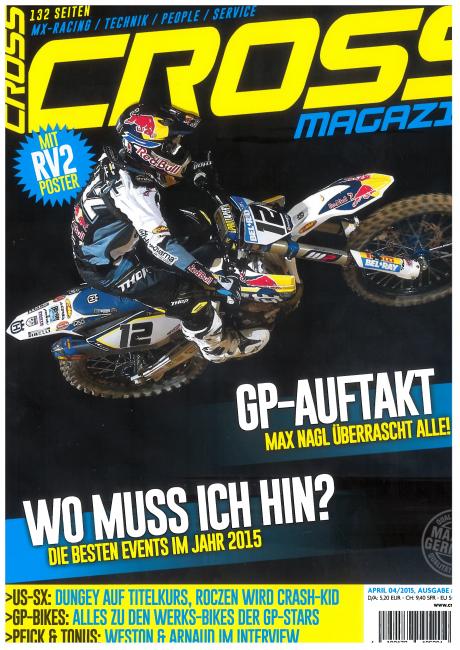 That's all for now. Thanks for reading—see you at the races.