East Rutherford, NJ
East Rutherford (New Jersey)
Monster Energy AMA Supercross Championship
Does holding a supercross press conference in the heart of New York City get people pumped up? To find out, we sent New Jersey-based superfan Dave Nash—a regular both on New Jersey's Englishtown moto track and the woods of the East Coast—to Grand Central Station yesterday to find out. It's true, the premier-class Monster Energy Supercross Championship is wrapped up already, but Nash seemed plenty pumped to see supercross in an entirely different setting. Here is what he saw.
By Dave Nash
Gentlemen (And ladies!), we all know that a series with seventeen rounds in eighteen weeks is pretty intense to say the least. That said, one might wonder how Feld can keep the energy level pumping for the SX community week after week. Their answer is simple: Hold the penultimate round in the greatest city in the country—New York, New York. That's how, baby! Denny Hartwig, the head PR man for supercross, knew this year his team needed to pull a game changer out of his hat to kick things off at press day in New York. So instead of just going to MetLife Stadium like last year, how about holding it in the world famous rail depot, GRAND CENTRAL STATION! New, fresh and non-recycled is what it felt like, and the riders truly appeared to enjoy the unique setting.
As the press event started, Ryan Dungey was the center of attention for obvious reasons. Though he locked up the SX crown two rounds ago, his spark on stage still showed he's in the fight to win. Some say it's the city that energizes people and I witnessed it firsthand on Thursday. RD5 answered questions on the new race replica bike and spoke candidly about how his season evolved. It finally appears that Ryan has cracked the code on balancing all facets of being a professional SX/MX racer and a multi-time champion. During the last part of the formal Q&A, Dungey took a moment to share with the room the heart-felt realization of his childhood dream of becoming a SX champion. Pretty cool to see a guy make it so far and still be so humble…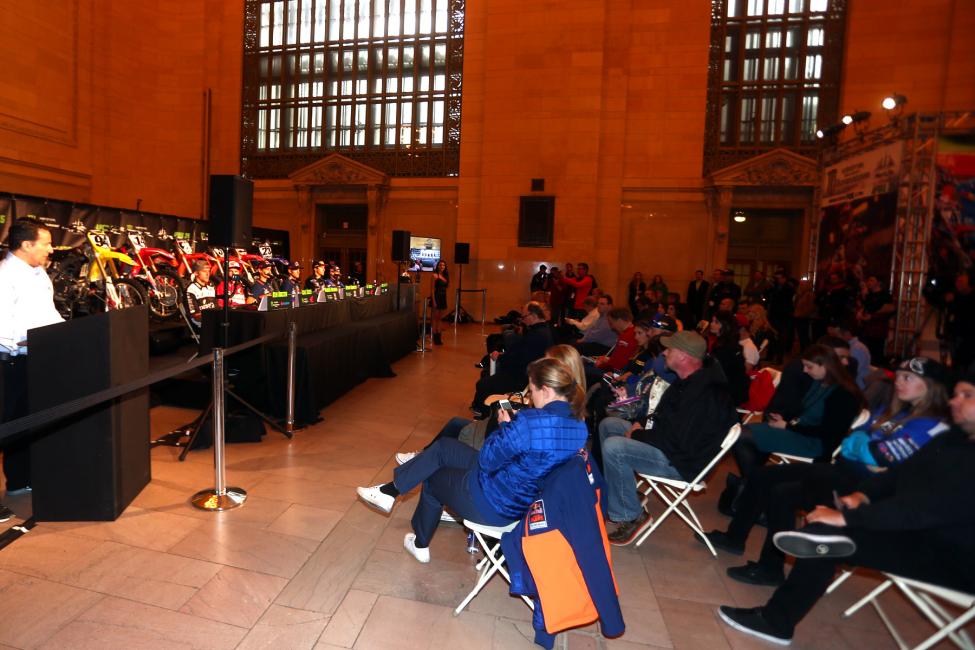 We heard reports of a bear loose in the city, but then realized some kids saw Weston Peick leave his hotel on Madison Ave. that morning. Weston Peick speaks like a professional but rides the bike like an animal. When pressed about his current status he merely stated: "I'm feeling good; I've been able to get back on the bike and ride/train the way I did before the season. My stamina is back up there and I got the jitters out last week, getting my first podium."
The interesting part of watching him speak was he had a Cheshire Cat-like grin on his face. It's a reality for him now to run up front, and he appears to thrive off this new-found understanding. Where's his limit? Could he bag a win before season's end?
Cole Seely is a newly proven 450 class contender with a BMX style woven into his SX skills. Cole spoke with me on just how and when he uses that BMX background.
"I grew up without having too many MX tracks around," said Seely. "BMX is something I'd fall back on [growing up] to satisfy that desire to be riding on two wheels. So now when I'm on the track or watching footage in the truck, I can see how I can use my BMX skills to my advantage to make up time."
Vicki Golden of the HRT/Metal Mulisha team was on hand. Think what you want about the whole "first lady to make a main event" hype; this girl has her head screwed on straight and is realistic about how she is approaching her goals. Don't judge her till you speak with her and watch her ride.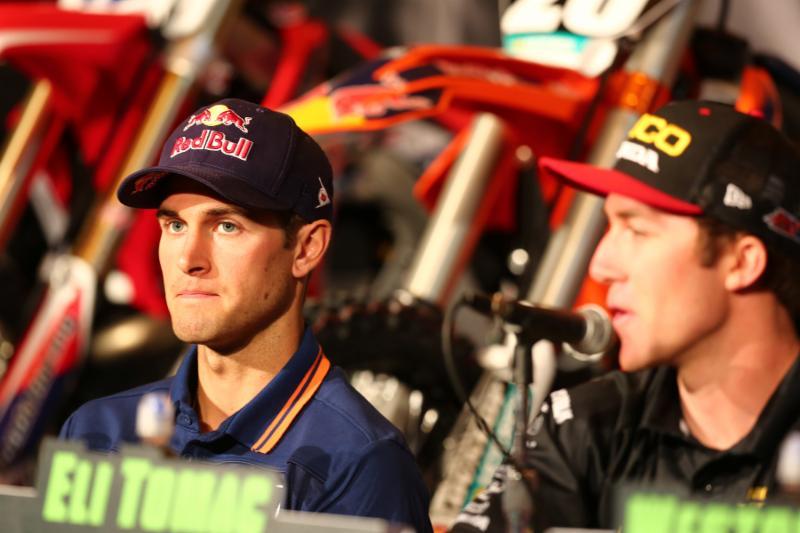 Eli Tomac was the last guy to speak to me prior to going to the stadium for some riding. Eli is one of the most levelheaded riders in the game. He clearly demonstrated this as he reflected on his successful season, what he's planning to do to remedy his starts, and lastly, just how much he loves his 2015 Honda CRF450R. He won't win the title this year, but he knows he's made great progress from 2014.
"This year has been a huge improvement," he said. "Two event wins, multiple podiums, and the bike is way better—I'm just at one with it. Also, having HRC on board is also a major improvement—we're receiving help from the mother ship [Honda Racing Japan] directly.
"I've gotten to the point where I'm really disappointed with my starts. We've studied them and I have zero problem with my reaction time. It's like I'm having issues ten feet out of the gate; that's where I'm getting beat by guys right now. I don't know if it's me or the gearing on the motorcycle. I do know that it's a huge thing mentally for me when I'm on the gate, and that's probably not a good thing. I know you're at your best when you're not thinking about it [starts]. Either way, I know I'm going to get a handle on it."
Eli's spirits were high when we finished up, and I can share with you his style and aggression on the track (later in the afternoon) were very impressive. Eli is going to be in the hunt this weekend, no doubt.
After lunch some of the media went over to the MetLife stadium, or as I call it: Stalag 13. Good Lord, I'm from New Jersey and I was shocked by the rough, snarky, and jerky attitudes displayed by the MetLife stadium workers. Look, I'm a nobody, but a 'Somebody' needs to enlighten the "Personality Plus" support staff at the stadium that everyone is not the enemy, especially those who do this week in and week out. Sorry for the rant, but just wait and see this weekend if you interact with anyone in a MetLife coat. Wait and see…
The track wasn't 100 percent done for press day, but what was there looked really solid. The dirt looked moist and rutty, which should allow some good racing this weekend. RD5, Marvin Musquin, and Peick looked the best. Seely was right there, but his smooth style perhaps hampered my perception of just how fast he was going—you know how that works. Justin Barcia was also there riding, but he looked a little off. That happens to everybody at some point, and you know he has the talent to put it back together. Lastly, NJ's own #337 CycleTrader.com/Rock River Yamaha rider Nick Desiderio looked the best in the privateer session. He cleanly jumped the technical rhythm sections on the track. Nick is a good guy, so cheer him on this weekend when you see him.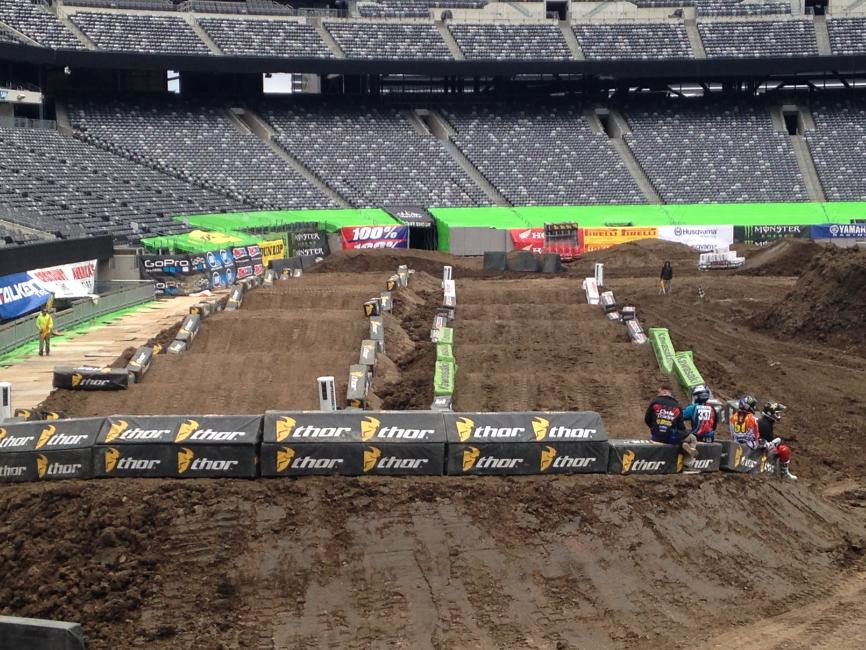 All in all, what I saw on press day was a clear indication that his season isn't over, and there are plenty of reasons to jump on the NJ Turnpike to come see the show! So, get on up there tomorrow, take in a daytime supercross, and hit the city on Saturday night. Supercross and the city—I saw first hand that the two work well together.