Levi's Stadium
Santa Clara

,

CA
Santa Clara
Monster Energy AMA Supercross Championship
BTO Sports is your number one source for all of your motocross parts, gear, accessories and apparel. BTOSports.com is a motocross company who is truly dedicated to the sport and to the customer. Proud sponsor of your Racer X Podcasts and the BTO Sports race team.
Monster Energy AMA Supercross, an FIM World Championship, marched on with the debut of the Santa Clara Supercross in Levi's Stadium, which is about an hour south of San Francisco, kind of around San Jose, and where the San Francisco 49ers play football.
So, yeah, it was called the Santa Clara Supercross, but it could be called San Fran SX, as the 49ers play there and there are giant SF logos everywhere. And, hey, if you wanted to say San Jose, that's fine as well. Like the New Jersey/East Rutherford/New York Supercross, we'll just go with whatever you feel is cool.
When we were in Oakland earlier this season, the attendance wasn't as good as it had been in the past. I chalked that up to the not-awesome stadium and the fact that if you lived on the other side of the bay, you were waiting for this Santa Clara race later in the season. Well, I guess I was wrong, because attendance wasn't good this week either. Not sure what's up. It's a great stadium, but I guess with all the titles decided and a bunch of riders hurt, lots of people decided to stay home.
All year long the attendance hasn't been as strong as it had been in the past, and I'm not sure if it's due to the injured riders, the lack of a title chase, the (in my opinion) tired supercross program, or the fact that I've heard from more than a few fans that the raised ticket prices this year have stopped them from going to the race. Add in that every race is live on TV (most of them in HD), and supercross could be facing the same attendance problem that other traditional sports are facing.
The track in Santa Clara was confusing to me. It was very rocky (bad) and very wet in practice (also bad), and more than a few riders told me they weren't happy with the track. Alex Martin told me that Zach Osborne yelled at him while they were out in practice that the track sucked. And there were more than a few crashes in practice, but by the night program it seemed like the track had come around. Watering the track heavily on the West Coast races is the new "in" thing for 2015, so maybe we all just forgot about that or something.
It had some big whoops with a wall in the middle, and a very tricky 3-3-2 rhythm section with a small bump before it that had to be wheelied, which definitely freaked some riders out. The track taxed riders throughout the night. Veteran Nick Wey Tweeted out this after the race: "We had a SUPERCROSS track last night. The track was tight and technical just like the tracks that I learned 2 race on. Props Feld & Dirtwurx." So, he liked it.
It's weird, though; a lot of racers magically don't like the track if they don't have a good night. That's why it's dangerous to ask them what they think.
It was really silly that the start straight, the right-hand first turn, and the next two turns were considered one lap. Huh? We don't need shorter races, and this section took the guys an average of twenty-six seconds to go around and—POOF—one lap down. Why would they do this? What was the reasoning behind it? Just like the mid-practice massive track changes last week, doesn't it seem like there can't be one good reason for this?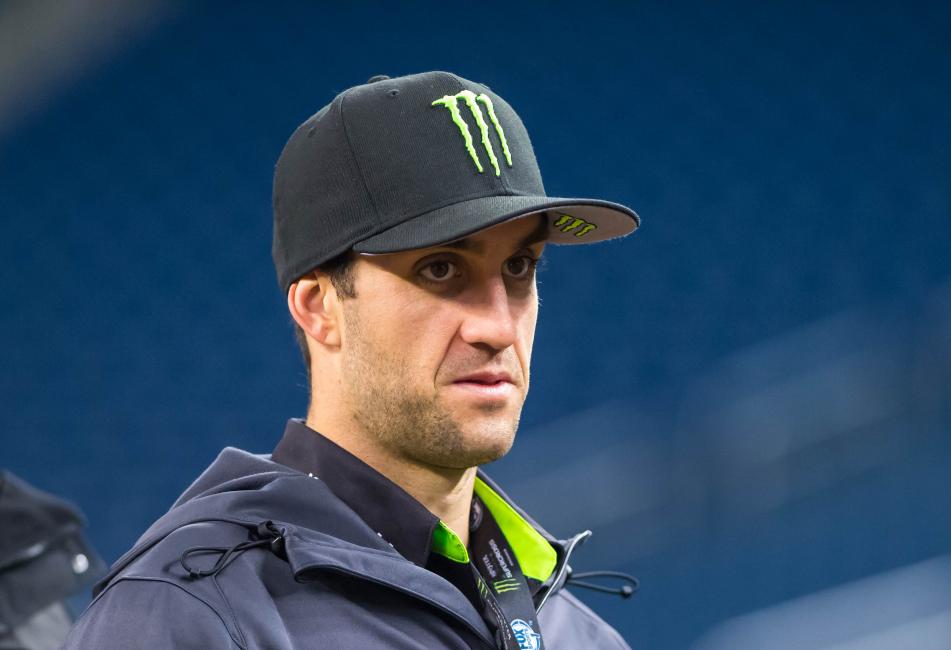 The big news dropped on Thursday that Monster Energy Kawasaki had terminated the contract with Davi Millsaps. Wow! Crazy, right? With absolutely no reason given in the press release, the speculation began from the media, fans, and teams in the pits. I reached out to Davi and asked him what happened, and he said he didn't know and there was no chance he would do an interview about it.
Well, we still don't really know for sure what happened, as no one is officially going on the record, but Millsaps himself went to Santa Clara to talk to some teams and see about getting a ride. From what I've been able to gather up, there was a World Anti-Doping Agency (WADA) illegal drug found in Davi's locker in the Kawasaki semi-truck, and Kawasaki, while not accusing Davi of actually using this substance, said that just having it in their truck could cause issues by carrying the substance across state lines, and if they were ever searched by police, there could be legal ramifications for the team. Again, from what I hear—and it's not proven—Davi said he had a prescription for this substance, but couldn't provide any proof. Kawasaki felt like they had no choice but to let him go, and the reason the press release said "terminated" was because Davi wouldn't agree to sign anything that said both sides mutually agreed to separate, which means the #18 is probably thinking about proceeding with legal action against Kawasaki.
Look, this isn't about not wanting to pay Davi, and my people insist that Kawasaki didn't do this because of Millsaps' results. Davi hadn't been doing that bad this year. He missed all of last year and hasn't been great this year, but a team like Kawasaki wouldn't just pull the trigger on this if they hadn't really felt like they had to. This is obviously bad…real bad for them. It leaves them completely riderless for the last three races of the championship! If it was some B team in the pits and they did this, then whatever, I would get that some people would have raised eyebrows, but factory teams just don't fire riders unless extreme circumstances have happened.
You can read Davi's statement HERE, where he says he hasn't violated any AMA/FIM rule or regulation. But he doesn't say he didn't violate any Kawasaki's rules, which include many clauses, and I'm certain one of them is not leaving Kawasaki open to prosecution for anything that your actions may do.
Jeff Emig got fired from Kawasaki in 1998 because he got arrested with drug paraphernalia. Mickael Pichon got fired because his dad punched an official, and he wanted to go home anyways. Mike Craig got fired because, well, because he was doing Mike Craig things. Ron Lechien got fired because he already had a deal with Kawasaki, and when caught with marijuana in Japan, it was easy for Honda to let him go.
So, yeah, it's a big deal, and I hope Davi takes this incident as a wake-up call and reevaluates the people around him and what they're giving him. As a rider, it's stated many, many times that what you put in your body is your responsibility, and clearly someone has betrayed him by giving him this…stuff, which, again, was bad enough that Kawasaki felt they had to fire him for it, and it was justified by their lawyers to fire him for it. Did Davi ask for this substance? Was he told it was WADA illegal? We'll probably never know, but I'm guessing he now wishes he had thought about this some more. Davi may never, ever get a ride like this again (he's ridden for most of the factory teams in the pits), and he has his "crew" to blame for giving him this or suggesting he take it.
There's a chance that he never knew anything was wrong with this substance (again, though, he's responsible for his body) and someone really effed him over. Let this be a lesson to the riders out there: Be careful who you surround yourself with, because when you go down, they'll most likely just move onto the next guy and you'll be without a job.
It's been a rough rookie SX year for Chris Alldredge of the Monster Energy/Pro Circuit team, and it got rougher when he appeared to cause a huge crash in the 250SX main event, taking out, by my count, sixteen riders. Yes, you read that correctly. With so many riders down in the first turn, it was weird to see six riders break away like that. Can't say I've really seen that before.
One of the guys down in the first turn was the champion Cooper Webb, but it wasn't too bad because Webb was in tenth when he got up, which, in case you haven't been watching the races, is not going to be a problem for Webb, as he's been on another level all year. Webb quickly worked through the pack and took the lead with ease by passing Josh Hansen. From there it was all over.
Webb's on a roll right now; he can turn down when he wants, scrub any jump, and take any line and clear the obstacle. He seemingly can do anything on the bike he wants to do. It's amazing how confident he looks on the bike. The battle with him and likely 250SX East Region Champion Marvin Musquin (who's also been on another level on that coast) should be some great racing.
Remember Vegas SX has no East/West main events this year—just the shootout—which should help the intensity of that race.
Ryan Dungey rode terrific to get the 450SX main event win. I mean, I'm out of stuff to talk about with him. He made a beautiful pass on Weston Peick in the heat (although Weston didn't like it), and he rode great in the main event to pass Justin Barcia after four laps and take the win. I don't know what else to say—he's awesome and has won seven races this year. Anyone want to bet he doesn't get to nine?
Let's get to the results, shall we?
250SX Results
1. 17 Cooper Webb; Newport, NC; Yamaha YZ250F – Webb will be back in 2016 to defend this title, and then it's onto the 450 class for him.
2. 32 Justin Hill; Yoncalla, OR; KTM 250 SX-F – Although he had nothing for Webb (who does?), it was nice to finally see Justin come through with a good finish this year. He's been by far the most disappointing rider in this class this year, as he came into it with legitimate title hopes. Yeah, he got a third earlier this year, but in Santa Clara he rode to an even better finish. He's got serious speed and skills, but until the final round, hadn't really put it together.
3. 31 Alex Martin; Millville, MN; Yamaha YZ250F – With Jeremy Martin, Alex's brother, working with Johnny O'Mara now, that means that Alex gets to be around the motocross legend as well. Martin rode a terrific race to get the second podium of his career to follow up the Oakland one (guess he loves the clam chowder!), and it's good to see good things happen to good people. Got it? Good.
4. 34 Malcolm Stewart; Haines City, FL; Honda CRF250R – Mookie was fast in Santa Clara. He was exciting to watch as well in the heat and the main event. He was catching Martin for third late in the race when a lapper jacked him bad.
5. 40 Shane McElrath Canton, NC; KTM 250 SX-F – My sleeper pick for the 250 Class this summer. Stamp it.
6. 57 Jackson Richardson; Wildomar, CA; Honda CRF250R – Great ride for the Aussie, and I believe it's a career best at that. Of course, he benefitted from the sixteen-bike pileup, but hey, whatever man. This guy's been putting in good results for a while now, completely under the radar, and nice to see him finish so well.
7. 157 Aaron Plessinger; Hamilton, OH; Yamaha YZ250F – I turned to my buddy Donk in the press box and said, "Plessinger's going to win this, bro" a few laps into the main when he was out front and looking good. You've got to run before you can walk, though, and Aaron threw it away while out front, and then later crashed again while he was in third. Oh, what could have been…
8. 38 Matthew Bisceglia; Weatherford, TX; Honda CRF250R – Been a tough season for Matt this year; he's missed some races with injury and there have been crashes in some other races. He needs to have a strong outdoor season if he wants to stay with GEICO Honda.
9. 130 Thomas Hahn; Decatur, TX; Honda CRF250R
10. 65 Scott Champion; Wildomar, CA; Yamaha YZ250F – Nice ride by Champion, who's been solid all year for the Strikt Slaton Yamaha team. He and Cole Martinez are showing some real privateer power this year with Marty Smith managing the show.
11. 71 Cole Martinez; Rimrock, AZ; Yamaha YZ250F – Martinez was down in the first turn and was almost dead last (behind most of the other riders that went down. Serious, it was a huge crash). And, he had gotten into the main via a come-from-behind-ride in the LCQ at that. Martinez, who was thirteenth in the points coming in and the top "privateer" (in the truest sense of the word), almost didn't make the main and then was almost dead last. So, with all that, this eleventh has to be pretty awesome.
12. 164 Austin Ullrich; Estacada, OR; Yamaha YZ250F – After being featured in "Just Short" on Pulpmx.com last week, Austin "Lars" Ullrich had a good ride to get this spot. It's all about motivation, people!
13. 397 Brandon Scharer; Gardena, CA; Suzuki RM-Z250 – Hey, look, a Suzuki!
14. 544 Morgan Burger; Nampa, ID; Yamaha YZ250F – I think this is Burger's first-ever main event—good for him. He races the Canadian Nationals and had his best year ever up there two summers ago. We had Dig Dugs and now we had Burger Time—too bad I can't work a Q-Bert into a rider's name somehow.
15. 217 Ryan Breece; Athol, ID; Yamaha YZ250F
16. 284 Cody Church; Grand Junction, CO; Kawasaki KX 250F
17. 148 Trevor Reis; Alpine, CA; Yamaha YZ250F
18. 252 Kevin Weisbruch; Murrieta, CA; Kawasaki KX 250F
19. 100 Joshua Hansen; Elbert, CO; Kawasaki KX 250F – Hanny's been dealing with a rib injury, but he was still given the gift of the lead when "the crash" happened in the first turn. He was no match for Webb, but he probably could've gotten on the box had his exhaust header not broken.
20. 16 Zach Osborne; Chesterfield, SC; Husqvarna FC250 – Osborne was a lock for second in the series until he was an innocent victim in the first-turn crash, ending his night and chance at second in the points, which probably cost him some money.
21. 91 Chris Howell; Spokane Valley, WA; Yamaha YZ250F – Howell's a good dude. He crashed out early in this main, and I hope he's okay. Not sure what happened early on in this season, but he's been better lately.
22. 66 Chris Alldredge; Powell Butte, OR; Kawasaki KX 250F – Millsaps got fired, and there aren't any other riders left, so Monster Kawasaki had its ace PR man Tom McGovern at the race all for Chris in case he needed a hat or interview done for a podium finish or heat race win. Not only did that not happen, Tom's whole reason for being there was over ten seconds after the gate dropped. The massive crash did Alldredge in.
450SX Results
1. 5 Ryan Dungey; Tallahassee, FL; KTM 450 SX-F – Nice of Ryan to give me and a whole bunch of other media guys an interview in the cold long after the race. He seriously does seem to be enjoying himself much more this year—maybe it's the new marriage. I think we'd all be happy if we were married to Lindsay.
2. 3 Eli Tomac; Cortez, CO; Honda CRF450R – At this point, we'll just let Eli tell you himself how it went: "Story of my life is not getting the start, so considering where I was at…I was almost dead last going down the straightaway and then made a good little dive through a hole there in the first corner. I actually made the best of it for what it was because it could have been really bad. I was actually pretty pumped on where I came out."
3. 23 Weston Peick; Menifee, CA; Yamaha YZ450F – Here it is: the podium that we knew was coming eventually finally happened. Great ride by Peick, and I just can't stress enough that this guy has worked so hard and improved so much to get a 450SX podium, and I don't care how many people are out with injuries. Great pick-up by the JGR guys, and after the race Weston told the media that talks to keep him there next year and beyond are already ongoing.
4. 21 Jason Anderson; Edgewood, NM; Husqvarna FC450 – Anderson's team is testing with Christophe Pourcel (LINK TO BN) for a ride this summer in the 450 Class. It's a strange choice, as Martin Davalos was supposed to ride the 450 Class (insert wide-eyed emoji here), so maybe Davalos is out with his illness. Anyway, good luck with the #377 guys; I'm sure this will end well.
5. 14 Cole Seely; Laguna Beach, CA; Honda CRF450R – Just when you think the AMA/FIM couldn't make any more controversial calls this year, they struck again in Santa Clara, when a Dig Dug was telling Seely to go on either side of him while a rider lay crashed in the middle of the track. So, Seely went to the left, and right about then a track crew guy was pushing the downed riders bike off—WHAM-O went Seely into the dude. It cost him a heat race win, and he was forced to go to the semi. He was heated about it—can't say I blame him. It wasn't the AMA/FIM's fault, and I'm not sure what the track guy was doing, but it was bad. We've seen a lot of "bad" things from the officials this year, and I suppose this was just another one. After the race Seely talked about the eight spots he lost in gate position (first pick from winning the heat versus winning the semi, which was nine) as one of the reasons for his poor start.
6. 4 Blake Baggett; Grand Terrace, CA; Suzuki RM-Z450 – I was talking to Blake and his dad before the race, and Andy from Guts Racing was telling me about this extra-wide seat foam that Blake is using because his wrist isn't ever going to be as strong as it was before he broke it, and he needs a wider seat to grip with his knees. Guess who came up with this idea? His coach, Rick Johnson, who did the same thing back in the day when he had wrist injuries.
7. 10 Justin Brayton; Murrieta, CA; KTM 450 SX-F
8. 22 Chad Reed; Dade City, FL; Kawasaki KX 450F – Oh, what could have been. Reed hit the deck while a podium was in sight, and man, is it just me or has Chad crashed more this year than ever before? Nothing big—just small stuff. But it's cost him and it's weird. The good news is that Reed won a heat race because of the Seely crash. JT calls that smart racing.
9. 29 Andrew Short; Smithville, TX; KTM 450 SX-F – Shorty fell on the first lap and it was a grind from there. He had the two different colored boots on that I don't like and he crashed. These two things are not unrelated. Oh, and guess what? He didn't get the holeshot!!
10. 27 Nicholas Wey; Dewitt, MI; Kawasaki KX 450F – We're all thinking there are two races left in Wey's career, so it was great to see him win a semi and get a season-best tenth in the main. However, he's not quite ready to embrace this retirement talk right now. I'd say there's a 95 percent chance he hangs it up (100 percent chance if you talk to his wife), but if something happens in terms of funding or someone steps up with a ride, then the #27 could be back. Great to see him win a race, though, no matter what type it was.
11. 11 Kyle Chisholm; Valrico, FL; Kawasaki KX 450F – When was the last time you saw the #11 up front off a start? Like, really up front? It's been a long time, right? In Santa Clara he had good starts all night long and came around solidly in the top ten, but unfortunately for Chiz, his opening lap aggression wasn't there and he fell back into his "usual" spot. You've got to walk before you can run, I guess.
12. 20 Broc Tickle; Holly, MI; Suzuki RM-Z450 – Tickle is getting a bit upset with his riding lately, as he can't seem to break up any higher than his usual finishes despite a thinned field due to injuries. This finish should have been a seventh, as he was passing Barcia and caught Justin's bike. He slammed to the ground pretty hard and a seventh became a twelfth just like that.
13. 199 Kyle Partridge; Lake Elsinore, CA; Honda CRF450R – Partridge was fast all day (he's been fast for a while now), and with the big whoops there, he was killing it in Santa Clara. On his social media he put up a video of an issue off the start that he says was his gate malfunctioning. If it really did and no one saw it, that's brutal but expected in this year of the AMA/FIM just rooning (yes, rooning) everything they touch.
14. 70 Nicholas Schmidt; Riverside, CA; Suzuki RM-Z450 – I thought Schmidt was done when he crashed in the semi and was down for a while with an injury. But, like the phoenix, he rose from the ashes to take the eighteenth gate pick for the 450 LCQ and make it into the main yet again.
15. 58 Killian Rusk; Temecula, CA; Yamaha YZ450F
16. 51 Justin Barcia; Greenville, FL; Yamaha YZ450F – Barcia holeshot, which is great, because he wasn't getting his usual good starts at the start of the year. He's not 100 percent yet, so I get the fade back, but to me he still went a little too far back for my liking. Not sure what's up with Justin (by the way, he had a DNF, which gave him this spot—he would've been around tenth without the DNF). He ditched Johnny O'Mara as his trainer and didn't look happy with his bike in practice. And, when he was leading, it looked like the bike was too fast for him or something, as there were a lot of herky-jerky movements out there. This situation is going to be interesting to watch going forward from here.
17. 42 Ben LaMay; Austin, TX; Husqvarna FC450 – LaMay came into the race sick and started feeling it about halfway through the main event. He wasn't stoked on his finish.
18. 181 Dustin Pipes; Madera, CA; Suzuki RM-Z450 – Pipes made the main again, and good for him. I do some service for EKS Brand goggles at the races, and Pipes happens to wear this brand of goggles. I noticed last week in a photo of him that he's wearing a pair that's at least three years old. Seriously. I gave him some new pairs, and he made the main!
19. 69 Ronnie Stewart; Easton, PA; Suzuki RM-Z450
20. 314 Alex Ray; Milan, TN; Honda CRF450R
21. 206 Thomas Ramette; Guilherand, France; Kawasaki KX 450F – I had no idea who this guy is, but of course Jason Thomas has raced him before in some race somewhere in some other part of the world. And now you know.
22. 33 Joshua Grant; Wildomar, CA; Kawasaki KX 450F – JG thought his bike was developing shifting problems on the parade lap and didn't feel safe racing it. He's had some serious injuries before with a bike locking up, so can't say I blame him for being spooked. I haven't heard anything since before the team tore the motor apart, but at the time, they couldn't get it to replicate the issue JG was having.
Thanks for reading; see you in New York. You can email me if you want at matthes@racerxonline.com. Go ahead and try it—it's ok.