All things end badly—that's why they end, right? But hearing the news last night while over here in Italy that Monster Energy Kawasaki had immediately, and without explanation, terminated the veteran Davi Millsaps truly caught me and everyone else over here off guard. How could a rider of Millsaps' caliber, even if was having a lackluster season, be dropped in the span of one very short and simple paragraph? Obviously, there's more to come from this, but at 7 a.m. on Friday in Asolo, Italy, there's not a lot of places to look or people to call back home in the States, so I will let Weege and the boys get into it a little further down.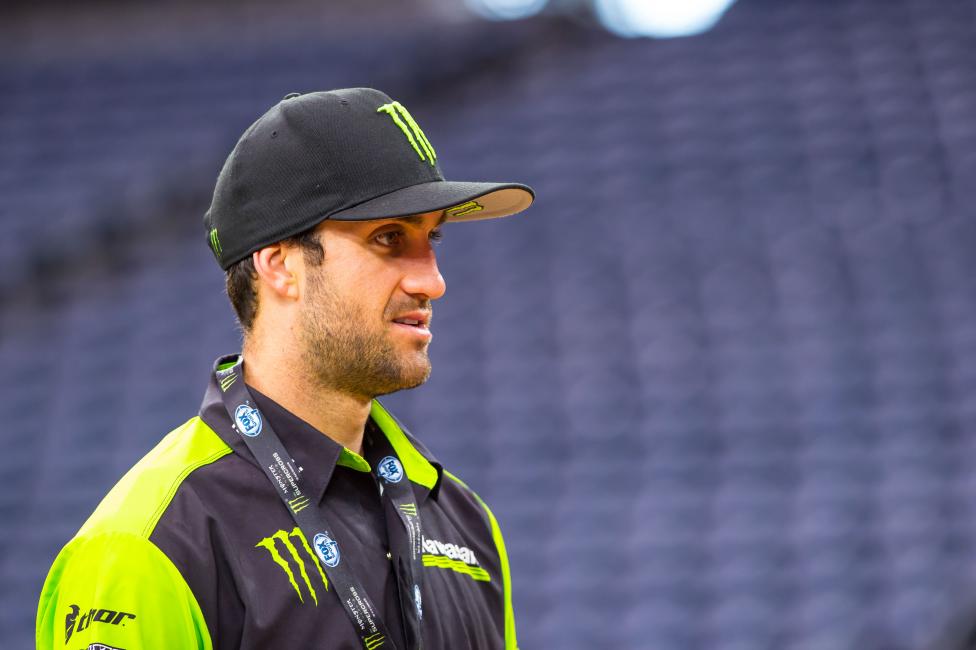 Well, Millsaps has produced his own statement now. Here it is:
"Although my results have not been what I had hoped for up to this point, I have continued to give my best effort and have fulfilled all of my contractual obligations. I am aware that there is much speculation regarding my termination. While I am not at liberty to discuss details, I can say without equivocation that I have not violated any AMA or FIM rule or regulation. At this point I am evaluating my options, both professional and legal. I apologize to my fans, sponsors and fellow competitors for the confusion this has caused. I want to especially thank Monster Energy for continuing to stand behind me. I look forward to resolving this and getting back to racing. See you soon."
I will say this is not the first time this has happened to a top rider, and each happened under remarkable circumstances. Ron Lechein was fired from Team Honda in 1985 when he was caught with marijuana in his bag on a trip to Japan. Jeff Emig was fired from Team Kawasaki in 1999 for being arrested while partying in Lake Havasu on an off-weekend and was then terminated. Mickael Pichon and his father got into an unfortunate altercation with a race official and Mickael was let go by from Team Honda forty-eight hours later. Mike Craig missed the Gatorback National in 1994, one week after winning the Tampa SX, supposedly for tripping over his boots and hurting his knee. No matter, Yamaha let the man go.
But this Millsaps thing just feels much different. Kawasaki is not having a good year at all. They have came up empty-handed for wins in Monster Energy Supercross, a series they have dominated the last four years via Ryan Villopoto. Wil Hahn has been injured and out since the first practice at Anaheim (and is thankfully soon to be back), and of course Villopoto is over here in Europe for a one-and-done Grand Prix tour. In the 250 Class, the vaunted Monster Energy/Pro Circuit Kawasaki team has had a disastrous season. Tyler Bowers did best out West, but now he's hurt and done for 2015. Joey Savatgy has been very good back East but not great. Arnaud Tonus and Adam Cianciarulo have been hurt, but the good news is that if they're healthy, and both will be in the title mix in Lucas Oil Pro Motocross.
Chad Reed tweeted: "This industry never ceases to amaze me." He didn't say much else, though he might have added that he's the only Monster Energy-backed Kawasaki rider to win an AMA race this year. So what are they going to do for summer, besides hope Hahn comes back fast and competitive? Who knows? But for both teams—Monster Energy Kawasaki and Pro Circuit Kawasaki—I would seriously consider giving Christophe Pourcel a shot.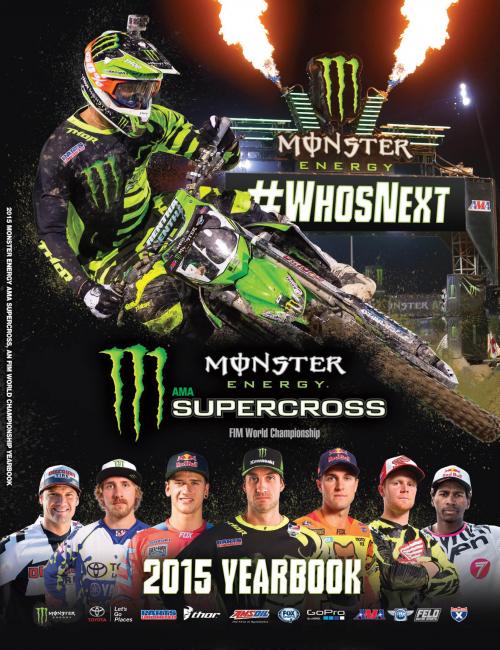 One more thing. We've heard about "the Racer X cover curse" and really just don't believe it. Motocross racing is a small and sometimes dangerous sport, and since we put racers on the cover all the time, sometimes they get hurt while they're on the cover, and so people talk. But last year we put Millsaps on the cover riding his Rockstar Energy KTM and it turned out he never, ever raced the bike—he was hurt all season long! And when it was time to produce the Monster Energy Supercross book and Millsaps was coming off his Monster Energy Cup win in Las Vegas, well, he made the perfect subject for the 2015 supercross souvenir program. Unfortunately, he started the series hurt and never quite lived up to expectations. Maybe his last two covers really were cursed….
The other shoe that was supposed to drop (on April 15, anyway) was whether James Stewart and the Yoshimura Suzuki team would get some relief on the sixteen-month suspension he received last December for testing positive the previous April for a banned substance (Adderall). As I write this two days beyond yet another passed deadline, still no word if we will see #7 before August.
And we won't be seeing Ken Roczen until Hangtown in May for the Lucas Oil Pro Motocross opener, as the former AMA Supercross Series points leader and reigning 450 Motocross Champion announced that he's going to skip the rest of Monster Energy Supercross:
"I'm super-bummed to sit out the rest of the Supercross season but everyone agrees that we're doing the right thing," explained Roczen, who won two of the year's first three races. "We started out the year really strong and that's a big reason why missing all these races has been so tough. But, at this point, we have to move on. I need to make sure that I'm ready when the outdoor season starts next month. I've gotten a ton of support from Ricky and Carey, the fans and all of our sponsors. I owe it to myself, the team, all of my fans and our sponsors to make sure there are no question marks when the Pro Motocross Championship starts next month. I'll be 100 percent."
Which brings me to the end of the beginning and a huge, belated congratulations to the one guy who's stayed above the fray all season long and now has a #1 plate for his efforts: Red Bull KTM's Ryan Dungey. He clinched the title with sixty laps to spare by finishing second last Saturday night to a very impressive Cole Seely, who earned his first AMA Supercross win in Houston. Dungey, a champion five years ago with Suzuki, is now a guaranteed AMA Motorcycle Hall of Famer, as his multiple championships and amazing staying power make him one of the sport's all-time best ever. Congratulations to Ryan, his family, and the entire Red Bull KTM team.
And also, congrats to Cooper Webb and his Yamalube/Star Racing Yamaha team on a dominant run to the 250SX West Championship. Webb has become quite the dynamic rider both on and off the track, and it's refreshing to see that kind of desire and passion and a willingness to show it, unfiltered. Expect this to be the start of many more successes for the kid.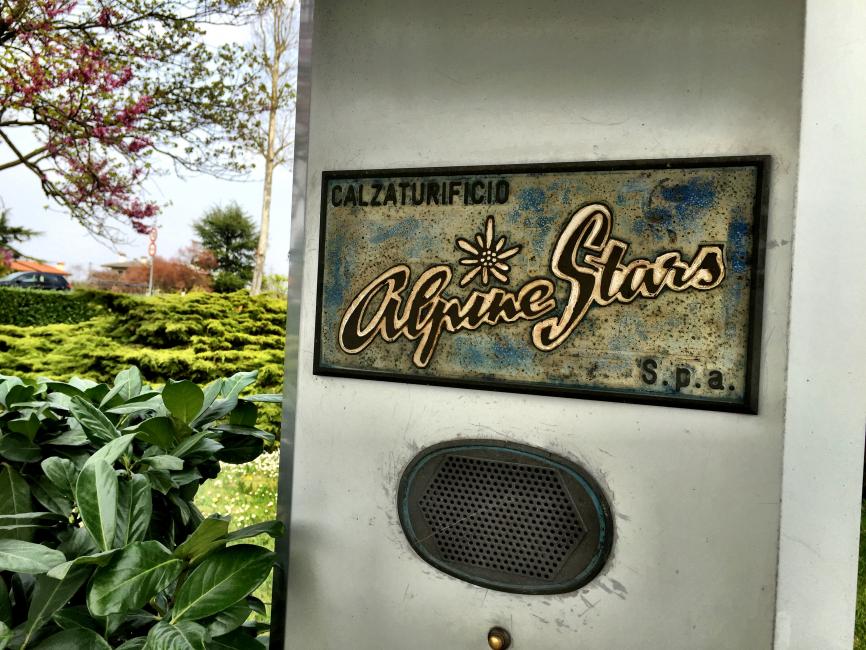 Oh, and yes, I am in Italy to visit and cheer on former AMA Supercross #1 Ryan Villopoto in his one-man conquest of the FIM World Motocross Championship. After a quick visit to Alpinestars in nearby Asolo (and a side trip to Venice with my mom and some industry friends), we are headed to the Arco di Trentino circuit for this weekend's first "on the continent" showdown between Villopoto and the King of Europe right now, Tony Cairoli. Look for more all weekend long on the @racerxonline Instagram feed while I try to duke it out with Simon Cudby for social media space. It should be an epic race and, as a fan, I am thrilled to be over here to see RV do some battling with Tony, Clement Desalle, Max Nagl, Gautier Paulin, and the rest of Europe's best. More on that next week; here's the rest of Racerhead.
WEBB WINS FIVE
(Andras Hegyi)
Cooper Webb joined some elite company this year by taking his Yamaha to five victories (so far) and clinching the 250SX West Championship. Following Damon Bradshaw, Kevin Windham, Ernesto Fonseca, and Chad Reed also got at least five wins and a 125/Lites/250SX title as a Yamaha rider. Bradshaw got six wins in East Region 125SX in 1989. The Beast from the East became the first 125 supercross champion for Yamaha.
Windham got six wins in 1996 and became West Region Champion. One year later, K-Dub defended his title with five victories in the West as well. In 1997 he even won also the East-West Shootout after the championship. Costa Rica's Fonseca won the title with six East Region wins in 1999. In 2001 he won the West with five victories. Australia's Reed, meanwhile, in his first American season in 2002, became champion with six wins on the East Coast.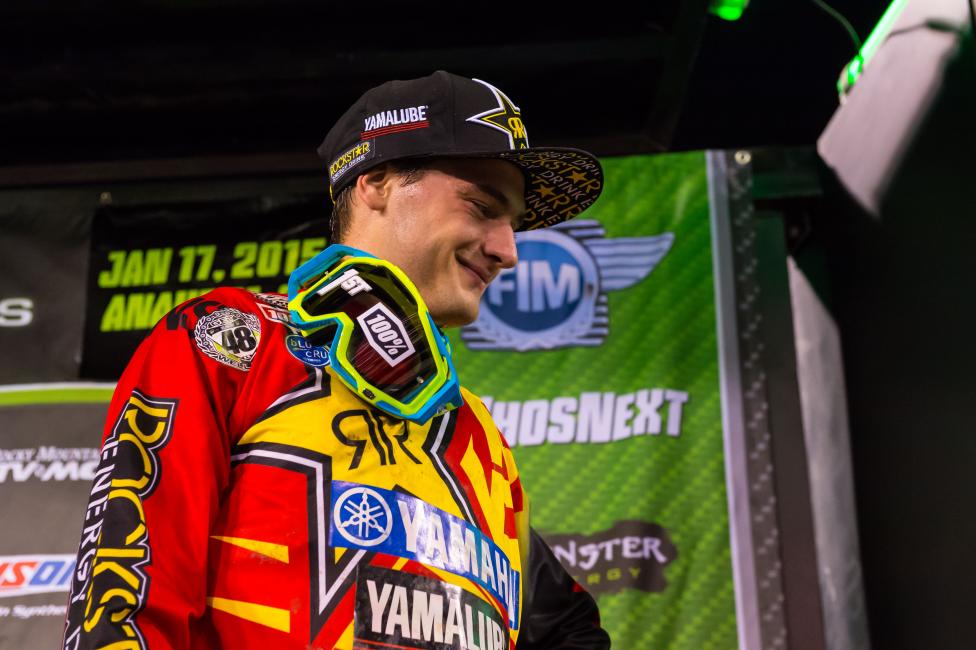 HUH? (Steve Matthes)
The Millsaps news was shocking:
"The following statement has been issued by Kawasaki Motors Corp., U.S.A.:
IRVINE, Calif. (April 16, 2015) – Monster Energy Kawasaki has terminated its agreement with Davi Millsaps effective immediately."
Yeah, that's a nice way to end a workday if you're a media guy. Davi Millsaps "terminated" from Monster Energy Kawasaki. Not "parted ways" or "mutually agreed to terminate" or anything like that. Terminate was the word used, so that means Millsaps got fired. Factory teams just don't fire riders. Lechien (who was already signed with Kawasaki when Honda let him go), Craig, Pichon, and Emig are the only I can think of that got officially fired. This was bad.
Although Davi hasn't been a podium threat this year for a few different reasons, I can confirm that this move was not results-oriented. No one I reached out to on either side is really talking about what the reason was (besides that it wasn't results-oriented), and there's a good chance we may never find out what happened. (Millsaps himself said he wouldn't be commenting, although he did produce that brief statement.)
I've heard some rumors floating around, but that's all they are. Now the job is to sort out all the noise and find out what happened. We may never really know. Maybe it'll take a couple years. I wish Kawasaki would be more up-front with this so they could at least head off a lot of the wild speculation.
So #18 is out and the question becomes, what's next? Kawasaki itself won't be going to the last three supercrosses, and Wil Hahn will be on the line for the opening round of Lucas Oil Pro Motocross. People are talking about someone filling in for Millsaps on the team, but to me, it's pretty late to get any rider who can make an impact. I wouldn't bet on Kawasaki getting anyone for that second spot; they'll roll the dice with Wilbur.
As far as Davi, he's certainly run through his share of teams, and I can't see another factory squad taking a chance on him. Missing a year with injuries was rough, and although he's been okay this year, he simply doesn't have a lot of options. Now, if he wanted to take a small amount of money and ride for a "B" team, I would think there will be a line for his services. But he's got to decide whether he wants to do that. He's made a lot of money in his career, and he's already ridden for a lot of teams. I don't think JGR would hire him. Honda wouldn't, KTM appears set, Suzuki has James Stewart and Blake Baggett for next year, and things went south on the Rockstar Energy Racing Husky team for him. If he wants factory-level support next year, it doesn't look good. We'll see.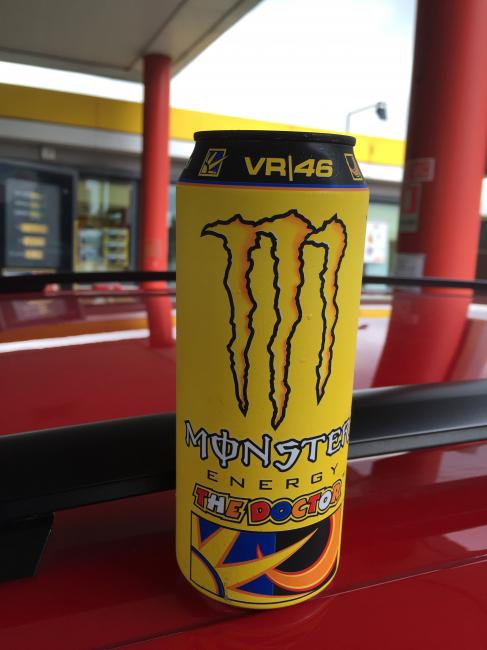 COLE'S GUY (Jason Weigandt)
Yeah…the Millsaps thing. A lot of people are suddenly not answering their phones today. Wonder why?
Anyway, nowadays you're probably hearing a lot of people claiming they knew Cole Seely before he was famous, but I can, with certainty, tell you the absolute champion of the Cole Seely project is his agent, Brian Siegrist. Siegrist is exact kind of guy you think of when you think of an agent. Actually, sometimes he goes from agent to straight-up hype man. He started calling me in 2009 when Cole got a shot with Team Suzuki at the Budds Creek National. Cole didn't even make the field, but Siegrist never backed off, never stopped calling, never stopped saying that Cole was going to reach the top someday. Seriously, all I could think of back then was "How the hell does Cole Seely have an agent?"
Well, Siegrist kept on hyping, but after awhile it started changing from hype to just reality. Cole was legit! Back at Red Bull Straight Rhythm last October, I finally told Brian "Honestly, I used to make fun of you but I really can't anymore. Everything you said Cole was going to do actually happened."
I have no idea what Siegrist knew or saw back in 2009, but he promised then that Cole would someday be a star in this sport. In this case, I have to believe the hype man.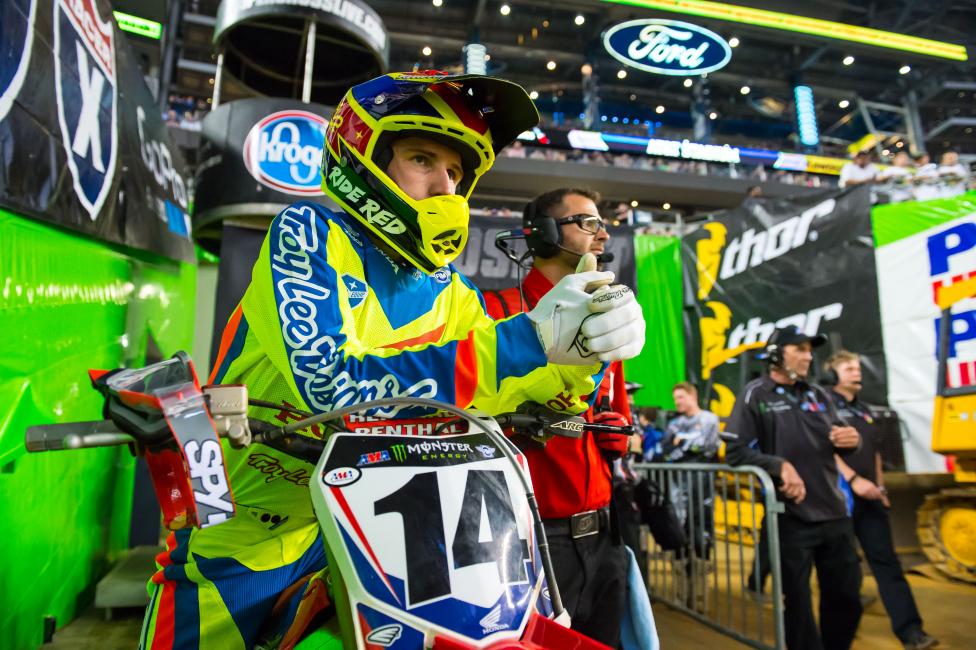 PERFECT IN AN IMPERFECT WORLD (Weigandt)
I went to the AMSOIL Grand National Cross Country Series race in South Carolina last weekend, the VP Fuels Big Buck GNCC, and witnessed another house cleaning by Kailub Russell.
The Factory FMF KTM rider has won the first four races this year and really hasn't been challenged. I started covering GNCCs in 2001, and I have rarely seen a rider avoid trouble like this. Every lap takes thirty minutes, and you not only have varied terrain, but also a secret "pace car" out there via thick lapped traffic. Juha Salminen got it down in 2005 and really changed the game; not until Russell here, a decade later, have a I seen someone control a race in the same manner—but I'm starting to think Kailub is even better at it, which is amazing because Salminen is the GOAT.
You can read more on Kailub here.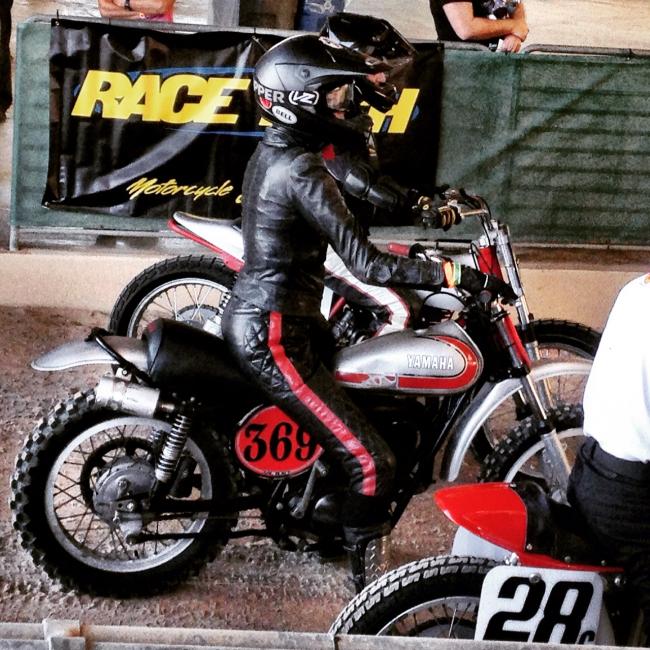 SEELY MAKES SIX (Hegyi)
After Ryan Dungey, Ken Roczen, Eli Tomac, Trey Canard, and Chad Reed, Cole Seely became the sixth different winner this season. This is the eleventh season with at least six winners in the premier class, and in 1985, the series actually saw eight different winners.
1979: Jake Weinert, Mike Bell, Steve Wise, Mark Barnett, Kent Howerton and Bob Hannah won races. Hannah was the champion.
1980: Bell, Howerton, Barnett, Chuck Sun, Rex Staten, and Broc Glover.
1982: Barnett, Hannah, Bell, Glover, Donnie Hansen, and Darrell Shultz.
1983: Hannah, Barnett, Bell, Glover, Ron Lechien, and David Bailey.
1984: Lechien, Hannah, Bailey, Jeff Ward, Ricky Johnson, and Johnny O'Mara.
1985: O'Mara, Glover, Lechien, Barnett, Hannah, Jeff Ward, Johnson, and Bailey.
1990: Damon Bradshaw, Jeff Stanton, Larry Ward, Jeff Ward, Jeff Matiasevich, and Jean-Michel Bayle.
1991: Stanton, Bayle, Bradshaw, Jeff Ward, Mike LaRocco, and Doug Dubach.
1997: Doug Henry, Jeff Emig, Jeremy McGrath, Ezra Lusk, Kevin Windham, Damon Huffman, and Greg Albertyn.
1998: McGrath, Lusk, Windham, Larry Ward, John Dowd, and Sebastien Tortelli.
Seely, combined with Canard and Tomac, makes for three different Honda winners this year. After 1984, 1985, and 2002, this is the fourth season where at least three Honda riders were able to win in premier supercross class, topping out with four different winners in 1984.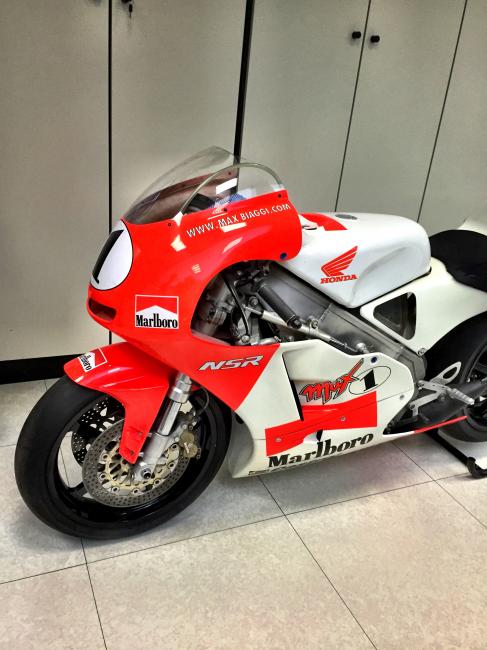 Back to the Bay (Nick McCabe)
The Saturday's Monster Energy Supercross is being held at the shiny new Levi's stadium in Santa Clara. The venue is top notch, and joins several brand new stadiums on the tour, including New York and San Diego. A tip of the hat to Feld Motor Sports for constantly pushing the sport into newer facilities, which can allow for a better presentation of the sport.
The new stadium is located in Santa Clara, which is basically San Jose, and about 30 miles south of the Oakland venue. It will be interesting to see how attendance is, and if the Northern California market is ready for two supercross events, albeit separated by several months.
Feld has proven that the fans in Southern California will happily support multiple events (one look at Anaheim and San Diego will tell you that), but is Northern Californa ready for two? Well, even though the championship is locked up, all early indicators point to a strong event this Saturday night.
Despite the new stadium, there is some history in San Jose. Just a few miles down the road is Spartan Stadium, home to San Jose State. Back in the early 1990s, Spartan Stadium hosted racing from 1990 until 1995, and was perhaps best known for the upset wins of Doug Dubach (1991, 250 class) as well as Pedro Gonzalez (1994, 125 class). As it worked out, those would be the only two professional wins that Doug and Pedro would have during their careers.
Will we see another upset winner tomorrow night? With the championship already decided, anything is possible!
One other note of local interest: Keep your eyes peeled for Nor Cal privateer Bryer Perry, who will be riding the #180 bike in the 250 class. Perry got together with some friends and decided to come out and race this weekend in memory of his fallen friend, Tiger Lacey. Lacey was an accomplished professional racer from the Pacific Northwest, and for whom passed away unexpectedly from an illness on New Years Day, just 16 months ago. Lacey had dedicated his life to racing and left behind a wife and son, as well as hundreds of friends and fans in the moto community.
Perry is riding for a cause -- to raise money and awareness to support the next generation of racers, which was something Tiger felt very committed to. His ride this weekend is supported by Blonix and Rehab Moto, both of which are local Northern California performance shops, as well as GP Sports, a local retail multi brand dealership.
SUBSCRIBE NOW AND GET A COOPER WEBB T-SHIRT
So Cooper Webb just wrapped up that first career Monster Energy Supercross 250SX West Region title. The new champ is also on the June 2015 of Racer X Illustrated. This is the first cover for the North Carolinian, and to help him celebrate all of this we're running a Cover T-Shirt deal: subscribe now or renew to Racer X Illustrated and we will send you a FREE Cooper Webb cover T-shirt!
The cost for a one-year subscription is just $20, but you have to act now—this offer is available for a limited time only and good only while supplies last. Just click on the banner for more details, then subscribe and get yourself a free Cooper Webb Cover Tee!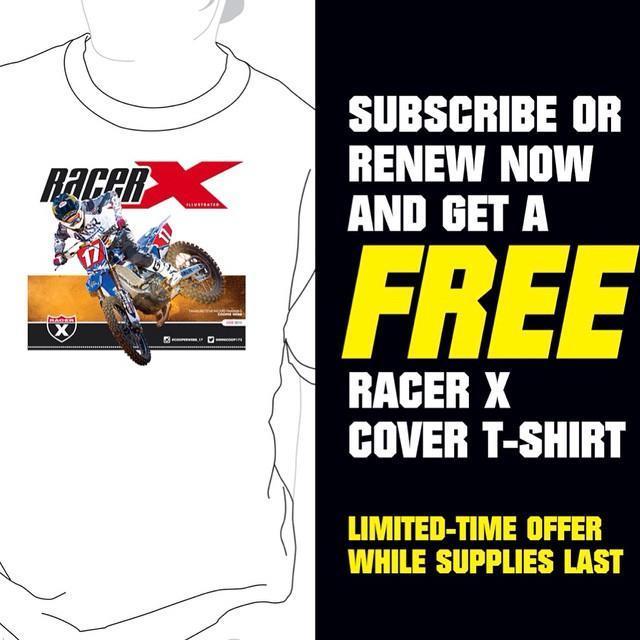 PULP LINKS, BRO (Matthes)
Jason Thomas asked for your Twitter questions and gathered up the best ones for his Hammerhead Designs column here.
Weege and JT joined me for the Fly Racing Moto 60 Show where we took your calls and talked SX, GP's and more here.
Moser reached out to Enticknap and Ulrich this week in his Just Short column to talk about what happened at Houston SX here.
HEY, WATCH IT
We're still puzzled by last week's intro of "Hot Lap" from Monster Energy (and really hope that Matthes takes up "Dirt Shark" on his tweet challenge to come on the show and have some fun), but we have to hand it to the guys who made this excellent "RV vs. The World" video chronicling his first race GP races so far in 2015.
THINGS YOU COULDN'T GET AWAY WITH TODAY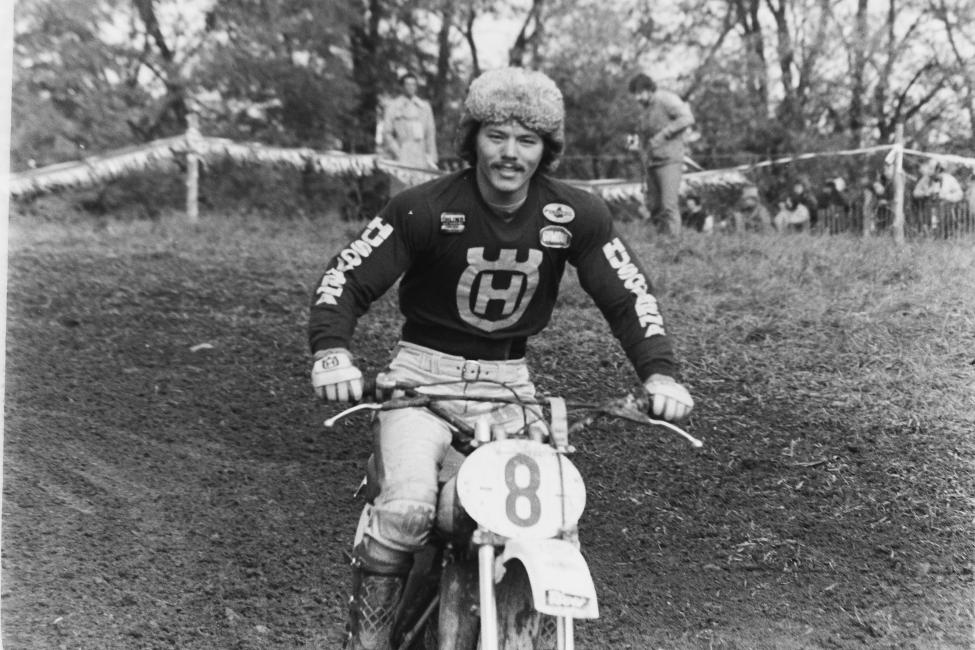 RANDOM NOTES
If you're heading to Levi's Stadium this weekend for Monster Energy Supercross, check out the stadium's official app on your smartphone. You can use it to purchase parking passes ahead of time, get turn-by-turn directions right to your seat, and you can even have food delivered right to you once you sit down. You can also check out wait times at nearby bathrooms or concession stands, and there's even a feature that allows you to watch the action on your smartphone or device from anywhere in the stadium! Hey, what else would you expect from a stadium built in Silicon Valley?
Once you're at the stadium, stop by the Racer X booth—located in the Party in the Pits—to pick up a free copy of Racer X Illustrated. You can also sign up or renew for just $20 (60 percent off the cover price) to get a one-year subscription, a FREE pair of Racer X socks, and an extra issue!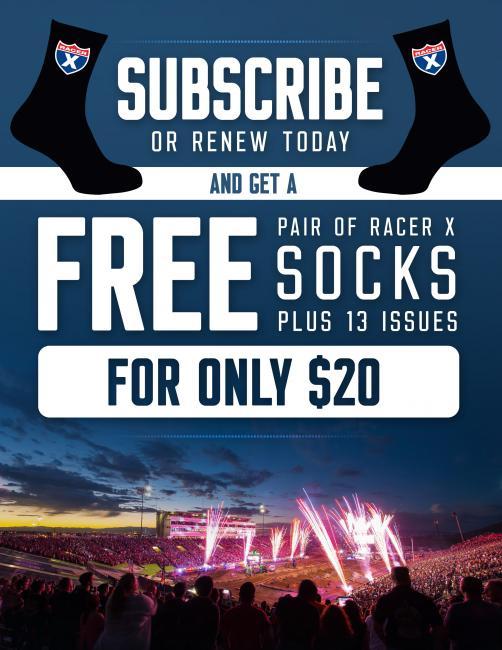 Smartop/MotoConcepts has a new website up and running for the efforts of Mike Alessi and Vince Friese, which you can check out right here. We're still not sure what #800's plans are for the summer, but it's seeming more and more like he's headed back north to Canada. We hope he and the team do at least a couple of the rounds but we'll see.
Our sister company MX Sports is hiring a Media Relations Coordinator. Check out the details here.
For the latest from Canada, check out DMX Frid'Eh Update #15.
Thor is sponsoring the Santa Clara round of Racer X MotoDynasty Fantasy Supercross and will be giving out prizes to the winners of the 450 and 250 classes. Click here for a chance to win.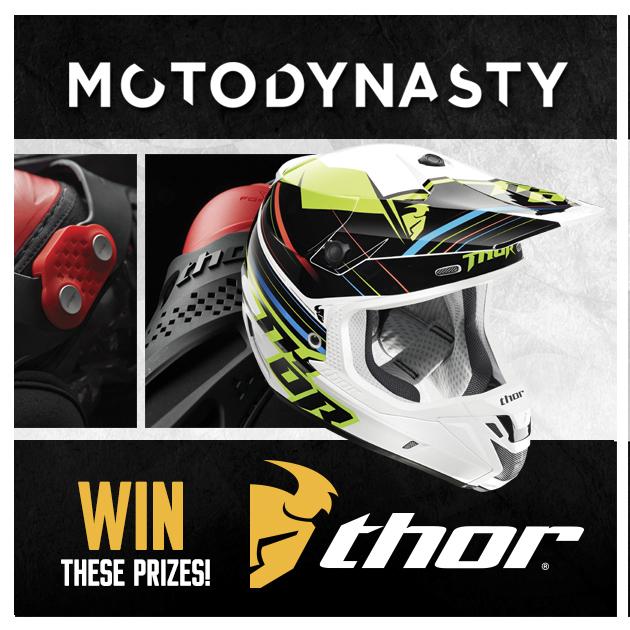 Okay, that's all for this week. Thanks for reading Racerhead. See you at the races.