Houston, TX
Houston
Monster Energy AMA Supercross Championship
What's with this underdog theme in Monster Energy AMA Supercross, an FIM World Championship, this year? We've already covered KTM's remarkable rise from also-ran to champion in 450SX, and Cole Seely's progression from off-the-radar to the center of the 450SX podium. We also have Yamalube/Star Racing Yamaha grabbing its first-ever supercross title via the very capable Cooper Webb, who has pretty much manhandled the 250SX West Region. Just two years ago, Star Yamaha was barely even a factor at the front. Now, they might be the strongest 250 outfit of all.
A very excited Webb talked to us after the race about his season and his team.
Racer X: Congratulations. Let's jump back to San Diego real quick. How bad was the shoulder there and how bad could that have derailed you?
Cooper Webb: It was definitely not to so fun. Ended up doing some AC joint damage. For me it was kind of fortunate to happen during the break. I could take some R&R and get it fixed. It's all good though now. We had a good four weeks after that to get ready for Houston. We were always kind of focused on supercross. Did a little bit of outdoors, but our main goal was supercross for sure. I'm just pumped. Awesome feeling for sure.
You could have eased into that championship tonight, but you put in a heck of a race.
For sure. For me, it's all about winning. When I know I can, it's all I want to do. It was a good night. We won the heat, won the main, and obviously got the title. I think if you're a real racer you want to win regardless of the circumstances. Just pumped to get it done.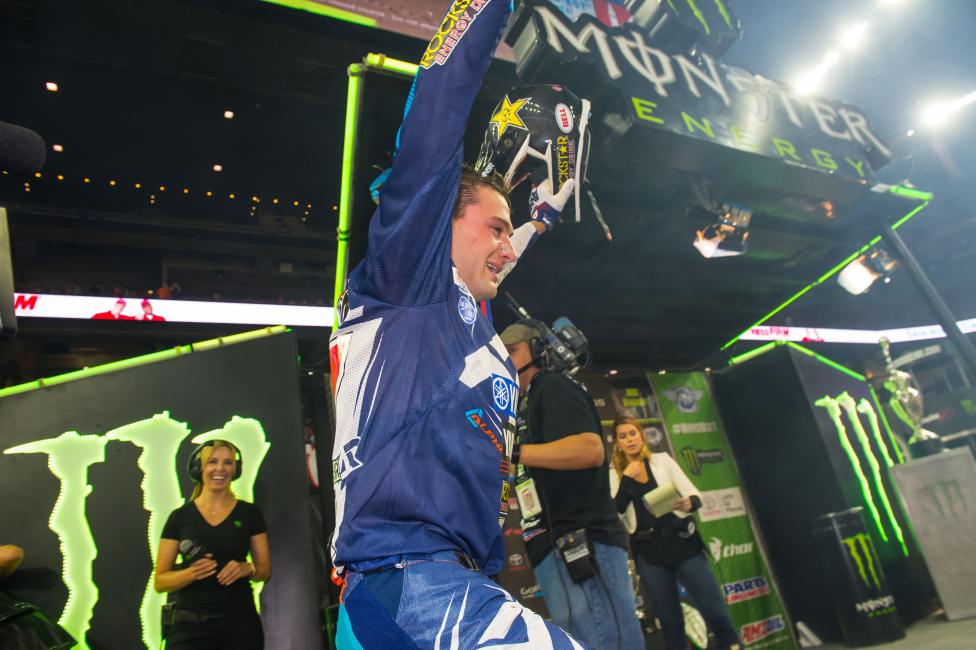 What does the title mean to you?
It's unreal, man. I started riding when I was 4 years old. As soon as I knew what racing supercross was that's all I've wanted to do is win. To do it my second year in supercross is unreal. I'm only 19 and hopefully I've got plenty more years. It's unreal, honestly. All the sacrifices everybody's put in, it's unbelievable.
It's been quite a leap from year one to year two. Can you point to anything?
I think for me [trainer] Gareth Swanepoel was a big part of it, honestly. Everybody has to make a sacrifice. It was kind of hard for me. I moved out here [from North Carolina to California] and we did our first season and then it's like, all right, it's time to win. I think just our whole mentality kind of changed for me and the whole team. After me and Jeremy [Martin] had a great outdoor season it was kind of like, well, we're the guys to beat now, and we want to keep that reputation up. That was kind of the goal the off-season, was to try to win the championship and here we are.
How long do you get to enjoy it and how long before you start thinking about outdoors?
Outdoors is right around the corner. We're going to go out to win that one as well. Obviously Jeremy is going to be strong again, but I have a lot of confidence. I think this outdoor season will be a lot better for me.
After a successful outdoors last season, and then you have a successful supercross season, how do you change your mindset from winning one stage to going to the next one and improving in that stage since you're on top somewhere else?
It definitely is hard. After you win supercross you want to enjoy it and celebrate it, but you turn around and it's like, all right, let's go race outdoors now. It's tough but it's part of it. Everybody goes through it and for me it's another opportunity to show what I can do.
Talk about the turnaround of just this team. Before you and Jeremy came on I wouldn't say things were going great. Now two championships later, what does it mean to kind of be at the head of turning this team around?
It's awesome. Bobby [Reagan, Star Racing team owner] definitely took a risk with me and Jeremy. At least me, I didn't have really any other options. When I turned pro Bobby came to me and saw a lot in me. For him to kind of take that chance…it's definitely awesome for us to come here and as you said kind of rebuild it. Obviously all the guys put in so much hard work and dedication, but obviously so do we as riders. Yamaha and the Yamalube/Star Racing team, I think we're the team to beat.
How do you celebrate this?
We'll be having a good night and go to Santa Clara and try to do it [win again] there.