St. Louis, MO
St. Louis
Monster Energy AMA Supercross Championship
On Saturday morning over in the Autotrader.com/Toyota/JGR Yamaha pit, a hammering sound echoed.. That's not the normal tune to things in the Monster Energy Supercross pits, where most work is done silently with wrenches and t-handles. But it turns out this hammering sound wasn't coming from a hammer, and the work wasn't being done on a bike, either.
Under a tent in the back of the rig, Yamalube/Star Racing Yamaha's Anthony Rodriguez was taking a beating from Pat McGee, a trainer who specializes in injury prevention and treatment. He was making A-Rod scream, literally, as he used a deep-tissue massage to get scar tissue out of his leg, then later slapped his feet and hands in strategic spots to increase circulation in others. But these weren't just slaps; they were chops, and the sound of flesh literally sounds like a hammer on metal.
McGee is a ninth-degree black belt in eight different disciplines. He hits hard.
He was also able to recognize what injuries Rodriguez has dealt with just by working him over, including a torn ACL in one leg and various shoulder problems. He could tell simply by feel. Then he went to work torturing those weak points, and when the session was over, Rodriguez was not only relieved it was done, but feeling better himself, too.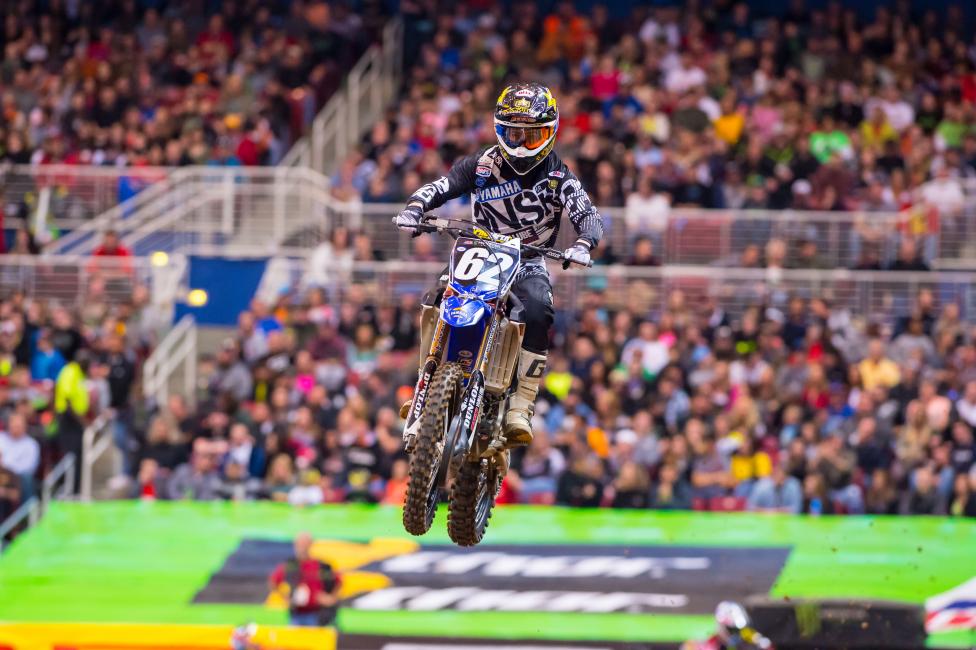 The injuries have certainly piled up. You might not know much about Rodriguez, the second-year pro from Venezuela, but you might know about his reputation for going fast and crashing. He's only 19 years old, but the scars are piling up quickly.
Consistency was a huge problem for A-Rod in his pro debut season in 2014. Yeah, all rookies usually struggle a bit in that category, but his rookie season was exceptionally rough. In his first two pro supercross races, he was running in third and then he crashed out of each. His supercross season was over after that. He came back ready for the Lucas Oil Pro Motocross Championship and was wiped out in a huge first-turn crash immediately at the first round at Glen Helen. He came back later—with more crashes. In all, he raced only seven times, and he crashed out of three of those events.
At the start of this year, he at least downgraded his crashes from massive to minor, but he was still hitting the ground. In the last few weeks, though, he's managed to stay on two wheels and become a consistent finisher. He's gone 8-8-13-5-5 over the last five weeks. Finally, he's figuring it out.
"It's not my rookie year—at least that's what it says on the paper—but it feels just like my rookie year," he said in the pits after finishing fifth in St. Louis. "I'm getting it all figured out and doing better each weekend."
Rodriguez tore his ACL in his final amateur year and missed a lot of racing before jumping into pro supercross. Looking back, he doesn't feel he was quite ready when he turned pro. "I was going really fast and I was coming from injuries," he admits. "I wasn't completely ready to go that fast. In my mind I knew I could go that fast, but my body wasn't completely ready. So it was a little bit of a bad decision to go that fast and also a little bit of bad luck as well."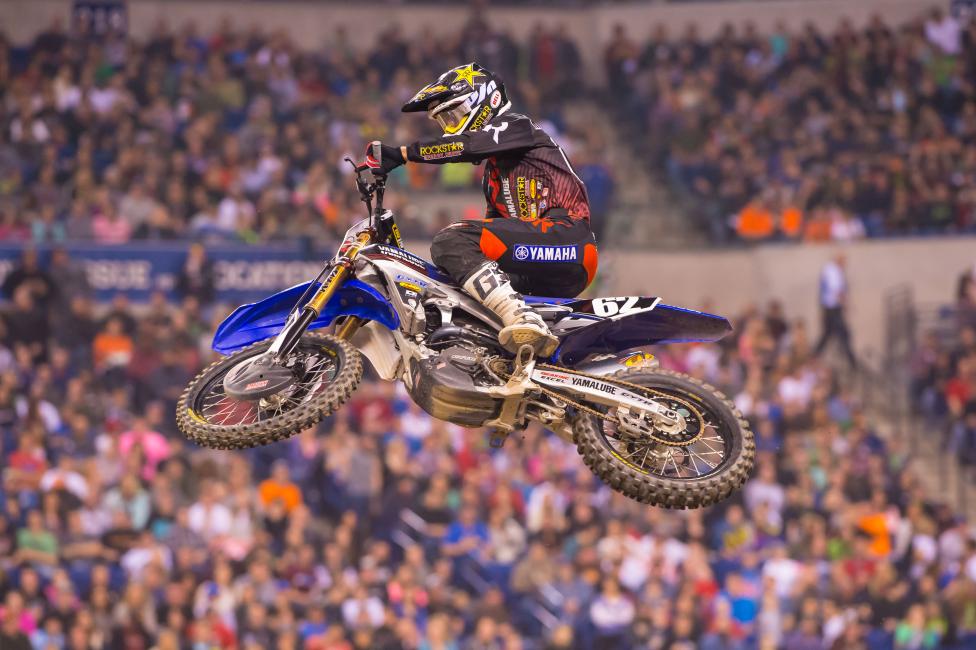 Of course, it's easy to just say that a rider should simply have backed it down, but it's not really that easy to do, especially when you have only a small window to prove yourself. Toss that pressure in with a young racer and the crazed environment of pro supercross, and the temptation to unleash it all is hard to resist. "Yeah, it is [hard]," he says. "It sucks. Especially your first year, you want to go out there and show everyone what you've got. Well, besides gaining experience, I'm learning the environment and how this works and where to attack, where not to, be smart about decisions, and stuff. That's what I'm getting figured out."
Now that consistency seems to be there, Rodriguez's next step will be adding the speed back in for the total package. As we've mentioned before, you can't automatically add speed without also bringing the crashes. It's a thin line Rodriguez must learn to walk. For now, he's staying below full-out wide-open speed as he tries to learn the ropes.
"No, this is not all I got," he says. "When I'm out there racing I don't feel like I feel when I'm practicing. I'm still learning the tracks. You can't practice on a track that's the exact same, not the same conditions, as we have at the races. So I'm learning with that. I can see the future being a lot prettier than it is now."
Hey, the light at the end of the tunnel is a lot more visible than it once was. Rodriguez has battled against greater odds than this. At 14 years old, the Venezuelan moved to the United States by himself to make a go of it. His parents coughed up all the money they could to get him to the Millsaps Training Facility in Georgia, but they didn't have enough left to come over themselves, get him a mechanic, or even spring for English lessons.
"My dad and mom made it possible, so did Colleen Millsaps," he explains. "She told me you've got a bright future if you stay here and train here. A lot of people helped. I can't thank them all, there's so many of them.
"It's sad to say that it's [Venezuela] kind of a third-world country, not really, but it's a country that I love a lot. But it was a really hard change money-wise, everything, leaving family behind. I started to live by myself when I was 14, but it was worth it. It was a lot of hard work. It was definitely a lot harder than just being born in the United States, but it was definitely worth it. I didn't speak any English! Actually, you can go back to Vurb Moto and see the first video they did on me. My English was pretty rough. But I learned it pretty quick at MTF. I learned how to work on bikes, too. I stripped a lot of bolts, but I got it figured out. And then I learned how to cook, too. Not the best, but pretty basic."
That's a big load on a teenager, but Rodriguez's dream of racing professionally in the US provided the needed desire.
"I wanted to race in the United States," he said. "The tracks looked so much better than the tracks at home. So I asked my dad, he brought me here to the Winter Ams and all that stuff. Colleen was there with some of the kids and I was like okay, if I ever want to move to the United States that's probably my best bet. And I started talking to her and she helped me out."
Credit to Millsaps for seeing his talent. Rodriguez explains that he had good speed in his first visits here, but he'd only ridden hard-packed tracks and had zero experience in ruts. Millsaps knew with the right practice Rodriguez could polish his talents, and he emerged as one of the fastest riders in his age group, ultimately grabbing first overall in the 450 B Modified class and fifth overall in the 250 B Modified class at Loretta's in 2012. By then, he was already on the US amateur map, and the course toward a pro deal with Star Racing Yamaha began to unfold. Even the torn ACL during his final A season didn't discourage him or the team.
Then again, discouragement is simply not allowed at this point. No matter what uncertainty Rodriguez has dealt with, there is the certainty that he simply can't fail at this—he's already come too far, and his family has made too big of a sacrifice. If some pain comes along the way, he's going to fight through it.
"I left all my life behind," he says. "There was a new beginning. My whole family, I needed to pay them back so it has to work either way."