Tyson Vohland burst onto the professional circuit in 1985 on the heels of winning two Amateur National Championships at Loretta Lynn's Ranch. Although his career was somewhat short, he had a successful run that lasted from 1985 through 1992. During that time he earned nine podium finishes at AMA pro events. He also spent several seasons chasing success (and purses) at the Mickey Thompson Ultracross events as well as the 1990 World Championship Motocross GP events.
Tyson Vohland is also closely linked with his younger brother Tallon, who was also an accomplished racer. In fact, the Vohland brothers remain, to this day, the only brothers to make the podium together at a supercross event.
Hailing from just outside of Sacramento, California, the Vohland brothers are considered some of the best racers to come from NorCal, along with guys like Brad Lackey, Steve Lamson, and Danny "Magoo" Chandler..
We found Tyson at home on a Monday morning while unpacking from a long road trip out at the Texas amateur races, where he was coaching and pitting with the next generation of Vohlands—his nephew (Tallon's son) Max.
Racer X: Tyson, thanks for making some time for us. What are you up to these days?
Tyson Vohland: Well, I took some time off there for a few years and got away from the sport. But now with Tallon's boy Max riding like he is, I'm back into it full-time. I'm just working with him along with my father, as well as helping out some other local guys that I train with. I guess it's been about four years now that I've been into the coaching routine. But prior to that, I stepped away from racing. I was just hanging out and mostly playing golf. But right after I quit, I was working with Tallon from 1995 through 2001 as his trainer.
You and your brother hold a pretty unique record, don't you?
Yeah, I guess so. We're the first brothers to both make the podium at the same race in the same class. It was at the Houston Astrodome back in 1991. That was when they sometimes combined the East and West Coast series. That was one of those mixed races, and things just clicked for both of us. Tallon won it, and I got a third. Jeremy McGrath finished second, so that was pretty cool as well, and if there is one person who can finish between us, it would be him. But, yeah, we each have each won 125cc supercross events, and we have each won some Ultracross stuff. In fact, with the Ultracross, there were four times that we both finished first and second, so we were again on the podium together over there a few times.
I sort of forgot about those Mickey Thompson events—they were pretty cool, right?
Yeah, those gigs were good, and they were televised as well. Back then, the television for those events was actually better than what the normal supercross series had, and the money wasn't bad. So that was cool.
For your family, motocross has really been a family affair, right? Your dad is still really involved with Max, isn't he?
Yes sir. My dad's house is located right behind mine, and he does about 85 percent of all the maintenance on the bikes. He still goes to all the races and spins the wrenches on race days as well. As for me, I help out with the training and coaching. With Tallon's day job [Ed. note: Tallon Vohland runs Acerbis North America], he has to travel a lot, so we help out as much as possible. But it works out well; everyone in the family is involved. Plus, Tallon only lives about seven miles from us, so it's really easy to go back and forth between all our places.
How did Max do at the recent Texas events?
He did pretty well actually. He won two classes at Oak Hill and three at Freestone. He's racing the 65 and 85 classes right now. Last year he was second and fourth at Loretta's and did well at Mammoth. That resulted in getting an Orange Brigade ride with KTM for this year. That really helped us out, as doing some of the amateur stuff is almost like being a pro, with seven or so races where you have to travel all across the country. But we have Mammoth coming up, the Mini Os in the fall, and of course Loretta's—that's our biggest event.
So Max wants to go all way and follow in his dad's and your footsteps?
Well, yeah. He's trying hard and he really enjoys the riding, and plus, he's getting results. So, yes, he wants to do it, but as I say, there's always a lot of spaghetti spilled between the plate and the mouth. So he still has a ways to go, but right now things are fun, and going in the right way.
It's funny how amateur racing has changed over the years, right?
Yeah. Back in the day, you had Loretta's and maybe a race in Texas and the Mini Os—that was it. And then you did all the Golden State races, and whatever local stuff there was on off-weekends, but that's it. But now that the World Mini has lost most of the OEM support, it's not as big as it once was. But there are seven big amateur events that are the "must attend" events today.
You are a two-time champ at Loretta's and you scored nine career podiums in supercross and motocross. What are some of you best memories from when you raced?
Well, I think when me and Tallon went 1-3, that was the biggest. Also, when I got my first supercross win back in 1986 at Anaheim. That was a real special day for me. Also, maybe in 1991, at the Gainesville National I got second overall. I also had some good rides in Europe. Those events were so different, but they were cool to do.
You raced the 125 GP circuit back in 1990. How was that year?
I signed a contract with the Italian Suzuki importer and raced the entire 1990 125 World Championship. I did pretty well over there. But there were a bunch of Americans back then doing it, including Donny Schmidt, Bob Moore, Mike Healey, as well as Todd DeHoop. There were a lot of guys over there and it was a really competitive class. In addition to the Americans, you had [Stefan] Everts and Pedro Tragter. It was some really good racing, and it was really, really competitive.
And for you, how was the money you made during your time racing?
For my time, I did pretty well actually. I paid everything off. My house, my cars, it's all paid for from racing. So my cost of living now is pretty cheap. I have just your regular bills. I didn't race that long, so I could have maybe done better, but I'm good with it.
Why did you quit? You were still doing pretty well.
Well, my grandfather passed away, and I just couldn't perform. After he passed away, I wasn't there mentally. And that was the first year of the NCY Yamaha team. RedBud was my last race. I just started having trouble mentally and couldn't shake it. I was already signed with NCY for 1993, but I broke the contract and quit racing altogether. I told them I didn't want to be there, and they understood and let me go. My grandfather, he was my mechanic—well, except when I was on a factory bike—but he still came with me every day and everywhere we went. We were really close.
What about injures over the years, did they affect you at all?
Actually, not really. I did have a compression fracture of four vertebrae, I looped out at one of the Ultracross events, and of course I had some collarbones and broken fingers, but overall I didn't get hurt that much.
Tell me about your time in Europe.
I did one season in 1990 in Europe, raced for Italian Suzuki importer. That was pretty hard to adjust to, but I have to say that going to Italy was better than I thought it would be. The people were friendly. After I learned stuff and got used to it, it was pretty good. I had a full-on paid ride, and we had the B kit factory stuff. I got sixth in World Championship that year. Then in 1992, I came back to the USA and got the NCY ride. Tallon went and signed with the same team I rode for. Back then, my agent Scott Link petitioned the AMA so that I could race the 125 supercross again. I got bumped up in 1986 after only one season, so that changed things for me. The points were strange them, but I got kicked out of the class really early in my career.
Tell me a little about your coaching program?
Well, basically it is all just one-on-one stuff. No classes or anything like that. I work with Max mostly, as well as another local kid named Corbin Hayes. He's racing the 250 B class and is going pretty good. I have some other kids that I coach here and there, but it's all just one-on-one for the most part. We work on training and technique. A lot of the training is done up in Marysville. There are three public tracks up there and they're pretty good. We also go to Prairie City when that track is open on Thursday. Sometimes, if we're just doing corner drills or whatever, we might go out to the park at Prairie City as well, but you have to have a spark arrestor and green sticker for that.
I think it's safe to say that your family is considered royalty at Hangtown, right?
Well, we live just down the road from the track. So, yeah, we have to continue the Hangtown reputation. But for us, it's close by and convenient. For Max, I would like to see him do outdoor series before he does the indoor stuff—sort of what like Eli [Tomac] did—and it would be fun if that were his first event.
What is your opinion about this year's supercross season?
Well, there has been some fallout from injuries, but people forget that happens every year. But clearly KTM has that new bike, as well as the money and effort, and it's paying off for them. But then again, seeing 7–8 guys on the same second during practice tells you everyone is in the same speed category. [Cole] Seely and [Trey] Canard were doing well, but [Ryan] Dungey now pretty much has it wrapped. I was also expecting Chad [Reed] to be up there and get more wins, but you can never count him out.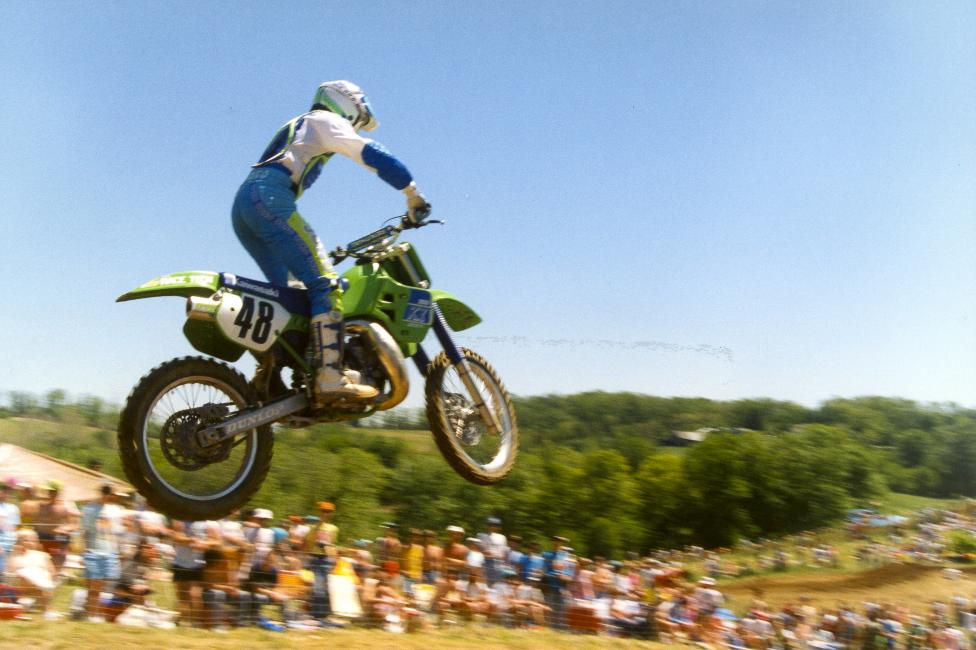 What about your personal life? Are you married?
Nope. Not married and no kids. I was married but I've been divorced for about ten years. I am over the whole married life thing—the less drama, the better as far as I am concerned. But, hey, if I found the right gal, it might change things, but with Max racing and all the travel and running around we do, it's hard.
Well, I have to wrap this up, but does being at Max's races make you want to get back out there?
Oh, man, I enjoyed my career. It ended a little soon, but I got out healthy. I'm fully involved with the sport today and enjoy it, and that's where I am at. But as for a comeback, no. I'm not sure I want to do the work to get into good shape. Plus, I would be racing against guys like Robbie Reynard, and that's going to be hard! So, I'm happy about it and want to just keep my role as it is [laughs]!