Today's pathway from amateur to pro is well defined. Hard to believe there was a time when even the best amateurs didn't really know where to go, save for the road map stuffed on top of the dashboard in their box van. They (and dad) would load up and head to the pro races to break in. Jeff Emig was a Team Green standout for years, but proudly jokes that "No one even knew who I was" at his first pro race at Washougal. Timmy Ferry actually graduated Loretta Lynn's with the most titles of anyone at that time, but when he went to Millville to try a pro race, he was completely on his own, and even grabbed lunch from the trackside concession stand between motos!
These days, the 250 pro teams sign talent early. Things have evolved. There was a time when everyone broke into the pros as a privateer. Then, every few years a team would hire a teenage hotshot (like Damon Bradshaw or Robbie Reynard) straight from the ranks. Then we started seeing one big amateur every single year. Now, it's to the point where every team has at least one rookie every year, and some employ two! With all that said, one part of the experience remains similar: The kids get much better professional prep now, but their first supercross race is often a mess of arm pump, crashes, mistakes, and nerves.
To give you an example, Eli Tomac won his very first pro motocross race ever, at Hangtown in 2010. Seven months later, he raced his first supercross and got tight, finishing a mere tenth. Monster Energy/Pro Circuit Kawasaki's Chris Alldredge didn't even make the Anaheim 1 main event last weekend. Ricky Carmichael crashed all over the place in his first pro supercross. There are a few exceptions, like Ernesto Fonseca, Ryan Dungey, and Trey Canard winning right from the start, but three great rides doesn't change the tide. Riders can practice on a supercross track forever, but it's hard for most to ignore the atmosphere on race day.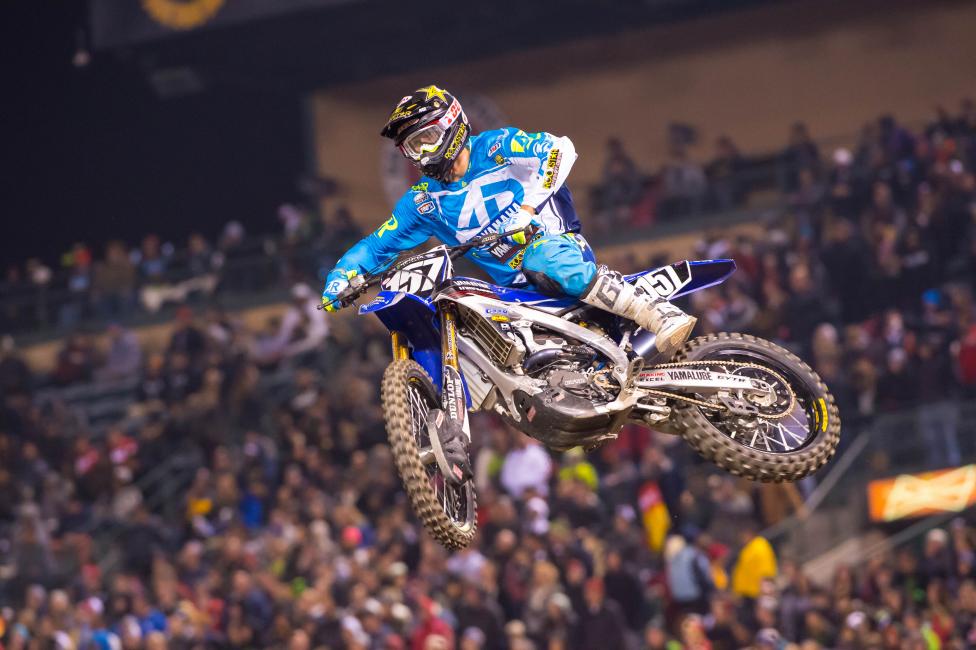 Today's path to pro supercross is getting even more defined, with specific steps in place to add a building, fans, and lights to the process. Yamalube/Star Racing Yamaha's Aaron Plessinger already had a 2015 rookie pro deal locked up after he won two B class titles at Loretta's back in 2013. Along the way, though, he would have to embark on Ricky Carmichael's Road to Supercross, part of Amsoil Arenacross. This program has lit some controversy since it was announced a few years back, and starting now, every rider in supercross will be starting with a few weekends in arenacross. Plessinger was one of the first to have to go there, and he made a huge splash by winning an arenacross race in the premier class right off the bat.
He got another taste at the Monster Energy Cup in October, where he won the Amateur All-Stars Class. He seemed more than ready when his first pro races rolled around in supercross, logging solid 5-5 finishes at Anaheim 1 and Phoenix.
More than the number, it's the way he's gotten them that's impressive. Plessinger has looked relaxed and comfortable in his surroundings, never erratic, never tight, always flowing. At Anaheim, he overcame a terrible start and passed his way through the field. At Phoenix, he started a little better, moved forward again, and found himself in the hunt for the podium, even pressing early 250SX West Region points leader Jessy Nelson. (Nelson, by the way, holeshot his first pro supercross two years ago but then crashed in the first turn and caused a massive pileup. Again, the first one can be rough.) Late in the race, four-time Amsoil Arenacross Champion Tyler Bowers used some slick moves to maneuver past Plessinger in the final laps. At no point, though, did the kid looked overwhelmed.
I checked in with Aaron a few times on Saturday in Phoenix, and also spoke with his parents. All of them commented on how relaxed the process has been—there have been no signs of nerves or anxiousness even though he's just reached such a high level.
"I think it [arenacross] did [help]," he says. "I think it just got me ready for the aggression, racing in front of a crowd, all the cameras in front of your face, the fans coming up to you asking for autographs, and the tight racing. I think it got me ready for sure."
It certainly had to help, but you can tell that Plessinger has a certain confidence in himself. He says his goal now is to get better starts and land on the podium. He missed some time this off-season with a broken ankle and says that, "If I had more time I'd like to say I'd be up there with Cooper [Webb] winning." Plessinger actually grew up as a woods racer, as did his dad Scott, who won two GNCC titles in the 1990s. Aaron is now solely focused on supercross and motocross, but when I asked if he'd have had something for current GNCC champion Kailub Russell, he said, "Yeah, I think I would. I have skills in the woods." He's not short on confidence.
This all leads us to a chicken or egg question. Did the time in arenacross and the Monster Energy Cup make Plessinger a little more relaxed in supercross, or is this just his natural way? We'll have to watch the next generation to know for sure, because they're all about to follow the Plessinger path, from arenacross and the Monster Energy Cup into Monster Energy Supercross. Not everyone is happy about having to make a stop in the arenas to go to the stadiums, but there isn't anyone who wouldn't want to ride like Plessinger when their pro career begins.