With the 2011 season of Monster Energy AMA Supercross, an FIM World Championship, so closely contested, 2012 offered up an array of storylines. Pretty much any of the "coulda, shoulda, woulda" and "what if" scenarios would come to the forefront, and the early rounds didn't disappoint. The first four rounds had four different winners—Ryan Villopoto, Chad Reed, James Stewart, and Ryan Dungey—making the early rounds even more competitive than 2011.
This was even more impressive since two of the riders—Dungey and Stewart—had switched teams. Villopoto dominated Anaheim 1 on his familiar Monster Energy Kawasaki (although the 2012 bike was improved over the 2011 edition), but Dungey silenced decades of doubt by winning round two on his brand-new Red Bull KTM. Dungey had bolted from his old squad at Suzuki to join his old boss, Roger DeCoster, who had jumped to KTM a year earlier. KTM had zero history and no podiums in the premier supercross class. Dungey was expected to drop off a tad from his Suzuki days, at least early in the season, but instead holeshot and left the field in Phoenix, delivering KTM its first supercross win.
"I've said it a couple of times, but I'll say it again: what Austria had to do on the turnaround to get this bike ready was really short," said Dungey to us after the race. "I think a lot of guys worked through the holidays and stuff to make this happen. That in itself was great. It was a huge commitment and a lot of heart in my eyes."
Reed made his statement with a dominant win at round three at Dodger Stadium, but it was a somber night. Trey Canard, a hero in 2011, had missed the opener with a collarbone injury. Off the start in L.A., his footpeg snagged a Tuff block cover and he was unable to triple a jump. But Yamaha rider Ryan Morias did jump it, and landed directly on Trey in one of the most gruesome supercross crashes ever. Morias was knocked out and broke his jaw. Sadly, the well-respected veteran's career would end right there, as he would never return to supercross. Canard suffered a broken back, which ended his season and nearly his career, as well. Trey vowed to return in 2013, but the road back would be long and hard.
The race was red flagged due to the crash, and Reed gated well in the restart, right behind Monster Energy Kawasaki's Jake Weimer. He made the move on Weimer and took off, while Stewart knocked Weimer down before crashing himself. Dungey took second, Stewart third, and Villopoto rallied from seventeenth to fourth. In his third race on a KTM, Dungey was already in sole possession of the points lead.
After a crash-filled 2011, everyone expected Stewart to leave the controversial Yamaha YZ450F behind. Surprisingly, he left his old L&M Racing team but stayed on blue with a new deal with Joe Gibbs Racing Toyota/Yamaha. The move was even picked up by the mainstream NASCAR media, as JGR planned to set Stewart up for a car-racing career when his two-wheeled days ended. At the first three rounds of 2012, though, he couldn't keep it on two wheels, plagued by the same style of crashes that haunted him before. At Oakland for round four, he finally put it together, holding Villopoto at bay and passing Reed to notch the win.
The win was extra emotional for the JGR team, as Stewart's assigned practice bike mechanic, Mark "Tex" Adams, had passed away tragically a few days earlier after being hit by a car. In Stewart's TV interview, he said "I just rode around" and instead of shaking and spraying his bottle of champagne, he casually opened the bottle and poured it onto the dirt.
The Oakland race was darned good, and with four winners in four rounds, the season was shaping up. Here's Oakland's coverage.
Villopoto reset things with a solid Anaheim 2 win, pulling away early from Reed, who was sick. Stewart had more crashes in qualifying, but he came back to pass Reed for second. Dungey had another bad start and finished fourth.
With Villopoto back on top, the question was who would step up? The answer was Reed, who had his old San Diego mojo working for round six. He and RV put on a phenomenal race, battling the entire twenty laps. Reed stalked RV and then got him on lap eighteen, but then RV stuck an aggressive pass right back before the white flag came out to steal it.
"I'm excited because I saw him on the twentieth lap and I haven't been able to do that all year long," said Reed. "I learned tonight that nice guys finish second. When you want it like that guy does you get aggressive. I feel like I've got the pace, and when it counts I just need to get aggressive."
That's exactly what Reed did at the next race in Dallas. He and Villopoto again pulled away from everyone, and, if you watch the early laps here, it appears Reed even has the speed advantage. At that moment, Reed might have been riding better than we'd ever seen him, until it came crashing down moments later. He endoed on a jump and crashed hard, tearing up his knee. In the blink of an eye, Reed's dream season was over. The crash happens about nine minutes into the clip.
Villopoto won with ease, making it three straight and gaining a 13-point edge on Dungey. Stewart was again struggling, and it was actually Villopoto's teammate Weimer who was making noise, battling Dungey tooth and nail each week. Dungey got back in the groove in Atlanta, though, gating well and holding back a furious late-race charge from Villopoto.
It was strange enough to see the normally rock-solid Reed bow out in Dallas. It was stranger still when Dungey showed up with a shoulder injury in St. Louis. He somehow gutted the night out for second place behind Villopoto and even made a charge at the end, but the damage was done. Dungey's collarbone was broken, and while he could hang on for one night, he would need surgery to go any further. Dungey had never missed a supercross race due to injury, but that streak was about to end.
With Canard, Reed, and Dungey out, only Stewart remained to challenge Villopoto, but he was dealing with his own challenges. He crashed in the whoops at San Diego and got his bike stuck under a television camera cable. He started terribly at most of the races and threw in another crash at St. Louis before battling back to fifth. By now, rumors were flying that Stewart wasn't getting on with his JGR Yamaha much better than the L&M one from the previous year, and tension was high in team's pits.
Which makes Daytona all the more surprising. On a muddy night, Stewart not only rode brilliantly on his JGR bike, but so did his teammate Davi Millsaps. Millsaps holeshot and led, Stewart passed him, and the team rallied to a 1-2 finish. "It means a lot for us, just to get a win and then to go 1-2 for our race team," said Stewart after avenging last year's huge Daytona crash. "We had a lot of—I don't want to say—bad luck, but we had some struggles with some starts, at least I have, and some weird things happening. So to come back from last year where I was out front and then having an accident over in the little triple thing, it's definitely special to come back here."
Villopoto crashed in the mud on lap one and took fifth. Could Stewart make a run? Such thoughts lasted exactly one lap into his heat race the next event in Indianapolis, when he crashed out for the night.
Who was left? Millsaps, practically unheard from for two years as he recovered from a massive crash and kidney injuries in the summer of 2010, was finding his stride. He podiumed again. And Honda Muscle Milk's Justin Brayton was on the gas, leading twelve laps and not backing down an inch from Villopoto. The champ would eventually get through for another win. The next time out in Toronto, Brayton pulled another start and battled RV with all he had. Again, Villopoto got by for the win, and the ageless Kevin Windham edged Millsaps for third.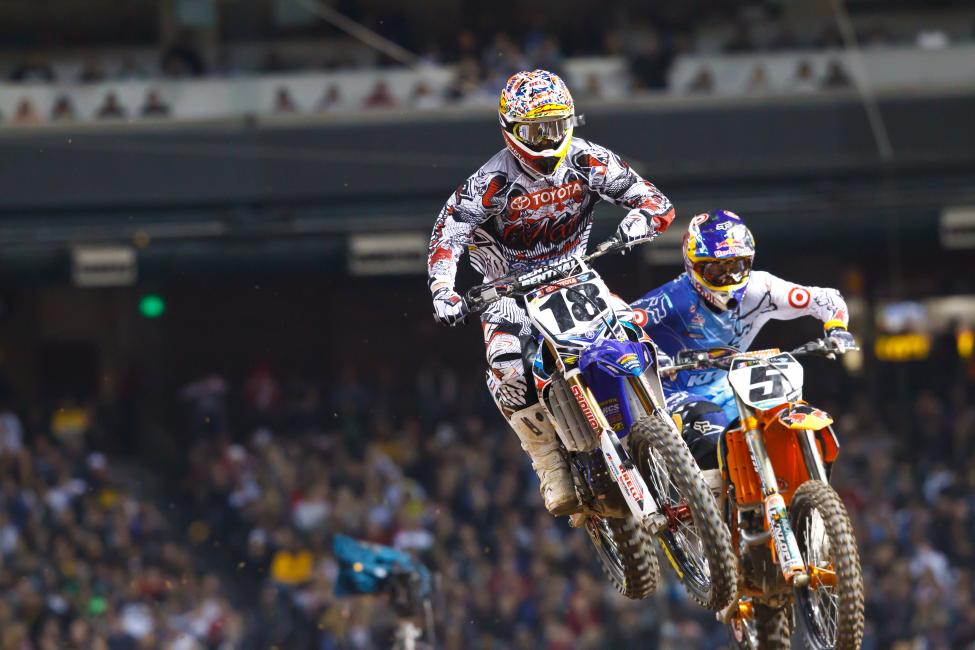 Now Villopoto was on the verge of clinching the title with an incredible four races to spare. Stewart returned to action and then crashed hard for the "too many-ith" time. That marked the end—he would never race a Yamaha again, and spent the following months working with the JGR team to sever his contract.
Villopoto put it to Millsaps to win the Houston race, and with that take his second-straight title. His points lead was a remarkable 104 over Dungey, who was still second despite missing a month of action!
With back-to-back titles, Villopoto was beginning to establish a place in history, but he quickly doused that by explaining that records meant little to him. "My goal isn't to beat MC's [Jeremy McGrath's] record. Even if I set them or break them, that's great. But I'm just out there to win races and championships. Those are my goals and that's what I'm trying to do."
Indeed, two years later, Villopoto would be in position to break McGrath's mark of four straight championships. He's elected to move to Europe and not pursue it.
To explain how truly injury-riddled the 2012 season had become, Villopoto himself succumbed to it all. At his home race in Seattle, he lost control entering a corner and stuck his foot out to catch himself. He tore his ACL, and his season was over—luckily with the title already clinched. Now the field was absent Reed, Villopoto, Stewart, Dungey, and Canard, leaving the door open for a once-in-a-lifetime shot at a race win.
Millsaps and Brayton were considered prime candidates, as was the ever-present Windham, but instead the battle broke down to veteran Andrew Short and Ken Roczen, a Lites East rider who grabbed a Red Bull KTM 350SX-F for the weekend. The race was interesting because Short left the KTM team after 2011 following a terrible season on that 350, and Roczen and Short were best friends off the track (opposites attract, it seems). Plus, Short's Chaparral Honda team was struggling so badly with funding that it could barely even get a van to the track. Through all of that, Short and Roczen battled to the end, and Short won Seattle for a career-defining moment, and one saluted by the fans and his peers.
"You know, I've been racing at this level for eleven years now," said Short. "And you look down from the podium and you see so many people you've worked with through those years. Even guys from KTM, like my old mechanic Frankie. People that I am so close with. That just makes it more special. All of these people in this paddock, you become really close with them, and they become part of your life. So to look down and see those people smiling…I keep having to go back to the word special, but it really is. It really is special!"
Unfortunately for the underdogs, Dungey returned to the scene in Seattle, and after a week to get back going, he won the final two races at Salt Lake City and Las Vegas. Millsaps was also a winner, logging five podiums in the final seven races to snag second in the standings, a career-rejuvenating effort, and a morale booster for the JGR team considering how badly it ended with Stewart.
"I started the season off in sixteenth!" explained Millsaps. "I wasn't looking too hot, but the more I rode the better I got. I feel really good where I'm at right now."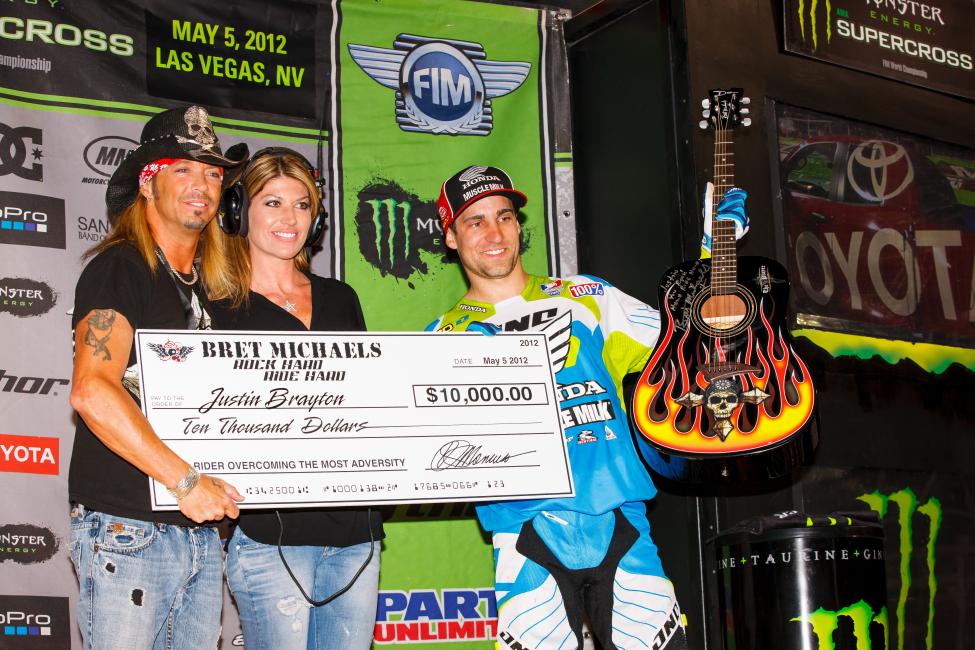 In the Lites classes, Justin Barcia and Eli Tomac established the GEICO Honda team as a powerhouse, taking the East and West Championships, respectively, and then going 1-2 in the Dave Coombs Sr. East/West Shootout for good measure.
Barcia had East competition from Ken Roczen, but the young German was inconsistent in his second year racing supercross in the US. Barcia was a killer off the starts and nearly error free en route to taking six wins in nine races. His only bad moment? Lapper Lance Vincent knocked him down in Houston and Barcia lost his temper, circling back after the checkers to roost the downed Vincent, inadvertently roosting a member of the Asterisk medic crew. Barcia apologized heavily after the race and kept his cool for the rest of the season.
Tomac had a battle on his hands with Monster Energy/Pro Circuit Kawasaki's Dean Wilson and Lucas Oil/Troy Lee Designs Honda's Cole Seely. Seely started the year with a win; then Tomac began to take control of the series until a crash-filled night in San Diego. That's when Wilson struck, and he and Tomac were nearly deadlocked in points heading into Seattle. There, Wilson stuck and hard pass on Tomac, and Tomac responded by taking Wilson down. Dean busted his shoulder in that one, which began a series of injuries that ruined much of Wilsons' next two seasons.
Did we say injuries? Yeah, 2012 was full of them, making for probably the most painful season since 2003. Everyone planned a reset for 2013, but things were different now. No one doubted that Ryan Villopoto was the best supercross racer in the world, and it would be hard for anyone to stop him going forward.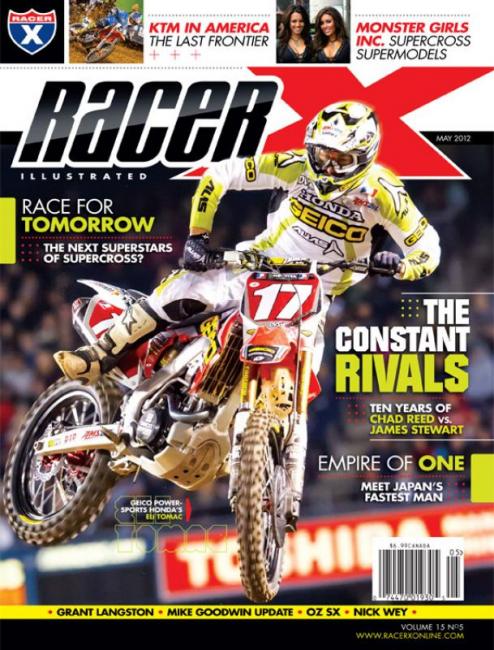 2012 AMA Supercross Standings
Ryan Villopoto 323
Davey Millsaps 266
Ryan Dungey 257
Justin Brayton 257
Jake Weimer 229
Mike Alessi 206
James Stewart 178
Brett Metcalfe 177
Broc Tickler 171
Kevin Windham 166
Lites East Standings
Justin Barcia 185
Darryn Durham 143
Ken Roczen 143
Blake Wharton 142
Blake Baggett 128
Listes West Standings
Eli Tomac 159
Dean Wilson 132
Marvin Musquin 127
Cole Seely 119
Jason Anderson 95