After the heady days of 2009, few expected a change in the power balance of Monster Energy Supercross. Two new Ryans, Villopoto and Dungey, were coming into their own, but James Stewart and Chad Reed still ruled this kingdom, and had already thrown aside many a young challenger. Would this year be any different?
To add some extra spice, Reed was forced to make a team switch again, landing on Stewart's old Monster Energy Kawasaki team. The economy had taken a sizable bite out of Rockstar/Makita Suzuki's budget, and Reed, despite a runner-up finish in the 2009 supercross chase and the 2009 Lucas Oil Pro Motocross 450 Championship, didn't get an offer to return. Enter the energy drink money—again. Reed was helping to promote and organize Australia's Supercross Championship, and started talking to Monster Energy as a potential series sponsor Down Under. Those talks turned to a personal deal for Reed, and he was slotted into the factory Kawasaki team here—as Villopoto's teammate.
"It will only be an issue if you make it an issue, and I don't plan on making it an issue," said Villopoto when we asked him about the two-alpha-dog approach of his team.
Dungey would be the Anaheim headliner, though. The rookie had inherited Reed's primary 450 slot at Suzuki (for way less money than that position paid a few years earlier) and showed he'd be an instant contender. He grabbed the Anaheim holeshot and started racing away from the best in the business. Stewart moved to second, but he looked out of sorts on his all-new 2010 YZ450F. Dungey calmly clicked off laps out front until late in the race, when "crazy balls" Stewart dipped into his bag of tricks and found some extra speed, catching and passing Dungey. On the last lap, Dungey fought back and started showing Stewart a wheel—the sound in the stadium was a mix of shock and awe as the rookie Dungey nearly beat Stewart straight up. Here's footage; go to 54:00 to see Dungey make his final charge.
The Kawasaki camp had a terrible night. Villopoto was a quiet fifth, and Reed got tangled right out of the gate and lost spokes from his front wheel. He was out of the race immediately.
It really turned to hell the next weekend in Phoenix. In a heat race, Stewart got a bad start and then jumped literally right into Kyle Partridge in mid air—they were both hurt badly. Stewart did sneak into the main event, but he was wounded. Go to 12:25 to see some footage of the crash.
Both Reed and Stewart got bad starts and were struggling to move forward. Inevitably, they tangled, as Reed tried to slice inside in a corner and collided with Stewart. They went down in a heap, with Stewart's handlebar landing right on Reed's hand, breaking it. Watch the same clip above and go to 28:00 to hear the crowd react and then see the two champions on the ground in pain.
Reed pulled off the track while Stewart soldiered on to fifteenth. Incensed, Stewart believed Reed had taken him out, so he immediately rode to the Kawasaki pits after the race to have a word with Reed. But Reed was already gone to get his hand looked at, and the pits were empty. So Stewart kicked Reed's Kawasaki to the ground! Just another chapter in that book.
Well ahead of all this drama was Dungey, who took another holeshot and held off Villopoto and Josh Hill to win his first 450SX race. Three new young talents had hit the podium, while Stewart and Reed ended the night with broken bones. It's about the swiftest changing of the guard you'll ever see.
Stewart strapped in and raced the next week at Anaheim 2, battling Dungey and Hill valiantly despite the broken navicular. It's a great race. Dungey won again over Hill and Stewart was third. Stewart then headed to the doctor to have another look at the wrist, and it was determined that he needed to get surgery and stop racing. Poof, his title defense was over.
In San Francisco, Dungey made his first big mistake of the year. While leading, he came off of his Suzuki on the takeoff of a triple. How he didn't get hurt is something only the motocross gods can answer—it was a whopper of a fall. He got up right in front of Villopoto, who executed a quick block pass and took off for his first win of the year. Dungey was reeling and fell back to fourth behind Villopoto, Hill, and Davi Millsaps. Go here to watch the race. At minute 28:00 you'll see Villopoto and Hill in a big battle, and then Dungey crashes not long after.
The next race in San Diego was muddy, and Millsaps, always tough in the sloppy conditions, put his Red Bull Honda into the top spot. It would seem like Millsaps was about to make a run, but it would be three years before he would win another race. Dungey and Villopoto were both down in the first turn. Villopoto would take fourth, and Dungey would finish sixth. Hill finished second again to close within 4 points of Dungey in the standings.
After fifth and seventh at the first two Anaheims, Villopoto righted the ship and won Anaheim 3. Hill was second, again, and Dungey was fourth behind Kevin Windham. As the field headed east, Dungey and Hill were tied atop the standings, with Villopoto just 3 points behind.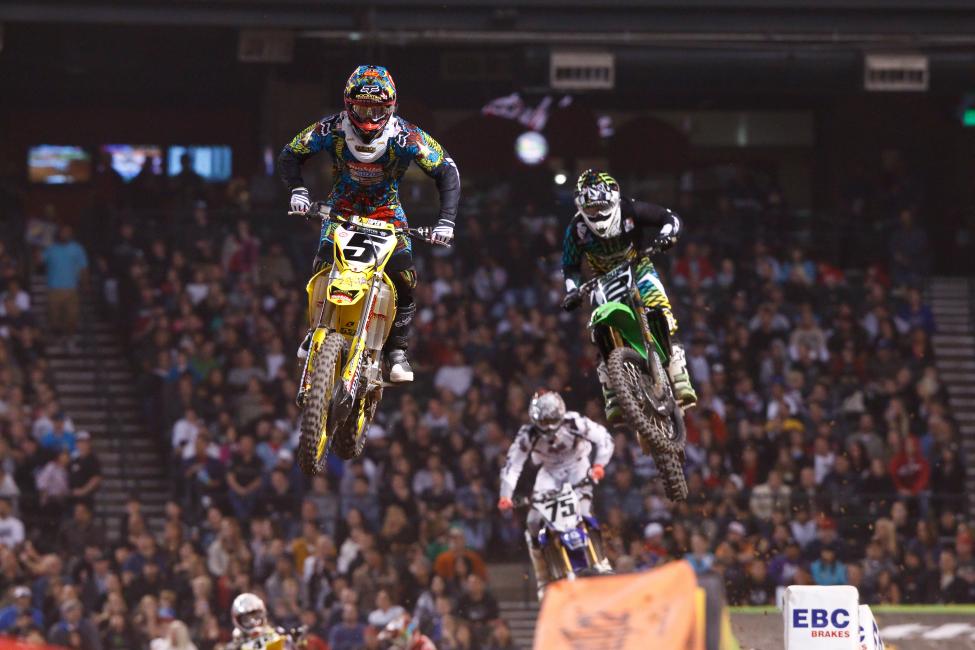 This would mark the highest point of Hill's supercross career. Yes, he had won a main event two years earlier, but this was a true championship run, and another race win looked inevitable. Plus, with Stewart out, the San Manuel Yamaha outfit was getting a big bargain in having a second rider in the mix.
Something happened after that, though, as Hill was a listless ninth the next weekend in Indianapolis. His results sagged from there, as after five straight podiums, he'd fail to make the box again. He talked of a rib injury, others said he had lost focus, others said he'd lost too much weight before the season began and couldn't last. For whatever reason, he fizzled. That summer, he'd try to do a back flip and crash hard, breaking his leg and crushing his foot. It would take years for him to get back on the track.
This would leave Dungey and Villopoto as the title contenders, and they went at it. Villopoto won Indianapolis, leaving them tied atop the standings. The next week in Atlanta, RV crashed and plugged his muffler with mud. He couldn't get the bike restarted and finished nineteenth, while Dungey took the win. A surprising second? Trey Canard, a Lites West rider filling in for the injured Andrew Short on the Red Bull Honda team.
Villopoto left Atlanta with a 22-point deficit in the standings. He went on a tear, winning four of the next five races to get back within sight of Dungey, who won the other race of that stretch in Dallas. Canard continued to impress, taking five straight podiums in the big class before heading back to the Lites division.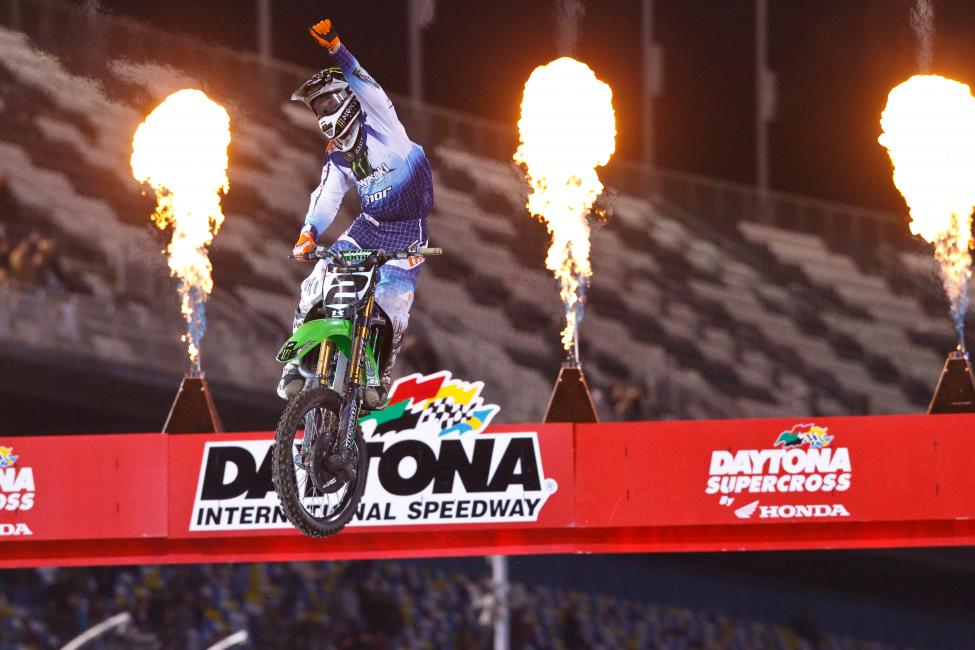 Four races remained, and Villopoto was back in the hunt. Notably absent from this fight was any drama at all—unlike the years of Reed versus Stewart, the Ryans stayed away from any sort of trash talk. So this was just about math: With four races remaining, 11 points separated Villopoto from Dungey.
The St. Louis race changed it all. The Ryans got out front, and Villopoto made a risky inside-pass attempt on Dungey that put them both on the ground. Villopoto got up first to take the lead, and Dungey would have to fight back. The track was really starting to break down, with ruts going all the way down to the concrete and plywood surface beneath the dirt. That would lead to Villopoto's undoing, as he hit a plywood patch, spun, lost momentum, and came up short on a huge jump. He broke his lower leg badly, and his season was over. Dungey sailed past to take the win, the title a virtual lock.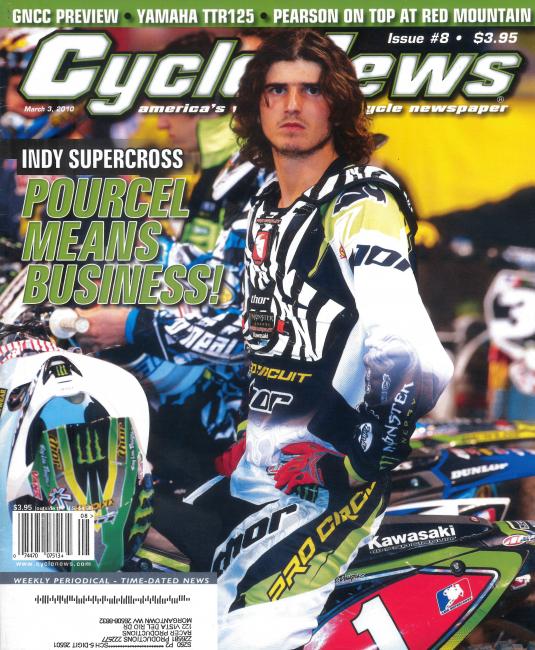 Injuries had really wreaked havoc on the field. Dungey even seemed out of sorts, as he was bracing for a huge title battle but instead was on the verge of clinching. With a fourth in Seattle, he became the second rookie ever to win the title, although he seemed to be more in shock than anything else. As for the injuries to everyone else, he explained it this way to our Steve Cox:
"Yeah, I mean, when he [Stewart] was there, it wasn't like I was getting my butt kicked or anything like that. I was still putting in my time and I was still able to win races. Of course, both of them got hurt at Phoenix, but after the first round, I knew I could do it. But it was a bummer because obviously things would've been different, but it is what it is. All I can hope for is that they'll be back next season. They weren't in there, but at the same time, everybody else raised their game when they left. When Chad and James left, everybody else stepped up their game, and it was like, 'Whoa, where did these people come from?!' you know what I mean? It got even tougher, I think..."
The Seattle race really started to build the legend of Kevin Windham. At 32 years old, the GEICO Honda veteran snagged the win and then did it again for good measure the next weekend in Salt Lake City. The fans were going nuts for him. At the Las Vegas finale, Dungey stamped the season with one more win, outdueling Reed of all people. The two-time champion had returned to the series with a few races to go but never looked like his old self. Something about him, his health, and his Kawasaki were not gelling, and Dungey would best him for that summer's Lucas Oil Pro Motocross Championship in the 450 Class as well. By the end of the year, Stewart, Villopoto and Reed were all on the sidelines healing up, while Dungey was collecting trophies and accolades. That lit the collective fire—the next season would be perhaps the most competitive ever.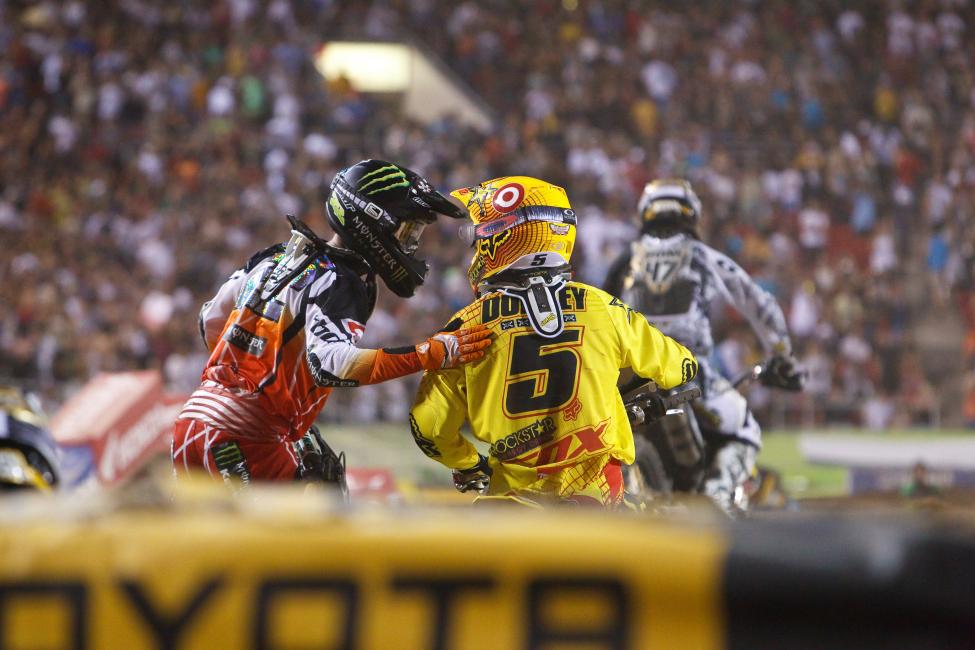 In Lites West, Jake Weimer and Canard battled throughout the year. Canard had a point deficit to make up, but all of that momentum from his outstanding 450 rides kept him going. In a pivotal Seattle round, Trey's GEICO Honda teammate Blake Wharton inadvertently ran into him and took him down. That gave Weimer the breathing room he needed to clinch the title the next weekend at Salt Lake. Weimer then led a 1-2-3-4 Monster Energy/Pro Circuit Kawasaki sweep at the Las Vegas East/West Shootout.
These were still the glory days for that Pro Circuit team, as Christophe Pourcel rolled to the Lites East Championship for the second-straight year. Weimer, Pourcel, and Canard were set to graduate to 450s for 2011, and with Dungey and Villopoto proving that the next generation could breakthrough and win, expectations were high. Buckle up, kids, all the heartbreak of 2010 was about to create a season for the ages.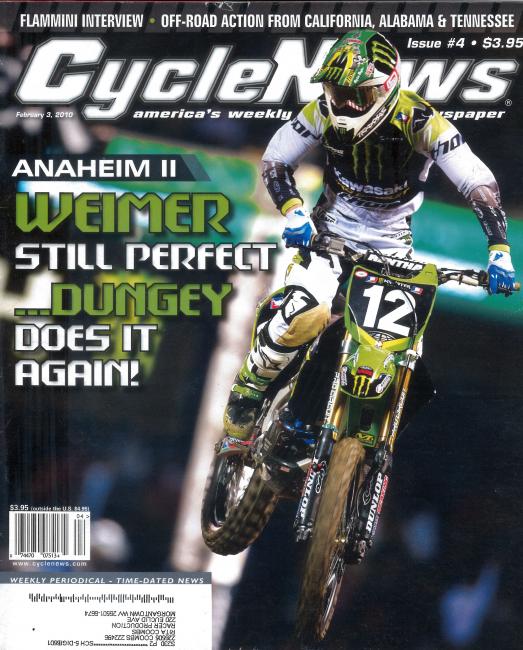 2010 AMA Supercross Standings
Ryan Dungey 363 Suzuki
Kevin Windham 293 Honda
Davi Millsaps 268 Honda
Ryan Villopoto 266 Kawasaki
Justin Brayton 238 Yamaha
Josh Hill 233 Yamaha
Nick Wey 197 Kawasaki
Tommy Hahn 186 Suzuki
Ivan Tedesco 183 Yamaha
Kyle Chisholm 177 Yamaha
SX Lites East Region
Christophe Pourcel 160 Kawasaki
Justin Barcia 147 Honda
Brett Metcalfe 133 Honda
Austin Stroupe 126 Suzuki
Blake Baggett 118 Suzuki
SX Lites West Region
Jake Weimer 171 Kawaskai
Wil Hahn 156 Honda
Trey Cnaard 153 Honda
Broc Tickle 140 Yamaha
Blake Wharton 116 Honda