It can easily be argued that Chad Reed was the sensation of the 2014 Monster Energy AMA Supercross series. At the age of 31, Reed was rightfully portrayed as the war-hardened veteran of the sport, a two-time champion who had raced and defeated the world's best racers since he first appeared in the United States in 2002. Certainly his own man, and a man who has never been afraid to speak his mind and do his things his own way (almost to a fault), Reed, after experiencing an injury ravaged 2013 season, entered the new year as a man who was seemingly playing the last and final card of the deck that was his career. And he came up big. Not only did he contend with Ryan Villopoto, Ryan Dungey, James Stewart, Ken Roczen, Eli Tomac, and the rest of the usual suspects, but twice he scored extraordinarily popular wins that'll be talked about for years to come. And if not for hitting the dirt at San Diego—just as he was really starting to reach critical mass—the Australian may have raced away to yet another championship. But that was then and this is now. With the 2015 season closing in, Chad Reed is ready, once again, to prove himself capable. Coming off of a lackluster Lucas Oil Pro Motocross season, Reed has closed the ranks of his Discount Tire/TwoTwo Motorsports operation in an effort to galvanize all involved and put everything they have into Anaheim 1—and the sixteen races beyond. How is the fourteen-year veteran doing, and what's his take on what he and his outfit are about to face? We tracked down the man who has taught the motocross world on one more than one occasion to never, ever count him out.
Racer X: Chad, how are you doing?
Chad Reed: I'm doing good. Just starting the grind. Where are we at now? It's mid-November. You pretty much start in October, and by mid-November you're pretty much able to get your heard above water.
Jumping back to this time last year, I spoke to you quite a bit. You were pretty vocal about your disappointment with some elements of the industry, as well as the fact that you felt some people were doubting you and what you could do in 2014. A year later, how do you feel heading into the 2015 season?
A year later it's the same old thing. It's crazy, you know? I've been doing this thing—racing in the big-boy class since 2003—and it's the same thing. It seems like every year you're getting the same questions and the same critics. I feel like the questions are still the same. However, we're much further ahead this year. It's been really nice to just be able to take a bike that I was able to win on and put on the podium and feel comfortable on and just build from that. We really haven't really tweaked the bike a whole lot from last year. It's just been about building and trying to make your weak areas a little stronger and your strong areas a little stronger. I've kind of just been fine-tuning everything. No massive changes, no new model bike, no new colored bike. It's been nice for me to be able to take some time off during the off-season and get healthy and get my mind clear. I'm on the grind and ready to do what we did at the beginning of 2014. The goal is to carry that through to Vegas.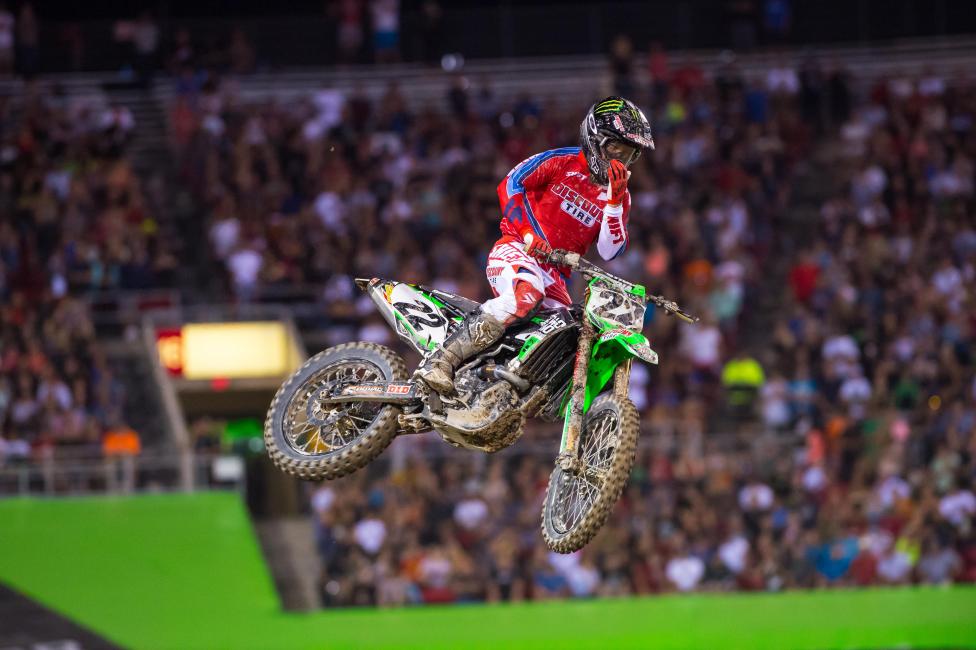 Heading into the opening round of the season last January at Angel Stadium, you were incredibly motivated to succeed. Can you replicate that again?
I think I can replicate it. I think I can do better. Like I said, not a lot is changing. In my mind we're massively ahead of where we were last year at this time, and things worked out. Things were rolling along really well until l I got hurt at San Diego. Last year was just a different feeling. Going into last year, for the first time ever in my career, I actually had questions on myself. Coming off of 2013… 2013 was a struggle. I didn't win any supercross races, and that was only the second time in my entire career that I've ever done that. I was 31 and going on 32, and with a lot of the questions and the rumors and a lot of the B.S. going around. I started, for the first time, second-guessing myself a little bit. I started asking myself the questions. In 2013, I was on a bike that I didn't necessarily love, but then in the next truck over, [Justin] Barcia and [Trey] Canard were able to do things on it that I wasn't able to do on it. Therefore, I started to question myself and think, "Is it just my time. Is this it? Is this the sign that means it's over?" I kind of just tried to put it all together. I tried to make decisions based on the facts that I had available to me. I kind of went out on a limb and went and rode all the bikes and ended up choosing the Kawasaki and kind of went on the grind. Each week and each month that we got closer to January, things started to feel more normal for me. The feelings started coming back, and the smiles started getting bigger. Going into Anaheim 1, I felt quite comfortable and quietly confident, but still the questions were there. I was still hearing those echoes in the back of my head. I just wanted to basically get out there and get amongst it so I could figure out, you know, is this me or is this just something I was dealing with at the time? I was able to win two races and consistently be on the podium, and I think we can do better in 2015. I honestly do. I think I'm a real threat for race wins and a championship.
The 2014 Lucas Oil Pro Motocross Championship. You entered them while you were still in the throes of healing up from the San Diego crash. From the first round at Glen Helen, you never really appeared to get in step with everything. True?
I mean outdoors this year were just replicated from 2013. A lot of the physical issues I had in 2013 kind of showed up again. That wasn't ideal for me. It's happened twice to me now and it's been back-to-back years. I now know there is an issue there, and I just need to play my role in keeping on top of those issues. I'm 32 years old and I'll be 33 in March of next year, and I've not treated my body as an athlete; I've just been pounding on it for years and years. Now with three kids and a race team, I ask a lot from my mind and body. So yeah, there have been issues that I need to keep up on, and now I'm aware of that. It's been a consistent problem. A lot of people may look at this as a negative, but for me it's a real positive because now I know there's a problem, and now I just need to stay up on it and hopefully we won't have those issues ever again.
As far as the Discount Tire/TwoTwo Motorsports race effort for 2015, have you and the team been able to organize and coordinate all of your sponsorship support? Discount Tire, from what I can gather, has been very supportive.
I've been dealing with sponsors for a long time. I think I got my first sponsor when I was 9 years old. For the most part, you come across a lot of unique sponsors and some that are really fun, but unfortunately sometimes they come and go. It's rare that a company, and the individuals that work for the company, make such a big impact on your life in how good and genuine they are. The things that I get to do within Discount Tire have really opened my mind to how such a unique company works and operates. From the corporate level and then when you go out and do the autograph signings and do the meet and greets at the store locations, whether the store is in Southern California to Northern California to back in the East Coast at places like Tennessee, everything is so consistent. I can honestly say I've never been involved in a company that has been so consistent across the board. That's what I enjoy about it; I enjoy the value that Discount Tire has as company. And Mr. Bruce Halle [Discount Tire founder] has just built an amazing brand. It's quite an impressive group of people that we get to work with. They're a big part of our team and they've kept our team afloat and allowed us to grow, and I'm honestly really, really thankful for them. I really want to win a supercross title for those guys because I think they are deserving of it. You can just tell there's something special there. Moto is something they are really passionate about. I think it's great to have people like them involved in our sport.
You own your own team, and you're putting your own money on the line to do it your way. That's saying quite a bit.
Two thousand fourteen was the first year that I had to dip into my own savings, and it sucks to do that, but for me, when I go racing I want to do it right. I think that as a rider I've been very critical of past race teams and things that they do and why they do it, so for me I think I'd be a hypocrite if I suddenly start making massive cuts that affect performance or put me at risk of failing. So this year to put myself in the position that I felt was best for my racing, it required dipping into my pockets. Sometimes you have to put your money where your mouth is, and I did it. We did good and we were in a good position to win a championship, but unfortunately I got hurt. At the end of the day I learned a lot this past year about budgets and the way the race team runs. There's just one thing that I'll never cut and that's the performance of the race team. I feel that there are so many things you can budget for, and then there are so many things that you can't budget for. It was our worst year as a race team, but then again it was also the most rewarding year as a race team because we came so far. To see us in a race shop and us building a relationship with Kawasaki just makes me really proud of my guys and the fact that they put trust in me and believe in me. And yeah, had it not been for an injury, we could have had a pretty damn good shot of winning a supercross title in 2014. We'll regroup and go at it again in 2015. We'll have a little more support in 2015, and we've been brought on a second rider, which has been a longtime goal. I have a lot of belief in Josh Grant, and I think he has a lot of talent. We're all just going to work.
What other companies are on your sponsorship roster for 2015?
As far as team sponsors, right now we're waiting on a few sign-offs. I have a personal deal with Monster, and we have a few more sponsors on the hook, but it's just whether we get them in the boat or not. With a bit of luck we can get them in the boat. At this point everything will pretty much continue to be the same for 2015. Me as an individual, I think I'll be identical to what I was in 2014, with Shift, Fox, Oakley, and Monster.
The 2015 Monster Energy Supercross series is shaping up to be a wild one. Ryan Villopoto is gone. James Stewart is still working through his WADA issues. Ken Roczen goes to Suzuki. Justin Barcia goes to Gibbs. Eli Tomac certainly looks like a championship contender. There's Trey Canard, Ryan Dungey, and Davi Millsaps. How do you see the competitive landscape for 2015?
I think that's an interesting way to look at it. I think on paper you look at it and think, "Wow! What a great time to be a part of supercross!" For me, I'm excited. I've spent a lot of time out there going round and round. When you put all of those names you mentioned on paper, and it's quite an amazing season. There are a lot of young, talented guys. There are a lot of guys that have been there and done that. I think only three of us have won supercross titles now—myself, James, and Dungey. We have a lot of Lites champions moving up. My personal opinion is that on paper, it's all impressive. But to be truthful with you, I've been around the block a time or two, and it seems every year it's people's job to build that up and to excite people and to make a big deal out of it. For me, it comes down to people being able to get the job done. There are a lot of champions in this class, and I think that this is probably one of the closest groups of riders that I've seen in recent years. By no means am I underestimating it. But at the end of the day the gate drops and it's twenty laps. It's just the same old thing. I think once we head east and we start getting about three races into the East Coast part of the schedule, I think that the cream will rise. I think the California rounds are going to be gnarly. I think the intensity and the pace is going to be really, really high. In my opinion, the first six races are survival. After we get through them and everybody starts taking longer flights and the real elements of supercross and what it takes to sustain a championship come into effect, I think that's the time that I'm looking forward to the most.
You really do have to string a championship together now in this era. It's not just going out and racing the bike.
Yeah, I mean with so many competitive guys, it's really not just about winning races. Of course, winning races helps, but just being there every weekend is going to be key. With the way the qualifying system is now in supercross—which in my opinion is a joke—the whole semi thing totally sucks and puts a whole other variable into supercross. It just changes things a little bit. It's going to be about who can make it to Vegas and who can be consistent. With so many fast guys, the results can change drastically from one guy winning one weekend and then placing sixth the next weekend. There will be big, big point swings. I think that if you can be there every weekend, I think you'll have a really good chance in Vegas. Honestly, I want to be the guy who has the most podiums. I want to be the guy that I've always been, basically: to be on the podium all the time, win races when I can, and win the championship in Vegas.
I have to ask the question: What do you think about Ryan Villopoto taking off to race the World Championship?
I kind of did it opposite to him. My goal was to always make it to the US, but he grew up around all this stuff. I think what he is doing is actually unique. I think it's cool. I think he's going to have a really good time. I think the people over there are going to treat him well. I just think racing is going to be fun for him again. My hope for him is that he doesn't go over there and just jump on planes and go around. I hope he gets a camper van and does that. That will get him back to grass roots, and that will get him back to having fun again. I'm maybe more worried from what comes of it. In my opinion, I think Ryan Villopoto is going to go over there and he's going to have a lot of fun and he's going to realize dirt-bike racing is cool. Maybe he'll want to come back and do it here and maybe do it a little differently than he has the last couple of years. If that happens, we may see a very dangerous Ryan Villopoto—maybe a more dangerous Ryan Villopoto than we've ever seen. For me, of course I want to see him go over there and do well. I think it's good for motorcycle racing as a whole, and it's obviously good for AMA guys. I don't see him having too much trouble. When it first got announced I kind of questioned how much he really wanted to do it, but seeing the post of him being on a bike much earlier than he was expected to be on a bike, from the outside looking in, he seemed like he was pretty motivated. He was out there and grinding away and riding and testing. I think it's going to be tough over there to stop him.
You have a lot of fans, and I know they mean a lot to you, just like you mean a lot to them. How does Chad Reed see 2015?
I think that from the horse's mouth, I'm all in. I want to win and do what it takes to win. That's probably the best way to sum up pre-2015. I'm working hard and I've tried to change up my program to a point where I feel like it benefits me the most and keeps it fun. And I honestly feel that people need to be careful thinking about my age because I think my age may cloud people's opinions and beliefs because I honestly feel the best that I have felt in many, many years. I really think I'll have a good shot at this thing. We'll see. We'll see in May. I'd like to have this conversation again in May [laughs].