Sam Boyd Stadium
Las Vegas

,

NV
Monster Energy Cup
Monster Energy Cup
Doesn't matter if it's your local scene at Podunk Raceway or the Monster Energy Cup in Las Vegas, if a race doesn't pay championship points, you never know who is going to show up. You can go to the MEC website and see the riders that are expected to race, but decades of watching these one-off off-season races have taught us that all is subject to change.
Things get increasingly complicated for the 2014 Monster Energy Cup because so many riders are switching teams. Do they use the MEC for a new-bike shakedown or wait until January because they're not ready? We wanted to know, so we contacted every major race team to figure it out. Let's break it all down.
[By the way, we're going through the pro roster here. If you want a look at what to expect from the Amateur All-Stars and Super-Mini groups, check out Andy Bowyer's preview here.]
New Debuts:
With October 1 marking the New Year's Day of motocross factory contracts, the noobs have logged two weeks on new equipment. A lot of them are going to race, ready or not.
There's a lot of hype around many deals, but this weekend's most-anticipated debut should be Davi Millsaps with Monster Energy Kawasaki. Millsaps is not just switching teams and brands…he's actually racing! We haven't seen DM18 race since the Las Vegas Supercross in May 2013. That's a ridiculous amount of missed time, but Millsaps was lucky enough to be released from his old Rockstar Energy KTM deal AND be cleared by doctors from his foot injury on basically the same day. What magical timing!
Clearly Kawasaki feels Davi will be back to his 2012 and 2013 SX runner-up level. If he's there, he could win this thing—or anything, really. Davi has never raced the Monster Energy Cup before. Why? Because, again, there's no explanation for these off-season events. Trey Canard has never raced it, either. No real reason; he just hasn't.
More big debuts come from the new JGR/Toyota Yamaha tandem of Justin Barcia and Weston Peick. Barcia won the MEC two years ago, so this is big.
Cole Seely is making a real debut with his new Honda Muscle Milk team. We know, we know, Seely raced Hondas in the 250 Class and has guest-ridden the factory four-fiddy plenty of times, but it's still his official "official" debut.
Justin Brayton and Dean Wilson both debuted on KTMs at Red Bull Straight Rhythm (for BTOSports.com and Red Bull KTM, respectively). They'll be back here.
Blake Baggett will debut his Yoshimura Suzuki 450. Josh Grant will be in action on his new Discount Tire/TwoTwo Motorsports Kawasaki. Jason Anderson debuted his Husky 450 at a race in Sweden last weekend, but his big-time U.S. debut comes this Saturday.
Guys who won't be there:
Please, go open the notepad app on your phone and type in "Where's Ken Roczen?????" right now. There. Now you can just copy and paste that to us on social media all weekend.
Now, our 140-character answer: Roczen says he hasn't had enough time on his new Suzuki yet. There.
Also, we know Roczen took some time off after the season ended and isn't 100 percent in the racing groove. He just logged his first full 450 season (under pressure most of the way) without missing a race and has a right to back 'er down for a bit. He'll be ready for January.
Similar story, by the way, for Chad Reed. It has been confirmed in a Feld PR that Reed is racing, but we also know Reed went straight from Motocross of Nations to Australia to enjoy some time with family. He's barely ridden at all for the last few months. At 'Nations, he admitted he's going to show up at MEC fully unprepared with very little saddle time. He's also dealing with a leg injury suffered in Latvia, recently tweeting: "YES I'll be there. Just not sure I'm going to race yet.. Legs still hurting from my mxdn crash". Officially, he's racing. We'll see how that goes or if it actually goes at all.
Guy who may or may not be there:
Okay, you can probably find answers to all of the above stuff elsewhere. But there's one question that really needs to be answered: WHAT ABOUT JAMES STEWART? We called some Suzuki people on Monday and they told us they STILL DO NOT KNOW. STILL! Seems crazy, but Stewart's failed April WADA test has opened up a Pandora's box of alphabet soup. WADA. USADA. FIM. AMA. Etc. So, where does a one-off non-championship event like Monster Energy Cup fall into all of those rulebooks? It appears, just days before the event, that no one is sure. Still.
But it's Vegas and you have to put your money somewhere. Our guess is that if Stewart isn't cleared to race on a Monday, he probably won't be cleared to race by Saturday. That's just a guess, though. Seriously, this Stewart/WADA deal has been the most complicated James Stewart story we've ever seen, and that's saying a lot.
There's a legitimate chance we've seen Villopoto and Stewart race their last supercross races ever. Tell you grandkids about stuff like this:
Definitely not there:
The entire Troy Lee Designs/Lucas Oil KTM team is not racing. Marvin Musquin has ridden well at this event before on a KTM 350 but is not racing. Maybe these guys have a Red Bull Straight Rhythm hangover? Also, not attending is the Monster Energy/Pro Circuit Kawasaki and GEICO Honda 250 teams.
Wil Hahn is not making his Monster Energy Kawasaki debut yet. See you in January, Wilbur.
One-off deals:
Josh Hill and Jake Weimer don't have 2015 deals locked in yet, but they will be racing Monster Energy/Pro Circuit Kawasaki 450s this weekend. Honda likes Fredrik Noren so much they're giving him the factory bike again for the weekend.
Toy box:
There are tons of other solid riders competing: Andrew Short on his BTOSports.com KTM and Brett Metcalfe on his Kawasaki. Nick Wey is always a fan fave. Mike Alessi will race. Josh Hansen is racing this weekend, and approximately 50 percent of the commenters below will say that's awesome and 50 percent will be mad about it. After a great performance at Red Bull Straight Rhythm, Malcolm Stewart is racing on his privateer Honda backed by Seven. Yamaha sent us a preliminary list of some of their other 450 guys, and it includes Kyle Chisholm, Ben LaMay, Matt Goerke, and Killian Rusk. But if we start writing too many names, we'll leave someone out and then get crap about it, so we'll just post this list from the Monster Energy Cup site and you folks can find your fave. Remember, though, this stuff is always subject to change.
250 Guys on 450s:
When the Monster Energy Cup started, they built up the one-class-one-champion deal and theorized that maybe some 250s could battle 450s. That kinda sorta worked on the super-tight track of the old US Open in Las Vegas (one year Jake Weimer even won a main event on a GEICO Honda 250, but only because Chad Reed created the mother of all first-turn pileups and took out every top 450 rider). On this big track, 250s are a knife in a gunfight. A good amount of 250-class riders will be racing on 450s, though. Cooper Webb raced last year on a YZ450F and will do that again. Jeremy Martin will not be racing, but his brother Alex will be on a 450.
Justin Hill is racing on a Red Bull KTM 450. We'll see Hill versus Hill for the first time ever.
New Rockstar Energy Racing Husqvarna recruits Zach Bell and Martin Davalos were possibly going to race, but we hear that might not to happen. However, Zach Osborne will race on a 350.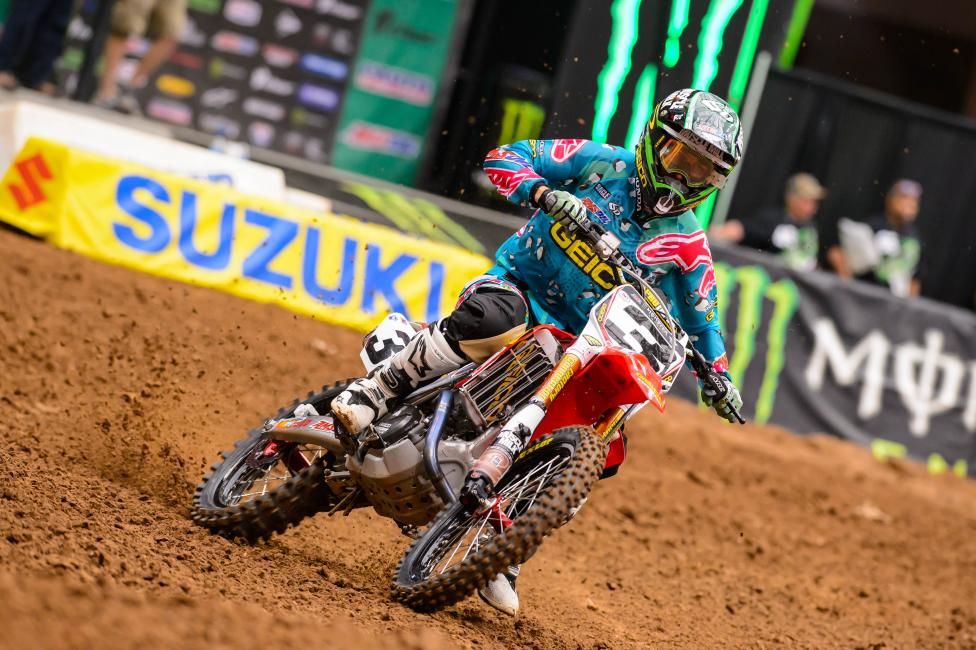 Mainstays:
Most off-season stories have focused on the big brand and team changes: however, there are three big guns who are staying put and could easily win the event on Saturday: Trey Canard, Eli Tomac, and Ryan Dungey. It will be interesting to see if Canard can continue his push from late this summer. Dungey has been at every MEC and has been a podium mainstay (shocker). Just remember to take the Joker Lane this year, Ryan!
Something tells us, though, that all the hype and attention on all the other guys might play perfectly for Eli Tomac in 2015. We're all pumped to see new faces in new places, but Tomac has been quietly working this off-season and will come out ready to hammer down. Would it surprise you at all if he hammers everyone on Saturday?
Of course, we need to mention the man who is not in any of these categories: Ryan Villopoto. Technically, he's too injured to race the event, having just started to ride after knee surgery. But he's done with supercross and supercross-type events, anyway. RV won the Monster Million at the first MEC and the first main event at this race every year. If you want to know what the supercross world will look like without the four-time and defending Monster Energy Supercross Champion on the gate, you'll get a preview this weekend.