Back in 2010, Josh Strang won the Amsoil Grand National Cross Country Championship as a member of the FMF Suzuki factory off-road team. The Aussie was on top of the off-road world. A year later, Charlie Mullins edged him out for the title, and then Strang broke his leg at the season finale and got the word that the Suzuki off-road team was shutting down due to economic cutbacks.
Thus began the long road back. He picked up a RPM KTM support deal to race WORCS in 2012, but his leg was slow to heal and he struggled. He wanted another shot at the GNCCs, so he built his own team with the help of Rocky Mountain ATV/MC for 2013. He kept getting closer and closer to his old form, but a win eluded him until last weekend at the ITP Powerline Park GNCC. The Am-Pro Yamaha-backed Strang came out on top in a big battle with GNCC champ Kailub Russell, who was racing on a KTM 150XC two-stroke.
We asked Strang about his return to the top, the battle with the 150, and also the new Kenda Full Gas Sprint Enduro race he did over the weekend. Off-road racers are Unsung Heroes!
Racer X: This was long overdue. You finally got back on top in a GNCC. It's been a long, long road. How good did it feel?
Josh Strang: It's been a while. Two thousand eleven at Snowshoe was my last win. I missed the whole series in 2012, so I guess that's one excuse, but it's been two seasons of racing, so it felt good to finally get up there!
Well, yeah, you say missing all of 2012 is an excuse, but you had a broken leg and your team folded, so that's a pretty legit reason!
Yeah, but those things happen. It was bad at the time, but that's in the past now. I just try to look forward. The last two seasons have been solid. Rocky Mountain ATV/MC stepped up big for me, and without them the last two seasons wouldn't have been possible and this win definitely wouldn't have been possible. The guy who helped me do my deal, too, was at Powerline, so that made it even sweeter. For the amount of money those guys put into my racing, it really helped them see the benefits of it.
I'm not sure if folks who watch the moto side understand what goes into off-road sometimes. You basically built your own race team from scratch. Lot involved for you to just get back into this series.
There were a lot of expenses and things I had to sort out just to get back to the races. Last year was pretty good, but this year was a lot better on the wallet. I have support now from Yamaha and it's been a lot easier. I have a mechanic and everything, so that helps. I moved from California back to North Carolina and I'm happy back here. I'm honestly not really sure why I left!
I'm sure you're pumped to have won, but at the same time, are you bummed it took this long? You've had plenty of other races where you rode well.
This year Kailub [Russell] won the championship; he was faster than everyone by a good bit. He deserves the championship this year, and last year, too. But at Powerline he was racing the 150 [two-stroke] and I think a lot of us, myself included, underestimated his potential on that little bike! I think at this next race, at Ironman, some of the riders will approach it a little differently. I know going into Powerline I thought he'd be at more of a disadvantage than he actually was. I was glad to get the win, but I do feel like there were races this year where maybe I could have won and things didn't work out. I know he was riding the 150, but all I was looking for was a win. Any win. I don't care if he was on a 150 or a 500; it's confidence for me. Now I have that confidence and I remember how to win. We have one more race before the season ends, and we'll see how it goes, but it could be a big boost for next year.
You guys got really close and even ran into each other a few times in that battle. I heard people saying you were maybe going to fight—but then the other night I saw you two hanging out together!
Yeah, that's what I heard too! After the race I heard people saying there was going to be fisticuffs and we'd be punching each other up and stuff like that. I'm not sure where that came from. Kailub hit me a couple times there. The first time was an accident; he slid out in a corner and he probably wasn't expecting to. He got a bit sideways and ran into me. Second time, it was down a straight, and I was already up to speed when he was just trying to get up to speed, and he moved over to block me. It was kind of in a dangerous section to do that, so I was upset about it. Not so much that we hit, but just what part of the track he did it on. So I was just showing my unhappiness toward him there. But we're cool—it's racing. Kailub is a good guy and we hang out. We hung out over the weekend at the Sprint Enduro, and everything was good.
I wanted to ask you about that race. It's a new concept, but I'm surprised no one has done one here in the U.S. before. Sprint-type off-road races are pretty common in the rest of the world.
Yeah, it's totally different racing compared to a GNCC or a National Enduro. I had a blast racing events like that back in Australia, so to do it again here was pretty cool. You sprint for one good lap as hard as you can, then you get to stop, talk with your buddies about how your run went, and then you get to do it again—definitely different. You don't have to be as in shape, but it's always good to work on your sprint speed.
Has to be hard for you guys to figure out the best things to practice. You can do sprint stuff like that, or you can do EnduroCross, which is totally the opposite. Or you can do Enduros, which are even longer hours than a GNCC. How do you figure out the best mix for you?
I don't know, I guess it just depends on what you like. Part of racing and success is just enjoying it. When I was in California, I just rode motocross, and that's pretty much sprinting, and that seemed to work for me. So I try to keep working on that, unless I feel like I'm losing an edge in the tight stuff, then I'll go do motos in the trees. I really think this Sprint Enduro will work out well as training, too.
What's next? One more GNCC, and then what do you do?
Well, tomorrow I close on a house, so I'm not going anywhere! I finally sold my California house and finally found one here that I like. After Ironman GNCC I'll go to six-days [ISDE]. Unless someone wants to buy me a plane ticket back to Australia for Christmas, it looks like I'll be staying here. In the winter I'll probably go out to California to do some riding and training out there. Next year I'll be back in the GNCCs, and I might do the National Enduros next year as well. I did one this year and had a blast—hopefully they're all like that. Maybe I had good luck at the one I hit. They're definitely different. The tight woods are something you have to master.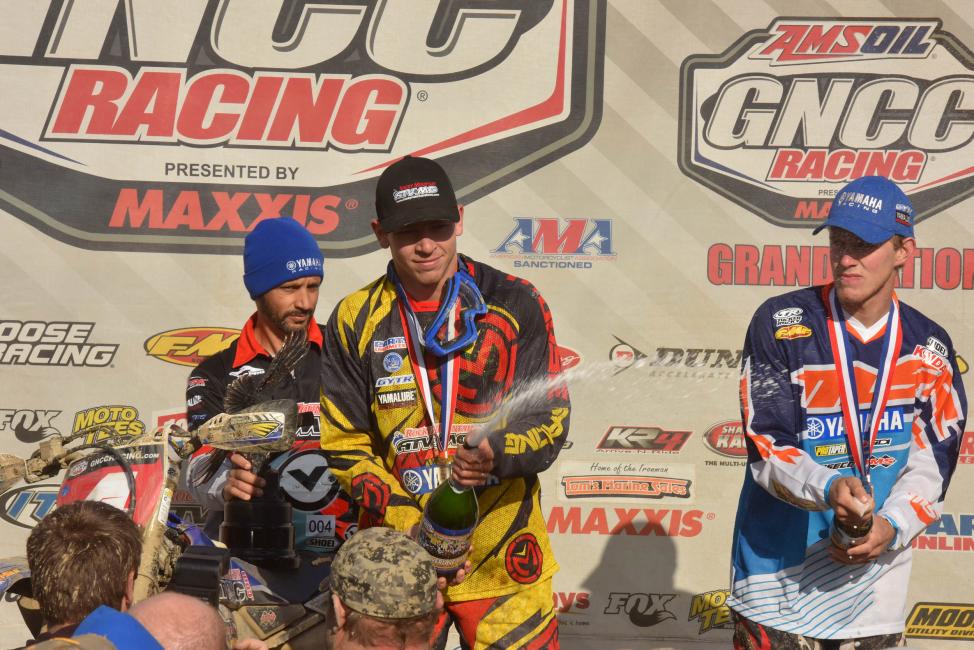 Well, that's what I'm saying! There are so many ways to go. If you race supercross, you just ride supercross during the week and race supercross on the weekend. You guys have a lot more options.
Yeah, that's true.
Well, congrats, but I'm sure you're not satisfied after just one win.
No. This is just the turning point, I hope.