Sam Boyd Stadium
Las Vegas

,

NV
Monster Energy Cup
Monster Energy Cup
In 2010, following his final amateur season, Michael Leib headed to Europe to contest the FIM World Motocross Championship. Over the next four years, the Southern California native would go back and forth between racing here and there, never really finding solid footing on either side. Two years after his initial voyage, Leib returned stateside for his first year in Monster Energy Supercross. He qualified for four rounds before another opportunity in Europe called. His successes have varied—both in Europe and the U.S. Injuries limited him in abroad, but he did have his triumphs, including a podium at the MXGP of Italy in 2012. Stateside, Leib has had his moments in the 250SX West Region, garnering five top-tens in just fourteen career races. But he hasn't established a base long enough for many to remember those successes—he's only raced two Lucas Oil Pro Motocross rounds, both coming in 2013. Leib hopes 2015 will be different. He's set on establishing a footprint at home.
We talked with Leib earlier this week about staying in the U.S. in 2015, the inaugural Red Bull Straight Rhythm race, and his up-coming 450 debut at the Monster Energy Cup this weekend.
Racer X: We're a couple weeks removed, but Red Bull Straight Rhythm was a pretty unique event that you got to take part in. What were your thoughts on it?
Michael Leib: The Red Bull Straight Rhythm race was awesome. I think it's a great addition to the sport. As far as how the weekend went for myself, it wasn't good. We had mechanical issues on Friday. Thank you to Tevin Tapia for letting me qualify on his bike. I didn't get to ride practice at all Friday or do timed practice. All I had to do was go from basically the start to the finish to qualify myself because I was already invited. My first run was with [Justin] Hill, and that was my third run down the track. That's pretty much the result of how that went. [Laughs]
How did you regroup?
The hard part for me was that I actually only nailed one run on the left side [before the mains]. The first run with Justin was my first on the left side. I actually did all right; I did pretty decent, but I did make a mistake and missed a rhythm but still came out fairly close. When I went to the right side, I didn't really know what to expect and I overshot a couple things and cased a couple things. It's funny, because everything [left and right side] is supposed to be exactly the same, but if something throws you off by a foot or two, you can gain or lose a lot. It was tough. It was nerve wracking. But at times we are thrown in situations where we just have to figure things out and make the best of it. I think at that point, that's all we can do.
There has been a lot of talk of where Red Bull may take this and that this was the start of something bigger. A lot of ideas have been thrown around. For example: some have suggested putting it in the downtown of a big city. Where would you like to see this go, and what do you think will help bring in more eyeballs to the sport?
I mean, that's a good point. That's not something I've thought of—bringing something like that to a city. It definitely adds a different excitement factor to motorcycle racing. For however many years, it's basically been supercross and motocross. Now, all the sudden, we have this new thing that Red Bull has basically come up with, and it could be awesome and could be utilized in a lot of different ways. I think it could bring a lot of people into our sport that normally wouldn't see it. This might be a bad example, but X Games, there are a lot of people in the city that go and watch the event even though that don't know about BMX, or skateboarding, or whatever it may be. But it's still something awesome for them to go see and they get hooked on it.
We are going back to a more traditional style of racing this weekend with the Monster Energy Cup. This is your first year racing the event. A lot of talk always centers around the Joker Lane. Any strategy you're going to imply there?
Honestly, I haven't thought too much about it. But I do think it's cool. I'm a big fan of Formula 1 racing, and I've looked at it as a timed pit stop. I think it's cool and I'm excited for it. It's my first race on a 450 as well. There are going to be a lot of curve balls for me to deal with, but I'm definitely looking forward to it.
Another big step for you, like you said, as this will mark your first race on a 450. Have you had much time on the bigger bike?
Today was my fourth day on the 450. I will ride it one more day on Thursday, just to kind of set everything in stone. I'm a real small guy; I only weigh a 135 pounds. So the 450 is a lot of bike for me to handle, but it also works with me. I can put a lot more power to the ground. Guys that weigh more than me utilize it in different ways. This weekend my main goal is to have consistent motos, get myself qualified, obviously, and be consistent. I don't want to ride over my head and throw myself on my head. That's definitely not the goal. So, just go and do some different racing and mix it up with the big boys in the 450 class and really just get a different racing experience. I like being able to race and putting myself in different situations that are only going to make me better and I feel like this is one.
Since turning pro, last year was your first full year in the U.S. after going back and forth between Europe and here. How is it different now that you've had a foundation here for a year?
I think this year has been good for me. I didn't do nearly as well as I wanted to in 250 West Coast this year. I broke my foot just before the last three rounds and then re-broke it right before Vegas. I don't think many people heard about it because I tried to keep it as much of a secret as I could. But being here and being home has been good for me. I expect to have a really solid year next year. I feel like this year [2014] was the year I wanted to do it, but I'm definitely a lot more ready going into next season. Being here full-time has been good for me, and I did take some off time during the outdoors because I couldn't fund myself to go do it. And I think that was good for me too, just to get a mental break and get some mental clarity and be a little bit better off in my personal life as far as finances and just trying to put my big boy pants on to. There has been a lot of good changes this year.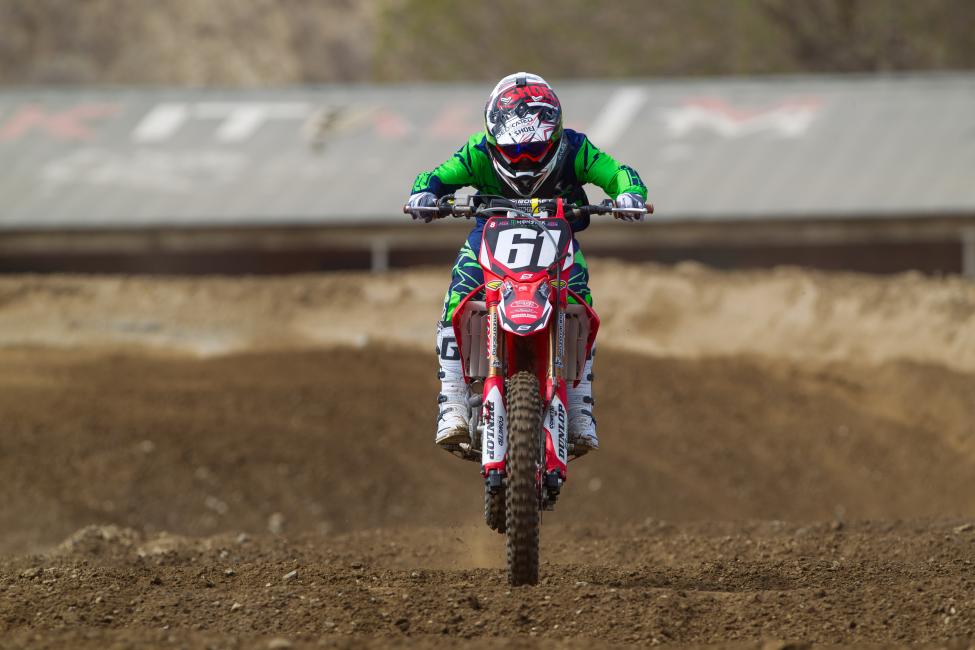 When riders are getting back from injuries, sometimes they talk about how, as bad as it may be, the injury forced them to take some time off and reevaluate things. As you know, most of you haven't done that since you were little. Does the downtime rejuvenate you?
My mom [Andrea Leib, owner On Track School] always taught me that there was more to life than racing. I think that is something this year that I really took into consideration. Apart from moto, I do like to have a life outside of racing. I love moto; it's obviously what I want to do with my life and where I want my career and primary income to be. But being a privateer, the income side of it is tough and you have to find ways to make money. I did move out this year too and I'm kind of on my own. I'm just trying to put my big boys pants on and deal with life too. It's good sometimes to get away from moto and see that there is more to life than what we live day-to-day.
How are you able to balance concentrating on racing, while also trying to deal with your personal life?
As much as it's a full-time job, it's nice. I split it up during the day. I go ride in the morning and then do my training after lunch, and then I'll finish the day with either the gym or a bike ride. I just recently started working with a new trainer, and we are doing very well at separating the two. It's nice to try and get a block of something different in the middle of the day to try and keep myself not so submerged in racing. It's funny, I was having this conversation with my friend the other day. We spend so much time around the track and racing and you do get burnt out. Even though it's the most fun thing I've ever done in my life, it's a job too. To split things up that way, it's something I've always done. I like to be busy, but if you do one thing all the time you get sick of it.
You mentioned you have a new trainer. Who are you training with now?
I recently just got together with Chris Hoy. I met him through a buddy of mine at Race SoCal, and we've been doing a lot of really good things, and I think it's going to be a great addition to my team in 2015.
Speaking of 2015, what do you have going that you can let us in on?
At the moment I don't have anything going on. There is one team that I'm talking to, though. I feel like I'm going to be a podium guy on the West Coast, and the reason I'm going racing this year is to fulfill that dream of mine. I feel like it's my time. I feel like there are a lot of stars lining up in my future for me. I'm not sure where I'll end up, but I'm really looking forward to next year.
I guess we can call you a veteran now. How does your preparation, and even your outlook, differ now?
Yeah, it's changed quite a bit. I have been on the West Coast for a little while, but it's interesting to me; this year kind of feels like my first year in it [West Region]. I don't know why I feel that way, but I feel like I'm finally ready to be at that level and put myself on everyone's radar as far as factory teams.
Do you feel like it's your first year because you've gone back and forth between here and Europe and have never really established a base?
I feel like wherever I was, I was kind of mentally somewhere else. Whether I was thinking about being in Europe or thinking about being here, I just don't feel like I was able to put full effort into it. I think this past year I was decent with it. But there were still some things up in the air about me going back to Europe. Halfway through last year I put my mind to it that I was going to put full focus into 250 West Coast. Nothing against the GPs, but I'm not going to go back unless it's with one of the best teams there. I guess you can say that I feel really ready to go and put all my effort into the West Coast this year and not look at anything else until it's over.
Thanks, Michael. Who would you like to thank for helping you this season?
AG Motorsports, Aguirre Imaging, Applied, Asterisk, Atlas, Autism MX, AXO, Cometic, Cosworth, CV4/Xeldyne, Cycra, Dedicated Athletics, Deft Family, Dunlop Tires, EKS, Eleplast, Factory Metal Works, Faster USA, GoPro, Hinson Racing, Hot Cams, ICW, Injectioneering, J27, K&N, LBD, Malcolm Smith Motorsports, Milestone MX, Motion Pro, Moto Seat, Moto Stuff, KYB Enzo, On Track, Peters Auto Mall, Race SoCal, CH1 Training, REC-MX, Renegade, RK/Excel, Rocket Exhaust, RPM Science, Seal Savers, Shoei, Split Designs, Sunstar, Tamer, Vortex, and WPC.