Ironman Raceway
Crawfordsville

,

IN
Indiana
Lucas Oil AMA Pro Motocross Championship
By Jason Weigandt and Chase Stallo
Marvin Musquin, Red Bull KTM, 3-1 for first in 250 Class
Congratulations on a great ride. First, tell us about your experience in the mud. We just assume everyone that races GPs and is from Europe is awesome in it. Were you pumped on it? Did you expect to do well?
Not really. I don't think anybody's pumped when it's raining! You can be pumped, but when you're on the track it's so easy to make a mistake like I did second practice. I didn't do one lap in the second practice and I got stuck in the mud and I couldn't go anywhere! That can happen during the race. It's tough but that's part of the racing and you never know. I've been in the US for a couple years now, and I don't think I've ever raced in the mud here, so that's pretty crazy. I live in California, and it never rains in California. I know I come from France—I've been racing GPs and European Championships in the mud—but when you haven't raced for a couple years in the mud it's hard to go back at it. Honestly, I think my riding technique and all that were pretty good today. All day I was just riding. Not trying to go crazy or anything like that, just be smooth and smart. That first moto I was maybe too smooth in the beginning and I was fifth or fourth and then a third. The guys in front of me, they were already gone, so it was hard to catch up to those guys and I got third. So still good. In the second moto I was following those guys. [Christophe] Pourcel was doing really well and he actually passed me and I passed him back. I was watching those guys in front of me, Jessy [Nelson] and Joey Savatgy. They were doing a lot of mistakes, and I was just following them and watching and it's a long moto so anything can happen. I passed Jessy and then I passed Joey. So I was leading and I knew Pourcel was really, really fast. But I kept charging but still being smooth, and I kept the lead and it was really, really cool at the end. Pourcel was trying everything he could. And me in front I was just trying to not crash but then I had to push. I'm very happy to win the overall. – Jason Weigandt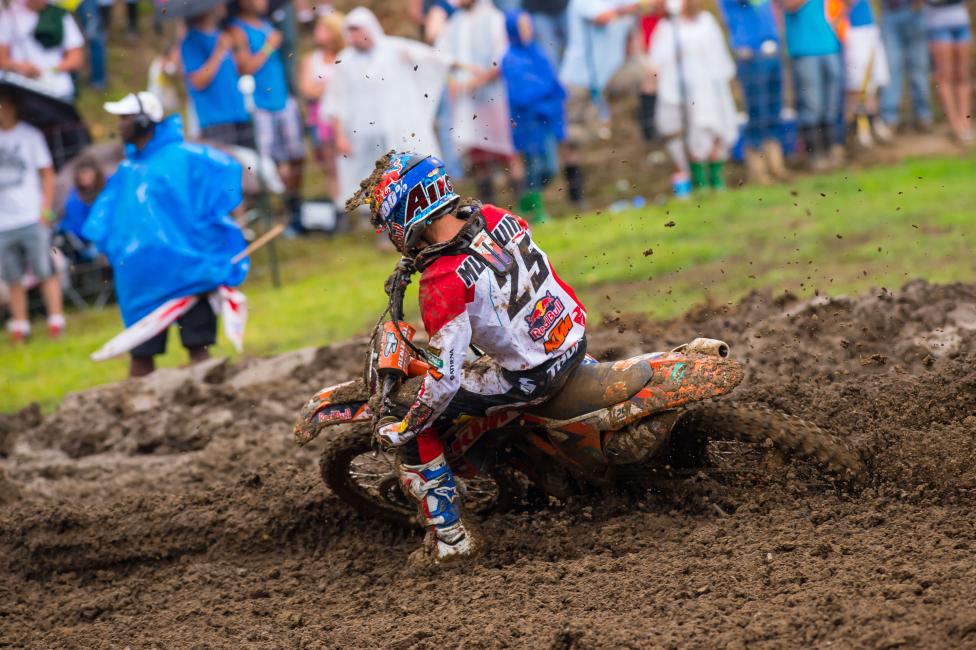 Jessy Nelson, Lucas Oil/Troy Lee Designs Honda, 1-8 for third overall in 250 Class
We normally start off the press conference with one I think you're really going to like: take us through moto number one.
Moto number one was awesome for me—the first moto win. Had a great start. We changed some things on the bike. I think we've been lacking all year. That's the first good start I've gotten since Colorado, where I ended up second. I think that's huge for this class because everybody's so fast; everybody's so close in their times and their speed and fitness. There's definitely those guys that are just a little notch ahead, but the start's huge. So I'm glad I got a good start and made it happen in the first moto. It was cool. Great for my team—first moto win for my team. First win for myself, too. So awesome.
Did the experience that you had in Colorado help a little bit? You almost won that one, and this time you hung on. Did that enter your mind at all?
Yeah, I'm actually almost glad in a way that I didn't get the win at Colorado. The mistakes that happened that race kind of really helped me out here in the first moto of this one. Just mentally. You have the lead and just make smooth, clean laps. Try to not dab your feet in the corners and slide out and get stuck in the mud. That's what I did towards the end of the moto in Colorado. I learned a lot in that race. My team manager told me after Colorado, when you get a first win, this one is going to make it feel that much sweeter. And it was. So it was cool.
What is your experience in mud? We all think the French guys or the guys from Minnesota will be good in it. And then the California guy goes out and wins.
I don't know what it is. I've always liked riding in mud. It's always been fun to me. There's been races where I don't like the mud. I hate it when it's at that slick point where it's rutted and mucky and it's borderline where you're not sure if you should be jumping stuff, and you don't know if you're going to crash every time. That first moto was awesome. The second moto, too. Just had some bad luck and ended up taking my goggles off. I ran out of tear-offs. Got roosted by some lappers. Made a mistake over the rollers and ended up landing in the mud.
The start in the second moto, is that because you got the start in the first moto and you were pumped up and full of confidence? Was that a coincidence that you went and did the exact same thing again?
Honestly that's the same mentality I've had all year. I changed some things on my bike. I think it made a big difference. And we were at press day, so I was able to change a couple things with gearing and mapping a little bit. It made my bike so much better. When I had a good start in Colorado I started my bike in first gear, because of the altitude, and I had to launch off the gate like I did in Colorado. So I got two good starts and couldn't be happier for my team.
What was the attitude even between motos? You said you'd never won one, but you couldn't get too pumped up because you had to go racing again. So what was the attitude under there?
It almost didn't feel real to me. It was almost like I was dreaming! I already had my lunch made from the morning, so I just ate a bit. Just regroup for the next one. – Jason Weigandt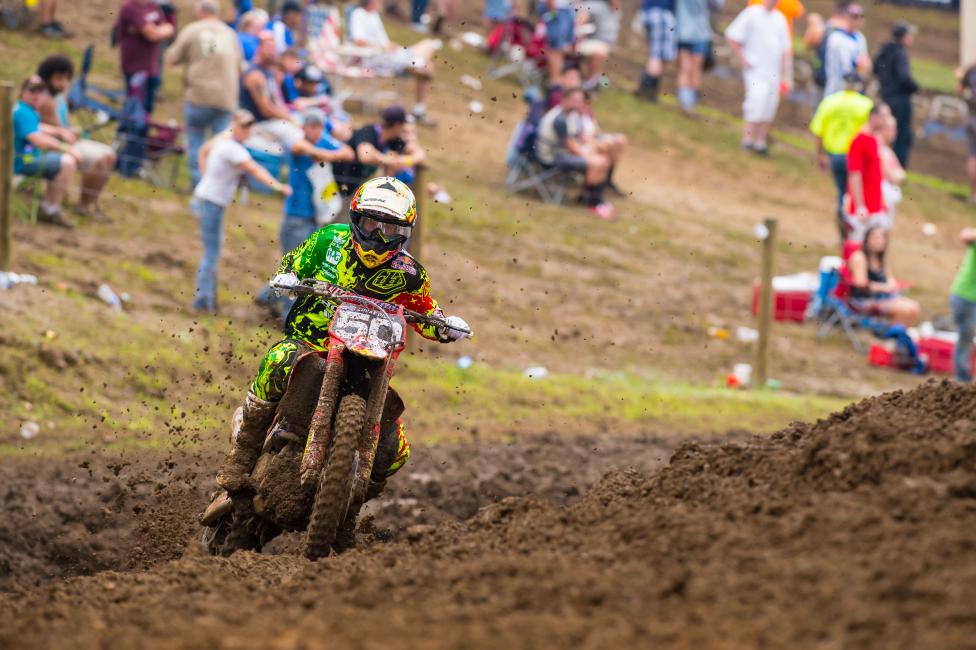 Joey Savatgy, Rockstar Energy Racing KTM, 4-3 for second overall in 250 Class
You led first time this year—well, first time passing for the lead. How'd it feel to be out there in front?
It was good. Two good starts and we were able to stay off the ground both motos. Overall it was a good day. We qualified good the first practice, I think eighth. The whole day was good. It was up and down. It was raining, it was muddy, it was everything. I think the main thing for today was getting off the gate. Happy to get off the gate both motos. Kind of took it lap by lap from there. It was good.
Where you started this year with the injuries and stuff, this has to feel good to come full-circle.
For sure. I hadn't raced since Southwick last year with injuries, and really luck hasn't been on my side. I think a few times maybe it was my fault. Overall it's good. We've come a long way and the team's been behind me. When we started this series back in fifteenth and twentieth place and now we've moved our way up onto the podium. Hopefully we'll come back this week, go back to MTF and get another week of training in and head into Salt Lake for the last round and hopefully be on the box again. – Chase Stallo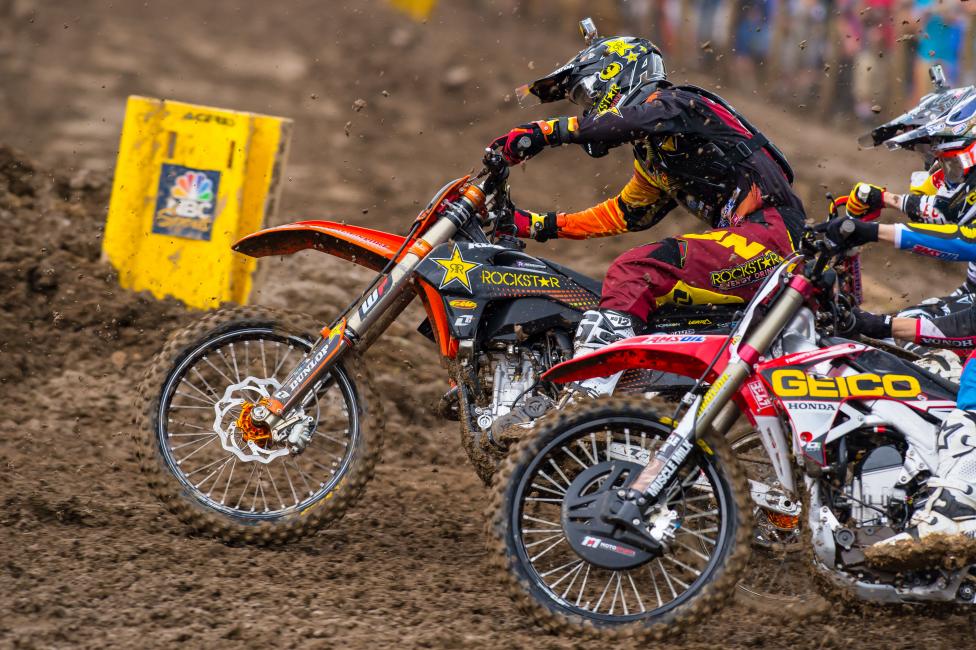 Cooper Webb, Yamalube/Star Racing Yamaha, 6-5 for fifth overall in 250 Class
How'd it go?
Weekend was kind of rough for me. Actually, first practice I qualified first, which was nice. And then third, which was the best I've qualified all year. First moto I got a decent start and fell in the first lap. Got up, just passed AMart [Alex Martin], fell again. I was trying to make a charge and got around him and was trying to make a charge on Anderson. I actually crashed on the last lap again. So three falls in the first one got me sixth. I wasn't too pumped on that. Next one got a crappy start, but I was making passes quick. Actually had just passed into third and there's, I guess, from when they just kind of filled in all the ruts and stuff, I just hit a rut and went over the bars. And then [Justin] Bogle hit my bike and it was just not a good thing, and it happened on the first lap. Got up from that, me and [Blake] Baggett, he had passed me but we were putting on a charge. The bike just overheated. Started acting funny and just tried to kind of get across the finish. It was a lot of weird noises.
No pushing the bike like last week?
No, I didn't want to push and have that thing do like last week. It's just one of those things unfortunately with mud racing. – Weigandt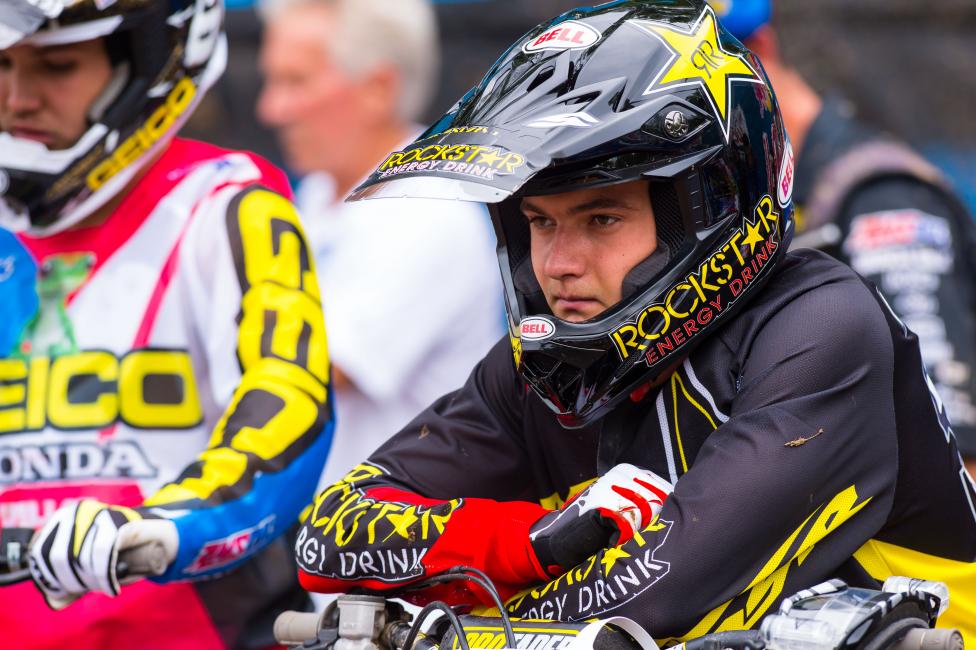 Alex Martin, CycleTrader.com/Rock River Yamaha, 7-7 for seventh overall in 250 Class
Nice weather today. Good track conditions.
It was beautiful. I woke up this morning at 6:30 and it was a clear sky. Went to eat breakfast at Cracker Barrel. Walked outside, pitch black. On the way to the track it just started down-pouring. We got here, down-pouring. And then I watched practice… It was a mess, for sure. I guess we've kind of been lucky. We've lucked out for the last couple years. We really haven't had a mud race like this since I'd say '09 Budds Creek. So practice was cut short. A lot of the guys just did one practice today and did one or two laps in each practice, try to get their time, and then save their bike. But the day for me went good overall. Good starts both motos. 7-7 for seventh, pretty consistent, solid day. Second moto I was running up there a little bit higher, like fifth. Late in the moto I just had a little tip-over and [Blake] Baggett and [Cooper] Webb got around me and [Dean] Wilson got around me. Me and Wilson had a decent little battle going on there. Just kind of tough to find places to pass. But it was a good moto for sure.
It seems like you really excel in the mud. Last time we had a mud race essentially was Southwick where you podiumed. How do you approach it? Do you attack; do you slow down? What do you do?
I don't really know. I think I must have had some decent practice mud days growing up or something, because it's not like I really ride or train in it any more. Usually when it rains I'll go for a run or a road bike ride or something nowadays. But I've had good results here. My podium at Southwick in '11—that was kind of a mud race. So I've definitely done well in the mud. It's kind of weird because my legs are so short and I have a tough time touching, so I kind of just wing it and I get squirrelly and just hope for the best.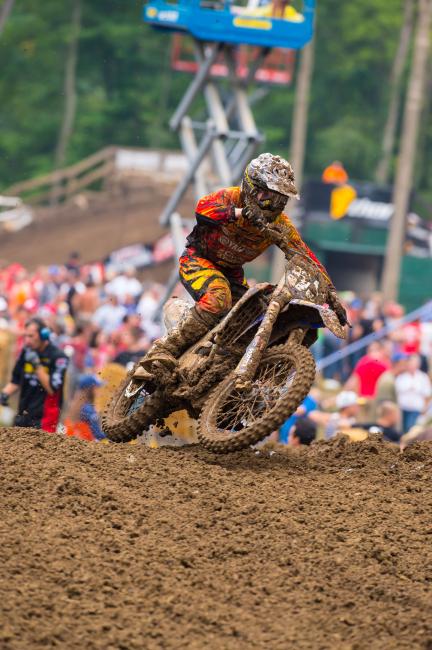 How bad was it? It looked like your guys' second moto, it wasn't too-too bad, but the first moto looked like it was just about as bad as you could get.
I was actually kind of surprised. They went around the whole track with a bulldozer and we kind of had a five- to ten-foot lane to ride with. So the first moto was actually okay. There was one rut around the whole track that just got gnarly, and by the end of the moto it was kind of getting kickers everywhere and getting sketchy. Fixed it, second moto was the same way, but it was definitely better than the first moto. The track crew did a great job for how much rain we did have. They pushed a lot of the mud off and made it good.
You like to joke with Jeremy, but today had to be pretty special for the family.
For sure. My mom is here. It was really cool to have him clinch it, and a round early, too. I think no one really was expecting that. Really, really excited. Really happy for him. I'm wearing a shirt right now with the number one on. I was down there on the podium and gave him a big hug. It's really cool. I'm proud of him. It's so cool to get a championship. It's not me, but it's the Martin family getting a championship so it's cool.
And you always kind of joked that he was just a chubby little kid back in the day. Did you ever see him making it this far?
Even back then, when I was beating him up and he was just a round little kid, every day; that's my bad karma, I beat him up too much. That's why he's faster than me now. But he always had such a desire and a grit and determination. I remember when he broke both legs and an arm and he was in a wheelchair and then he came back to ride. My dad wouldn't let him ride until he made this five-mile loop around the woods and he just gritted it out. He was crawling most of the hills. He's like 12 years old, a little pudgy kid, but he had so much drive and determination. He definitely just kept that going and carried it into what he is today, a champion. – Chase Stallo