Tixier Pulls Closer to Herlings at Loket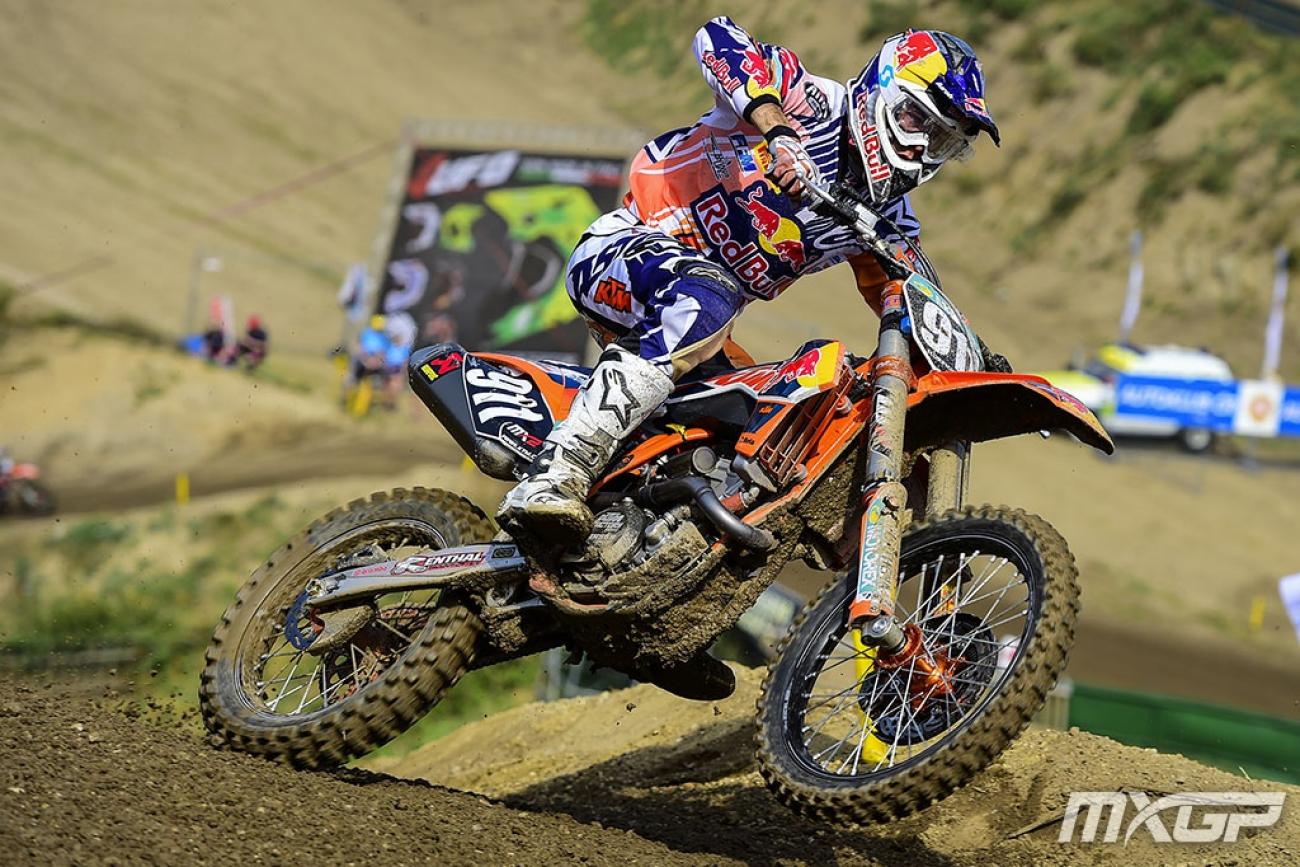 Today, at the MXGP of Czech Republic at Loket, Red Bull KTM's Jordi Tixier pulled to within 102 points of the injured Jeffrey Herlings. Tixier (25-18) won his first overall of the season earlier today, outlasting Valentin Guillod (20-20) and Christophe Charlier (14-25). Herlings remains sidelined due to a broken femur suffered earlier this week at Stefan Everts' Charity Race -- Everts and Friends -- while riding an 85cc. Tixier needs 103 points (Herlings owns tie-breaker) over the final three (Belgium, Brazil and Mexico) FIM World Motocross Championship rounds to capture his first career MX2 World Championship. A possible 150 points remain.
Herlings congratulated his teammate today via Twitter:
Congratulations my man @jorditixier , Well disurved!!
In MXGP, Yamaha's Jeremy Van Horebeek claimed his first career MXGP overall. Kevin Strijbos took home second, with MXGP points leader Antonio Cairoli rounding out the podium.
Stay tuned to RacerXOnline.com for more coverage of the MXGP of Czech Republic.
MXGP Overall
1. Jeremy Van Horebeek 22-25 Yam
2. Kevin Strijbos 25-20 Suz
3. Antonio Cairoli 20-22 KTM
4. Gautier Paulin 15-15 Kaw
5. Shaun Simpson 16-13 KTM
6. Steven Frossard 10-16 Kaw
7. Dennis Ullrich 5-18 KTM
8. Max Nagl 18-4 Hon
9. Tanel Leok 11-10 T M
10. Matiss Karro 9-11
11. Milko Potisek 12-6 Hus
12. Dean Ferris 12-6 Hus
13. Nathan Watson 8-8 Hus
14. Tommy Searle 3-12 Kaw
15. Davide Guarneri 0-14 T M
16. Clement Desalle 14-0 Suz
17. Rui Goncalves 2-9 Yam
18. Graeme Irwin 4-5 Suz
19. Martin Michek 7-2 KTM
20. Ken de Dycker 6-0 KTM
MX2 Overall
1. Jordi Tixier 25-18 KTM
2. Valentin Guillod 20-20 KTM
3. Christophe Charlier 14-25 Yam
4. Romain Febvre 16-16 KTM
5. Jose Butron 16-16 KTM
6. Tim Gajser 18-12 Hon
7. Aleksandr Tonkov 13-14 Hus
8. Jeremy Seewer 15-10 Suz
9. Juilen Lieber 12-11 Suz
10. Dylan Ferrandis 0-22 Kaw
11. Max Anstie 7-13 Yam
12. Maxime Desprey 10-7 Hon
13. Vsevolod Brylyakov 9-6 Hon
14. Mel Pocock 6-8 KTM
15. Pauls Jonass 11-3 KTM
16. Ivo Monticelli 5-5 KTM
17. Calvin Vlaanderen 8-2 KTM
18. Roberts Justs 0-9 Hus
19. Harri Kullas 4-4 KTM
20. Kei Yamamoto 3-1 Hon
MXGP Points Standings
1. Antonio Cairoli 619pts KTM
2. Jeremy Van Horebeek 562pts Yam
3. Clement Desalle 484pts Suz
4. Kevin Strijbos 469pts Suz
5. Steven Frossard 333pts Kaw
MX2 Points Standings
1. Jeffrey Herlings 594pts KTM
2. Jordi Tixier 492pts KTM
3. Romain Febvre 453pts Hus
4. Dylan Ferrandis 425pts Kaw
5. Tim Gajser 420pts Hon