From its inception in 1997 to the end of the line in 2008, team Moto XXX has stood for everything that was dirt bike riding, heck maybe even motorcycle riding in general. A little bit rebellious, a little bit of outlaw and some desire to be different were the general rifts of the team. Started by three guys that just loved the sport, the Moto XXX brand helped a lot of riders over the years and spawned a career in the industry that can still be felt today. Nine riders that rode for the team had factory rides before or after being on the team and seven former mechanics went on to be factory wrenches (this author included).
The team, started by Kurt Haller, Jordan Burns, and Erik Sandin (Ed note: Despite repeated requests Kurt Haller declined to be interviewed for this story), lasted for eleven years in various incarnations, through different managers, different bike brands, and different ways of getting to the races, and it's hard to tell the whole story of the team unless it's through the words of the people that lived it.
We have part 1 in the newest Racer X Magazine, so pick it up if you want those details. Without further adieu, here is the good, bad, and the ugly of Team Moto XXX over the rest of the years through the words of the people that were there and lived it.
Click HERE for Part 2, HERE for Part 3, HERE for Part 4 & HERE for Part 5
YEAR NINE- 2005
Riders Kyle Lewis, Justin Bucklew, Juss Lansoo, & Nick Evennou
Alan Brown, manager—"In 2005, it was Kurt losing some interest, the team was turning into something bigger than people could imagine. I became the manager of the team. We got a semi, a shop and started turning the corner into a more legitimate team. It really took off after this for a little bit."
Kyle Lewis, rider—"I think Alan would be a real asset to a team that had resources. I think he needs to stop dealing with the day-to-day stuff and be a crew chief or something. Just pay him enough and let him work on the bikes, some team would get a real steal."
Brown—"Yoshimura was preparing for the new Suzuki RMZ450, and Suzuki had hired Ricky Carmichael to ride for them. The plan for them was he was going to promote their pipes and take them to a new level, so they dropped us, but in the end, Carmichael didn't run their stuff. But Yosh did put me onto Akrapovic exhausts, which helped out a lot over the years."
Jordan Burns, owner—"There was always tension there throughout the years between Kyle and Kurt and what he thought he deserved being on the team. Those guys had battles for bikes, parts and money over there years. I'd always grow tired of these guys talking about not getting paid while they had a huge house and all that, and I was driving a 1986 Toyota truck. Maybe I didn't know the ins and outs of the things that were being discussed, but it would make me frustrated. I'd go over to his house and it was huge with this fat pool set-up, and seemed like he was doing fine!"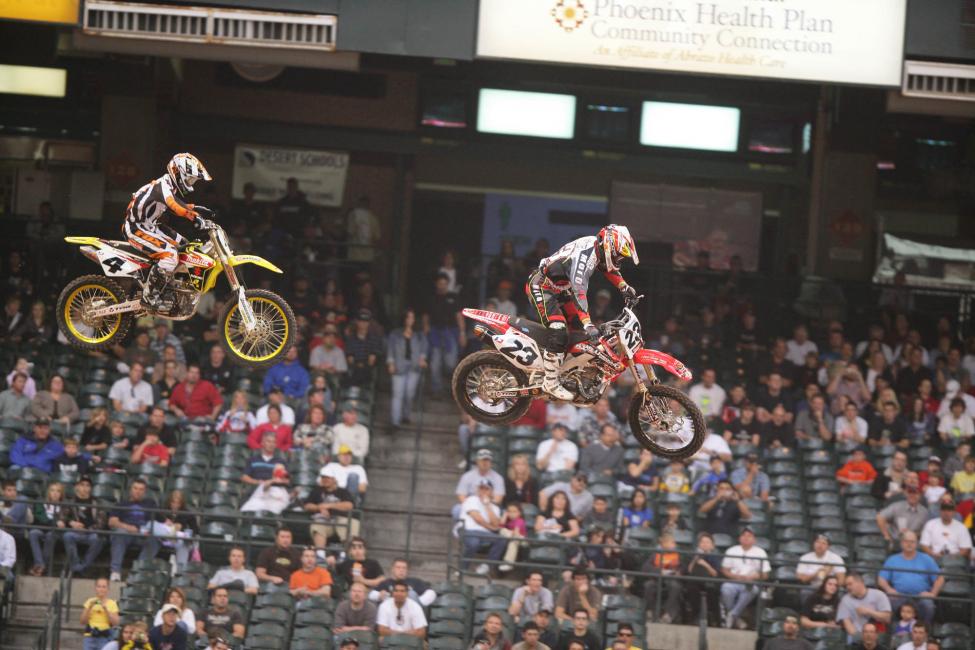 Lewis—"The whole Moto XXX deal, people thought it was bigger than it was. People had no idea how we were doing it behind the scenes, it was a lot of sacrifice by everyone in the office and on the team. No one was getting rich off it and everyone worked hard. And somehow, someway, we ended up coming off looking pretty good."
Brown—"Somewhere around this time, Joe Murphy became more involved than he already was. He financed Brad Williams, whose truck we used in 2002. Then, the next two years we used the Yosh truck, and Joe was more behind the scenes. Joe had been brought into the Moto XXX team circle because he's just a mover and a shaker. Joe started Atomic 22 before Moto XXX and has been in the sport for a long time. When Yosh dropped us, they took the semi, and one of my biggest moves in getting control of the team was getting Joe involved in a bigger scale behind the scenes. We needed a lot of money with Yosh out—they didn't give us cash but they gave us truck, a driver, fuel and a workshop—that was huge. When they dropped us, it was a big deal. It was close to being done. Yosh cut our cord and we had to stand on our own two feet."
Kyle Bentley, mechanic—"I worked there all of 2005 and half of 2006. Before Moto XXX my rider that year was Jimmy Wilson, and he got hurt in Phoenix. I wasn't planning on doing anything, but my buddy Eddie Ray called me and put me in touch with Alan Brown. Alan called me and everything worked out from there."
But Moto XXX stopped making their video series due to flagging sales of the video genre, and it was a move that some associated with the team think was a bad idea…
Burns—"We didn't make a seventh Moto XXX video because we just weren't seeing a return from the last videos. There were so many people jumping on the video bandwagon, it was ridiculous. Everyone was a videographer. When we were doing it, it was hard as you had to find locations, line up the riders, and it was a different scene. By the time we put out XXX 6, Gravity Games and X Games were out and everyone had seen it all. No one got motivated to do it."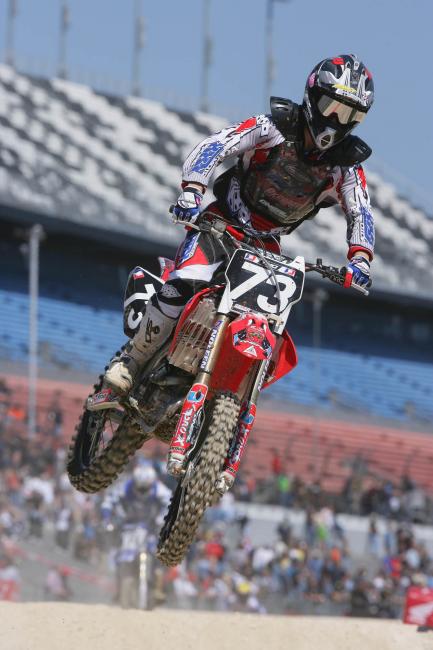 Brown—"Once the last video came out, Kurt's life was changing with having kids and all that. He was moving in a different direction and the big thing with him, I think, was he was an artist and when anyone could make a video with the digital filmmaking, he was over it."
Scott Roegner, mechanic, inside sales—"Jay Schweitzer was a video guy, mostly. He did some sales but he wanted to push the video side of things and be a producer and filmmaker not a sales guy. He'd work on the XXX videos, but when they died off, he left to start his own deal and has become pretty successful."
Burns—"Kurt didn't want to pay Jay to make another XXX video, and Jay went out on his own to make some great films. I think, even we made no money and we would've, it would have been in Moto XXX best interests to make another video to just let people know we were still alive. Jay and I talk about that a lot, Kurt blew it. Jay had success and is exceling making movies and instead of him making "On the Pipe or Crush," it would have been Moto XXX, and I think Jay would have kept us in the game with his videos."
Roegner—"I think it was a mistake to let him leave. Jay is incredibly talented behind the camera, and has done some great work. He had a stench-foot issue that we didn't like to deal with, but he was great."
Brown—"The three guys didn't put money into it after the initial investment of their video sales. The team was supporting itself through the sponsors. The team was a legitimate business and not a charity case where those guys just poured money into it. So we didn't need the videos to sell anymore to run a successful team.
So no videos, but even without them, Moto XXX the race team carried on with some moderate success that year…
Brown—"Jimmy Holley was buddies with Juss Lansoo, this rider from Estonia, and O'Neal was still a big sponsor of ours back then. Holley probably got into the ears of O'Neal and they wanted us to hire Lanssoo, so we did but it was a struggle for Juss indoors."
Lewis—"At times Alan and I butted heads. I said I couldn't ride the bike and that I was uncomfortable. He just thought I wasn't training or was getting old. We got into it pretty gnarly. I had another guy do my suspension, and I qualified better than I had all season. And he took it off and did some of his own stuff. It was a grey area where I owned some of the team and he was team manager, so I was wondering why I had to listen to him!"
Brown—"We had Justin Buckelew that year, he did pretty well for us. He pulled a couple of unbelievable holeshots at Unadilla. Both motos, also, it was like he cheated on the gate drop or something. It looks like a photoshop of a guy just dropped in. I was doing the motors back then."
Bentley—"I worked for Nick Evennou but he got hurt for supercross so we just did outdoors that year. Nick was an extremely fast kid who was either on the bike going fast or on the ground crashed. At some point I worked for Kyle Lewis. He was very meticulous and very picky. We got along, but he was one of the most detailed oriented guys I've ever seen."
YEAR TEN---2006
Riders Kyle Lewis, Tim Ferry, Josh Summey and Juss Lannsoo
Brown—"In 2006 we got Unbound Energy drink and Josh Summey, who came along with the drink money. Scott Sepkovic made the deal happen. He had the money from Unbound and told me he could give me the cash for certain things that I had to do, like take Summey, and the deal was done. They wanted us to have 250's and 450's and Josh had potential, so it was all fine."
Roegner—"Right around 2006, when I stopped racing myself, I was in the XXX office, I was getting ready to graduate. Over time when Alan got in there I got to know him well and Josh Summey was on the team. They needed a mechanic, and although I'd never worked on anything but my own bike, I got the job as a mechanic with Summey for 2006 250SX East Coast. I had come from the kid hanging out to video sales guy to now a mechanic."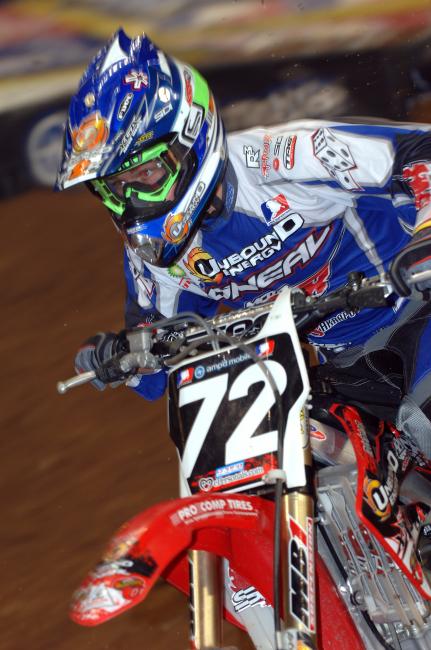 Burns—"Summey was awesome, but the thing about him was he was so quiet. I would try to fire him up, I would do anything I could to get him in trouble. That's all I wanted to do, get him in trouble. He was all tatted out, looks punk rock, and then he just sat there all mellow. I wanted him to run his visor backwards and go out there. I really asked him to do that, but he seemed scared that he would get in trouble with Alan or something. I thought it would have been awesome."
Tim Ferry, rider—"I was talking to some different teams for 2006, with Motoworld Yamaha being one of them, and I could have gone over there with some Yamaha support. Yamaha didn't want to get rid of me but couldn't rely on me because I had been hurt for two years. They also wanted me to ride the two-stroke, but I didn't want to. At some point I had ridden Jason Thomas's 2005 Honda CRF450 and it was awesome. It blew me away, and I knew I had to get on that thing. I would ride one of those today, they were that good. This was the 2005 and I have to say in 2006 the chassis wasn't as good, they changed something on it."
Brown—"Getting Tim Ferry to ride for us was huge. I thought he was packing it in and retiring to be honest. He had a few bad years, with his wrist, and Yamaha had given up on him. I always liked Timmy and went after him hard. He was hesitant at first. After all, we were Moto XXX and there was always a question of our professionalism and desire. But I showed him we did well with Huffy and Lewis and I thought it was a cool chance for him to do something. Even though I had known him since he turned pro, it took a couple of months to convince him."
Ferry—"So I wanted to ride a Honda, it was stuck in my mind, and Alan was calling me to ride for XXX. The Motoworld deal was three or four times more money, but I was worried about getting paid and I didn't want to ride the two-stroke. Alan was super honest and laid it out there. He said he couldn't offer a lot, but that he would get me the best bike they could, he promised I would get starts and $1000 a race for expenses."
Roegner—"I didn't interact with Ferry much this year. He was Tim Ferry and I thought he was kind of a big deal. Lewis the same way, we got along, but there wasn't any bro-down stuff going on. Josh and I stuck together."
Ferry—"I went from making over a million dollars a year and a factory bike to expenses, thirty thousand dollars, and a privateer bike, but I really wanted that Honda!"
Brown—"We had all our contracts done with O'Neal when Ferry decided to come on the team. We asked for more money and they said no so I said, ok, he'll wear another brand of gear. They said that couldn't happen either, so it worked out. Ferry did his own gear deal, and it happened to be with O'Neal, so that we all looked the same."
Ferry—"I could do my own gear deal, so I got 30K from O'Neal that year. I ended up staying with O'Neal for the rest of my career so that worked out pretty good for me."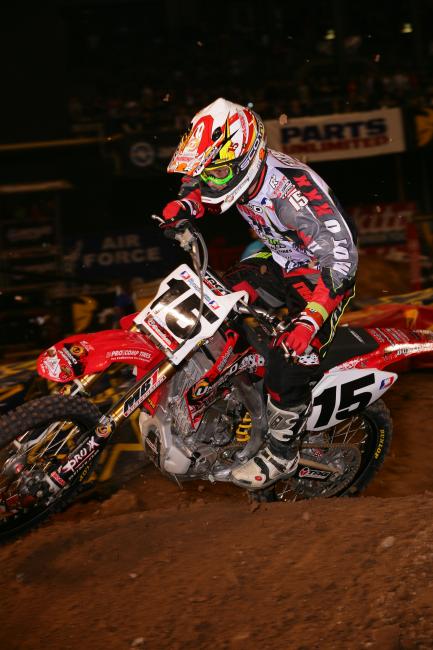 Burns—"I just always wanted Tim Ferry to stand in our pits, take his shirt off and yell 'F**K EVERYONE!' (Laughs) But you can't change these guys, I guess."
Brown—"We still had Lansoo but Juss still wasn't very good at supercross. I always believe that no matter how good you are at motocross, you should start supercross on a smaller bike. I don't care how big you are, you need to learn on a small bike, or the big bike is going to hurt you. And that's what happened to Juss. He would get a little caught up in a moment and pin it. At some point he quaded a triple and broke his wrist. He never got any better after that. Awesome guy, though."
Ferry—"I remember Juss had a bad wrist, and he just dealt with that all year. He would say the funniest stuff, and I never wanted to make him mad. He was like the Hulk, where I thought he would smash stuff. He was super scary in supercross. He struggled with that stuff but he was a cool guy."
Brown—"Ferry's first race, at Anaheim, he got a holeshot in the heat race, and I think he might have panicked because he hadn't gone through the whoops that good all day. Now he knew he had to go for it, he blitzed about halfway, his front end dropped, and he ate crap. That was scary right there, he hadn't crashed yet on the team. He was done for the night but afterwards it was onto Phoenix where he did better. He got better as the season went on."
Ferry—"I had wrist and knee surgery that past July and didn't start riding until December of 2005. So when I crashed out of the first race in 2006, I thought I would be fine to go there and just kind of ride around, but that didn't work out. It was just a slow progression until my wrist started healing a bit."
Lewis—"Ferry would always smash me for some reason! We would be in qualifying position and he would try to take me out. I about broke my hand on the trailer one night when Alan told me that I needed to race nice with him because we were teammates. I was pissed. I told Alan to tell Ferry to not come near me for a while—I think this was at San Diego. It was partly Alan's fault for not sort of figuring it out early on and talking to him. Off the track we'd be cool and he was a nice guy but on the track, he liked to smash me."
Brown—"Going into the outdoors, he (Ferry) got hurt testing and missed the first few races. But, near the end of the nationals, he got a lot better and was putting in top fives. His finishes were back up to where we used to be as a team, and we needed that."
Ferry—"I made a big suspension change, around mid-season of the outdoors. I had known Mike Batista at MB1 for a long time and I was using his stuff but man, something just wasn't right with the bike. He does great work, but for whatever reason, the bike wasn't working that well. So I had Bones at Pro Circuit do some stuff for me, and I instantly moved up two spots at my first race, then I started getting into the top five. I never, ever changed a clicker or anything. Anytime I tried to move a clicker, the stuff got worse so I would put it back to where it was."
Lewis—"I was frustrated at times at the end of the deal with my suspension, we had Race Tech and they're awesome, but I just couldn't get comfortable. And Alan was forcing it on me but Ferry was using Pro Circuit stuff. Alan eventually let me use Ferry's spare stuff. The stuff was so good, I even led Ferry for a while but he took his forks back."
Brown—"The whole thing started when Kyle had a vision when he came back from Japan to ride for the guys and he was still a rider. Which meant that he grew up in a world where it was all about him. And that's not good for a team atmosphere. It got really hard when he wasn't the top dog and I wasn't doing stuff that wasn't in his best interest. He disagreed with stuff I was doing, sponsors that we got and the fact I was putting an effort into other guys. He definitely deserved some effort but he wasn't the marquee guy that he once was. I totally get it and understand how tough that would be for him."
Ferry—"Kyle was cool to me when I was there. I never fed into any of the drama on the team that was there from time to time. He was towards the end of his career and was the star of the team so I didn't make anything into more than it was. I just showed up and did my best. Alan was buddies with him, and I had my wife and kid there, so we didn't hang out much."
Burns—"My band was travelling quite a bit and Erik's band was so busy with what they had going on and we tried to be involved the best we could but it was tough. I was always the mouth of the team. I was always talking about Moto XXX, in any interview I did with music magazines or whatever—I pumped the team up. But yeah, I couldn't devote that much of my time to the team."
Brown—"Jordan was always saying he was Moto XXX forever, to the death, and around this time, there were three pictures of him in Racer X with nothing Moto XXX on whatsoever. I was pissed about that because he was the first person to talk about how we weren't getting the press we deserved."
Ferry—"At some point Kawasaki came to talk to me. I thought my agent was messing with me about that but he said, 'No, they want you and you can have the ride' but I was like 'I don't have a contract so I don't believe it!' But it ended up working out. Moto XXX got me a factory Kawasaki ride and another chance on a team at that level."
Bentley—"It was funny that year because (Kenny) Watson now worked for Utopia goggles and was our goggle guy. He based himself out of the Moto XXX truck, and it was like a reunion there. He used to tell us how he ran the team and he was the reason the truck was there. He was always yelling about this or that."
Ferry—"Honestly, the team was pretty good. It was so different than being at Yamaha. There wasn't any pressure on me like over there. They didn't favor anyone over there as by the time I left Yamaha they were starting to favor Chad (Reed) a little bit. I remember that the team had no bathroom in the truck, that was the worst thing about them."
Bentley—"Jordan and Erik were around and they were awesome guys. They loved the sport and would do anything they could for the team. Jordan caused trouble by wanting to play under the awning and piss the SX people off. Alan was the first team manager in my career, we're still friends to this day and he taught me a lot."
Ferry—"I don't remember Erik being around much, those guys would just pop in from time to time. I knew Jordan already from being in one of the first videos that Moto XXX had, so we went back a ways. It's funny, those guys would just pop in and out whenever you least expected it. They were just enthusiast's man, they were just stoked to be at the races. I see Jordan every now and then, he's the same guy he was back then."
At the end of this year, a founding sponsor and the team would split ways after ten memorable years of sponsorship…
Brown—"Frank at O'Neal was a very good businessman and still is, but he worked it hard. Our licensing agreement ended with O'Neal at the end of 2006, and they weren't renewing it. We always had to beat on their desk to get paid, and they always paid in full but they wouldn't pay you unless you pounded on their desk … but they did pay unlike some other sponsors!"
Frank Kashare, O'Neal—"We loved being a part of XXX. I think the team never got the sponsorship from outside the industry that they deserved. Maybe it was the name, the overall image, or just the timing of it all. You have to respect a crew that could keep things going for such a long period of time. In truth, they helped change the pits to a party atmosphere, and in a number of ways, created a bit of a segment in the sport that is here to this day."
Brown—"They (O'Neal) lowballed us for gear but Moose Gear wanted to join up with us also and the power of Parts Unlimited, who own Moose and was distributing our clothing, was a good thing. We gave O'Neal an opportunity to match, but they didn't and we moved on. O'Neal had been with Moto XXX since it started so it was a big moment."
Lewis—"By the way, look at all the mechanics that have worked at XXX and went on to become factory guys, and all the riders that went on to great things either before or after Moto XXX. Guys like Jay Haines, Dave Dye, Shawn Ulikowski, Steve Matthes, Sean Irwin, Kyle Bentley all worked here and became factory mechanics. I think that says something about our program."
Brown—"At the end of 2006, Kurt said he was done—completely done and right out of it. If the team was going to continue, it was 100 percent my responsibility, and it was 'Here you go, good luck' and I was off."
Stay tuned right here on Racer X Online for the rest of the Moto XXX: A Complete Oral History coming soon.