From its inception in 1997 to the end of the line in 2008, team Moto XXX has stood for everything that was dirt bike riding, heck, maybe even motorcycle riding in general. Powered by a desire to be different, the team was a little bit rebellious and a little bit outlaw. Started by three guys that just loved the sport, the Moto XXX brand helped a lot of riders over the years and spawned several careers in the industry that can still be felt today. Nine riders that rode for the team had factory rides before or after their time with Moto XXX and seven former mechanics went on to be factory wrenches (this author included).
The team, started by punk rock band members Kurt Haller, Jordan Burns and Erik Sandin, (Ed Note: Despite repeated requests Kurt Haller declined to be interviewed for this story) lasted for eleven years in various incarnations, through different managers, different bike brands and different ways of getting to the races. The best way to tell the whole story of the team is through the words of the people that lived it.
We have part 1 in the newest Racer X Illustrated, so pick it up if you want those details. We'll kick off the rest of the story here at Racer X Online with years two and three, and follow up with a new story each week. Here is the good, bad and the ugly of Team Moto XXX through the words of the people that were there and lived it.
YEAR TWO—1998
Riders: Brian Deegan, Paul Currie, James Eickel and Michael Brandes
Kenny Watson, Team Manager—"The second year Deegan came back and we also hired Paul Currie and James Eickel. We didn't have any more money than the first year; in fact we probably had less! We had more record labels come on and they gave us a bit but not much."
Brian Deegan, Rider—"To be honest we switched to Kawasakis and they were horrible. They were slow and we were sponsored by Pro Circuit, but just on the privateer program. It got frustrating as I would get out there, battle with good guys and they'd pull me so bad."
Watson—"People were getting pretty responsive to us in the industry. We had Deegan and other pretty good riders. Brian was all clean cut back then, he started to come out of shell shortly after winning the previous year. I think Deegan made $20,000 in salaries that year [from the team]."
Deegan—"No way, I might have made around 20K for the whole year [all sponsors and bonuses combined]! O'Neal didn't pay me anything—it went to the team. Having Swink on the team the year before was cool, I always respected him because he was fast and naturally talented. He was a badass on the 125 and it always goes back to the old story—if he only trained. But that was the way he was and he was a cool guy to hang out with."
Paul Currie, Rider—"I have a million stories about my time there. It seemed that there was always some drama or something around the team. Jordan, Kurt and Erik were pretty awesome, they were spending money on the team because they loved it."
Jordan Burns, Drummer for Strung Out, Owner—"Currie was awesome, he was such a character and a lot of fun. And he was serious about training and all that; he had a lot of passion for motocross. He was also a fashion queen… my nickname for him was "Sculpty" as he was always looking good off the track."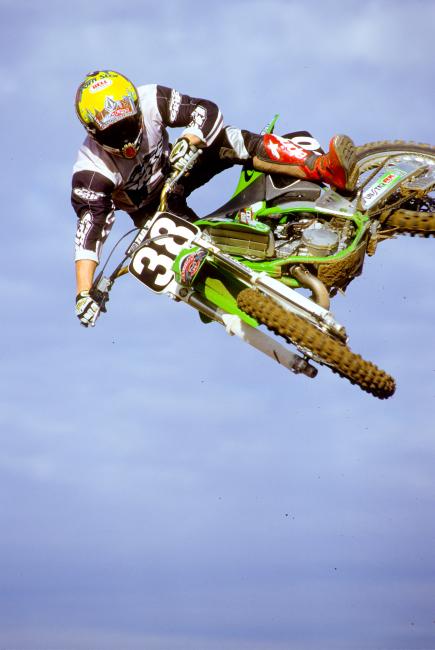 Currie—"Somehow Watson always got us what we needed considering the tiny budget and not great results. He always pulled through. I distinctly remember him telling some dude over the phone that if the team didn't have its graphics in time he was going to go down to the dudes work and smash his head through his desk."
Watson—"There were so many funny times with Currie and Eickel. I don't even remember how they did to be honest. It was just pure laughter all the time. I remember at Indianapolis I couldn't find any of the three riders—Deegan was riding a 250 on the East [Coast] that year—and the heat race was coming up. The mechanics said they thought that all of them were in the front of the van. I go up there and all three guys are getting massages from these girls. Eickel stands up and he had these underwear on that he called his good luck underwear—he had them since high school and they had these chili dogs all over them. Just then Brian ripped them off of him and he about started crying. Just started crying and saying that none of us understood how much these chili dog underwear meant to him."
Watson and Burns, buddies for a long time, had their differences here and there and the entire team definitely noticed.
Deegan—" Jordan was always the talker of the group and stirring the pot. Him and Kenny would fight like brothers and I remember that Kenny actually hit him one time in anger and then they argued about how hard the punch was. There were some moments with those two for sure."
Burns—"You have to remember that Watson and I lived together and there were a lot of stupid moments. We'd have card games or whatever going on and we'd start fighting. I don't really remember fighting over Moto XXX but there definitely some big arguments between us over the years."
Watson—"Sometimes Jordan drove me crazy, he still does today actually."
Burns—"Yes, I would agree that I was a troublemaker and it's funny that they all call me out on that. I take it as a compliment. They [the AMA and race promoters] would tell us to stop and then as soon as they left, I'd start throwing things out [to the fans, which the promoters didn't allow]. It was awesome, I was like 'screw you' we're here and this little team putting all this effort in and you're going to try and shut us down? There's no harm involved, they just wanted their own rules and didn't like what we were doing.
"We had to come in with a bang and competed with all these big teams in our little box van. They were tripping on us for no reason. I loved it and would use a bullhorn every now and then and people would start getting nuts. And if it wasn't getting nuts, it was boring to me. I needed excitement and needed it to thrive. It was my job to stir the shit up and those guys knew that."
Erik Sandin, Drummer NOFX, Team Owner—"As much as I love the guy (Watson), he could be a pain in the ass sometimes."
Burns—"We've had a love/hate relationship over the years and I think that a lot of people who have experience with Kenny Watson can relate. He's gnarly at what he does and when you've known him for so long you can see he's set in his ways. Kenny's got this very serious job now, a kid and maybe he's changing a little bit but I can't say for sure. Kenny's very good at what he does and he's had a great career in the motocross industry."
Soon, cracks started showing up in the Deegan/Moto XXX union…
Deegan—"In 1998 I cut the track at Budds Creek, I was so pissed. I was in the top ten and my clutch lever came lose, I pulled in and Kenny had to tighten it. I was angry, I was back in around 15th and I just cut off a downhill to get back to where I was. I remember Duke coming over and saying I cut the track. I asked him if he saw it and he said no so I said there it is, I must not have [laughs]."
Watson—"The next week Duke Finch comes up to us with a video that shows Brian cutting the track badly and he just starts yelling at Finch like it's his fault that Brian cut the track!"
Deegan—"Kenny had a lot of little secrets with the bike, things that went wrong that he never fessed up to. He was sneaky like that."
Currie—"James Eickel, he was definitely a funny guy and I had some awesome times staying with him on "the west side of Columbus" as he liked to say. He was a bookie and taking action all the time on games and other crap like that. He told me his goal was to be in the top three in Columbus and I assumed that he meant illegal activity."
Burns—"Eickel was out of his mind. He was the self-proclaimed Youngstown gangster. His whole thing was weird, he had this ten year lucky underwear with these hot dogs on it. We were always laughing with these guys, they provided a lot of laughs. They stayed at my house a lot back then. I still talk to Currie as he sees us play whenever we're in Florida."
"Gothic" Jay Haines, Mechanic—"I worked for Paul Currie and probably the highlight of the year was that I met Jimmy Eickel. I remember he used to beat his mechanic up with a broom."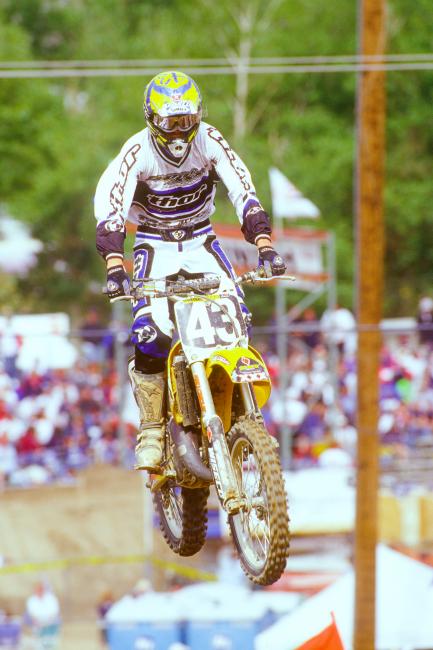 Later on the team's star would get in a dispute and quit the team…
Watson—"Brian quit the team somewhere in the beginning of the Nationals. At High Point his bike blew up in the first moto and while pushing his bike back to the truck, he shot gunned a beer that a fan had given him. But I wasn't really that mad at that. We had a fire drill (with the motor) so I drained the antifreeze out preparing to swap motors but in the meantime Deegan's mechanic Shawn Ulikowski figured out it was just a broken reed so he swapped that out and we both forgot to put coolant back in. So second moto his bike seized again and he just chucked his helmet into the crowd. Which might have been cool except none of the fans were facing him, they were all looking at the action on the other side of them. "
Deegan—"I was so pissed that my bike seized that I just threw my helmet. It didn't hit anyone that I know of and actually someone got a cool present. That would be pretty sweet to come home with a helmet, right? I am lucky it didn't hit anyone though."
Watson—"So it could've been really bad but someone still wrote a letter or called a sponsor of ours—I don't remember who—and complained because they probably got that helmet upside the head. So Kurt asked me to ask Brian to write this fan an apology letter and that would be that. Deegan said he'd quit before he wrote any letter and that was it, so he actually did quit."
Deegan—"What was that shit about? I was like, are you serious? I was over it anyways at this point, it wasn't going well and I wasn't going to write a letter."
Sandin—"Yeah, we were pissed that Brian did that. Our sponsors were not happy that he did that and he was caught cutting the track one race as well. It wasn't cool, because his behavior was costing us sponsor money. We didn't want to be all corporate and we weren't but we wanted our guys to try and it was affecting the money that our sponsors were going to pay us. Once he started being an asshole, it started hurting us and he quit."
Burns—"I look back at Deegan leaving the team as such a bummer moment. I think that there are certain times and points within the team where things started going a different turn and I think if we had just stuck behind him and said "eff everyone" it would've worked out. Because if you look at how things turned in the industry, it was almost like what he developed into and became was started at Moto XXX."
Deegan—"They were trying to not let me race, that was the way I remember it. They said I had to sit out and I was like 'F*@ you, I'm racing' and the guy from Stiffie said he'd get me on Suzukis and on the team. At that point we're all scrubbing the bottom of the barrel anyways and I don't think I made the best decisions in the world back then."
Watson—"Then two weeks later he showed up as a member of Team Stiffie. And going to Stiffie was like a pie in our face, they were from Simi Valley also and tried to be like us."
Burns—"At one point we made a shirt that said: "Moto XXX: We aren't playing by the rules" but then we kicked Brian out because he wouldn't follow the rules."
Michael Brandes, Rider—"I was riding for Stiffie and lots of promises never came through. I spoke with Watson and I made the transition over there when Deegan left. I got something different and I was happy, I rode a Suzuki and at the end of the year I got an offer from Primal Impulse and I went there. Those Primal bikes were great."
Haines—"I left halfway through the year to go to Stiffie right around the same time as Deegan...but it didn't cause the same stir as when Deegan switched!"
Sandin—"I gave the team my personal credit card at times to fly people to the races. I lost a lot of money over the years doing that. I got a $6000 bill one month for flights! We were committed though to the team and we were doing it. All three of us spent money out of our pockets and never made a penny the whole time we owned the team."
Watson—"Things were so tight and we rolled the dice so much that I don't believe the box van had insurance or was registered that entire first year. I'm serious."
Frank Kashare, President, O'Neal USA—"The entire XXX crew was like a group of outlaws. Lets face it, the XXX culture was really about conforming to nobody. The music, the promotion, the marketing and the drive from these guys was truly amazing. I think all of us at O'Neal loved it. These were local boys, they were into the sport and, in my opinion, they represented, in many ways, what the target market was all about."
Sandin—"Our second year was pretty miserable. Currie couldn't keep it on two wheels and Eickel went from making main events prior to having a hard time making the night program. We over extended ourselves that second year I think with a lot of different guys coming and going through the program. But we showed up and did what we had to do."
Currie—" I remember that my results weren't equal to the amount of fun I had, that's for sure."
YEAR THREE—1999
Riders Travis Preston and Phil Lawrence
Eric Johnson, Journalist for Racer X Illustrated—"I loved Moto XXX. When I was in my late teens and in college I was very, very much into punk rock. The real punk rock. We would drive to places like Minneapolis and Chicago to see shows. I mean I saw it all... The Dead Kennedys, the Circle Jerks, the Descendants, Flipper, the Adolescents, X, the Ramones (saw those dudes five times)... I'd go to those shows and wake up black and blue all over. It only got worse when I moved to Los Angeles. I mean, I really bought into it all."
Watson—"In 1999 we had Travis Preston riding a 125 on the West Coast and Phil Lawrence riding 250 SX only. So it was just going to be a supercross-only team until Preston decided to do outdoors. He took the box van himself and went out to do those."
Sandin—"The team was self-sustaining itself through the videos and it was costing us a little bit of money but if we kept the giveaways going, if we kept the hype going, we'd be popular in the pits."
Travis Preston, Rider—"I was coming off Chaparral in '97 and then Moto XXX was my first real deal, no salary but they took care of everything. Kenny Watson was a lot of help, I had some issues with my mechanic the first couple of races and Kenny found Shawn. Once he came onboard, things went great."
Sandin—"Preston and Lawrence were great guys, no egos at all and we would just sit in the truck laughing the whole time. It was like the first year, there were no lap times and no pressure at all."
Preston—"In supercross, my teammate was Phil Lawrence, we were in the same box van and we had a blast. Then Nationals came, Shawn and I took the box van and did it ourselves. It was a credit card and him and I driving everywhere."
Phil Lawrence, Rider—"When you go from almost winning heat races and having no problem getting into the main event to all of a sudden having to try very hard to get into the main event, it's a big difference. No top tens for me at this point and I was on the way down. People are beating you that you'd never even think about before, so that gets discouraging. You're like… this is not fun. That was me in 1999 on Moto XXX."
Sandin—"That was a good year, Phil didn't do a whole lot but he was a cool guy. Great to have him on the team but he rode pretty tentative once he got into the mains. Preston was top ten indoors and outdoors for us, he really came on strong. He got fourth in Minneapolis, he was in third place until the last lap when he let Shae Bentley by because he wanted a ride on Pro Circuit that next year!"
Burns—"I was blown away that we had "Factory" Phil Lawrence on the team and then Preston also. I remember so many good times with his family over the years. His family and Currie's family were so appreciative and awesome to work with. I still have a letter from Travis' mom that she wrote to "Dear Moto XXX" after Preston wasn't with us and how they were missing being around us, thanks for all that we did and all that."
Preston—"Phil was great, he's probably only six or seven years older than me but at the time he seemed to be this crusty old veteran guy. He would guide me here and there and tell me what to expect. Plus it was Phil Lawrence so there were always attractive ladies coming to the van all day long!"
Lawrence—"Every time I get a chance to, I make sure I tell people that I feel sorry for Watson. I was just partying and not being a racer. He was giving it an effort and I wasn't. I feel like I cheated him, really."
Watson—"I worked for Lawrence but he was at the end of his career. He was just riding it out but I had high expectations going into it. He was Factory Phil, after all, and I thought he was going to kill it. But after awhile I could see he had basically quit so I threw in the towel also. He was getting beat by Heath Voss and I couldn't believe that so I started writing, "Voss is your boss" on the board all the time. I just wasn't going to bust my ass driving all over the country for him. Years later, Phil said that he was an idiot in 1999."
Lawrence—"Truthfully, grips and graphics is all I deserved from him (Watson)."
Preston—"I did well that year, in motocross it was the best I had ever done, I got privateer of the year in the 125 Class and it got me a good ride with DeMarini Suzuki the next year."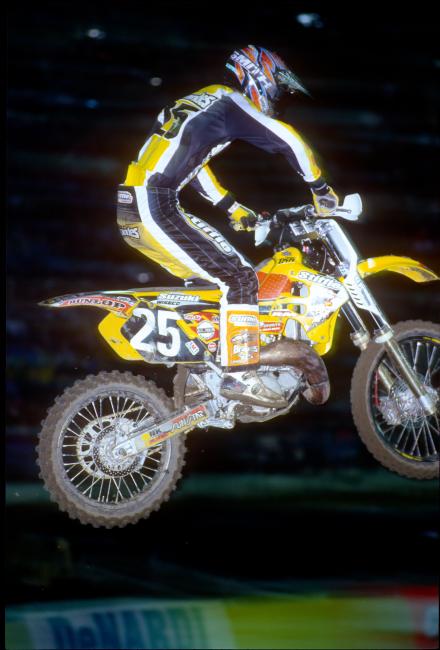 Shawn "Ulo" Ulikowski, Preston's Mechanic—"That year (1999) was pretty much Preston and Ulo racing. We were on our own—full privateers. I drove the box van, worked on the box van, washed the box van, worked on the practice and race bike, built my own engines, went grocery shopping, set up the tent—all of that. Travis would stay on the road with me during the summer so we could ride back in NJ and he and my then-girlfriend, now-wife, Davi, would even help me drive and wash the box van. Although Watson was the team manager, I think all he did was order the graphics for me. It actually was one of the best years I have ever had as a mechanic! We did well and had lots of fun."
Burns—"Preston was just another guy that came through our program and went on to big things. He won a 125SX title and then became a factory Honda rider. There were a lot of riders and mechanics that came through our program and went on to great things."
Ulikowski—"Everyone at Moto XXX was awesome. Kenny, Kurt, Jordan and Erik were all fun to work with and I think that Moto XXX got me where I am today. I'm serious."
Preston—"I look back at my time at Moto XXX with fondness, it was the best thing ever and we had so much flexibility with whatever we wanted to do. If company X wasn't working, we went with company Y. The credit card never got declined either!"
Jeremy Albrecht, Factory Kawasaki Mechanic—" Our sport, more so back then, is a very corporate sport and we need more people like those guys. Back then [people felt like] if you weren't a factory team then you shouldn't have even been there. That was the attitude from a lot of people. That whole program would work really well now I think but back then a lot of the industry wasn't having it. Those guys were my friends, it was funny to sit back and watch them get in trouble every week."
But soon, a founding member and backbone of Moto XXX would find himself ready to leave the team…
Watson—"I had an opportunity to work at Plano Honda as a manager, they were starting a team from scratch for 2000. I didn't see the XXX thing going in the direction I wanted to go so I thought this was a better program for me. Financially this was way better for me as well."
Sandin—"As much as I love the guy, he could be a pain in the ass sometimes. It was scary when he left and it bummed me out but I knew that we would be ok as long as that box van was out there. Kenny was very crucial part of getting us going and he got the wheels off the ground but at the same time we reached a spot where we now had the connections to keep things going. It is what it is."
Watson—"Kurt was always on me about spending money and I'm like, yeah, racing is expensive. Kurt thought I spent too much money but trust me, it wasn't anywhere near what I could've spent."
Burns—"There was so much tension between everyone near the end that it was probably time for him to go. He was driving Kurt insane and those two would have some huge battles. Everyone was battling with him, actually. It sucked because I do feel that he was very integral part of the development and creation of Moto XXX team but it was just time for him to leave."
Watson—"I got to work with my friends and I had so much fun doing it. It was awesome to be a part of it and even when I left, I still felt like I was a part of it. We had great times filming, racing and I had no hard feelings towards any of those guys. It was my first time building a program and taught me a lot."
Burns—"It was weird; all of a sudden he was, "I'm going over to this team" and was going to be a manager. We were laughing thinking that Plano didn't know what they were in for. He'd be at the races, all in his Plano stuff, and rubbing it in that he's so much better now and trying to put us down. He really wanted to make sure that we knew he had it so much better now. But then look at how long Plano lasted—not very long."
Sandin—"Watson did a lot for us in those first few years."
Stay tuned right here on Racerxonline.com for the continuing saga of Moto XXX Part 3…