From its inception in 1997 to the end of the line in 2008, team Moto XXX has stood for everything that was dirt bike racing, heck maybe even motorcycle riding in general. A little bit rebellious, a little bit of outlaw and some desire to be different were the general rifts of the team. Started by three guys that just loved the sport, the Moto XXX brand helped a lot of riders over the years and spawned careers in the industry that can still be felt today. Nine riders that rode for the team had factory rides before or after being on the team and seven former mechanics went on to be factory wrenches (this author included).
The team, started by Kurt Haller, Jordan Burns and Erik Sandin (Ed note: Despite repeated requests Kurt Haller declined to be interviewed for this story) lasted for eleven years in various incarnations, through different managers, different bike brands and different ways of getting to the races, and it's hard to tell the whole story of the team unless it's through the words of the people that lived it.
We have part 1 in the newest Racer X Magazine so pick it up if you want those details. Without further adieu, here is the good, bad and the ugly of Team Moto XXX over the rest of the years through the words of the people that were there and lived it.
Click HERE for Part 2 , HERE for Part 3 and HERE for Part 4.
YEAR SEVEN—2003
Riders Kyle Lewis, Larry Ward, Damon Huffman, Clark Stiles and Troy Adams
After the 2002 season the team would end up ditching the "X3" logo and return to their roots—Moto XXX was back!
Scott Roegner mechanic/inside sales—"Looking back on the name change, and hindsight is always 20/20, it wasn't a smart move by any of us. I was in the office and although the thought process behind it made sense—you've got to take a risk but it didn't work."
Alan Brown, mechanic—"Moving into my second year (2003) it became a full Honda program and I started working with Yoshimura on the motors and what was going on there. I was still a mechanic for Kyle but doing more and more on the organizational side. Bill Savino at Honda was friends with Kyle and Honda had put out the 450 so it was a natural fit but it was so a last minute deal the year before to get Kyle on the Honda off the Yamaha."
Kyle Lewis, rider—"I went testing in 2003, three weeks before Anaheim and I broke my wrist. It was a bad deal, I missed the entire supercross season and we got Huffman to fill-in. I was bummed because I was matching Ward's times at the track. At first he was three seconds faster but I got it to where we were equal. I stepped off the bike, went to the ground and got a pin in my wrist."
Brown—"In 2003, Huffman went to Anaheim in a pick-up truck and did pretty well. He had nothing and then we picked him up on the team with Lewis out. I don't remember how it went, if we went to him or he came to us, but it happened. Maybe Savino hooked that up."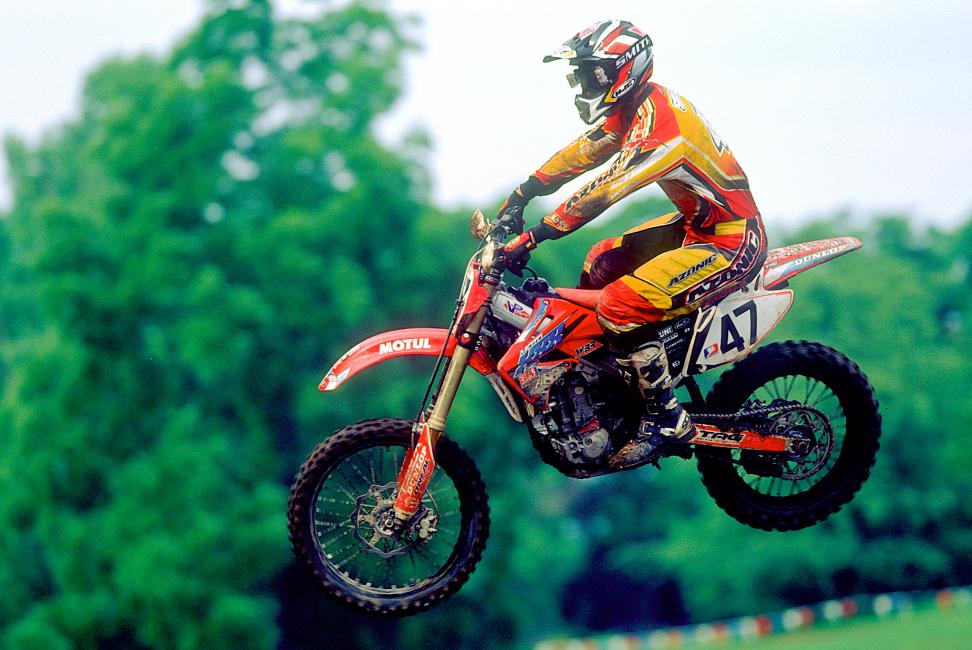 Damon Huffman, rider—"I started riding for Moto XXX after Lewis came to me. It wasn't any money but expenses were paid."
Larry Ward, rider— "I know in the Southeast everyone remembers the Atlanta Supercross when I had to ride the last chance because my bike blew up in the semi race. I holeshotted the Last Chance but that was because the clutch wasn't broken in and I was going whether the gate dropped or not!"
Bill Savino, Honda marketing—"Between Lewis, Larry Ward and Damon Huffman, Moto XXX helped those guys be some of the very best privateers and they were always on a Honda so for us, it was great."
YEAR EIGHT—2004
Riders Kyle Lewis, Damon Huffman and Larry Ward
Erik Sandin, owner—"Alan was working for Kyle in 2002 and started running things more in 2004 for us. He started filling in as a manager cause we never had anyone. Alan got us a shop, started working with Yoshimura, doing the motors and it was a natural progression into Alan starting to get more responsibilities."
Lewis—"By the end of 2003, I was doing well again and then in Portugal I punctured my lung and jacked my shoulder all up. So I started off '04 behind the eight ball again and struggled again that year but at the end of the year, I got fourth at Glen Helen to end the season off pretty good. I had a three-bike lead after the first turn, my motor setup was new and I loved it."
Huffman— "Alan got me a mechanic down from Canada named Ray Johnson and Alan said he was going to be at my house in a day or two. So this guy shows up at my door at ten at night in a white Astrovan. He had nowhere to live or anything, he just drove straight down. He was a good guy. He ended up staying at my house and he maintained my bike. He would run around my track section to section waving me on. It was bizarre but it also got me re-motivated. He had followed my career and gave me pep talks about getting up front and having people talk about me."
Ward—"The biggest mistake I ever made at Moto XXX was after 2003 when I finished eighth in the 450 series, I decided to race 250SX in 2004 and that was me thinking I could be a podium guy. I don't know what I was thinking. The 250 Class on a basically stock bike wasn't ideal!"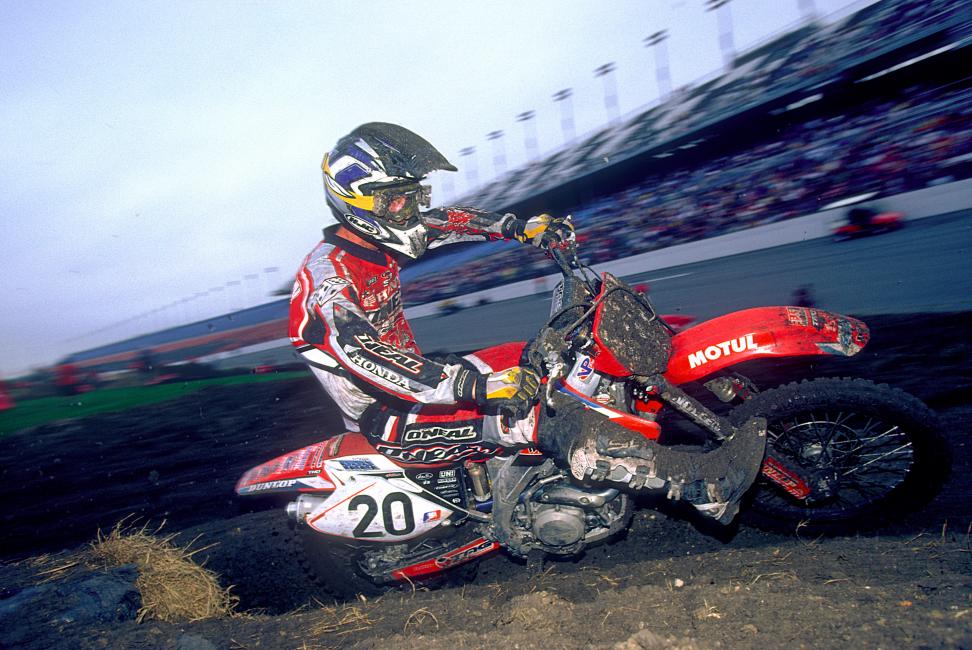 Huffman— "In 2004 I led the World Rounds [a series around the regular AMA SX series] for most of the season. But I tweaked my foot bad. The ankle was the main thing, standing up and cornering was the worst. I thought it was broken. Then my chain broke at some race in the rhythm section and I tore up my hand. I was barely holding on at that point."
Brown—"Huffman was in the running for the World Supercross Championship the whole year. That year was really me running a race team. It was like "Holy cow" and Kurt just let me go with it. He still had all the contracts and he still had the checkbook. But he gave me a budget to go racing and told me if I needed more money to go and find it."
Huffman—"I raced Dallas SX that year by taking 1000MG Ibuprofen, I went to the hospital and got some sort of horse tranquilizer and wasn't feeling that helping so I took a Vicodin. I got interviewed for opening ceremonies and Terry Boyd asked me if I was OK—I was so looped out. I still raced though and those last few rounds were tough."
Sandin—"Damon should have been the World Supercross Champion, no doubt about it! All he had to do was make the main events and roll around and he would've had it."
Huffman—"Looking back on it now, I was so close to winning it. It was amazing I lost that points lead. [Heath] Voss was really coming on back then."
Sandin—"Three years in a row, Moto XXX had the top privateer in the supercross series and that was cool. Nick Wey started it out for us in 2002, then Larry Ward in '03 and Damon Huffman in '04. Take that Honda!"
At the end of that year, Larry Ward, one of the team's most successful riders, called it a career…
Ward—"I'm glad you included me in this because the guys [ team owners] were Southern California dudes and I'm not sure they know how much fun I did have and how much I appreciated the rides the last couple of years. I always put more pressure on myself than anyone else and those guys never said a word and every weekend I was giving the team the best results they've ever had. I was pretty proud of putting in that call to Kurt Haller that I won a national. I was happy for myself but also for those guys also."
Jordan Burns, owner—"Larry was always really nice, he always seemed appreciative and he didn't seem like a big complainer. At least that's my perspective on things. He was focused but enjoying the end of his career. When riders came on the team, it was a no-pressure type of situation and they weren't there to perform for anyone but themselves. I think Larry enjoyed it."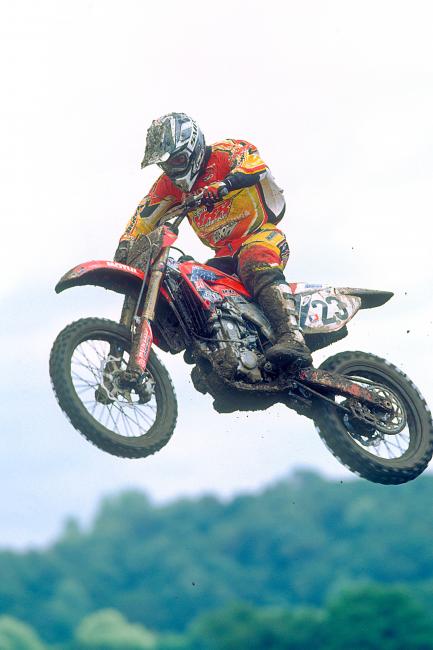 Ward—"My overall picture of the team itself, and this is all the owner guys, they wanted to more be on the computer and say they had a race team but as far as being involved, they didn't have anything to do with that. It was Alan, Kyle and I, but having said that, I had two of the funnest years' I've ever had racing. I had no hassles, my mechanic Doug "E-Fresh" Stone was great and all in all it was cool."
And despite the team's best efforts to keep Huffman, he left after two years…
Huffman—"Team ECC made me a real good offer, it was a total money thing—I had a three year deal with Blackfoot up in Canada for outdoors up there and I figured that the equipment was similar and I could do SX only. They paid me very well; I had no choice but to do it. Moto XXX gave me a check here and there for $1500. But in 2004 I made a lot of money in bonuses so that was good. Alan said if I stayed I could make as much if I did well but I wanted the guaranteed money."
Brown—"I put a lot of effort into the Huffman deal and he went to ECC for a little more money but hey, it's competition—that's the way it goes. I thought we helped him when he had nothing and did a good job. He made a lot of money, nothing through salary, but through his results. To lose that 30-pont lead in the World Supercross series was a huge bummer."
Huffman—"In the end, the ECC thing wasn't very good, little things went wrong, I switched mechanics and all that. They tried hard but it didn't work out. Alan had those XXX bikes dialed—they ran great. They were basically rocket ships with OK suspension"
Stay tuned for the next chapter in Moto XXX: An Oral History right here on Racer X Online.