Muddy Creek Raceway
Blountville

,

TN
Tennessee (Muddy Creek)
Lucas Oil AMA Pro Motocross Championship
The Red Bull KTM duo of Ken Roczen and Ryan Dungey dominated the early part of this Lucas Oil Pro Motocross Championship. But after sweeping the first three overalls, finally, a threat came from James Stewart and Trey Canard at round four, with Stewart taking the moto wins and Canard fighting them on every lap, and finishing ahead of them in moto two.
At Muddy Creek, though, Stewart and Canard didn't have the best of days, while Roczen and Dungey rumbled through the field. Heck, ten minutes into the first moto of the day, it looked like Canard and Eli Tomac were setting up Honda's first moto win of the season as they pulled away in formation out front. Roczen even fell, helping their cause.
But Dungey was coming. While the Dunge has had his trouble making early passes, he wasted no time in zapping Canard and Tomac when he got to them. Roczen eventually came back through to complete another KTM 1-2 performance.
They were even better in moto two, getting the starts as well as the finishes. Roczen passed Dungey on lap one to get the lead, and they pushed each other hard the rest of the way. After the race, we talked to them about it all in the post-race press conference.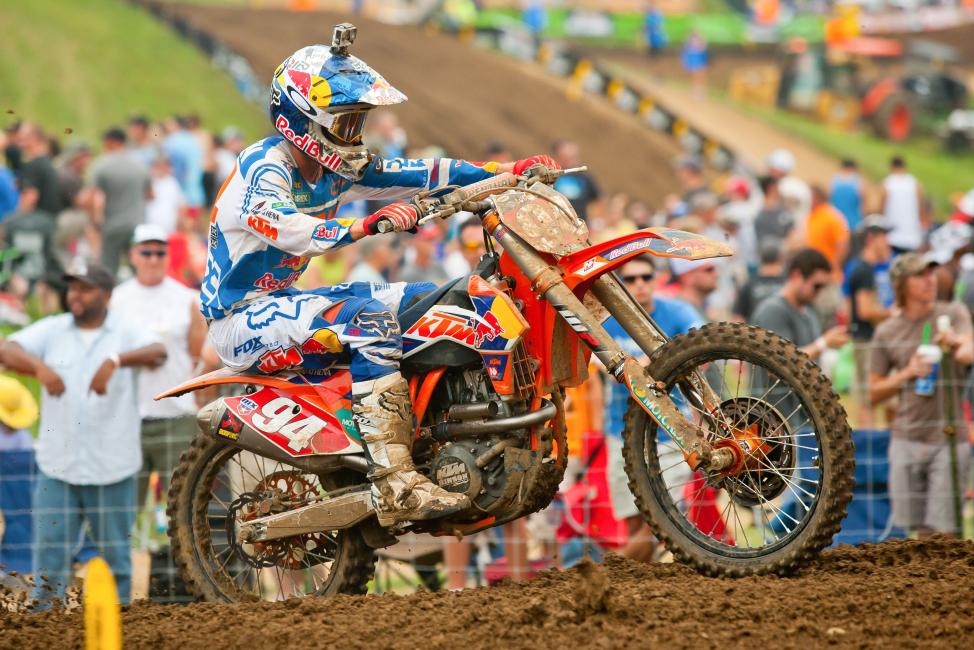 Ken Roczen
Racer X: Take us through the weekend.
Ken Roczen: I rode press day and all I did was go a little bit stiffer [suspension setting]. But then we made quite an adjustment for the second practice. It was fine for one lap and obviously the track was a lot wetter still and softer, but it absolutely didn't work out for me in that first moto, especially since it got harder. I didn't like that setup the whole race and totally went back to how I originally had it and how I've been racing. That worked out good.
Was it surprising to you that you were able to have the type of tough moto you had in one and still come back with a second? Does it kind of set the tone that no matter what little distractions might happen you can still make it back up into the top three?
Yeah, I tipped over after that big triple in the left corner and my leg kind of got stuck under the bike and it took me a while to get back up. It pushed my clutch up quite a bit so I had to try to get that down. I caught back up pretty quick and ended up getting together with a lapper so I went down again. Literally in the end we were just cruising. Obviously Ryan was like 10 seconds ahead or something. Basically told myself I need to be satisfied with a second place.
About three laps to go in that second moto, just an incredible save. It looked like you were going to lose the bike when the front wheel hit the rut. Take us through that.
Yeah, it's hard to say exactly what happened just because it happened so quick. I guess my rear or something got stuck in a rut and it took it sideways quite a bit. Once I leaned, obviously the bike was sideways a lot and it started going the other way. When the bike goes sideways that much it's kind of tough to hold onto the handlebars just because it has such a quick reaction. But I was able to pull that off and then just put on a little charge again to be able to get a little bit of a gap.
How tough was it? It looked so deep, the ruts looked so nasty. It looked pretty wet in practice. Was it really tough?
The track was tough because obviously we had lots of different ruts and they were deep and it started getting really hard at some spots. It ended up getting really slippery. After that we had really good traction. I think we got lucky that it wasn't hot. Overall it was a good racetrack. It's somewhat tough to pass because some parts of the track everybody takes the same line. They definitely made it tougher with those little whoops that are down here. You really had to try to figure out a good technique to go through them and keep the bike straight again and obviously keep momentum.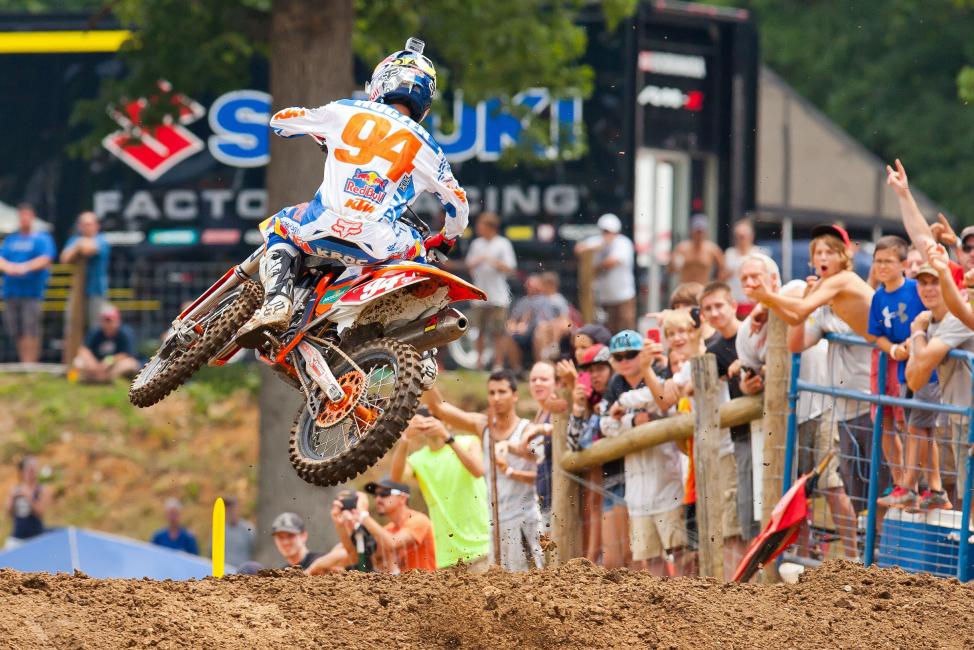 I was going to ask you about your riding style. You're a new guy in the class and you would think the young guys come in and they ride like crazy. But you're actually known for being pretty smart with lines, not revving the bike, not being overly aggressive. Just talk about your style a little bit for the 450.
I've always liked the bigger bikes more than the smaller bike, just because I don't rev the bike too much and that's what kind of the problem is for some riders that come up from the 250s. They keep that style, revving it. I would say I'm a kind of rider that uses the torque of the bike. I love the big bikes, plus I honestly like any kind of track. It could be wet, it could be rutted, whatever it is I'm pretty solid. I'm never even too bummed when it rains!
Final questions: What's your thoughts heading into RedBud and what do you think about the World Cup?
Really excited about RedBud. I love coming there. The track is somewhat sandy and it gets really deep. It was definitely gnarly last year but I always like coming there. It's going to be 4th of July weekend, right? I'll also have the motorhome there, plus there's going to be parties! [Laughs] It's going to be a good time just in general. Oh and the soccer, we won 1-0. It was a close one I'd say, but luckily we [Germany and the U.S.] both went through.
Ryan Dungey
Racer X: Congratulations on another podium. Moto number 1, that was pretty textbook for you.
Ryan Dungey: That was ideal. Definitely wasn't the best start but I was able to make the passes happen quick and get out front and open up a little bit of a gap. Bike felt good and everything was nice. Just did us good to get a win. Last couple weeks haven't been so hot so it's good to kind of open it up strong and get going. Moto two, we got off the gate strong and made one quick adjustment, we softened the forks just a little. It was good. The bike felt awesome. Got the holeshot but ended up getting passed on the second turn which wasn't the best. But we put in a good, hard fight. We were matching his times pretty consistently throughout the whole race until the end. The lappers, when they get out in front of you … They got in front of Ken and then I caught up to him like that. And then he got around and then I had to do my part to pass them, too. It kind of evened back out. It was good. I feel like we're pretty matched right now. We've got a little bit of progress to make but overall it's a good weekend and good solid moto finishes. We didn't lose anything but we didn't gain. It definitely would have been nice to get the overall but at the same time we had a good, solid performance. We were pushing the pace the whole dang moto. It's all-out efforts at this point.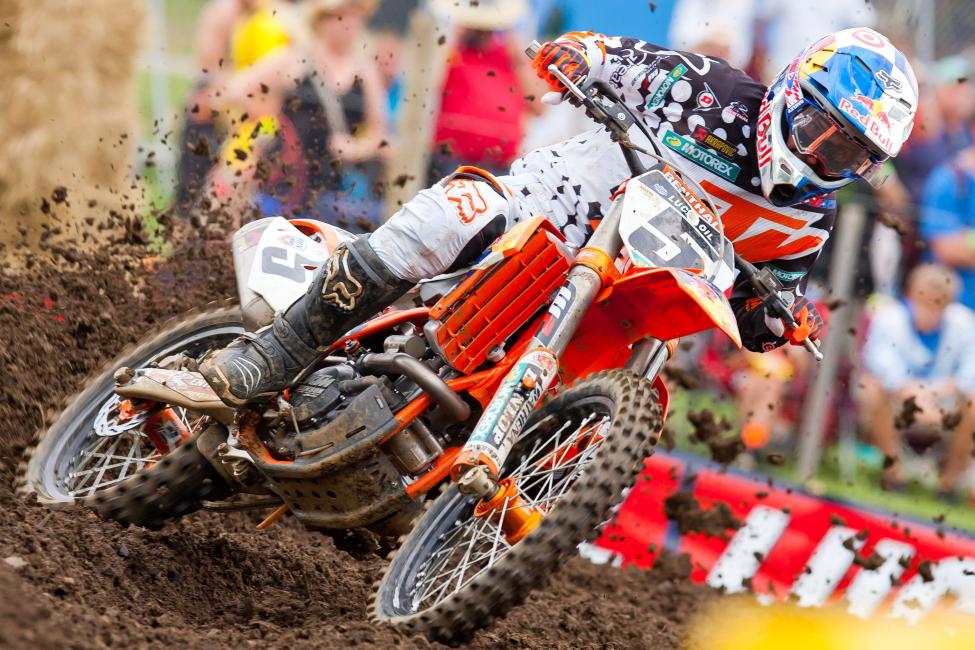 I've heard you and Kenny's bike setup is actually a lot different. People would think you're on identical stuff. But is it actually a lot different between the two of you, how your bike is setup?
Yeah, I think it's pretty different. I rode his setup at the beginning of the year because we were trying some stuff out. What he liked, I didn't like as much. So we were able to kind of go different directions. But overall I don't think it's crazy different, probably a little bit more stiff. As far as engine and everything is pretty similar. We're both on the same bike too. And we're both pushing it. Unless he makes a huge mistake it's hard to make massive amount of time in a lap.
Tell us about the racing surface out there, what your take was on Muddy Creek. What do you think about heading into Red Bud?
Today the track started out pretty wet. You would have thought it rained. I think it made for good racing. The lines, there were lines everywhere. That's something I was really happy with. I felt like my line choice was good today. My bike felt good through all that stuff. That was really good. But at the same time, Red Bud, I'm excited for that. It's an awesome track. Little bit of everything. The dirt's good. I'm excited and we'll put a good, hard week in and get ready.