Muddy Creek Raceway
Blountville

,

TN
Tennessee (Muddy Creek)
Lucas Oil AMA Pro Motocross Championship
Yamalube/Star Racing Yamaha's Cooper Webb made his first-ever Lucas Oil Pro Motocross win a dramatic one. He grabbed 2-1 scores in a pair of nail-biting motos, all while being cheered by his local fans—Cooper started racing at Muddy Creek while in the 50cc class!
Combined with a tough day for his teammate, and series' leader, Jeremy Martin, and Webb is just eight points out of the championship lead. He talked about all of it in the post-race press conference.
Racer X: Tell us a little bit about what the first moto was like.
Cooper Webb: I was a little let down after the first one. Got beat by a couple hundredths after leading the majority of it. It was just one of those things, I was like, "Man, do I go inside, do I go outside?" I decided to go inside and there were ruts there and I just jacked it up. Was kind of bummed but regrouped and came back strong for the second moto.
The Yamaha program in '08, '09, '10, '11, it wasn't quite the powerhouse that it seems to be now. Now when you have a team that has two riders that have overalls, it has to become a pretty hot spot to be.
Yeah, it's awesome. I think everybody put so much work in this year and the bikes are unreal, obviously. The 2014 is the best bike definitely I've ever ridden. It's cool. Plus I think me and Jeremy kind of had a year under our belt, kind of learned some stuff and came back strong this year for sure.
I'm assuming you've had quite a few amateur races here. How much different is the track from an amateur day to a professional National here when they really get it roughed up?
It's a lot different than what it was back in the day. I raced a lot on 65s and 80s here just because of the Regionals and the contingency was big so we want to get that. But it's a whole different track than what it was back then. Still got some of the same obstacles, but the track's totally different. I thought it was good. It was real rutty, got pretty rough. It was definitely the east coast kind of track that I like.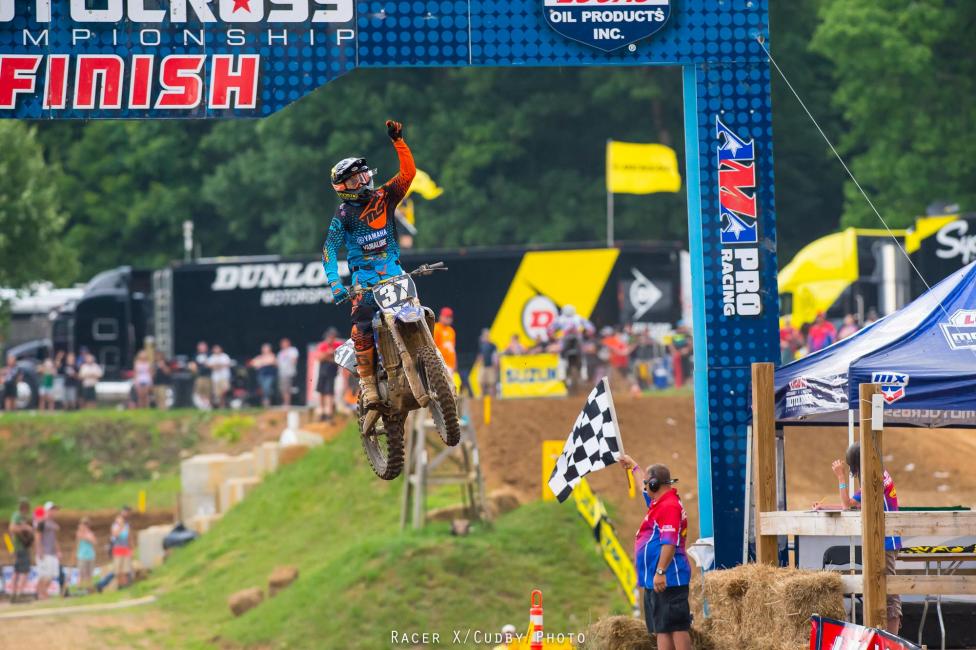 First moto, Christophe Pourcel's been getting great starts and it takes everybody a while to get around him. The second moto it seemed like you weren't having any of that. You were going to make the pass instantly. Talk to us about that second moto a little bit.
I was third on the start, which was good for me. I got around Bogle really quickly then Pourcel, I got him around quick too which was nice. I was trying to get a lead and that way hopefully nobody would catch me. Then Blake caught me. I tried to go a little faster, a little faster, and he was there the whole race. It was definitely intense. I was definitely feeling the pressure. It's cool to get it done.
Missing out on the win in that first moto were you extra determined to come back and try and take that second one?
Yeah, definitely getting passed in the last turn sucks. I was pretty fired up for that second one and I was definitely going to do whatever it took to get the win or at least be up there. Definitely fired me up.
And what about doing it in front of your local fans?
Growing up as a kid [in this area] that was the thing, that would have been awesome to have a race in the Southeast and now there's one here. It's unbelievable. I think there should be more! Obviously I'm from here but the fans were unreal. I don't know if it was just because I'm a local guy or what but I felt like this weekend the fans were unbelievable and they prepped the track really well, I thought. It was a lot better than last year. I think there should be more in the Southeast for sure.
How much is endurance a factor when you were getting pushed to the last turn in the first moto, you have to come back and race moto two and I you had pressure again for nearly the whole things—I guess maybe only the last lap you didn't have pressure. That's super intense, high heart rate stuff all day. Is that hard?
Yeah, it's definitely not easy, everybody I'm sure is feeling it. Luckily I feel like I have really good endurance. The bike doesn't beat me up too bad. But I've never led like that ever before. I was kind of feeling tight sometimes, on some laps, and then I would kind of feel a flow. And then all of a sudden you hear the guy the behind you and it's like, "Oh God, he's right there again!" Kind of learned how to deal with it. I felt like I did it a lot better the second moto and just kind of rode my own race and tried to stick to my lines. I made a few mistakes but it was definitely high pressure so I'm okay with it.
Your mom, we saw her on TV, she was all pumped. Just talk about your family, the sacrifices they made and things like that and to get a win like this.
It was awesome. She's probably more excited than I am! She loves it, so does my dad. My dad just doesn't show it as much, I guess. He's always really hard on me but would do anything for me. It's pretty much every rider that's coming up, their family has been there for them 100 percent and so has mine. I can't thank them enough and glad they raised me the way they did.
You're only eight points down. Are you thinking about that?
I didn't even know that. I really didn't until you just told me. But hopefully just keep going and be on the podium again and maybe try to win again. It's an awesome feeling. First one was awesome. I'd love to feel that again.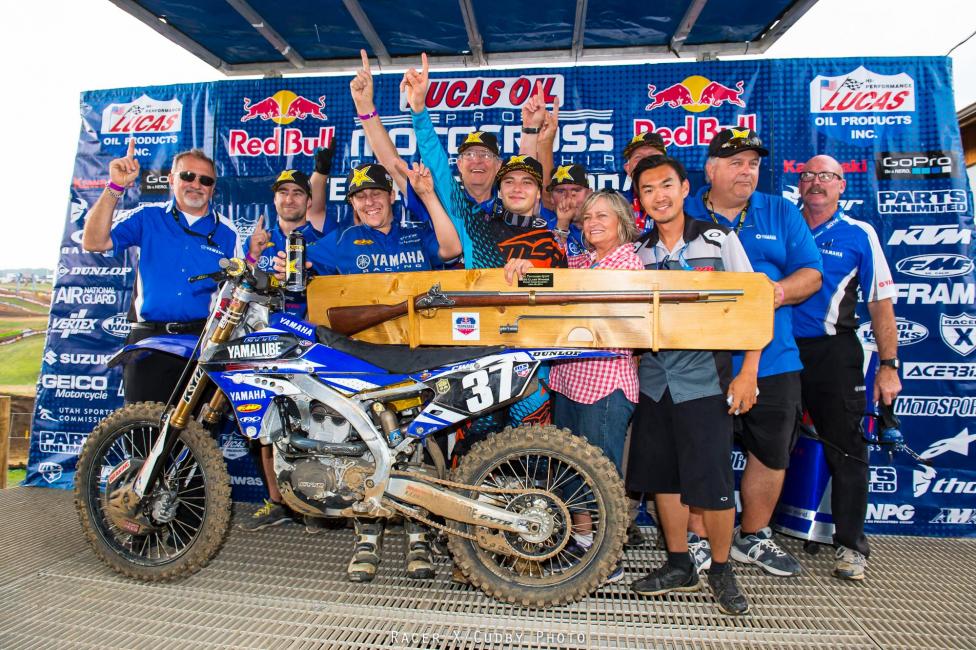 Now that we've come back east some of the ruts are a little longer, a little deeper. Do you have to pay more attention when you're coming up on the lappers to make sure you don't end up in the same lines?
Yeah, the lappers were pretty gnarly today I think for everybody, especially when it is real rutted like this and a couple of the turns get pretty one-lined. If they're in the rut it it's like, okay, do I follow him or do I try a new line? It's risky a little bit. I tried to pass them as quickly as I could and not really think about them. I've gotten screwed before by lappers. You just try to get around them and try not to get stuck behind them.
We're leaving the Southeast and heading back to the Midwest. What's your plan now that you have a little bit of momentum going? This thing's starting to tighten up a bit.
It's definitely tightening up. I didn't even realize that [the points]. I know I was pretty far back coming in. I like the East Coast tracks. RedBud's sick and Budds Creek, those are two of my favorite tracks. So hopefully try to get the ball rolling and just keep doing what I'm doing.