San Bernardino, CA
Glen Helen
Lucas Oil AMA Pro Motocross Championship
Following an injury riddled Monster Energy Supercross season in 2012 with MotoConcepts, where Tommy Weeck was limited to just five rounds, the Washington native signed a fill-in deal with Star-Valli Yamaha. He raced just one round.
A broken leg followed his lone performance for the team—a twelfth overall at RedBud—leaving the four-year professional in limbo over the next year and a half. After racing just four rounds of Lucas Oil Pro Motocross a season ago, Weeck is returning for the season opener at Glen Helen in the 450 Class. This time, it's for an entirely different reason.
Racer X: It has been a while since we have seen the name Tommy Weeck around. But you will be back at Glen Helen.
Tommy Weeck: Yeah, I'm on my own finance program and doing this 100 percent on my own. I don't have many people helping me. I'm for sure doing Hangtown, Glen Helen, Washougal and maybe Utah if I can get to it. It really depends on what happens. If we start making a showing and people start supporting me, I would love to race more.
Is it similar to the plan you ran last year?
Well, sort of. Last year, I ended up back east, though. [Laughs] Last year was a year I would rather forget. I had two motors blow up on the stand before practice even started. The plan last year was to go and do the first five and I made it to about Budds Creek before my dad told me you can't keep putting yourself in debt for a motor builder that's giving you a motor that won't run. He kind of pulled my program from underneath my feet and told me I wasn't allowed to put myself any further in debt. So I went home and kind of sat around the rest of the summer, unfortunately.
It's been quite an up and down past few years for you after you got a fill-in spot with Star-Valli in 2012.
Like everyone knows, motocross is one of the most brutal sports as far as injuries go and that's kind of how myself and Star had our split. We had a bike malfunction and I jumped off and broke my leg—tibia and fibula. I had to have twelve screws and two plates put in, so that was the end of my 2012 season. We didn't get anything going into the 2013 supercross season and I was working construction for my dad's company and a couple weeks before outdoors [in 2013] I said, "I have to do this. I have to try. I've got to do whatever I can." Two weeks before Hangtown I bought a bike and shipped the motor off to Eleven-10 Mods and tried to do everything I could. But there is only so much you can do when you're racing a bone stock practice bike at the first four rounds.
What kept you going?
At the end of the day, it is just a love. I have such a passion for riding my bike. Unfortunately, it's not that way for some people in this sport. I love what I do. I love being able to ride my bike. There is no other feeling like it.
You didn't race supercross this year…
I did get to do San Diego. I got metal pulled out my leg in September last year and I took four and half months off. In that time off, I had swapped my suspension over to supercross thinking that when I was healthy I would just start riding again. Well, I didn't start riding again until two weeks before San Diego. I went to a track, and I had supercross suspension, so I had no choice but to ride supercross. I did well that day and that night I went home and signed up for San Diego. I had my longtime friend Josh Bartnik come with me and set-up the bike and we just made it happen. It was a fun night. We obviously weren't in the best physical shape, but we only missed the main by one in the LCQ. And to be honest, I could hardly ride in the LCQ because I was so tired! [Laughs] With only being on the bike four days, San Diego went pretty well and that is what lit the fire to do some Nationals.
Where is your program at the moment?
Right now I'm working construction for my dad's company, I'm going to school full-time to get my business degree and I ride dirt bikes when I have spare time. [Laughs]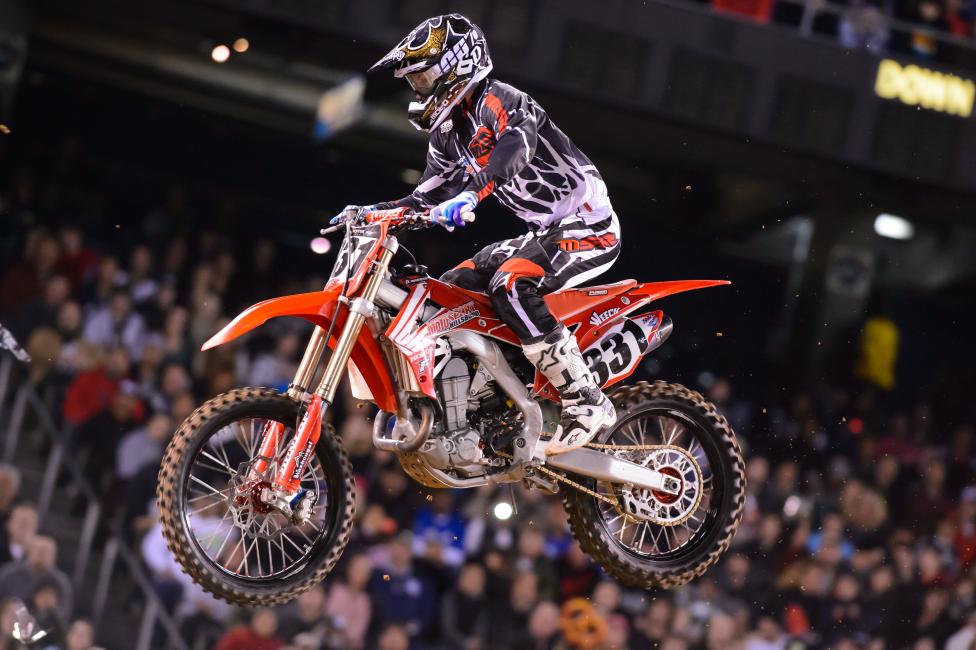 How much spare time do you have to ride? Where is your fitness level?
My fitness level is on par. Fitness for me has never been an issue. I got to learn from one of the best teachers in the world, Ryan Hughes, and I thank that man every day for what he has taught me. Fitness is more a lifestyle for me now. Being healthy, taking care of myself, fitness is something that I don't lose.
Glen Helen will be the first time you've raced since San Diego. How tough will it be to get back into race mode?
For me it's really not that bad. Kind of like you've seen, the last couple of years have been so up and down and off and on…. For me, when the gate drops I go into that warrior mode and all I can think about is making passes. It's instinctual. I've been racing since I was six years old, so at this point it just happens. It's nice to get back into this mode, because when you're at the practice tracks you can only go so hard.
We have seen you come out of nowhere and be able to put in some good rides. Will that experience be beneficial this weekend?
You know, I don't know if it plays into my benefit because I don't necessarily get the opportunities to ride all the time. Whether it's financially or because of lack of support—I'm basically doing this on my own—I ride when I can and do what I can. At the end of the day I think it's just the drive I have. I believe I have the work ethic and the want. If I'm going to sign up for a race it's because I want to be there. And if I want to be there, I'm going to put everything I have on the line to do the best I can. I'm not going to half-ass a race.
When did you get serious about doing the first two Nationals?
Right after San Diego I started figuring out how I could do it and trying to figure out sponsors and unfortunately no one really wanted to step up and help me. I had some people that wanted to help me stay local in Washington, but that's not where my heart and soul is—it's in AMA Motocross. So I figured out how to finance a bike and make it happen. I've been planning it for a few months and putting in my work.
What goes into that process?
Oh, man, it's a headache. You have to figure everything out. You have to figure your suspension builder out, which thankfully I have awesome people under me. Todd Brown does my suspension and Josh Pitts dials my ignition in. I have Ryan's technician that just flows a head. I put a high compression piston in and we go racing.
Glen Helen is obviously a track that those living in California ride a lot. Is that going to be a disadvantage for you this weekend?
I go back and forth between California and Washington so for me it's not. I get to ride Glen Helen a lot, too. Unfortunately, I did break my leg there in 2012, so there is a love-hate relationship. I also really excel at the gnarlier style races, so I think Glen Helen will be beneficial for me.
What are the expectations?
To be dead honest, because I'm going to school full-time and working, the expectation is to have the best time of my life and smile. Ideally my goal is to be top privateer. That would really mean a lot to me.
Recently you ventured down other avenues—working and going to school full-time—and have transitioned away from full-time racing. How different of a lifestyle is that for you?
To wake up every morning and have to go to certain place to work it is a little bit of a heartache compared to waking up and going to the track whenever you want. Then you get to throw some whips and put down some laps and then go home and kick your feet up and watch the pool and sit out in the sun. It's definitely a different lifestyle. Unfortunately, with the way the industry is there's not a lot of money in it. But at the end of the day it's a love and passion and it's hard to get away from that dirt bike experience. There is nothing else that gives it to you in this world.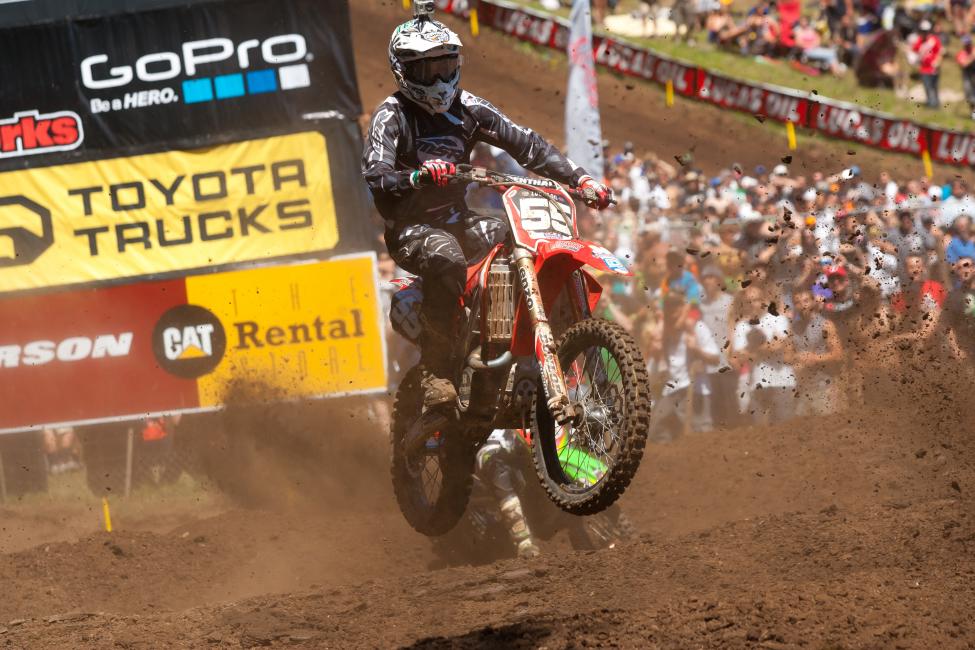 The pure adrenaline rush, you can't replace it.
No, you can't. Especially in my situation and my career, I've had some very high ups. Getting to talk on the podium at the Washougal National that year, and being around the fans and seeing everyone go crazy was by far the highest point in my life. That still fuels my fire to get back to that spot again. With taking off all the time I have, you don't lose the speed, you lose the will to hold it to that speed, I believe. And I still believe I have that speed.
In essence, trying to get back to that top level is what you're chasing.
Well, but it's for a different reason now. Before, it was to land a factory ride. Now, it's just to have fun and be involved in the sport. I have a good following with some amazing fans and to be able to put myself in a position to have everyone support is just the most amazing feeling.
Thanks, Tommy. Who would you like to thank for helping you out?
I can't thank my parents enough. They are behind me in everything I do. I also want to thank Motolife, Washougal MX Park, Fly Racing, 6D Helmets, Ryno Power, Fusion Graphics, Mika Metals, DT1, TB for my awesome suspension and my mechanic Josh Bartnik for being a life time friend.