Raceway Park in Englishtown, New Jersey is one of the most respected tracks in the Northeast. The facility hosts a variety of motorsports, and is located less than an hour from New York City. There are few places like Raceway Park in America.
The track's crown jewel has always been the Kawasaki Race of Champions in October, which has hosted a ton of top pros including Ricky Carmichael, James Stewart, Jeff Emig and Jeff Ward. For a long time, Kawi's top factory guns would come out and race the locals, which made for a unique event.
In December of 2013, it was announced that Rich Trevelise would be taking over as the track manger for motocross. If you have attended any events at Englishtown, you'd know Rich by voice, as he has served as the track announcer since 1983, and has literally announced just about every single race at the facility since then.
The track's 2014 season just began, so we called Rich to see what he has in store for the new year.
Racer X: Rich, thanks for making the time to talk with us. Can you tell me how you landed as the track manager at Englishtown?
Rich Trevelise: I've announced at the track for over 30 years, and before that, I was a racer. I actually raced there for the first time in 1977. I was pretty steady regular there through 1982, then I got hurt that following season. I got connected with my cousin who was a DJ. I liked doing things with music, and doing DJ work with him. But I was still hurt, and really liked being at the track, so one day I asked Kenny Landerman [Track Manager at the time] if I could announce. It just so happened that the race was the 1983 Kawasaki Race of Champions, which was, and still is, our biggest event. I guess he liked what I did, because he asked me if I wanted to do it full time for the following season. I've been there ever since! I accepted this role as Track Manager just this past December.
So what exactly does your new role entail?
Well, since December, I've been working wide open on a number of new programs, as well as our existing ones. The primary focus of my work has been to encourage and bring in new riders, as well as to create a good feeling and vibe at the track, along with improving atmosphere for all of our racers and customers.
I should quantify that, with both my sons racing, over the years I've been to a lot tracks. I'm trying to take the all the positives that I learned from the other places and use them to create something great. But you can't do it alone, everyone needs to be onboard.
Running a track like yours must be a huge undertaking, and with maintenance and facility issues, it must keep you slammed.
It does, no question. But Raceway Park is a unique facility. In one hour you can be in the New York City, Philadelphia, or Atlantic City. It's a very, very desirable area to be in. So to have a motorsports facility here, I believe it's over 500 acres, we're very lucky. We have a total of four MX tracks, but they also host a ton of other stuff, including the drag racing, which is really our bread and butter, as well as some drifting events and some sports car events, go kart racing, and a lot more. Oh yeah, we also have an airport onsite as well, and we host some Tough Mudder events! So the facility is special for anyone that's a gear head or into racing. And we all know that the taxes in Jersey are crazy—what we pay in property taxes alone is crazy! So I want to see the track stay as strong as it can while I am in charge.
Tell me a little more about the tweaks you're making?
Well, to start with, we changed the yearly schedule and sponsorship programs, and we also changed the race day format around a little bit. Also, we have our annual Kawasaki Race of Champions, which is one of the oldest-running major amateur events in the country. Over the years, we've hosted some of the biggest names in the sport at that event. So I want to step that event up and make it bigger, but it won't happen overnight. To start with for 2014, we've got a round of the WMX series, they'll be running during the Race of Champions this year. We will have some more special programs during that event as well to bring in more racers and spectators. We'll also give away four bikes during that event alone, over two days. Not too many tracks can say that!
How did your first event go this past weekend, and what else do you have coming up?
It went well, actually. We had a strong turn out, and a few small glitches, but nothing major. But now that I am on the other side of the microphone, I can see just how tough it is to be a promoter. Our next race is the Spring Pro-Am event, and we're hoping that some top Northeast riders will come out and earn some points toward a pro license.
What about looking towards future and longer-term opportunities?
Well, I really want to get a Loretta Lynn's qualifier back in 2015. Looking at the timing coming in, many things were already in place by the time I started in December. So I feel like I'm a year behind in some ways. Also, looking down the road, we're bringing back the New Jersey State Championship. Back in the day, we had riders like Bob Hannah, Johnny O'Mara, Mike LaRocco, and other top guys show up and race that. I want to work on elevating that race again to a premier regional event.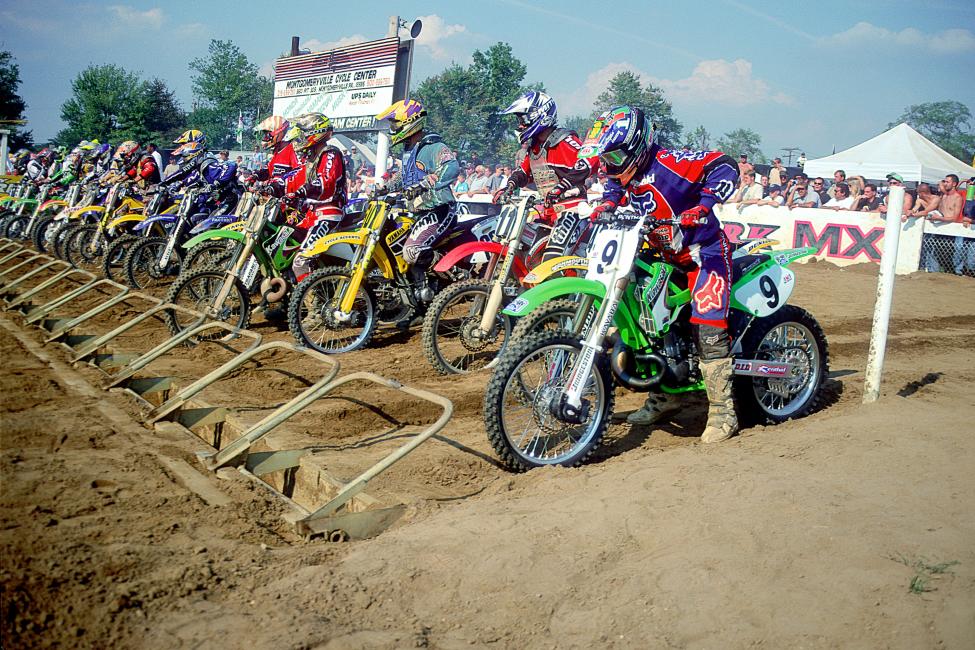 Raceway Park initially made a name for itself by building a state of the art (for the 1970s) facility, which included huge man made elevation changes, as well as permanent grand stands, an air conditioned scoring tower, as well as a watering system that turned on with the flick of one switch. Now a lot of these things are pretty common. What about the technical side of things?
For sure we are working on keep it on the forefront. Kenny Landerman and Jay Irwin really set the bar high back in the 1970s and 1980s. But the facility has aged over the years. At the end of the day, it's a business for the (park) owners, and motocross in this day and age is expensive. I think they've seen that things are coming around, and we want to change and update some facility-related things, including the staging area, and build some permanent bathrooms. We're also painting the grandstands, which is no small job. Our place is unique in that fans can walk around the whole place and see every turn and every jump on the track. And that won't change!
Tell me about the ownership structure of the track?
The entire facility is owned by the Napp family. They are now into the second generation. Alex, David, Richie and Michael are the four main brothers that are involved. They all try and do different parts with the facility, and they keep reinventing and reinvesting in the place, which is awesome.
As track manager, how do you manage the maintenance?
Well, I have to know a little bit about a lot, but luckily I'm not out there putting fittings on a sprinkler head if it breaks in the middle of a race. But we have an entirely new crew out working on the track, as well as some really good guys who have been with us over the years. Mickey (Kessler) has been helping us out quite a bit. Carl Anderson has been maintaining and prepping the tracks. With four tracks, it's a lot of work for him.
What about the schools you guys used to host?
Well, I'm actually proud to announce that we are in fact doing schools again, it's a new program, and none other Barry Carsten is running it! We just announced two dates on the schedule, and they're already sold out, so we want to add some additional dates. Barry is a great teacher and his longevity in the sport rivals John Dowd.
What about your family and personal life? I know you are not motocross 24/7.
No, I'm not! I live in Howell, New Jersey along with my wife Laurie. We've been married for 27 years, which is a feat in and of itself. We have two sons, and they both race. Richie is 19 and races the expert class, and Ryan is 13, and just moved up from the mini bikes. We live about 30 minutes from the track, which is an easy drive back and fourth.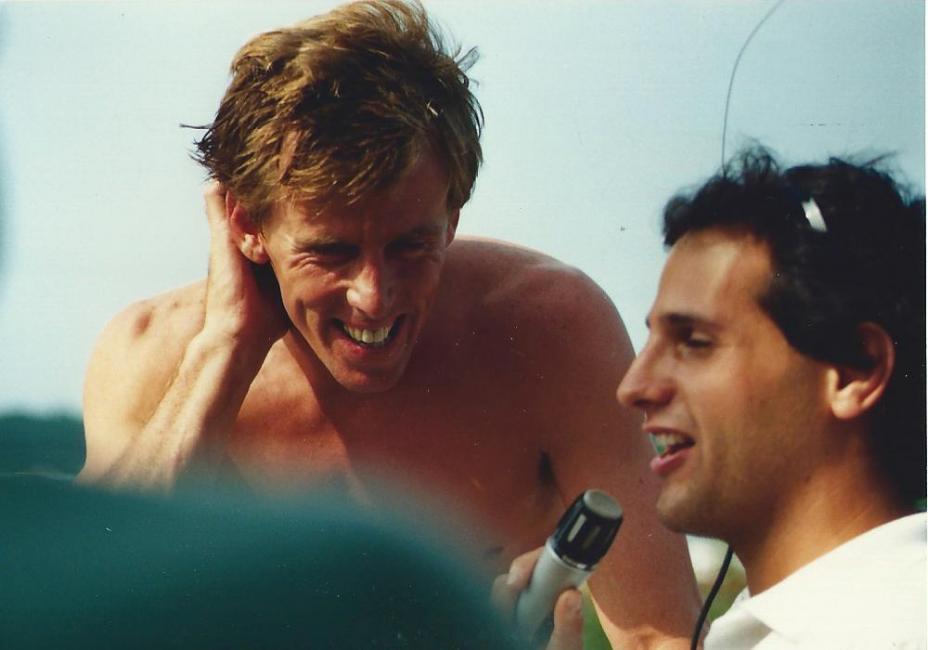 Is your job with the track full time?
[Laughs] Part time, full time! No, it's not full time, but it could be just as easily. I own a security company called Reliable Safety Systems. It's a secretary alarm and camera company, and we've been in business for 18 years. I was on the board of the New Jersey State Alarm Association, which taught me quite about working with others and large groups. But I stepped down from that to tackle this project.
Thanks for chatting, Rich. Any closing words?
Well, I just want to thank my family—they have been very supportive, especially my wife, and the entire crew at the track. Everyone has been really great about listening. Being a business owner myself, I know what it's like to make changes and build a strong operation.
Wait, one last question: Our own Jason Weigandt claims he got his start at Englishtown as a yellow flagger. Do you remember this? Was he a good flagger?
Honestly, I don't remember a thing about him.