Check out the email that came into Racer X a few days ago from all the way over in Hungary:
Dear Sir! Two more records for Kawa! First time ever it happened that there are five different Kawasaki winners in a supercross 125/Lites season. Former record was four different Kawa winners. First time ever it happened that there are three different Kawa winners on the East Coast. On the West Coast it happened already the same one when in 1990 there were three different Kawi winners.
Hegyi, András
I printed the message out and headed over to the Monster Energy/Pro Circuit Kawasaki race shop, and placed it upon Mitch Payton's cluttered desk. Mitch, just back from that podium-sweeping performance at Daytona International Speedway, gave it a read and smiled.
Racer X: Mitch, a couple of new records, huh?
Mitch Payton: That's very interesting. Usually we don't have three guys in a class…
I looked up the results of your first team—the 1991 Team Peak/Pro Circuit Honda team with Jeremy McGrath and Steve Lamson in the West, and Brian Swink and Jeremy Buehl in the East—and your guys won 13 of 18 races as well as both championships.
Yes, only Lamson didn't win. But he should have won the last race!
When you look back to '91 and then jump ahead to 2014, does it blow your mind that you are still winning at this level—and with more riders than ever?
It's exciting for sure. I would say '91 was more exciting because it was something none of us had ever done as far as to have a program and to be in control of our destiny for the whole thing. Now it's more of the fear of making a mistake or the fear of slipping up. Everyone expects it from us now so if we make a mistake we get crucified, but if we win they're like, "Oh, they always do that." It's a lot of work but it's still really exciting. For me, I always think it's really cool for anybody to win their first race. So now this year, after Justin Hill won his first race in San Diego, then Adam [Cianciarulo] won his first race in Dallas and Martin [Davalos] won his first race (Atlanta). Blake [Baggett] hasn't won in a while and he just won. And before all of that Dean Wilson won, so this year has been a pretty exciting year.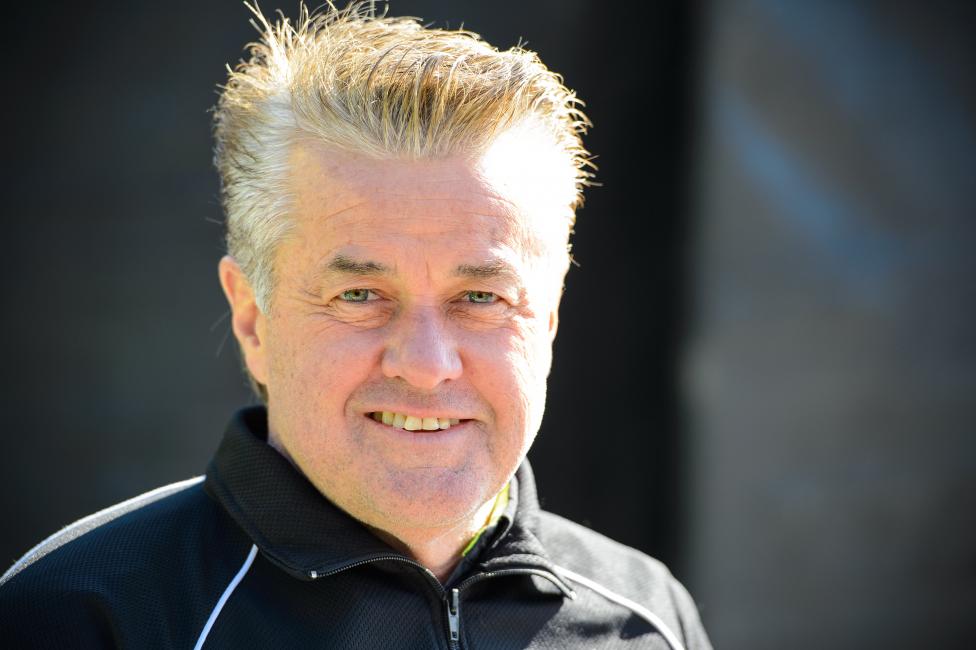 You're a big auto-racing aficionado, and car racing has been a big influence on what you do with your racing efforts. To sweep at Daytona, which no team has ever done in the 125/250F class at that particular race, with Baggett, Cianciarulo and Davalos, is that something special to you?
Sure it is. I remember a long time ago everybody made a big deal out of it because it was the one supercross of the year where the top Japanese executives usually would be over from Japan so that they could watch the Daytona 200 and the supercross and see the different forms of racing all going on. So it's also been a race where it's been really important to win. And I would say this year they had the largest crowd I've ever seen. It was very, very good and they sold a lot of seats. At the (older) daytime events, or even now at nighttime, it's always rough. This weekend it was rough again and choppy and gnarly. I don't think the time of day it runs really affects anything.
Is it really that dramatic a change from going to the first eight rounds that are all held in the stadiums to the super-rough Daytona circuit?
Yeah, it's for sure different. You have to think of a supercross track as a dead-flat surface where plywood is put down and then dirt put on top of it. Well, this year at Daytona, they just put the dirt on top of the grass and if it chews through it just keep going right through the grass and it gets deeper and deeper and ruttier. It's a different, one-off race for sure. It's really cool. It's a great race to try and win.
Generally speaking, does the toughest guy win Daytona?
Blake is always tough and I expected him to be good there. In 2011 he won there and 2012 he came close to winning. And that was after falling down twice and getting up and running down Barcia and almost passing him. So he obviously likes that track and does well there. I don't know if the toughest guy always wins, but it has the tradition of relaying that. It's also the precursor to the outdoors. Blake rode phenomenal. He got probably, like, a seventh-place start and by the third corner he was in third and then he was into second. After another lap or so, he was by Martin. He stretched it out and turned in some really, really good laps and he wasn't really challenged. For him it probably wasn't too exciting and that's awesome.
And Adam?
With Adam we had a little bit of a bike problem in the heat race so he started ninth. He started a little bit far away—I think two over from the box—and most of the starts were coming from the inside. So I told him if he got the start he needed to start coming over and he did. He actually almost got the holeshot. I thought he rode a good race. If we watch video, I'm sure there are a few lines that we may see that maybe he should have picked up. Overall he rode good.
He was riding hard, maybe even on the edge a few times.
I think they all were. I think that was the nature of the track. He still has the red plate so that's not too bad if, say, you had a bad night.
Davalos was third.
Yeah, you know the guys get worried if they get a second or a third, but I tell them, "At the end of the series you'll never be ashamed of those. If you stay on the box, the law of averages shows that you stand a real good chance of winning the series." Martin has been right there.
If you include the last to West Region wins, your team has now won six consecutive races. But are you one of those people who feel like you're only as good as your last win?
For me, personally, I get a kick out of seeing the kids win. Truthfully. I love seeing somebody get his first win because I think it's a life changer. It gives them an opportunity to believe in themselves better and maybe turn it into something for themselves. That's awesome. Hill got his first win, AC, Martin. Those are guys who haven't won anything before and now they've got one so that's really cool. For the mechanics and our staff and team, we get excited for wins, but for us it's really important to win championships. That's a big goal. Like I said, if we push it and you're always trying to get more out of everything and then you have a failure, then the first thing you get is that you get slammed. I'm cool with it. I get it. I don't do it for their satisfaction. I don't give a crap about what people think or say. I want to do it for me and we're always going to push and if we have a problem or a failure we'll figure it out and we'll stop it.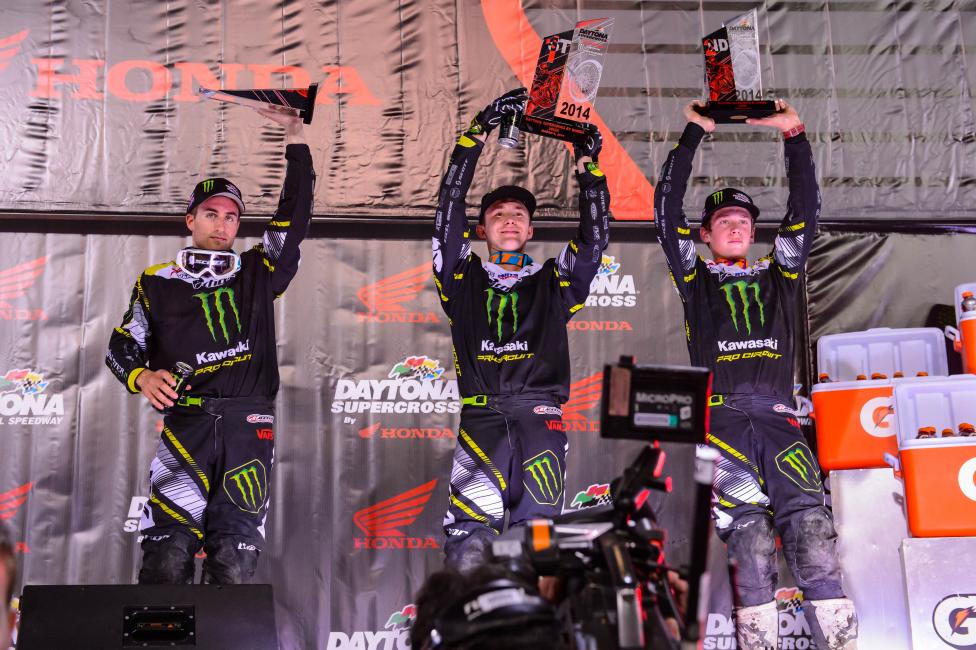 I should know the answer to this, but have you ever swept an entire region?
Ricky Carmichael. Carmichael in '98 won every 125 SX and the East-West Shootout. That's pretty gnarly. No one else has ever done that—not on our team or any other. It would be great if we could do that again. It would be cool for the kids, too. That would be bad. If we could do that it would be sick.
Last question: Dean Wilson also raced Daytona, but on a 450 for Chad Reed's Discount Tires Kawasaki team. What did you think of his performance at Daytona?
I was stoked. The race was the secondary part of it. The part that I thought was really cool was for him to win qualifying. Because everybody is trying to get a fast lap and then Dean did it. And then all of a sudden, he's the fastest qualifier. It was like, "Wow! That's really cool." And then he won his heat race and that was really awesome too. And then he goes into the main and he's running second and perfect for most of the race. Everything is great. We're watching and watching. And then at lap 10 he's looking a little tighter and we're thinking, 'Hang in there. Hang in there…' And then by lap 15 he was kind of tired. I think that was a big step for him to run that pace and run that spot. He had Dungey and Roczen there almost the whole time. I'm sure there was no sign of relief as he was doing it, but now that he's done that one, I think it will be easier to do it again and I think it will be easier to go further. You look at where he was a week before. I think Daytona was a great ride for him and it was a confidence booster and I was happy for him.