Anaheim, CA
Anaheim I (A1)
Monster Energy AMA Supercross Championship
Each week, three members of the Racer X Online crew will tackle three big questions. This week, Steve Matthes, Jason Thomas and Jason Weigandt hit three topics from the opener.
1. Can we really take anything out of Anaheim 1?
Steve Matthes: Anaheim 1 is a little different and it's hard to make any firm "Stamp its" from the opening round. This year didn't top last year for WTF moments but it did offer up some surprises. Like, we knew Kenny Roczen would be fast, but did we know he would be this fast? I think something that most people forgot was that Roczen was caught and passed by Justin Brayton in the heat race, which led to King Kenny having to go to the newly-brought-back semi races. Who would've thought that Roczen, with just the 10th gate pick, would go onto win the main?
We don't have a Jeremy McGrath or Ricky Carmichael these days. Even RV, the odds-on favorite to win the series and the most races, settled for a fourth (which would have been fifth if James Stewart hadn't crashed out) after he fell. With so many great racers, the starts are going to be the determining factor in the results. Let's wait a few races to see who's got the starts and who seems to be the smartest before making any bold predictions that may not come true.
Jason Thomas: Anaheim 1 is always a bit strange. With so much pressure and hype there are always big crashes and unusual scenarios. For the second year in a row, the reigning champ—Villopoto—had a main event crash but this year he was able to salvage fourth. While it was kept very quiet, Villopoto was sick on the weekend, and I think it definitely played a part in his lackluster performance. James Stewart proved that he is ready to battle for wins in 2014 but the crashes that have plagued him throughout his career cost him again on Saturday. As much as I would like to draw conclusions from A1, I just know from experience that it's not a good idea. So many things will change and settle in the next few weeks that we may have a totally different situation than we do today. I would rather wait a few weeks and let the results speak for themselves.
Jason Weigandt: It means very little. Anaheim 1 results are marred by opening-round nerves, and riders who guessed wrong on setup. It's that old, "You can practice all you want at the test track but you can't replicate the races" deal. I think Roczen is well suited to high-pressure races because he usually doesn't stress that much anyway. Soon, nerves will calm and everyone will figure out their best settings—usually by the third round. You know who won the third race last year? Villopoto.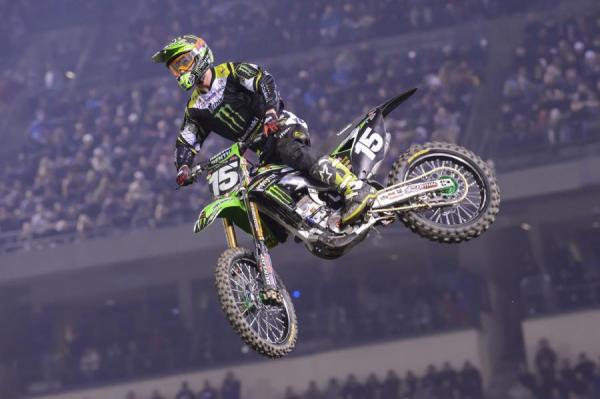 Simon Cudby photo
2. Is Dean Wilson in trouble?
Matthes: Knowing what we know now, Dean Wilson's battle for third and eventual fourth-place finish was pretty impressive. This was a guy that was almost not going to race the series after crashing a few days ago. I think if there's anything to be worried about it's that Jason Anderson and Cole Seely were noticeably better than everyone else. It's hard to make up points when the worst a guy can do is a third. But I'm not ready to say that the top two from Saturday night will be the top two throughout the series. So props to Wilson for his ride and come talk to me after A2 to ask me that same question again.
JT: I say no. He's definitely not in trouble. He had a big get-off on Wednesday and was a question mark to race even after the first untimed practice. He decided to give it a go, thus sealing his entry into the West Region. Looking back on it now, not knowing if he could even ride, a fourth is perfectly fine. He nearly made the podium and should only improve from here on out. Surely people who didn't know about the crash were scratching their heads on Saturday as he looked hesitant and was lacking intensity. I expect that fire to return this Saturday.
Weege: I think Dean himself will be fine, but the only trouble is that everyone else expected to be fast in the West lived up to expectations. Anderson and Seely, obviously, but also Zach Osborne looked much, much better than last year. Plus, Cooper Webb had about as good of a supercross debut as you can expect, and Durham, Hill and Malcolm Stewart looked good. For Wilson to finally get a supercross title, he's going to have to deal with some very fast competition.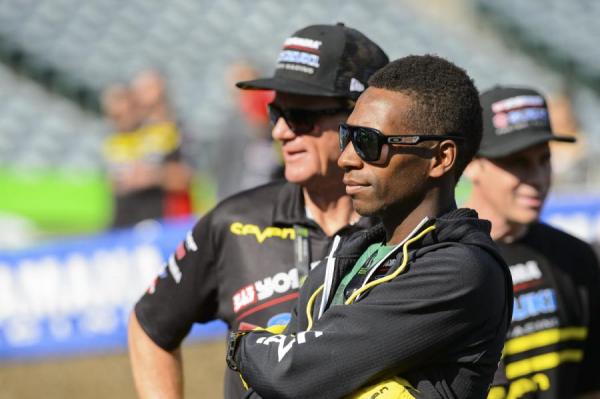 Simon Cudby photo
3. Can James Stewart come back or are his title chances already finished?
Matthes: What we saw last year from RV proves that Stewart is not out of this thing. It's a shame that people will see James Stewart crashed out at A1 while going for the lead and think "Same old JS7" but you had to be there to know that it wasn't. This was a different crash-out-and-DNF. I'll wait while you stop laughing.
No, seriously. Stewart was very, very good. He took his time coming from around tenth to pass all the contenders (granted Villopoto was on the ground) and he slowly worked his way up on Roczen. His lines were good, he was in control and the slickness of the Southern California dirt got him. This was different. We knew he would be fast and we knew he would win races but I'm starting to think that he could be way more of a challenger than we thought he could be. So no, after what we saw last year I can't see how he's out of it yet.
JT: James Stewart has always been a factor for every race and title he has lined up for. Minus one run through the whoops, he looked to have his grip on an opening round victory. I definitely think he has a chance to be in this title fight. He is basically in the same situation as last year's champ Ryan Villopoto. He has a hole to climb out of but victories make an incredible shovel.
Weege: When weighing Stewart's title chances, speed and general race craft weren't an issue. The worry was that big crashes can come out of nowhere, and at Anaheim, the worst fears came true. The math says he can come back like Villopoto did last year, because the deep field means riders will steal points from each other. But I don't think Stewart can come back to contend because I think something like this will happen again. He has to be nearly perfect from here on out, and I don't think he will be.