Angel Stadium
Anaheim

,

CA
Anaheim I (A1)
Monster Energy AMA Supercross Championship
By Jason Weigandt and Aaron Hansel
Forget last week, this is Christmas for supercross fans. Everything is new and about to be unwrapped, with new bikes, teams, looks and of course pit gossip. Compared to most opening days, there's less change here than usual, as most riders have stuck with the teams and brands they were with before. But it's still the opener, and it's still exciting. Heck, we even have absolutely perfect weather here at Angel Stadium in Anaheim.
Ryan Dungey has a new trainer named Robb Beams, which will freshen up his program a bit—Dunge has been self-trained for several years now. And the whole KTM team has benefitted from Ivan Tedesco's influence. IT had been helping the factory KTM team develop the 450SX until Rockstar Energy KTM came along and offered him an actual racing gig as a replacement for the injured Davi Millsaps (the Red Bull KTM bikes and Rockstar KTM bikes are the same—the only difference between say Dungey's bike and Millsaps would be rider personal preferences and settings). Before picking up the racing gig though, Ivan had been working with Dungey a bit since they were riding together on those bikes. Now that Ivan's a racer again, he'll need a little time to get his fitness back, he's only about three weeks into training right now.
Red Bull KTM also has a new recruit in 250SX rider Dean Ferris, who has actually only been in the U.S. riding supercross for about three weeks; he was originally scheduled to stay in Europe this year, so this deal came together late. Expectations are tempered for now as he learns the ropes. There are a ton of 250SX riders who plan to come in hot though, like Rockstar's Jason Anderson, who is said to have been going very fast at the test tracks.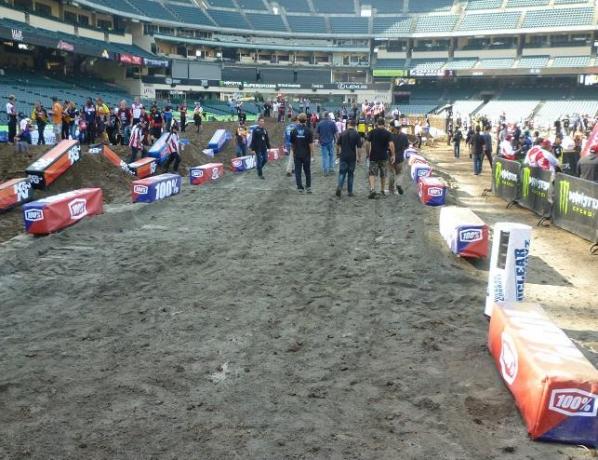 Long sand section before it gets rough.
Hansel photo
Over at the Yoshimura Suzuki truck, spirits are high. Team Manager Mike Webb says they've made great strides with the bike compared to last year –"We thought we were good last year but with what we know now, we know we are even better," he says, and everyone is buzzing about how fit and lean Stewart looks.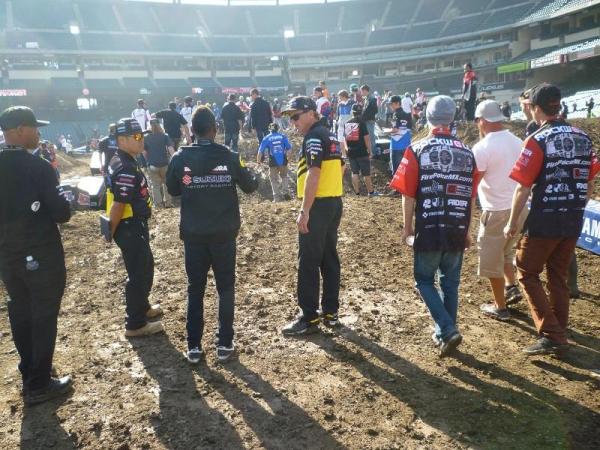 Stewart surveys the whoops. There are two sections but they're not very big.
Hansel photo
Over at the MotoConcepts truck, Michael Byrne is now working with Mike Alessi, and Byrner says Mike has picked the lap times up significantly during the off-season. Following another leg surgery in September, Byrner is now back on the bike and has totally revised Mike's bike setup—the 800 machine is notably taller in the back. Byrne is very excited with the gains Mike has made in his setup, speed and overall strategy on how to find lines and breakdown a supercross track. But, the Aussie veteran cautions that everything could change once the racing begins—it's hard for anyone to replicate what they did at their home track under the bright lights of Anaheim. "It's a matter of trying to keep the emotions in check all day and night when you're out there on the track with others," says Byrne.
As is normally the case at the first round of the year, the track isn't crazy or super technical-track builders do this in an effort to minimize the chances of injury at the first round-but don't worry, it's still far from being boring. There are two whoop sections with decent sized whoops, and one of the sections is followed by a banked 180-degree turn that might make for some good block passing. The sand section is completely straight, but it's long and ends with a short and steep double that will get extremely rutted and nasty.

As far as rhythm sections are concerned, this track has several. The first one stretches the length from the left field foul pole all the way to home plate and includes a step-on step-off option. Another one begins with a miniature dragon's back followed by tabletop, and it's going to be interesting to see how the riders choose to enter the section.
Of course, we can't complete this report without saying defending champion Ryan Villopoto is as ready as ever to defend. On the other end, if you want an underdog, Chris Blose is here pitting out of his van and riding a 2012 CRF450R. But heck, this field is loaded, and that's why everyone is so excited—Monster Energy Supercross is back. Practice starts in a few, just go here for the live timing and keep on following RacerXOnline via Twitter and Instagram for the latest.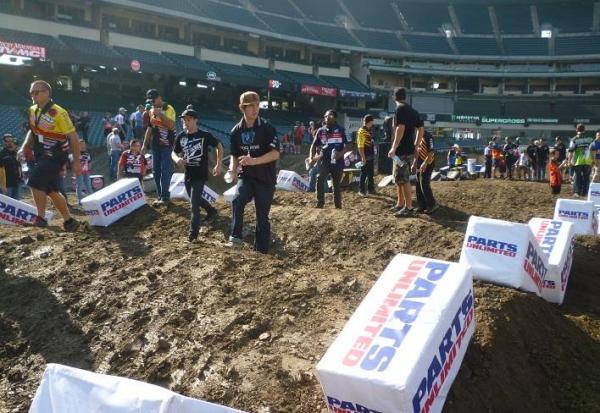 Okay, these ones are a little bigger but they usually don't get too crazy for the opener.
Hansel photo