Lake Elsinore
Lake Elsinore

,

CA
Lake Elsinore
Lucas Oil AMA Pro Motocross Championship
Welcome to Racerhead, coming to you on a Labor Day Weekend's Friday from home. After a long tour across America all summer long, Lucas Oil Pro Motocross wrapped up two weeks earlier than normal, which means a welcome holiday weekend for most in the motocross world. I'm sure some guys are testing and practicing and switching teams and all, and no one ever really stops training completely, but this is definitely the first weekend of the off-season, which means Lake Havasu should be ready for some moto guys partying like it's 1999! (Get it?)
Last Saturday's race at Lake Elsinore was a challenge for everyone, no way around it. The extreme hot and dry soil made for a lot of work for everyone, even if both championships were locked up and top stars like James Stewart and Chad Reed were out. But in the end, a decent crowd came out anyway. They saw the previously crowned champions—Monster Energy Kawasaki's Ryan Villopoto and GEICO Honda's Eli Tomac—both win their respective classes, as well as some courageous efforts for guys like Blake Baggett, the defending 250 Motocross Champion who wanted to go out with a win and did, only to be penalized a position afterward for jumping on the red cross flag; and Mike Alessi, who put a long and difficult month (as well as a first-moto injury) behind him to make a brilliant late charge in the second moto to finish fifth.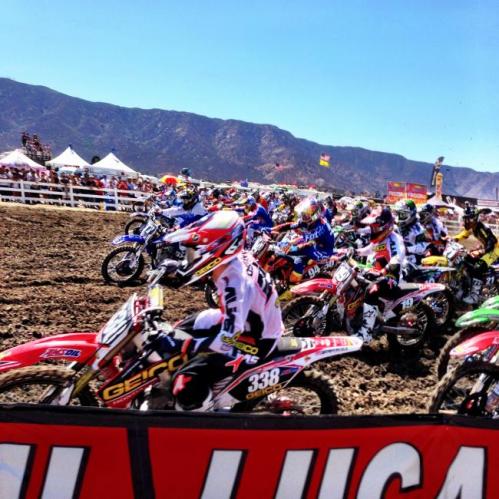 Zach Osborne holeshots the last race of the year.
Photo: DC
Now comes the off-season, with big changes to come. Where will Chad Reed end up? How different will the numbers be with guys like Kevin Windham and John Dowd retiring? What will the schedule look like next summer? How will the Rockstar team do on KTMs? How will Adam Cianciarulo look in supercross?
What I can tell you is this: At the awards banquet on Sunday night, where the champions were crowned and the top athletes honored, it was announced that NBC will partner with MX Sports to cover AMA Pro Motocross for the next five years, with Lucas Oil as the title sponsor again. After roughing it out these past five years through the recession, I am really proud of the work everyone has done on this series, from the promoters and the Alli Sports/NBC TV crew to the athletes and teams, not to mention the fans who have stuck behind us even while we've tried some new things. There are more changes ahead, in both directions, so stay tuned.
THE TOMAC SPEECH (Weege)
The GEICO Honda team is flush with personalities, but Eli Tomac is usually the reserved one. He did a good job on his championship speech at the Night of Champions ceremony on Sunday night, though. He got some laughs when describing his dad's mountain bike crash and the resulting elbow injury (might we add that Eli started his eight-moto win streak at Washougal, right after he busted his dad up on the bicycle) and also while describing his teammates. Here's a clip:
"I had a good time with my team this year and had a blast at all the races. Wilbur and Bogle can get a little freaky in the truck sometimes, but hey, they have their thing.... And Zach is always stealing that inside gate from me, but hey, in the end I gave it to him. And I would like to thank the people who made the biggest sacrifices. My dad, Johhny T.—sorry I put the hammer down on you on mountain bikes with that broken elbow. But you'll come back strong! And my mom, Mama T. You're the number one mom in the whole world. You're always there for me."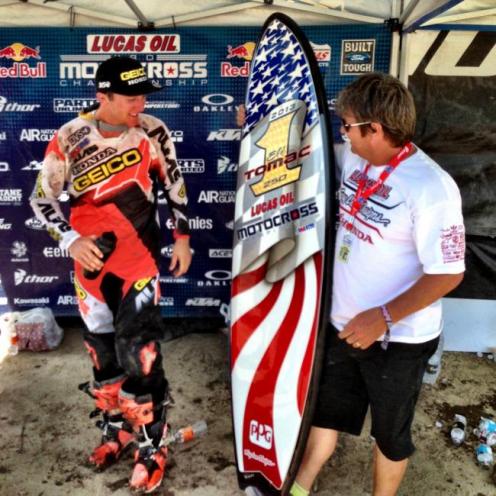 Troy Lee gets ready to hand Eli Tomac over the hand-painted surfboard he worked on with PPG and his TLD team; Ryan Villopoto got one too.
Photo: DC
"My mechanic, Kranz, he kept the steed together. We made it happen this year, and we're really looking forward to the 450 team. And last but not least, Ricki Gilmore. He was my practice mechanic this year. We brought him down to the house and we had a good old time. We had our little secret recon ice-cream missions to the guest house, but then Mama T busted us! But we got it done this year, and I don't know what else to say. I'm just really looking forward to the 450 this year, and to representing Team USA in Germany. And lastly, congratulations to Ryan on his 450 championship."
Eli also admitted that the season celebration was the first time he's put on a tie. Ever.
PRO PERSPECTIVE (Ping)
Ah, the first days off after a long season. Whether you've been working hard and kicking butt all summer or just plain getting your butt kicked, the off-season is welcome by all. A lot of guys will park their bikes and either take a vacation or just enjoy being around the house without having any obligations. Of course if you don't have a ride lined up for 2014, it's tough to head to Maui and enjoy yourself, no matter how many mai-tais you guzzle. Sadly, some riders will spend the next couple months scrambling and stressing out trying to put together a ride for next year. The Motocross of Nations team won't have the luxury of a vacation because they have to be sharp in four weeks' time when the motocross world gathers in Germany. And others will still take advantage of the break to heal or fix damaged appendages.
I think RV already got sliced up by his doctor to fix some issues in his ankle. so his downtime will be spent in a fog of painkillers counting all the money he made this year. (Spoiler alert: He'll be counting right up until the Monster Energy Cup gets here, and then he'll probably have to count some more. It's good to be Ryan Villopoto right now.)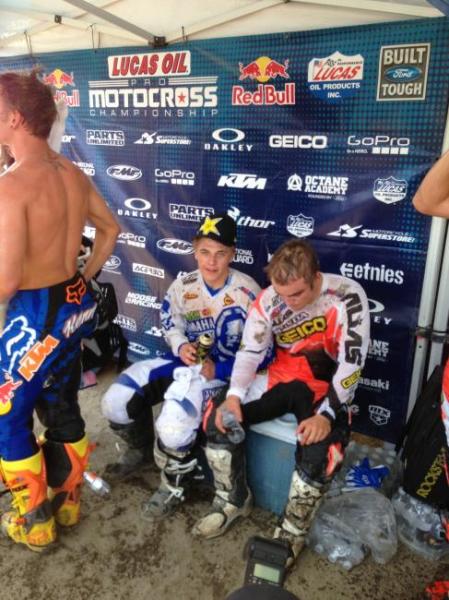 What are you going to do now that it's all done for 2013?
Photo: DC
You really only get a couple weeks to slack off and then it's back to business. The Monster Energy Cup will be here before we know it, and A1 is right behind that. Besides, it's difficult to relax when you know your competition is out there training and riding. No rest for the weary. Supercross 2014, anybody?
PRO PERSPECTIVE (Jason Thomas)
The week everyone thought would never come has finally arrived. Anticipation shows itself in many forms during the season. In December, it is visible in all the early arrivals to the test tracks and the scores of riders on road bike rides up LaCresta Hill in SoCal. In April it's visible in the team box vans starting to congregate at the outdoor tracks midweek, getting those crucial test days in. By August, however, anticipation has switched to the longing for time off in all the rider/crew attitudes and lack of enthusiasm when it's time to board another airplane.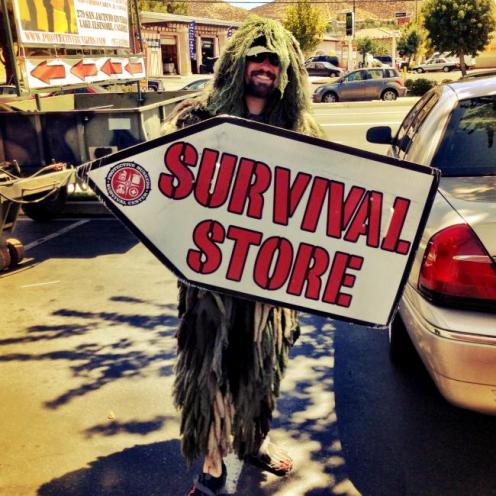 The off-season gives motocross people a chance to do other things, like branch out to other fields, as the Millville Whoop Monster apparently has in helping people prepare for Armageddon.
Photo: DC
I have a difficult time thinking anyone wasn't looking forward to this week, as the season is simply a grind. Everyone in this sport loves it- that's why we do it—but it certainly is nice to have time to catch up on life and not hear about emergency exits for a month or two. The real division is in how different some riders approach this early part of the off-season. Some riders will be pounding supercross laps this week already. Maybe upset about their season, the time to improve for them is now, and they are vowing vengeance next month in Vegas. Others will be completely resting their bodies and maybe even hoping to heal some nagging injuries before getting back to it. If the body isn't 100 percent, it is very difficult to ride to one's potential let alone improve in the off season.
All in all, the off-season is a great time. Sure, there's plenty (okay, A LOT) of work but the riders are also home for months at a time and almost fall into a normal routine compared to their fellow man. This is when riders get faster and stronger and when real changes can be made. It will be interesting to see as the off-season rolls on who is dead set on being better in 2014. But for now, enjoy the time off, fellas.
MEANWHILE, DOWN UNDER... (DC)
Australia is in the motocross news in several ways. First, U.S. riders Weston Peick, Josh Hill, and Gavin Faith are all headed southwest across the Pacific Ocean to compete in the Australian Supercross Championship Series, which begins on September 14-15 and ends in early November. From the sounds of it on the series' Facebook page, Peick will be riding a Honda.
On the GP circuit in Europe, Dean Ferris missed out on a great chance to begin his first winning streak as a pro when he had problems in one of the MX2 motos at Matterley Basin. So instead of him winning his second GP in a row, Dutch teenager Glenn Coldenhoff became the second rider in as many rounds to win his first Grand Prix. That's because before his shoulder injury in practice at the Belgian race, Jeffrey Herlings had won all fifteen previous races and was the only man in the class to ever win an overall!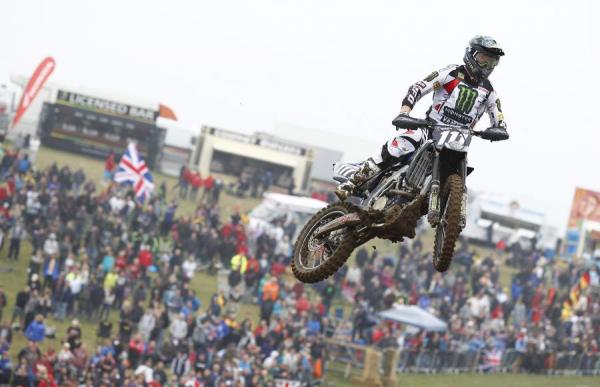 Australia's first GP winner since the late hero Andrew McFarlane is Dean Ferris.
Photo: Sarah Gutierrez
Also, Ferris is slated to race MX2 for Australia at the Motocross of Nations, joining the veteran Brett Metcalfe and soon-to-be-Husqvarna factory rider Todd Waters on the fastest nation to never win the Motocross of Nations.
Which leads to Chad Reed, the fastest man ever to emerge from Down Under. Reed tweeted that today would be the day we learned what color bike he would be riding on in 2014. No word yet as we post here, but he did let everyone know that in a "perfect world" he would be ending his career on blue, but this is not a perfect world, so "won't be blue, tweeps". Stay tuned.
...AND GETTING READY FOR EUROPE (DC)
Tony Cairoli wrapped up a seventh FIM World Championship last week in England, despite having one bad moto on his Red Bull KTM. Tony, the best Grand Prix rider since Stefan Everts (his boss at KTM), remains the dominant current King of Motocross in Europe, and is no doubt looking forward to the upcoming 2013 Motocross of Nations, where he hopes to repeat what he did last year: Sweep both of his motos in resounding fashion.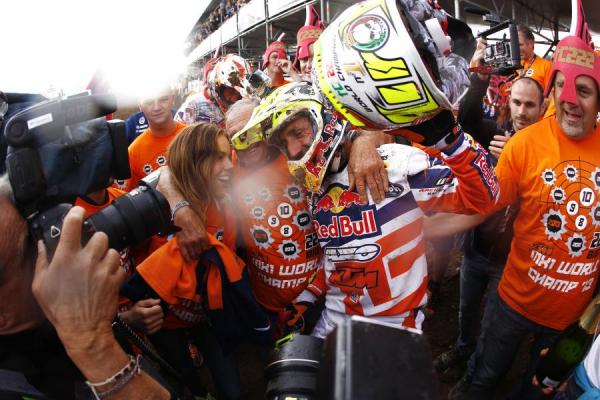 The man who IS king, Tony Cairoli, wrapped up a seventh world title last weekend in England.
Photo: Sarah Gutierrez
Cairoli will not have America's fastest rider, Ryan Villopoto, who is out due to the surgery to get the bolts out of his lower leg. But we are sending multi-time champ Ryan Dungey back over, a workhorse riding for Team USA for the fifth straight year—something no one else has done since Jeff Emig ('92-'97). Dungey is our MX1 guy, and Honda Muscle Milk's Justin Barcia is returning in MX3. Both are going with redemption on their minds after last year's heavy loss in the deep sands of Lommel.
Our MX2 guy is Team USA debutant Eli Tomac, and after seeing his steady improvement—actually, shocking improvement might be a better word, because he was pretty damn good when the series started—anyone betting on that race has to think we're the favorites. But stranger things have happened at the MXoN, and what seems like an easy win can be flipped upside down faster than you can say Roggenburg!
Germany will host as defending champions, with Ken Roczen leading the way, which means Tomac will have just as steep a challenge in the MX2 class as Dungey and Barcia will face with Cairoli (and Belgium's Clement Desalle) in the MX1/MX3 classes. If the weather is nice and the track is good—and Teuschenthal looks amazing—it should be another epic race, even if world-class heroes like Villopoto, Holland's Jeffrey Herlings, and Australia's Chad Reed all sit out.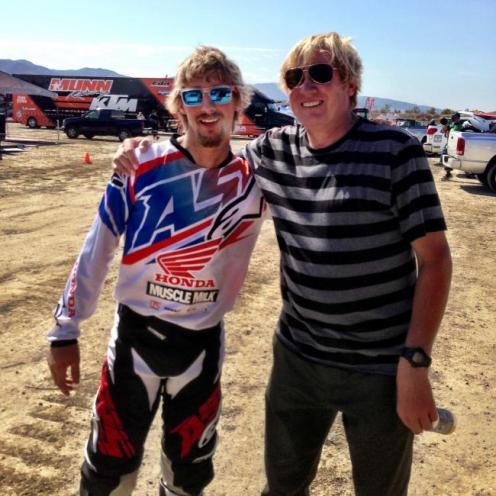 Team USA's Justin Barcia hangs out at the Team USA presser with our own Eric Johnson.
Photo: DC
Racer X Online will be at the race next month, so keep an eye on this site for news about the race, previews, features, and more as we get ready to battle the motocross world in Germany.
HISTORY LESSONS (DC)
Everyone here at Racer X loves the old school when it comes to motocross, maybe none more so than Scott Wallenberg. A lifelong enthusiasts who grew up in the Midwest, then parlayed his love of racing into a career in magazines and advertising, Scott is one those keepers of the flame who is always on the hunt for old results, photos, magazines, film clips, and more. In fact, after we introduced the Racer X Vault a few years back, with every result from every supercross and outdoor national since 1972, Wallenberg took it upon himself to go even deeper: He's working on a complete set of Inter-Am and Trans-AMA results—the first professional motocross series in America—in hopes of building out The Vault even more. With the help of the extraordinarily cool Cycle News Archives (purchase a subscription here) and friends like Carlsbad promoter Gavin Trippe, Wallenberg is finishing up the project, which you will see here in the coming months.
In the meantime, he's turned his love of the old Edison Dye-promoted Inter-Am Series into a Facebook page that allows old-timers and young historians to gather to bench-race about the series that introduced professional motocross to America and share resources.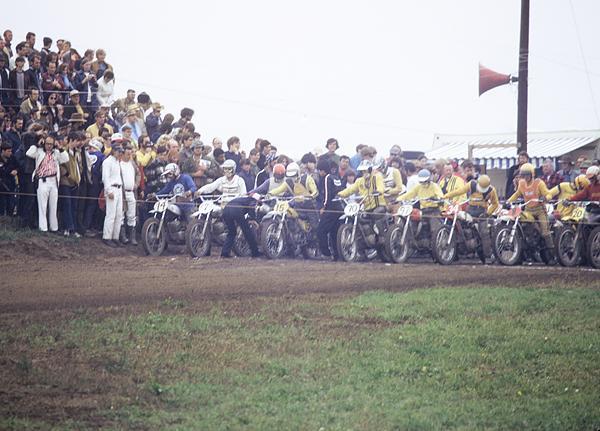 Wally Wallenberg shot this photo before the start of the 1971 Delta Motorsports Park Inter-Am race just west of Toledo, Ohio.
Photo: Wally Wallenberg
Insta-CAPTURED (DC)
In maybe the strangest moment of summer (okay, second strangest), just before the start of the first motos, someone posted a photo of himself with an obviously forged series credential on Instagram. He was standing in front of the Rock River Racing pits with the caption "Go big or go home!" The MX Sports and Racer X crews are both pretty active on Instagram, and when this photo went up on Saturday, the search was on for the counterfeit credential.
Two small problems with sneaking in like this: First, there are maybe five total #1 credentials, so they're easy to spot. Second, wearing a salmon-colored long-sleeve shirt at a scorching hot race makes you very easy to spot in a crowd. (It's also illegal and highly frowned upon by event and concert security.)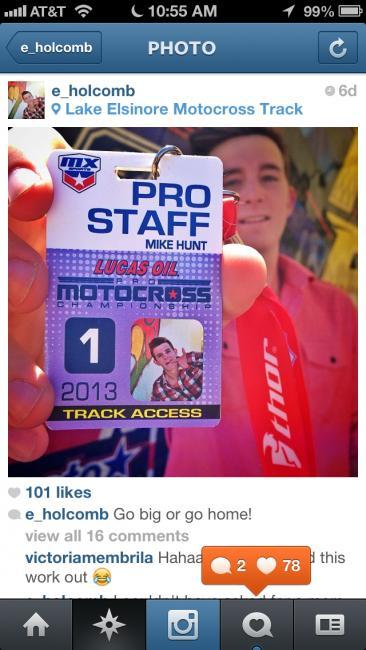 The fake Mike Hunt posted a fake credential on a real Instagram account, with a real pin location and real name. It was fun while it lasted!
It didn't take long. After our girl Megan B. spotted "Mike Hunt" standing right by the finish line, where I happened to be with Big John Knox, we approached the man in salmon and asked him to see the credential. When the guy asked how we found him, I held up my iPhone with his Instagram on it. His reaction was funny enough to let him off the hook: "You follow me on Instagram?"
No, Everett Holcomb, we didn't, but we do now. He was escorted out by the local sheriff, detained for a little while, then let go, later posting a funny video of his "escape," still running the trademark salmon.
KEVIN CRINE MEMORIAL RACE (DC)
One of the most respected privateers in the pits during the nineties was Kevin Crine, a hardworking, fast-riding motocross racer from Maryland. Crine raced pro from 1992 to 2002, becoming a local favorite each year for the Budds Creek National. Sadly, he was killed in an automobile accident on his way to work in the winter of 2006, leaving behind his wife and a young family. Since Kevin passed seven years ago, the Southern Maryland Dirt Riders have presented a privateer bonus in his name at the Budds Creek National. The winners in 2013 were Ryan Zimmer (250) and Heath Harrison (450), each of whom received $2,000.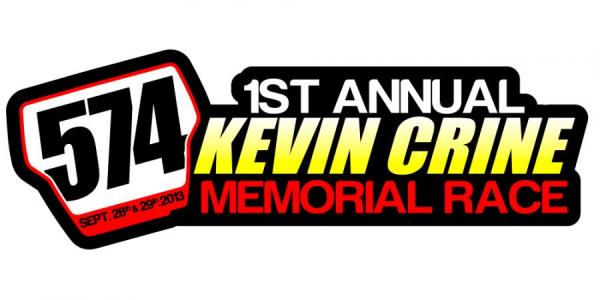 Now, the Mid Atlantic Motocross Association (MAMA) will be hosting the 1st Annual Kevin Crine Memorial Race at Budds Creek Motocross Park, on September 28-29. The race has a very cool prize structure too: Saturday will also include the first Kevin Crine Dash For Cash, a five-lap sprint with a $574 prize, representing Kevin's first racing number. Second place and third will win $60 and $47, representing two of Kevin's national numbers. Entry for the race will be $20.
We will have more information on the race soon, which include classes for everyone, as well as a lot of fun and bench-racing for Kevin's old friends, as well as the riders and their families who never got the chance to know him.
In the meantime, here's a look at all of Kevin's professional results over his career, during which he held a national number for a full decade.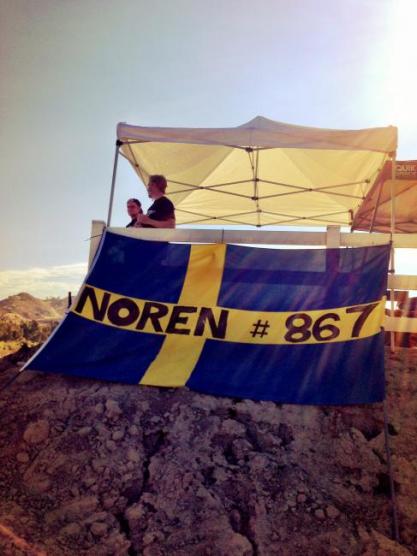 Fans or Fredrik Noren showed up early and stayed late at Lake Elsinore.
Photo: DC
IN THE MAG: (Unfinished Business)
Journeyman pro Brett Metcalfe, once pegged as Australia's next great American hops, is trying to revitalize his career, just a little to the north. Read about Brett Metcalfe's journey in Canada this summer starting on page 144 of the October issue of Racer X Illustrated.
HEY, WATCH IT!
Racer X Films: Spotlight Blake Baggett 
Racer X Films: Lake Elsinore Remastered
RANDOM NOTES
We heard some unfortunate news out of the Midwest: Former local pro and motorcycle dealer Rusty Ott of Oswgo, Illinois, has found himself in some very deep trouble with the FBI (no, not the "fast boys from Illinois," but the real FBI. Ott and nine others were indicted for a financing scheme that measured $74 million in fraudulent vehicle financing. Here's the full story, on the FBI's official website.
Longtime motocross journalist and marketing specialist-turned-college professor Tom Mueller wrote a blog post recently about the departed Henny Ray Abrams, the legendary scribe/photographer who passed away on the eve of last year's Daytona Bike Week. It's a nice read and a fitting tribute to the provocative Henny Ray, who was long in the middle of every big story on the American motorcycling scene—he was the man who covered Team USA's remarkable wins in the 1981 Trophee and Motocross des Nations.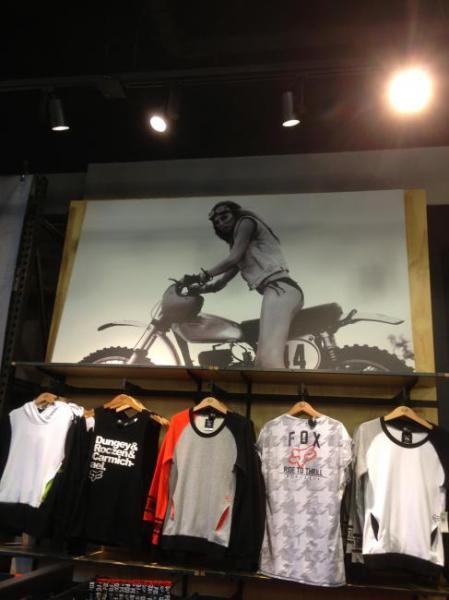 The Fox Racing store at Temecula is a motocross-inspired clothing boutique that's light on actual motocross gear but very cool in design and moto presence.
Photo: DC
While John Ayers Jr. and I were frantically shopping for clothes to wear at the season celebration on Sunday night at the South Coast Winery outside Temecula, we wandered into the big mall and found a very cool store with an alarming amount of cool motocross stuff in it: the shelves, the clothes, the counter, the fitting rooms.... And all of it was Fox Racing. Upon closer inspection (walking back out and looking up at the sign), we realized we were in Fox Racing's new Temecula store. The girls at the counter were very nice, and when we tried to name all the guys on the first-turn photo that adorns the counter (a Jimmy "The Greek" Gianatsis gem from the 1977 St. Petersburg National in Florida), she told us some other guy had tried that once and seemed certain he knew everyone, but she had no idea if the man was right or wrong—she wasn't even born back then!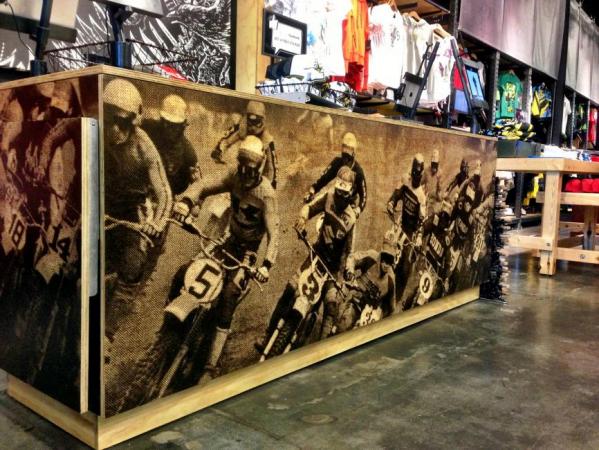 Check out the coolest counter in the world of fashion, at the Fox Racing Temecula store.
Photo: DC
Turns out it was "Engine Ice" Dave Kimmey who named them all, because after we posted an Instagram photo, he let us know he was there in January and ran through the names with the girl at the counter, who just shrugged and laughed. If you're in the Temecula area anytime soon, check out their store at the big mall. Here's the Facebook page.
That's it for this week. Enjoy Labor Day and an early weekend off! See you at the races.
(RACER X FLAG)