Muddy Creek Raceway
Blountville

,

TN
Tennessee National (Muddy Creek)
Lucas Oil AMA Pro Motocross Championship
Justin Barcia, Honda Muscle Milk, 2-2 for second overall in 450 Class
At Hangtown I was pretty disappointed in my holeshots, but I've been working on them. Got a good setup on my bike right now. I'm going to keep working on it and fight for those wins and podiums.
Seems like you're very comfortable running up front. Do you feel your conditioning and your race pace are on par where they need to be right now?
I think so. I definitely have to work on a few things. Both Ryans are just...that little notch above me and I'm trying and get that notch right now and it's just going to take a lot hard work and that's what I've been doing a lot. So just kind of keep chipping away.
You've been up front. You've been able to watch those guys. Have you been able to pick up anything? Those little things that you have been looking for?
That's a pretty tough question. It's hard to pick up on things when you're going so fast in the race and watching them. Definitely they have really great lines. I pick up a lot on that. For me on a 250 you just kind of sweep the outsides and stuff, hold it a little tighter and hit some more inside lines and stuff like that. So I'm figuring that out. They just carry a lot of speed, so that's a big thing for sure.
You were talking Thursday about the pace of the two Ryans and Villopoto after he crashed how frustrating was to be able to hold off Dungey?
I wouldn't say it's really frustrating; it's just.. I was riding to the best of my ability and Ryan [Dungey] was just riding a little bit better and was able to get it. So not all that frustrating, just got to keep working hard and just try to find the next notch and get up there. They're really fast racers and I'm definitely going to keep learning a lot riding with those guys.
Last time when you were racing part-time in the 450 Class as a fill-in you had made comments about guys getting a little mad at you because you're not even in the points chase or anything like that. How does that change now that you're a full-timer?
I think I would have been mad, too, if some young punk came up and was trying to battle with me. Definitely would have been a little frustrating now that I look at it, but I'm full-time now. But I was young and crazy. I'm having a good time. The 450 Class is definitely a big challenge and it's not easy. The 250 Class for me was always a challenge on outdoors. I was able to get that championship. Just going to keep riding hard and trying to race with these guys.
Talk about the end of that last moto when Ryan was pushing you. Did you maybe get a little bit tired?
It's weird right at the end of the motos those guys are super strong and man-handle that bike. I feel really good on the bike. I think the fatigue thing is definitely… I don't really feel tired at all it's just that last half of the moto they're really strong. I think I just need to get that man power instead of that kid power.
What do you think about the track?
In my opinion I thought it was very good, actually. Mark Barnett builds my tracks at home, too, so I really enjoy the style of tracks he builds. It was definitely tighter than most outdoor National tracks, so I think they could work on a few things there. But I like the jumps. I think there's cool off-cambers. The dirt wasn't ideal. It's like you got to soften it on top then you get hard parts with choppy stuff. But I'm definitely happy to be up here in Tennessee. It's a cool place. I thought they did probably one of the best jobs for a first National. It was awesome. – Jason Weigandt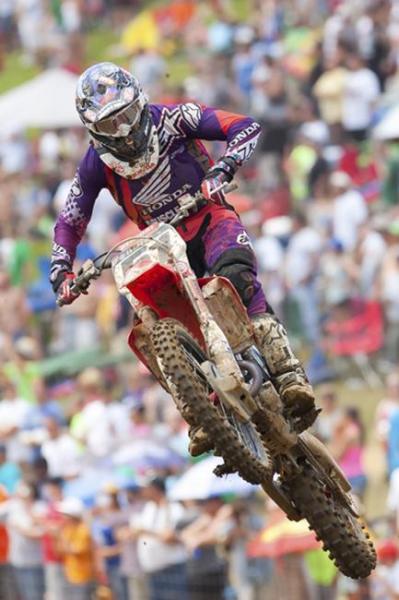 "I was riding to the best of my ability and Ryan [Dungey] was just riding a little bit better and was able to get it." - Justin Barcia
Andrew Fredrickson photo
Ken Roczen, Red Bull KTM, 1-4 for third overall in the 250 Class
Since the opening round this year you had the red number plate on your bike. You've been able to maintain the points lead, but it seems like the last two weeks the second motos have been kind of a struggle for you. What do you think the problem is in moto two?
Well, this week I felt pretty good in moto two. I didn't have a good start. I was about mid-pack and fighting my way through. I think it was second lap or something I went down on the top of that hill and it unbuckled my whole boot. So it was kind of weird to ride with that, but I fought my way back to third. And from then on, that could have been the overall. But two laps before the end I made a mistake and ran off the track and that's when Blake went by. It was basically only two laps to go; I couldn't catch back up. That's just how it is. But I think it was important that we either way get more points on Eli [Tomac] or stay the same. So I think I got a little bit lucky there.
You were talking about battling Eli Tomac and this year you were in a battle for the supercross title. How different is a supercross title compared to this long, outdoor title?
Oh, it definitely is. It's basically a sprint in supercross. Both of us had a good season. It was good to fight with him and keep it exciting. Right now it's basically the same thing; it's me and him and the other guys, they get better for sure. But for right now it's me and him. But I try not to focus on it too much. Got to go out there and ride how I usually ride.
Obviously Ryan Dungey was able to pick up an overall win today. Marvin Musquin your teammate. It's got to be a pretty competitive little environment over at KTM Red Bull right now.
It definitely is. It's good. Marvin and Ryan both on my team, they got the win. I think for KTM right now there is nothing more to ask for. – Jason Weigandt
Eli Tomac, GEICO Honda, 4-1 for second overall in 250 Class
The second motos the last couple weeks have been your bread and butter. What's going on in moto two?
Well, you got two get starts right now. The first moto I got actually kind of lucky on the start. I had kind of a big old squirrely moment, kind of wheelied, and then ended up getting hit on my swing arm and coming back across to a couple guys. I was this close to falling down. First motos I was just, it was really the start for me. If you get buried in this class right now it's tough to work your way back up. It was pretty warm in the first moto so it wasn't easy. I was pushing the whole time. And then you had Cooper [Webb] in there and Zach and I was just kind of scrapping for that fourth spot the whole time, even had a little crash. So I was fortunate to come out fourth.
You're speaking about being fortunate and how tough and competitive the class is right now. We once thought you were going to move up to the 450s. Are you pumped you stayed behind or do you wish you would have made the move?
Both classes are really tough right now. I thought I would be better off to not rush into the 450s. There's no hurry. I'll have plenty of years there.
It looks like you're actually having more fun this summer. Is there a change in attitude?
Yeah, it just seems like everyone on the team is having a better time. Last year I was having fun but it was a little bit, I wouldn't say struggling, but there's a good vibe around our pits right now. It's going good.
We head to High Point Raceway. First of all, how has High Point been to you in your young pro career?
It's been pretty good to me. Last year I was able to get the overall there. It's a fun track. There's some jumps, good up and down hills, corners, ruts… It's a good outdoor track.
You mentioned chasing a championship in this 250 Class. Obviously there is a lot of riders that can do it. Is it something you're feeling confident about, as we are three rounds in?
Yeah, right now it's really close between me and Ken. I need to step up the first moto myself, right now. That's where I feel like I'm giving away a few points. I just need to get out there and make it happen early. It's like I go out to the first moto and don't really perform how I like to, kind of get mad at myself and go out there and take it out on the second moto. I just need to get more fired up about the first moto. – Jason Weigandt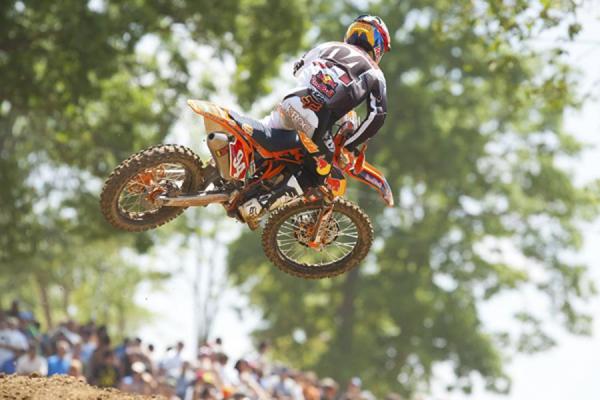 "Well, this week I felt pretty good in moto two. I didn't have a good start. I was about mid-pack and fighting my way through." - Ken Roczen
Andrew Fredrickson photo
Zach Osborne, GEICO Honda, 6-5 for fifth overall in 250 Class
It seems like last weekend you got the ball rolling where you were able to catch Ken Roczen and make the pass on him. And this week, another strong performance, but I'm sure it's not exactly what you had hoped for.
Yeah, but I'm still on the course that I wanted to be on at this point in the season. My goal coming into it was just to be in the top five and so far I'm 5-3-5. I feel like I'm where I need to be.
What area do you feel you need to work on to crack that top speed right now? Because you're awfully close.
Yeah, I just have stupid, little amateur mistakes that I shouldn't be making.
I had a chance to watch you right when you turned pro and you were certainly on everybody's short list. Then you went over to Europe and now you've returned. What's the differences in the two series for an American standpoint?
We're still racing dirt bikes there but that's about the only similarity.
Do you feel that it's a little more of a challenge so to speak?
Definitely the travel and stuff is more challenging. It's just a completely different deal. I know how he feels coming here because I felt the same way going there. Maybe it's a little bit more convenient here but you always miss home. It's good to be back.
With Muddy Creek being a home National, is it more of a distraction or does it actually get you fired up?
The racing was actually the easiest part of this whole weekend. People crawl out of the woodwork from all over the place for this race. It's cool to have it but it's also kind of hectic. But obviously it being my first year in the States I think it's good. But going into next year I think it'll be good. It's cool that a lot of people showed up. It's nice to have a race so close to home.
Speaking of showing up, you showed up here quite a bit when you were a young mini-cycle prodigy. How different is the facility from maybe the last time you've actually raced here?
The last time I was here was in October of last year for the end of the year race. From then until now it's a massive change. I can't believe how much work they've done in 6 or 8 months, however long it's been. The track still needs a little bit of work I think. It needs to be a little wider in most places. But for the most part for the first race, first National, I think they did a really good job.
Take us through the first moto. It was crazy. I think you even led for a little bit and Webb was up there and Ken was up there…
Yeah, it was really awesome to be in the lead for a minute and then I got passed and went back to fourth I think, got back up to second and was there for a few laps then he took over and just kind of was tight after that. But I tried to turn that around in the second race, but he was a little bit better.
Considering the crowd, do think it's important to have more Nationals in the Southeast?
Yeah, I think the Southeast is a hotbed for motocross and any form of racing. Look at Bristol or Atlanta Supercross, any of those races are huge in spectators. I think it's definitely a good move for them to bring the series to the south. Hopefully there's more next year. – Jason Weigandt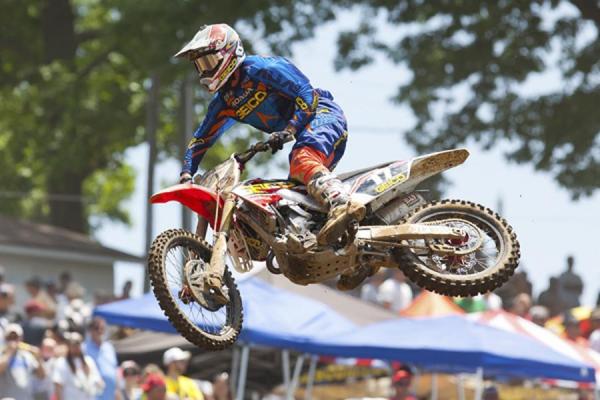 "Both classes are really tough right now. I thought I would be better off to not rush into the 450s. There's no hurry. I'll have plenty of years there." - Eli Tomac
Andrew Fredrickson photo
Ryan Villopoto, Monster Energy Kawasaki, 1-4 for third overall in 450 Class
I was following just a little too close. Went back into the far sweeper and just one big long rut and I was just a little too close to really see how the rut was going and just ended up washing the front end out four or five turns into it. So it makes it tough because everybody's so close they just go, most of the field was able to get around me. I had to get up and pass my way back through.
I'm sure there were people talking to you after four moto wins, "Oh, perfect season…" then you get the fifth. Is that monkey now off your back? Is it easier to focus on the task at hand?
There was a lot of motos left. I wasn't looking at that. For sure, I wanted to keep my win streak going, but I wouldn't say that wasn't the goal but it wasn't definitely on the top priority.
Also in the first moto when you had Barcia behind you back in the triple step-up and you had a little bobble there that got him tied up and Trey went down in the first moto losing the front end too. Is there something about the dirt or something that made it tough on the front end?
No, I almost ended up washing the front out there but that's really off-camber and I went to the very inside and there was that hump and there actually was a little bit of a line that started to just blow away off that single. The track was tough. By no means, I don't want to sit up here and sound like… it's not a National caliber track; I'm sure everybody will say that. It just made it tough. I think to race on a track like this, we all have to race the same conditions, so it's no big deal, but next year I'd like to definitely see some changes.
In that second moto you worked up to I think fourth and then you dropped back to sixth. Did you bobble again?
Yeah, I ended up crashing again. Had a little one over here on the far side of the track. Was able to keep my bike running and get up fairly quickly, but lost a little time. Trey was able to get back around me and so was Mike, and I think someone else. I had to pass a few of the guys back again.
You mentioned you'd like to see some track changes. This is a great venue. What track changes would you like to see mad?
Obviously we had a great crowd. That's one thing that keeps the sport going. But just a little bit bigger, a little longer straightaways. I think it just made it tough for the big bikes, the 450s, to really open up. It seemed like any time we came out of the turn we were either to the next turn or right on top of the next obstacle. Just a little tight. Obviously now it's done, it's over with. Hopefully they take with what we say and put it into use and try to make the track better for next year. – Jason Weigandt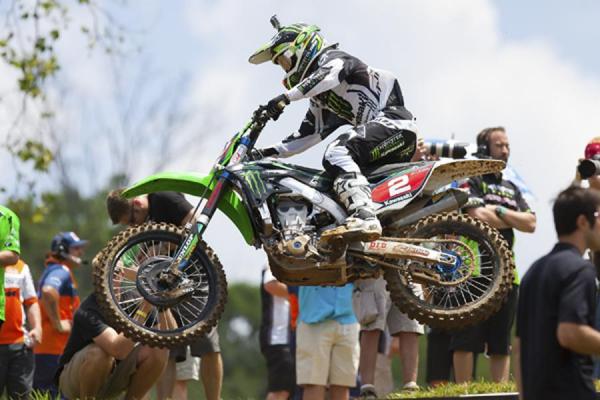 "For sure, I wanted to keep my win streak going, but I wouldn't say that wasn't the goal but it wasn't definitely on the top priority."
Andrew Fredrickson photo
Mike Alessi, MotoConcepts SmarTop Racing, 6-5 for fifth overall in 450 Class
I think you had a good day. You got caught at the end of the second moto, but, hey, that's going to happen. I still think you got to be happy.
I'm happy. It's a rebuilding for me, this outdoor season. It's trying to get the confidence back up there and run with the front guys. It's definitely not easy. The pace is extremely high and you've got to get good starts to put yourself in good position and be up front with the guys. I feel like, for me that's the one thing I'm struggling with, which is not usually what you would hear from me is that my starts kind of sucked through this year. I need to figure it out. I need to be more up front. I believe if I get a better start I can run up front with the guys. There's no reason why I can't be top three, top five with the guys up front. But I was happy with this weekend, Muddy Creek. Track was really good. Got to commend the guys and Sam for doing a great job. I look forward to coming here in the future years. - Steve Matthes
Phil Nicoletti, N-Fab TiLUBE Yamaha, 8-33 for fourteenth overall in 450 Class
Great day today. I don't care that your bike broke in the second moto because you were from last to twelfth. First moto was great, fantastic. You were right off that top pack.
Yeah, it was good. I was happy. Bike was working really good. Practice was a bit chaos today but other than that it was okay. Got eigth in the first moto, first top ten, and was hopefully going to do it in the second moto. Went down at the first corner and came back to twelfth and would have been okay but something unusual happened with the bike, which is a bit of a bummer. So just hoping to get away from bike breaking this year but, hey, it happens.
No, you can't. It's the anvil. It forever holds over top of you. Have you been here much before in your riding career?
No, this is my first time. I liked it. I like ruts and stuff and tight corners. It was good. I'm not much for swinging off the back end. So this is more my liking and High Point will be the same way. Bike worked good here. I think it'll work good for the next two tracks too.
Happy with your year so far?
I don't like to be giving up valuable points like that. Now I'm 14th in the points and I really want to be top ten this year outdoors and get some bargaining tips for next year. We'll see. – Steve Matthes
James Stewart, Yoshimura Suzuki, 4-6 for fourth overall in 450 Class
What'd you think of the day? Looked like you were in the battle for most of the day. You had guys in front of you and behind you. It was intense all day.
Yeah, I don't know how intense I was. I had one of the probably worst days of my career. I qualified 17th in practice. Actually I thought I put in two laps. If you would have told me I was 17th I would have just packed up and went. And then we were just making some changes to the bike. We had to take the stabilizer off between practice and the first moto, so that was different just because it was so tough. Then I just didn't have the flow.
Chase setup all day you feel?
I don't know if I chased setup. I think it was 25 percent setup, 75 percent me. It was just from the first practice there was something about this track that I was completely lost. I couldn't get in my corners. I just really couldn't do anything. It was frustrating for sure. It was frustrating coming back and telling the team that. 'I'm like, dude, I just didn't have it. Seriously.'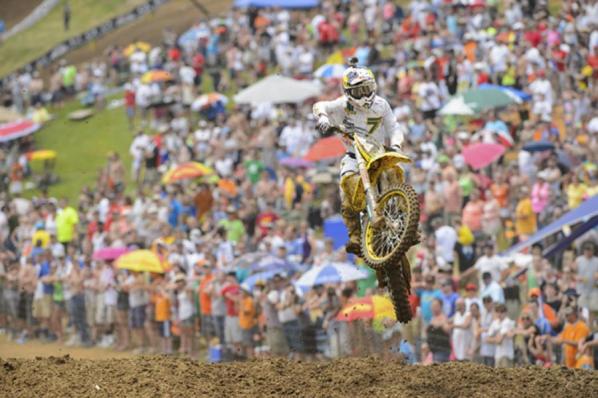 "I had one of the probably worst days of my career." - James Stewart
Simon Cudby photo
Kevin Strijbos, Rockstar Energy Racing, 14-7 for seventh overall in 450 Class
Your American vacation is over. Today went pretty well for you though. What did you think?
It went okay. Didn't have a good feeling on the track in practice. It was quite different. Had to get used to it. That first race got a decent start. I think I was running around eigth and then I crashed by myself, so a stupid crash again. And that sets me back for...I think I was 20th or something. So I charged back to 14th. So at the end the lap times were quite okay. Second race, got a good start. Braked a little bit too early and lost some places there. But I tried to hang on with those guys. I think I was fifth or sixth in the beginning and then I just tried to hang on with them. But didn't go. I tried my best. I was kind of tired also because it was very warm. But overall I'm happy that I could do this and definitely want to thank everybody and the team from Rockstar to give me this opportunity and hopefully we can come more. – Steve Matthes
Blake Wharton, Rockstar Energy Racing, 11-9 for ninth overall in 250 Class
Terrible start to the outdoors for you, but you got some nose surgery before the season. This was maybe your best round. You're getting better.
Yeah, each round has gotten a little better. That's really what you got to do. It'd be nice to just come out here and just win everything but that's not how it's done, usually. Not a good start but slowly better. The nose is getting better. When we got these long motos and you got all these guys you got to be as good as you can get, really. So we wanted to do it, wanted to get it done so we could progress as the Nationals went. I got 13th, 11th, 9th, so hopefully getting some top fives soon.
Second moto charged hard I thought. I don't know what happened in the beginning but you picked a lot of guys off.
Yeah, I had a decent start. That's huge, as you can see. Had a bobble on the first lap with some guys and lost some positions. But, like you said, I managed to put my head down and gain some spots. You just got to keep pushing because if there's someone in front of you, you got to try to catch them. And there's always someone around. So we did what we could today. – Steve Matthes